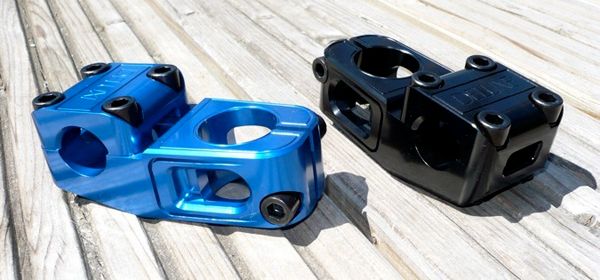 While talking with Mark from Deluxe, I had asked about some of their new stuff that he was psyched on. He mentioned the MKII F-Light stem was something that was on his mind and how well it turned out. I decided to put together a few questions about the stem to go more in-depth on what makes this top load stem unique from others on the market. Let's take a closer look…

All right, so for this time around we decided to talk about the F-Light top load stem. Care to take us through some of the original ideas you and Sylvain Taro had when designing this stem?
Basically, we made a stem because people asked us for one – riders wanted us to make a top-loading, fairly light but strong, high quality Deluxe stem to match a couple of our other F-Lite parts. So I asked Sylvain to help us out, and gave him the basic spec. Pretty simple really, we were totally on the same page from the start…
Were there any ideas that just didn't work out or did you guys already have a pretty good idea of what you wanted?
Well, we went back and forth with CAD designs multiple times, Sylvain handled all that, including the computer-based materials and stress point analysis which irons out the weak areas of a design – that's really Syl's speciality, he really knows what he's doing there – then once we were good to go we had the first prototype made.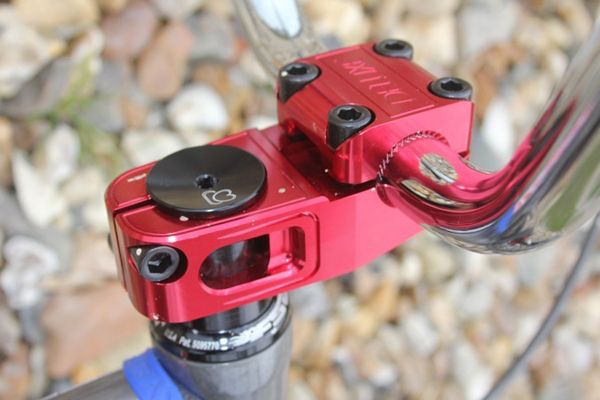 How long did the design to prototype stage take? Where does Deluxe get its products machined?
It took a couple weeks for our manufacturer to CNC the first prototypes – we use a well-renowned factory out in Taiwan and we know their build and machining quality is up to what we really wanted.
How long were prototypes ran for? Were there any changes or problems with the original design that needed correction?
A few months or so, but right off the bat as soon as we saw the prototype samples we began refining it. No problems at all, but once you have the real stem in your hands and on your bike, you then know where to make improvements, so Syl set about the Mk2 stem.
After the prototypes, how long did it take to have the stem put into production?
Pretty soon really, just a few more weeks to perfect it, and then send it to production. It does seem like an age to bring something like this out, but then again, we do like taking our time to get the products right rather than just rush them out.
When most companies are doing the 48mm length stem, you guys went with a 54mm length. Any reason behind that?
Just to get a little extra length, and give riders a proper choice rather than just another Me-Too stem: it makes a little difference, and works a treat.

Here's a shot of a prototype of the MK1. The original stem that came after the design. They made changes to this one from the final version which you can see in the other photos.
Obviously, this stem is directed towards the trails riders. How does it hold up on the streets and park riding?
Well, first and foremost, like all our products, it's built for bicycle motocross and can take anything you throw at it. It's definitely not a flimsy stem, it's built strong enough to take it, you can ride it anywhere you like to be honest.
What are some of the features and options that come with the stem?
Regular, no-nonsense two-bolt clamping out the back, four bolts on the bars, 54mm reach, strong, CNC machined from billet aluminium… I still don't get how some companies can claim their stems to be CNC machined when I know they're drop-forged. Anyway. Ours are true CNC.
Has Deluxe begun working on any other stems or an updated version of this one?
Nope – we're stoked on this one.
Speaking of other stems, you guys had a stem called the MK1 that you guys scrapped. Care to explain some of the reasons for that decision? Could you see some revisions to that stem being made and eventually putting it into production?
Our Mk1 F-Lite stem came back, but it was just a little too blocky and weighty for our tastes. So Sylvain set about refining it and polishing the design to get to our production model. Actually, we also looked into an internal clamp stem design and had that prototyped, but it just didn't work out.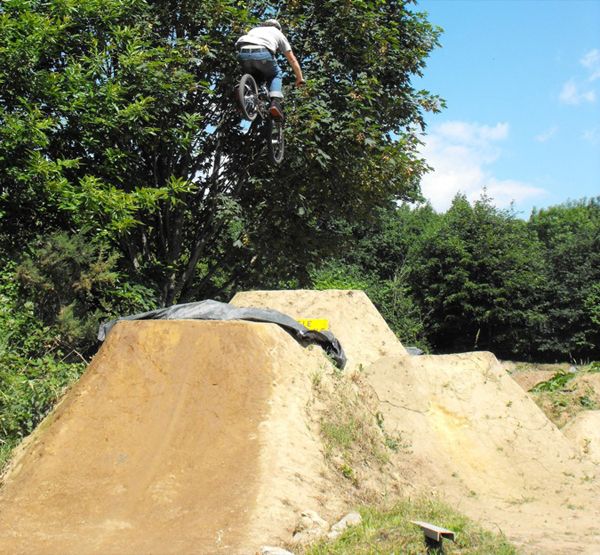 Sylvain getting some testing time in on the F-Light stem.
Can you let us in on some of the other products you have in the works with Deluxe you are excited about?
Well, I don't think we'll expand the product line too much beyond what we make now – just keep on refining our current products to improve them further, taking it one step at a time. I'm already pretty excited about what we make now and feedback on the products from anyone who rides our products and directly from our team has been really strong… I'm proud of what we make now, just stoked on what we make.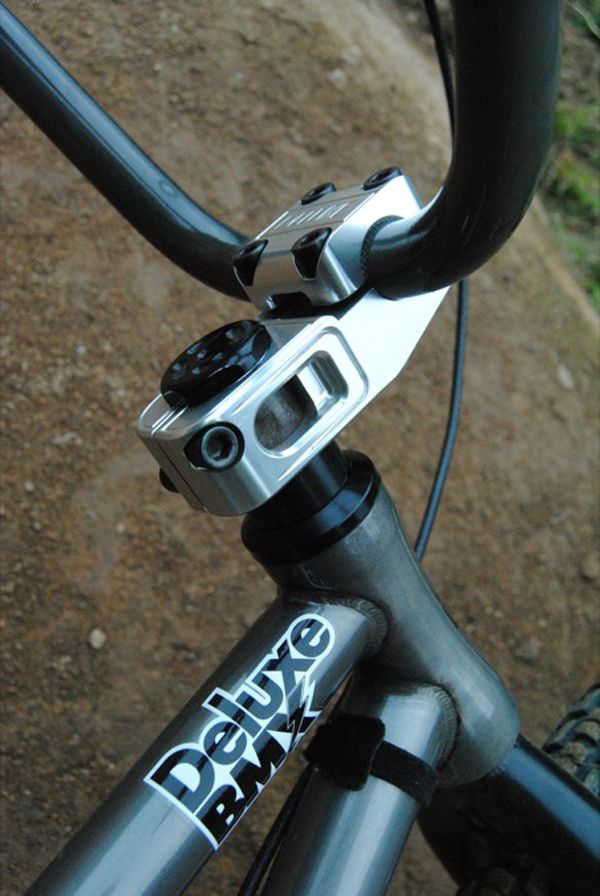 Who should shops and distributors talk to about getting Deluxe in their stores and warehouses?
We have a pretty good distribution network, so have a look at the Contacts page on our website and go to the relevant distributor depending on which country on this rock in space you happen to live. I'm psyched on the support we get from our current distributors, so tap those guys up for dealer info, I'm sure they will be more than willing to help – also, if you have any questions just let me know and I'll help you out. mark@deluxebmx.com
Anything else we missed you would like to add?
I think we covered everything? Again, thanks to Syl for all his help on this project, we definitely came out with a superb stem. If you have any questions, just shout.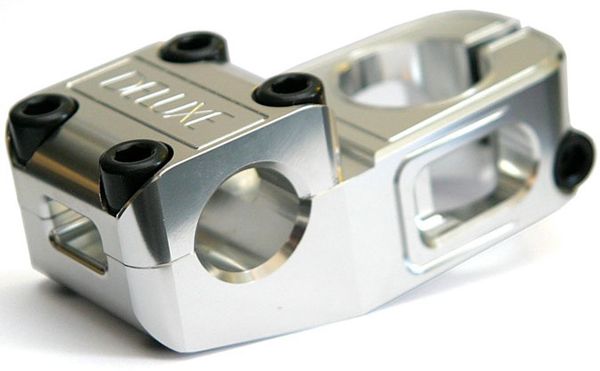 For more information on Deluxe products, hit DeluxeBMX.com