The other day we got thinking that it has been a while since we've done an Evolutions feature. We got thinking about some of the different BMX Forks that burned their design into our brain over the years, and then decided to reach out on Facebook, Twitter and Instagram to get a few good ideas of some of the classic BMX forks that have been available over the past 10-20 years. Originally it was going to be the past 10-15, but we got a few suggestions that we couldn't pass up. Similar to the Evolutions of BMX frames post we did looking at how frames have changed, we've seen quite a few changes in almost every aspect of a BMX fork in that time period. So, if you want to take a walk down memory lane… Let's do this! If we missed something good (which we know there always will be) let us know in the comments at the bottom!
Posted: November 27th, 2015
If you have been around BMX long enough, you have seen trends come and go, things get bigger, then smaller, then bigger again. At the end of the day, BMX has been working to find the perfect size that ultimately makes riding a BMX bike feel better and ride better. There's been A LOT of trial and error over the years and we've seen things go from really rough and unreliable to very detailed and dialed. There's a lot more that goes into developing a new product than drawing something up on a napkin and hoping it works… Which has happened in BMX's fairly short existence more than once. I personally have been riding BMX for somewhere around 17 years.. You kind of lose track after a while, but it's somewhere around there. In that time, there's been A LOT of changes from every aspect of what makes a BMX bike. Products are very refined and it seems like we see new products with only small changes in degrees and millimeters these days that can make all the difference in how a bike can ride and in general feel, which is pretty amazing. One thing in particular that we've seen change A LOT over the years are handlebars. When looking at other parts of a BMX bike, it's safe to say that bars have grown in size the most in comparison to where it was when I first picked up a bike… Let's talk about this a little bit.
Posted: November 9th, 2015
With it being the time of the year when we start seeing a bunch of new BMX Frames being released or the latest version of a previous model, we figured it would be a good time to take a closer look at what those numbers like 74.5, 13.25″ and 71 really mean, and how that can change the way your bike will feel and ride. Over the years, BMX frames have been refined over and over again to not only offer a superior product, but a frame that is truly designed for the type of riding that you are doing. Now days, it seems like we're seeing micro adjustments to keep up with the trends or just Minor Details being added to the frames to make them stand out. If you're considering a new frame, or just curious how the geometry of a BMX frame works… Keep reading.
Posted: October 29th, 2015
Growing up, the idea of going to the circus consisted of seeing a bunch of wild animals you normally wouldn't see, crazy acts, full grown adults decked out as clowns and sometimes some cool stuff like motorcycles, cannons and fire. It seems like over the years people have started to crave seeing crazier things thanks to TV and the internet essentially desensitizing them. So, when it comes to entertaining people, it better be pretty damn wild to make it worth while… At least for people who are more into action sports and "adrenaline junkies".
By now, there's no denying that you have heard of the Nitro Circus. Between the TV shows and the constant flow of crazy videos popping up on Youtube, it's hard to miss them. Travis Pastrana has essentially formed this massive crew of crazy people from BMX riders to freestyle motocross, scooters, rollerblades, skateboards and pretty much a few guys who are just crazy enough to send it on whatever they can take a ride on. Since the show took off, they started touring to stadiums around the world doing shows filled with wild riding, never before done's and a lot of goofy stuff just to see if it could be done or to get peoples reaction. Add in two hype men, one being BMX's own Andy Zeiss, some loud music and plenty of fire… You're bound to get people pretty excited…
Posted: October 26th, 2015
If you have been on Facebook, Twitter or a few of the major news sites over the past two or so days, there's a good chance you have seen the story about the mom that wrote that letter "To The Teenage Boy at the Skatepark". It's a pretty interesting story and it's safe to say that it can be taken as a positive story or completely different.
In our opinion it's something that is really important to have this kind of mainstream attention. Outside of our little bubble, BMX and skateboarding has a pretty shitty reputation. Kids that ride BMX and skateboard for the most part are all looked at as trouble makers. I mean, how many of you have been stopped by the cops for cruising around on your bike because they think you're causing damage to private property? It happens. It's a real thing and that assumption gets brought over to the local skateparks we're seeing everywhere because that's where we all hang out when we're not out causing more problems… right?
Let's talk about this…
Posted: October 23rd, 2015
Finally catching up after last weeks chaos known as Interbike 2015! As some of you might know, this was my 8th year in attendance and I was able to cover pretty decent ground doing things on my own. During the three days, I was able to snap photos of 31 different brands products and get them posted up. Unfortunately there were a few I missed due to time constraints and obviously the issue of having to find time to make it to all the suites for the brands that weren't willing or able to get a booth at Interbike. I've gone through and compiled all of the links to the different posts for you to get a look at everything that was taken in. Obviously with there being 3 days and needing to cover 31 brands, there were probably things we missed or got incorrect, but for the most part it's all there. Take a look at all the booths below and see what there was to see. We'll be compiling a "Best Of" for each brand, so check back soon to see that!
Interbike 2015: The Shadow Conspiracy
Interbike 2015: Stolen Bike Co.
Interbike 2015: Volume Bikes and Demolition Parts
Interbike 2015: Wethepeople, Eclat, Salt Plus, Fuse Protection
Interbike 2015: Almond Footwear
Interbike 2015: Haro Bikes and Premium
Interbike 2015: The Daily Grind
Interbike 2015: S&M Bikes and Fit Bike Co.
Interbike 2015: Stranger and Primo
Interbike 2015: Odyssey and Sunday Bikes
Posted: September 22nd, 2015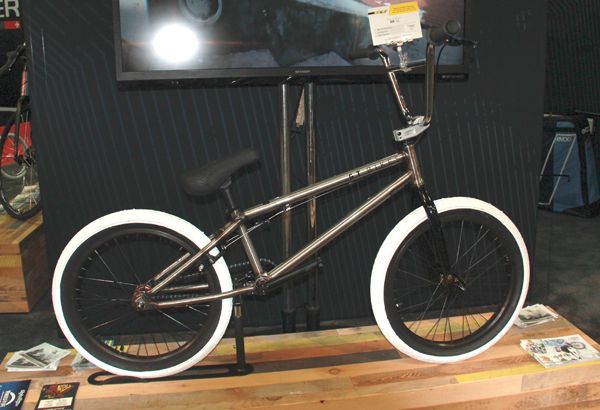 We swung by the GT Bicycles booth toward the end of the 3rd day of Interbike 2015 to catch up with our good friend and GT product designer / freestyle team manager, Ben Ward to catch up and to get a closer look at their full range of 2016 complete BMX bikes, a prototype frame and a handful of prototype parts from bars to cranks to a stem and more. Ready to see all this? Let's do this!
Posted: September 20th, 2015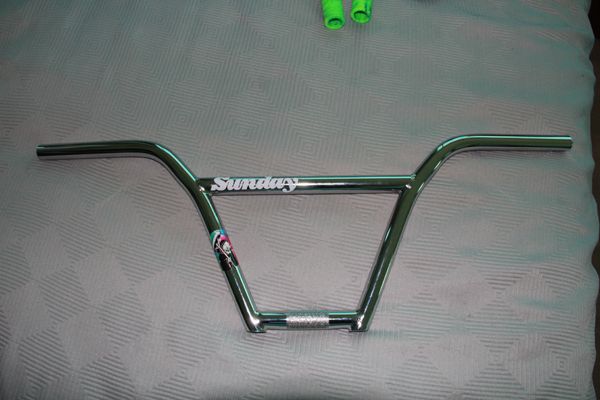 This year Odyssey and Sunday Bikes decided to take a different route than they traditionally do with Interbike and do a low-key suite. We were able to sneak on in for a few minutes to check out a bunch of new products they're working on from Jake Seeley signature products to a freecoaster, grips, seats and more. Let's take a look!
Posted: September 18th, 2015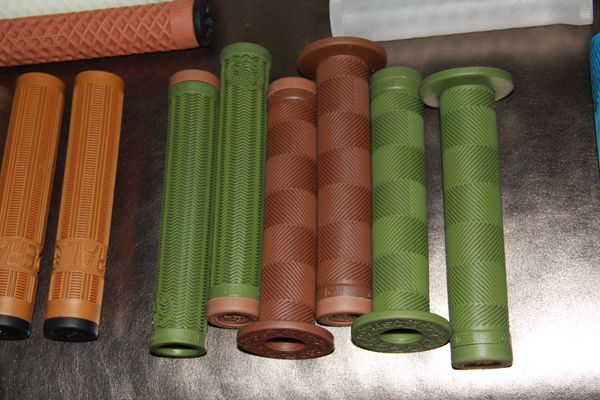 While we were at the Tip Plus suite, we got a look at the new products that BSD have been working on over in Scotland this past year. New colors, frame, freecoaster, seat and more! You'll want to get a look at this, so let's get into it already!
Posted: September 18th, 2015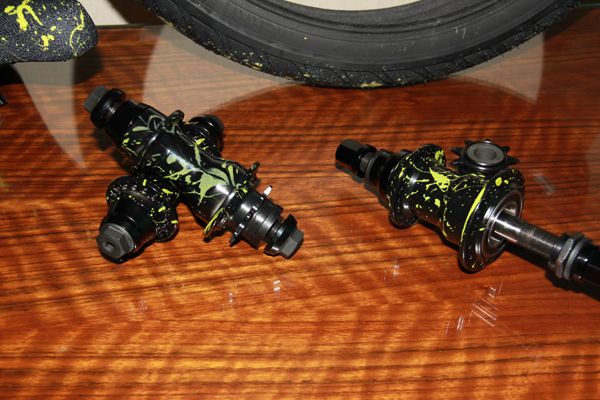 Cruising along, we made our way to the Merritt suite to take a look at what Sean and Mike have been working on in New Jersey this past year. Check out a few new products, a couple new colors and more below!
Posted: September 17th, 2015