Over the years, I've been fortunate to go on a number of road trips that have brought me thousands of miles from home. It's one of those things in life I suggest every BMX rider does at least once in their life. Go outside of the comfort zone and experience places you never thought you would be. Things might not go to plan, but that's why you gotta do it. There's no way for you to know where things will go.
The past few years, I've had the chance to do a handful of trips with the crew from Milwaukee. The last three years I've made my way to meet up with them to load up in the van and head towards Toronto for the annual BMX jam. Each year, there were some unexpected moments, but I don't think anything can top what happened this year…
Above you can find an edit from some of the riding time we were able to get in during the trip. Jeff Dowhen handled most of the filming and all of the editing with the help of myself and Jon Wells for some of the filming. We figured, a tribute to Detroit was necessary so you can find the 7 Mile Anthem for the song. After you check out that, make the jump and check out some photos and the full story…

So what was already two Wednesday's ago, Reed Stark and I hopped in my car and we made the quick 4 hour drive to Milwaukee. Starting off the trip, it got a little sketchy. A few days before the weather was starting to look like it was going to put a kabosh on the trip right away. 16-18 inches of snow with rain, ice and everything else mixed in between was in the forecast for the day we were leaving. Now, if you live in the Midwest you probably are well aware of how weird of a winter we had with pretty much no snow all winter. What are the odds that a storm like this would move in right when we need to leave?
Well, the odds are pretty high since it seems like every time you plan something out in advance weather will not work out. But, for some amazing reason, the storm ended up redirecting north which let Reed and I get on the road as planned.
We rolled in the night before we had to leave for Toronto so we could hang out with some friends and break up the driving for the next few days. Which ended up being an awesome decision since the morning before everyone met up, Reed, Jeff Klugiewicz and Anthony Malvasio were able to get a session in at 4Seasons where they were able to film a ton of real good clips which you can check out below….
A few hours later, the rest of the crew consisting of Jon Wells, Jeff Dowhen, Wade Lajlar, Cohl, Tippy, Cory Ellis and Jake Hinke were off work, out of class and ready to hit the road.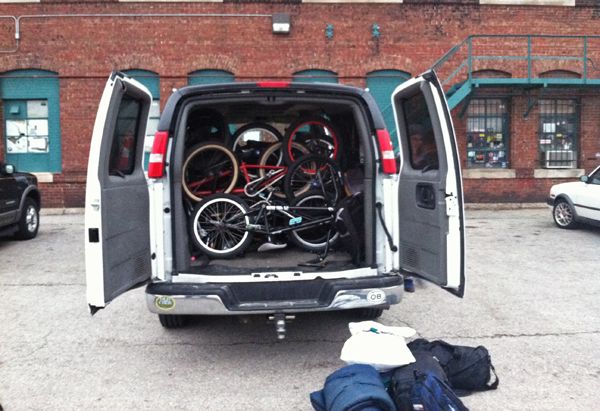 Now, here's a little tip. If you are going on a trip make sure you bring somebody who is an expert at packing way too much shit into a tight place. Some how we managed to fit 9 bikes, 9 dudes and all of their stuff into the van and still have room for stretching. Huge shout out to Jeff Dowhen for being gifted with the ability to pack properly.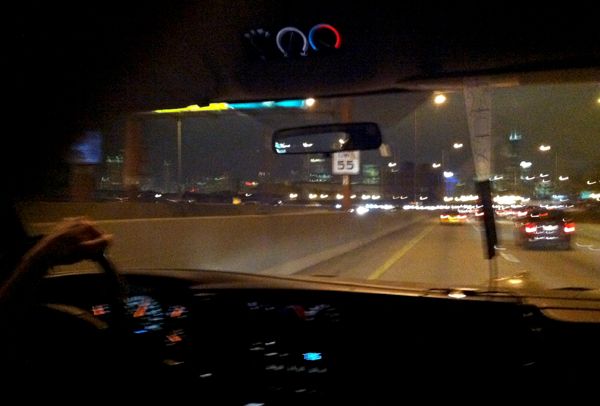 We were able to hit the road at a pretty decent time and with only a few stops to pick up supplies, we made it to Chicago just as the city started lighting up. I've driven through Chicago a bunch of times but it never seems to fail to amaze me.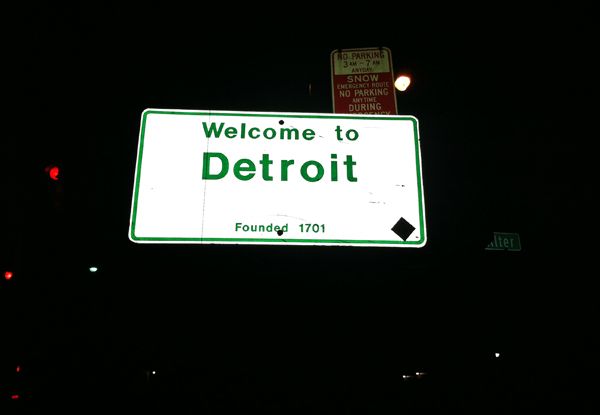 After a few hours of blasting music, pit stops to pee and some awesome conversations we were able to make it to Detroit. The city is interesting because it was hit the hardest in the country from the economy going to shit. Rolling into a rough neighborhood around 2 a.m is always a pretty sketchy scenario. You can go down a street and find a couple nice houses, followed by a few foreclosed and abandoned houses, then burned down houses and finally empty lots from where a nice house probably used to be.
We were fortunate enough to have Dane Wild to let us crash at his apartment in one of these areas. Hearing Dane say "All right, everyone get EVERYTHING out of the van and into my place as fast as you can" with some lurkers on the corner was pretty much the definition of awesome. BMX and sketchy situations go hand in hand for sure.
After hearing a ton of crazy stories, we all called it a night and crashed so we could get up in time to explore the city a little bit.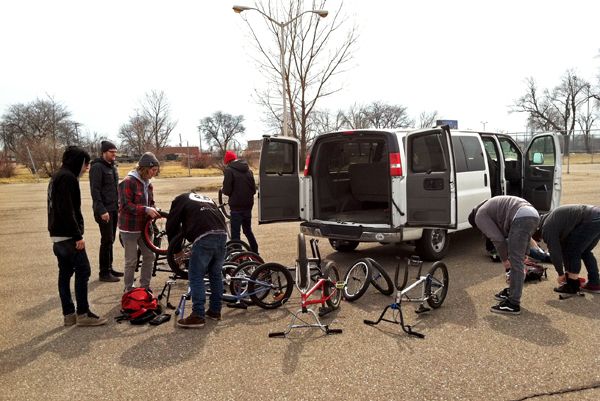 The next morning, thanks to Dane Wild and Jason Govan, we were set up with a few addresses of spots we had to hit. If you checked out the edit up at the very top, you got a look at some of the places we were able to ride and some of the riding that went down.


This photo might not be very interesting at first glance. But here's the thing about that… The school we went to had an endless number of spots to ride. Also, right across the street, next to a fully functional school, was a huge abandoned building completely gutted. Even the windows were taken.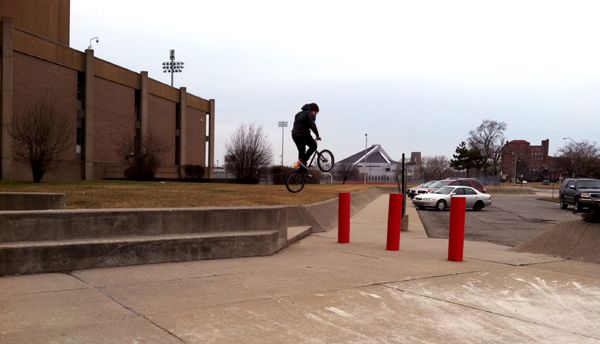 If you haven't caught on yet, I didn't even take my real camera out of the bag this trip. I ended up documenting everything on my iPhone. This is a shot of Cory Ellis doing an ET while gapping from the ledge, over the post and into the parking lot. There were a ton of kids looking out the window at the school and some how no security, no pissed of teachers or anything even bothered to kick us out. Awesome.


The DMG panoramic app on my phone came in handy a couple times on this trip. Sorry for the small photo, but here's a look at what should have been a skate plaza. It's actually just an insanely perfect spot filled with ledges and rails. Cops cruised by and said nothing as well. What is going on with this city?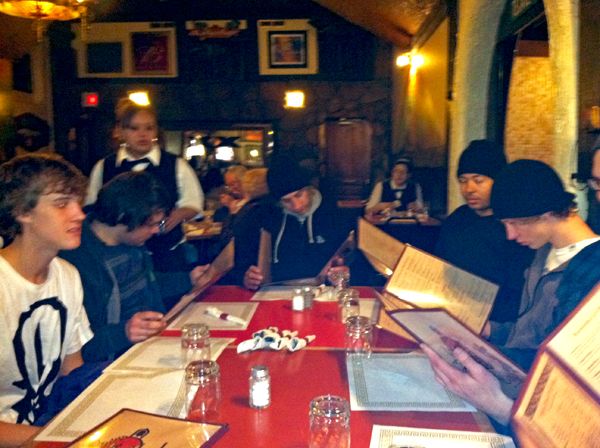 Shortly after hitting the spot above, we were rained out. So we decided to hit this mexican restaurant right down the road. Maybe as a warning, this place sucks. The waitress wasn't stoked on 9 dudes heckling her and the food wasn't very good. I just looked at it as a warm up to what I really wanted… Burrito Bandito's in Toronto.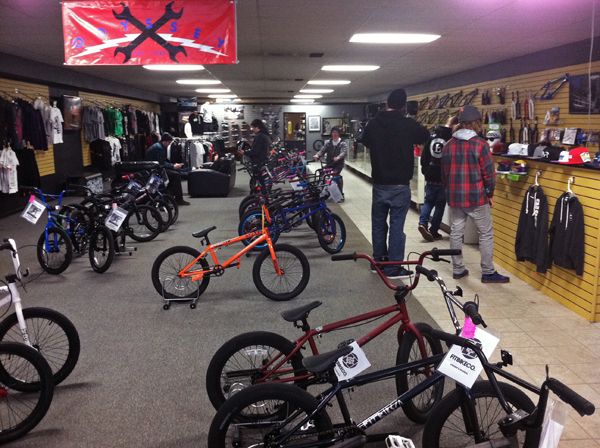 Before we were going to hit the highway again to make the final 4 hour trek to Toronto, we made a stop in at Albe's to check out their inventory, make a few purchases and kick back and chill for a bit… and let that horrible Mexican food pass in the bathroom. It had to be said…
After we chilled there, we hit the road and this is when things ended up getting pretty interesting and where the name of this trip actually came about. Detroit is right there on the U.S / Canada boarder.
The past few years, Jon Wells, Jeff Dowhen and I have really never had any sort of issues getting through. Hell, Jeff's mustache got us through once without question.
…. But then again we didn't have a van loaded with 9 dudes that all looked like they were ready to party. Sooo, there we are… sitting in customs. Each of us getting called up to answer questions about who we were with, why we were trying to get into Toronto, if we have a criminal record and how long we planned on staying. Now, maybe it's just because I like experiencing things I've never done, but I wasn't even bummed on this. Getting questioned and all that stuff was pretty funny.
… You also learn a lot of things about some people's history's you didn't know.
After about an hour, we were informed that due to people having records like firing roman candles off in a public park, bar fights, public intoxication, trespassing (for BMX) and other miscellaneous "Good time and BMX" related charges. We would be turned back around and sent back to the U.S. Access was indeed "DARNIED!"… Sadly, I didn't get a photo during our time in between the land of the free and the land of gravy and fries.
Here's a little advice I learned about road trips from Jon Wells a few years ago. Never plan everything. Plan a start and plan a finish… Have destinations in mind, but let things roll and see where it goes. Being denied at the boarder could have been a major buzz kill on the road trip vibe, but that only lasted about 5 minutes until we decided on a new plan.

Within an hour, we were walking into the doors of Transitions Ramp Park to a full house of riders and ramps to ride. If you have never been to this park, make sure you try and get there at some point. The box rhythm alone is so damn fun. After everyone had a good time riding, we decided to stay in Detroit for one more night. Since the budget was pretty much untouched and since we weren't going to be abusing any sort of alcohol budget by not making it into Toronto, we settled for two rooms with some of the most dialed beds in America at a hotel just off the highway. The stories and laughs didn't end until well into the night.
The next morning, after some of the crew showed the pool who was boss, we decided to start making our way back towards Milwaukee but down for a stop wherever and whenever we could.

There's plenty of opportunities for… non-BMX related stops being advertised along the road. Thanks to one Deja Vu sign, we decided to take the exit into a small town called Ypsilanti to see what they could offer. Since the good times don't start until 3 at the particular joint we were hoping to have lunch in, we settled for a restaurant that wasn't quite ready for a bunch of rowdy, heckling BMX riders to walk in the door. After being seated in the furthest table away from any customers, we found ourselves kicking back some drinks courtesy of Tippy. Shout out for picking that one up.
We also found ourselves blowing the mind of a waitress working her way through college… who I could sum up with the word gullible. Over the years, I've been a member of a band, a photographer for the Metal Mulisha and even a dancer in a traveling break dancing team… This time around, we figured being in a band would be all it would take to get this girl to fall in love. So that we were… In comes the check with one said waitresses number.
Shortly after the lunch, we made our way to Deja Vu to take a look at the… sights. Sadly, they weren't prepared for us either and after a disappointing show, we found ourselves being asked to turn the cameras off and make our way out the door. Which worked out for the best since we needed to save our money for the next leg of the trip.
We hit the road, sending texts to our newest fan, looking for our next exit off the highway. A little ways down the road, a few people needed to stop for a bathroom break. Things got interesting when Jon proposed that we stop at one of the many casino's along I-94 between Detroit and Chicago. From then on out, any time we needed to take a bathroom break, we would find the nearest casino and lay it all on the line in roulette. Everything on black!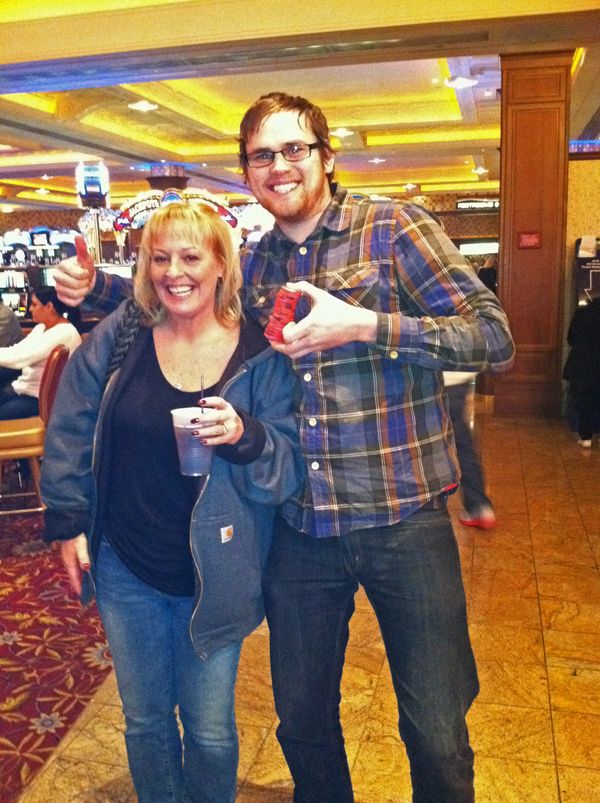 So, we might not have had the best luck in the world when it came to getting into Canada, but things quickly changes on that strip of the highway. The guys ended up tripling their money and a new tradition for future road trips is definitely on the to do list from here on out.
Shortly after our first stop, things got interesting with that waitress when she discovered we weren't in a band, but in fact, we were porn directors out scouting for talent. No comment beyond that.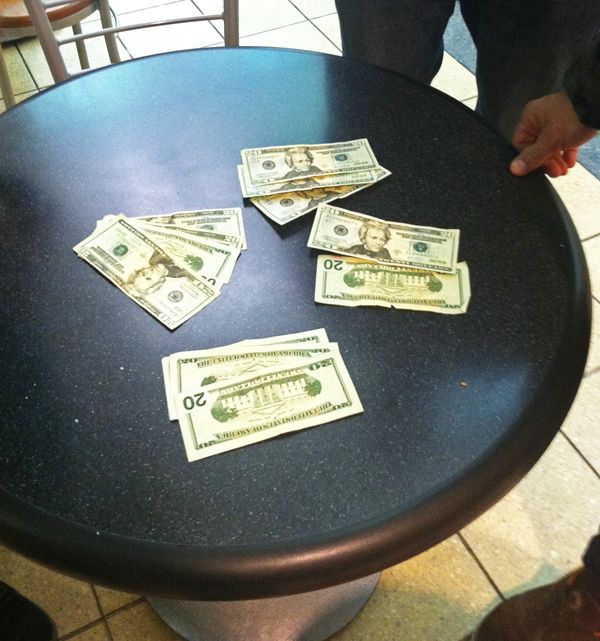 Dividends.
After our luck streak, we found ourselves rolling back into Milwaukee. Girls were getting texts, Facebook pokes and bat signals to let them know we were back and looking for a good time.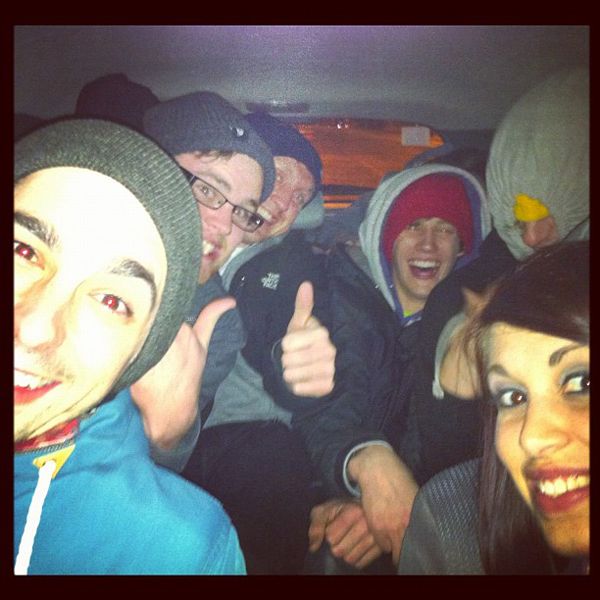 Shout out to Lindsay for driving us 8 deep (Two in the truck) to Crisp!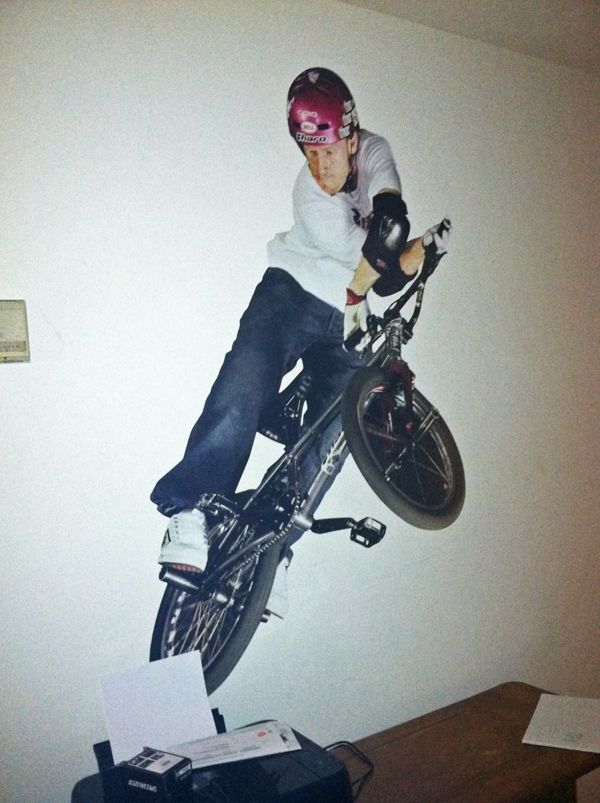 After the fun was had, we spent some time chilling with Ryan Nyquist….


Nothing better than some bomb food for breakfast and a good crew the night after a good time. Stories on deck.

A final session with a real good crew went down the last night Reed and I were in town. Happy Birthday to Mike Hinkens for hitting the dirty 30 session that night.
So, maybe we didn't make it to our actual destination for the trip. It didn't matter. The trip ended up being just as memorable and hilarious as anyone could hope. BMX is a strange thing that brings a lot of awesome and unique people together. It'll bring you to places you never expected like some small town you can't pronounce or even spell… and it will always be some of the best times in your life.
Shout out to everyone on the trip, Dane Wild, Jason Suchan at TRP, Albe's, the guy working at Holiday Inn that didn't come up for any noise complaints, Jason Govan, the boarder patrol, mother nature and anyone else that we crossed paths with on this trip. I can't wait to see where next year brings us…