While I was putting up this interview, I was trying to think of when I first met AJ, and honestly all I can remember is that it was like 3 years ago, I am sure it was at the Mankato Skatepark here in Minnesota. However since then I have had a lot of chances to ride with him and just watch him utterly rip anything he rides to pieces. He is so talented it is insane. Along with being talented he is about one of the nicest guys in the world, you never hear him sware or anything really (I was shocked the first time I did hear him sware)and hes always pretty helpful if you need tips on a trick. Hes been around the country so maybe you have heard of him?
Be sure to check out his video at the end.. so good!
Name:
AJ Haines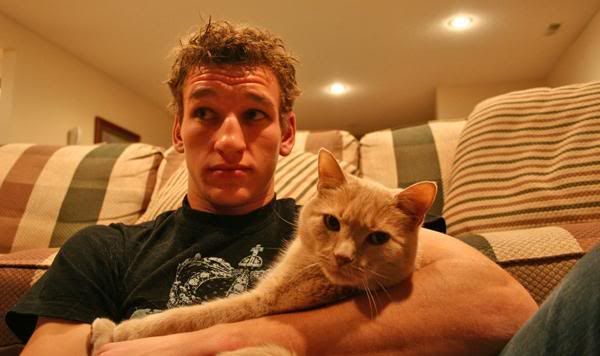 Location:
Minneapolis, MN
Sponsors:
The Alt bike shop, Chaos on Wheels, Stunt Dudes, Enemy Opposition
How do you feel about the weather? (It is 9 degrees out as I write this)
well, quite frankly I don't like it. I guess its good in a way because it really shows your dedication to the sport, you cant just walk outside and ride, now you have to plan a day and head out somewhere.
Your really dialed, who do you think influenced your riding the most?
Why thanks, hmmm that's a good question, in the very beginning I think Joey Garcia influenced me the most. I loved his part in Schwinns American Muscle, I just remember him doing the longest smoothest manuals, it was really the first time id seen anybody ride street like that and it got me psyched, im pretty sure I wore that tape out by the way. Then Tom Haugen because I would ride with him many a weekend at Mankato skatepark in the winter when I was just a youngling, he would just shred nonstop and really encouraged me to progress.

(Invert at the Mankato Skatepark)
You grew up in Iowa, and now you go to school in Minnesota, where do you like more? Well where im from in Iowa there aren't too many riders or at least there weren't when I was living there, obviously that didn't stop me from riding. But there is more of a scene up here, its always nice to get some people together to ride and just feed off of each other and try stuff you wouldn't normaly. I always eventually end up missing the park in Mason City after a while. So I guess Minnesota has more opportunities but Iowa will always be home.
Your going to school for digital arts if I remember right? How is that going?
Yep, the tech term for it is Visual Effects and Motion Graphics haha. Its going great really, we get some really nice video cameras to work with, we get to do a lot of fun stuff with there stuff. I took a video that was shot of me doing a hang nothing and erased the bike out so it just looked like was floating swinging my legs, it looked pretty stupid but at the same time awesome? I really hope that I can apply the stuff I learn there to the BMX industry(not taking bikes out)by bringing something new to how videos are presented. Im not even totally sure what that is yet but I still have a lot to learn there so we'll see what happens.
You were doing shows for Chaos on Wheels, Do you still do that?
Yeah, its kind of hard now that I have school but I still do shows when I can, usually on the weekends. I flew out to Washington twice this month to do shows, one with Chaos and one with Stunt Dudes which is Vic Murphy's BMX team. I just started doing shows with him in October, hes a super cool guy and he can still rip!
What is the best part about doing shows?
One of the cool things is seeing the excitement on kids face (and the horror on their parents faces) when we do this stuff. It brings me back to when I first saw BMX and was totally blown away by it, its just kind of cool to pass on what I was given. Often there are thousands of people at these things and I'm not going to lie, when there are thousands of people screaming your name it tends to put a smile on your face. Also traveling is a big one, before Chaos on Wheels I had only been to a few states, now theres only a few I haven't been to. Getting paid doesn't hurt either, but I would have done them for free if I had to, it's been quite an experience.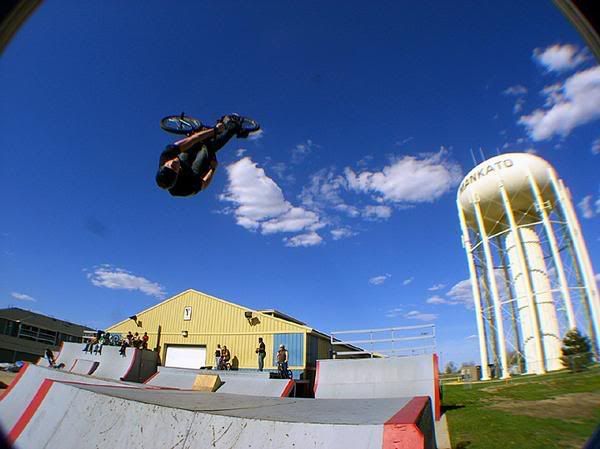 What is the worst part about doing shows?
While the kids are a plus, they can sometimes be a negative. Before, during, and after the show all I get is "do a backflip". Sometimes it gets to the point of irritation but I try to put it aside 😀 Also when were on the road and were really close to awesome skateparks or big cities we usually don't stop because we have to make it to the venue on time, but when we have a few days to spare we usually do hit up a few big parks. Along with that sometimes when were on the road we don't get the ride for long periods of time besides when were doing the actual show which can be frustrating, it just makes it hard to progress, but still I cant complain.
Where are your favorite spots to ride?
Well here downtown it used to be the Hyatt bank but since they did some reconstruction its not as good, still rideable but I could spend hours there every day in the summer. The Government Center is also a good street spot, but security has gotten to know me there since I moved. I still love Mankato, best in the summer of course, but ill still go there just for the indoor, maybe its just because I grew up riding it but its definitely a favorite of mine.
You have been all over the country, where is your favorite places you have been?
That's a tough one, I would have to say New York and Oregon. New York was fun for so many reasons, first of all I had never been to NY before, second we had our show inside of Six Flags theme park, Third we got free passes to cut in line on any ride, though I felt like a dick because we walked up the exit ramp and cut people that had been waiting off. Oregon was awesome because we spent I think like a week or so there, so we got to hit a lot of the parks there as well as see some cool nature spots with trees that make me look like an ant. We also went to the ocean, which was my first time ever I believe, and we happened to walk by the same piece of beach that was shot in "The Goonies"!
Where should people not go at all costs?
Hmm well I really cant think of anything specific, I think people should go everywhere and explore, im a big fan of it myself.
In the Chaos on Wheels video on their site, you do what appears to be about a 60 stair double peg.. Where did you find that and how many tries did it take?
That rail was in Joplin, MS where Chaos is based out of, me and Don Johnson were going to a movie and we spotted it, it looked perfect and had a good runway. This had by far dwarfed any rail I had done before, so there were a few things I had to learn the hard way. For instance, as scary as it is, going faster at longer rails will make you balance on them better. It probably took me somewhere around 15 trys or so, there was a break in the middle of those to go on a search for band aids for my bloody arm. I also hit my tailbone the hardest id ever hit it on that rail, it seriously hurt to sit for over a month. The final count on that stairs was 40, but they were longer then length of normal stairs so I don't know what you would call it.
What is your favorite trick to do?
Id say inverts are my fav, I struggled with them for years and only started getting them a few years ago. Its just a fun one to do, the next step for me is 360 inverts. 540s are also fun to do when you can blast them, but you can quickly end up with a bar in the gut if you over rotate.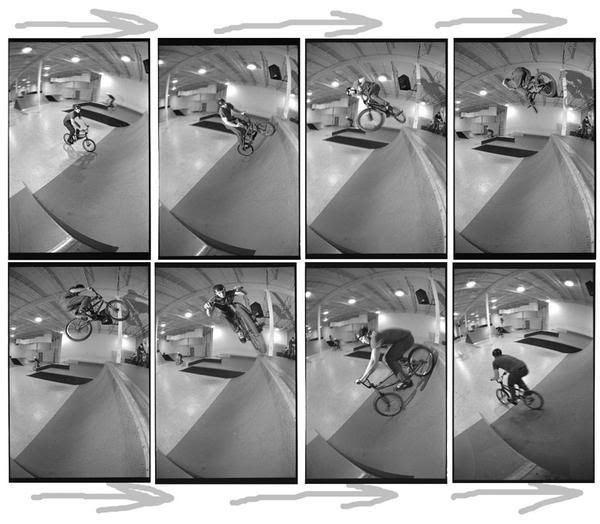 What are some of your favorite bands?
Well I find a new band I like almost every day, but some of my all time favorites are Mustard Plug, Catch-22, The Briggs, The Gamits, After the Burial, All Shall Perish. I like a little bit of everything, but I mostly listen to Punk, Ska, and Metal depending on the mood.
What do you think needs to be changed in BMX?
Well as most people would say, they need to start treating BMX fairly with other "extreme sports", we usually get jipped on hours and cost at a lot of skateparks, along with having to take our pegs off at times. I also wish they would come out with a decent BMX game, SKATE is amazing, if they put that amount of time into a BMX I would survive winters much easier. I think BMX is fine the way it is beside that Ive become desensitized to big tricks because everybody's doing insane stuff, it almost doesn't phase me to see a front flip or double whip anymore and I hate that, but its nothing that should be changed I guess.
If you won the lottery what would you do with the money?
Build a huge skatepark next to my house. Build a new bike. Pay for College. Let my parents retire. Give a ton of it to charity. Buy large quantities of pizza rolls, orange milanos, and lemonade with the rest.
Where do you see yourself in the next few years?
I guess that depends, probably working for a visual effects company or maybe even a bike company doing videos. Ill probably still be doing shows on and off, hopefully internationally. I have thought about moving near the west coast for a while, but I guess ill ultimately move where I find a job, it doesn't really matter. What I do know is that wherever it is I will still be making time for riding.

If you could spend the day with any person, alive or dead, who would it be and why? Well my girlfriend would kill me if I didn't say her haha so we'll say besides her I would say Mat Hoffman because I read his biography and hes done some insane stuff and im sure that hes just got tons of crazy stories to tell. I guess I would like to see how he lives a normal day too(before he was married). I would also like to ride that fan powered parachute ive seen in some of his videos 😀
Do you have any shout outs or thanks?
I have to say a big the thanks to God for blessing me with the ability to ride and allowing me to travel everywhere ive been and meet tons of cool people. My parents for hooking me up with my first few bikes (they now regret it). Frank Stewart for letting me ride his backyard ramps all the time. Travis McCray for kind of bringing me into BMX. All the peeps I ride with, the list is to big and I don't want to leave anyone out but you know who you are. Id also like to thank BMX for bringing me together with a wonderful girl named Sarah.
Anything else I might have missed you would like to add?
Just for BMX in general to keep the scene positive, don't get down on people because they ride differently, if we all rode the same it would be pretty boring. We're all trendy in one way or another. Be helpful to the young ones just coming into it, we want to encourage, not discourage, even if the first trick they learn is a backflip. That's my lame 2 cents bye….
you can see that big rail talked about in the interview about 35 seconds in.