2010 will be another amazing year, and things should pop off with a solid start. What better than an interview with Alex? I had the chance to meet and spend some time with Alex in Vegas during Interbike this past September, and he really impressed me. Not only is he a shredder on his bike, he has some real good game with the ladies and knows how to make for some good laughs. I figured with the recent edits dropping it was time to get him some questions to see what else he has had been going on in his life lately. Check out what he has to say and then leave him some love in the comments!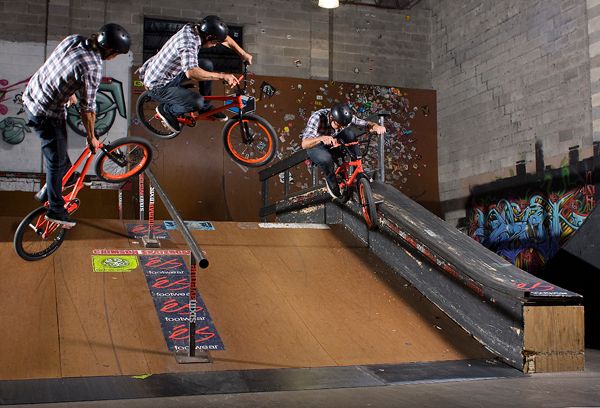 Photo Andrew White
Name: Alex Alan Magallan

Location: Nashville, TN.
Sponsors: Sunday bikes!, Duffs, Garden, 6th Ave Skatepark and Vinyl
Years riding: 14 years
What got you into BMX in the first place? Any early memories come to mind?
My Pops got my brother and I into racing bmx. Cuy (father) drinking Keystone's on the side line yelling like a mad man!
How are things going with Sunday these days? Do you have anything big going on with them anytime soon? Any plans for 2010 yet?
Sunday's moving locations to Austin and they have new completes coming out this year. Colorways look awesome. Theres some talk of a couple trips for the new year also.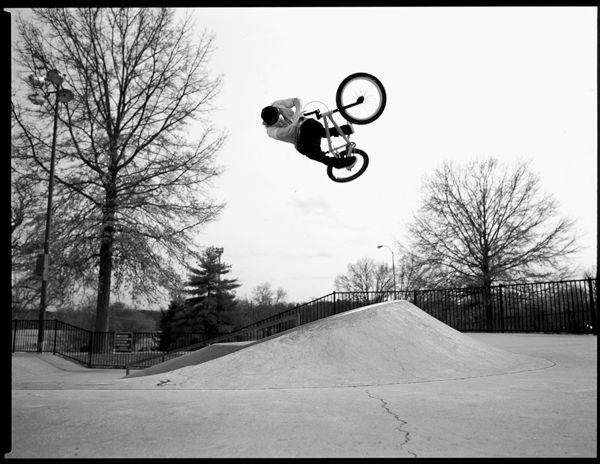 Photo Andrew White
You had your DuFFS edit come out last week, which was awesome. What all do you have going on with DuFFS these days? Does Osborne have anything up his sleeve for next year?
Thanks man. Duffs has some new shoe models for 2010, definitely worth purchasing. Brian's always got something up his sleeve.
Speaking of that edit, how long did you work on that for? It didn't seem like you had to go too far to get shit done, right?
Well it was a couple months on and off. Chris and I would meet up when he would get some free time from work. We take advantage of the park being in our area.
Have you been working on any other edits or video parts lately? When can we expect to see more clips?
Chris Mahaffey and I are working on this street edit. It's winter now so were kind of limited but, it's coming together.
I can't imagine the weather gets too rough down in Nashville this time of the year. Do you have any plans for making it further south for more warmth, or further north for a little ice anytime soon?
It gets pretty icey in the ville. Thinking about heading to Austin for a good portion of the winter. North bound is a no go.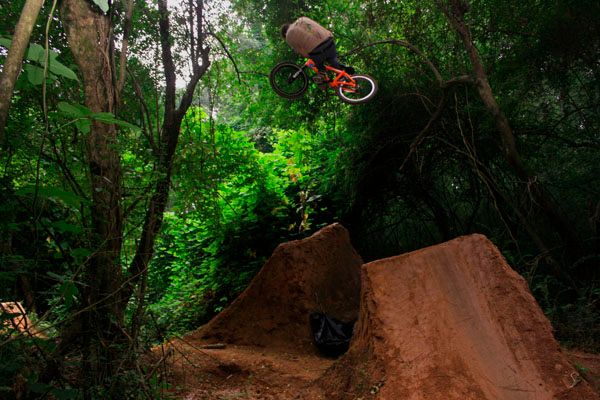 Photo: Chris Burden
Looking back on the last year. What do you think your favorite trip, session, day, or whatever was and why?
Has to be the last trip to Las Vegas. Good times hanging with the team mates. Amazing weather and riding in the out skirts of Vegas.
How's the scene in Nashville? I know you got a few good parks in the area. Are there any up and coming riders you think people need to keep an eye out for?
The scene in Nashville is growing.Its up and down also. During the winter stuff kinda dies down. Then up during the warm weather. Yeah theres a couple of local rippers that you should look out for.
You are still doing the brakes thing. What has kept you from taking them off? Do you think you ever will?
Man I was brakeless years ago. Just love having the ability to stop. Also nothing better than having precise brake feel cuz.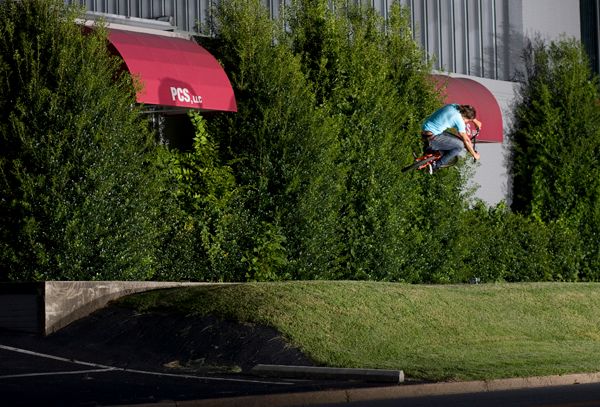 Photo Andrew White
You have a pretty unique style, what are some of the influences that you think contributed to that?
Yeah man, I just try to think out side the box. Some riders that I enjoy watching are Javier Ortega and Eli Platt. They just make you wanna be on your bike. Smooth and effortless… very influential.
Are you much of a trails rider or is it just parks and street for you these days?
Man, I enjoy riding anything. Just depends.
Who do you feel has the best tables? How about turndowns? People seem to get pretty worked up about this one.
Chris Stauffer, Garrett Byrnes and Timmy Martin. Those guy make tables and turndowns look proper. Blast from the past.
What do you think you would be up to if you never got into BMX?
Probably a toothless ice head on the Music city sidewalks. No, I lied! I'm not sure really, possibly something to do with art. I enjoy drawing and being creative through that.
I saw you tell a prostitute that she could pay you to have sex with her in Vegas last september. How do you feel about fat prostitutes that make $1,000 a night?
Yo that shit was humorous. As for that wild busted weasel, Shawty was trying to charge way too much. Could not imagine that hacket wound. Wow…
Actually, approximately how many girls have you had a session on in the last 6 months? I know you are pretty smooth with the ladies…
Man not too many, love me some women though.
What kind of advice do you have for the guys out there having troubles with getting the ladies?
Don't stress it. Shit happens when you least expect it. Don't be a lurker. Think of some ridiculous pick up lines, and give it a go.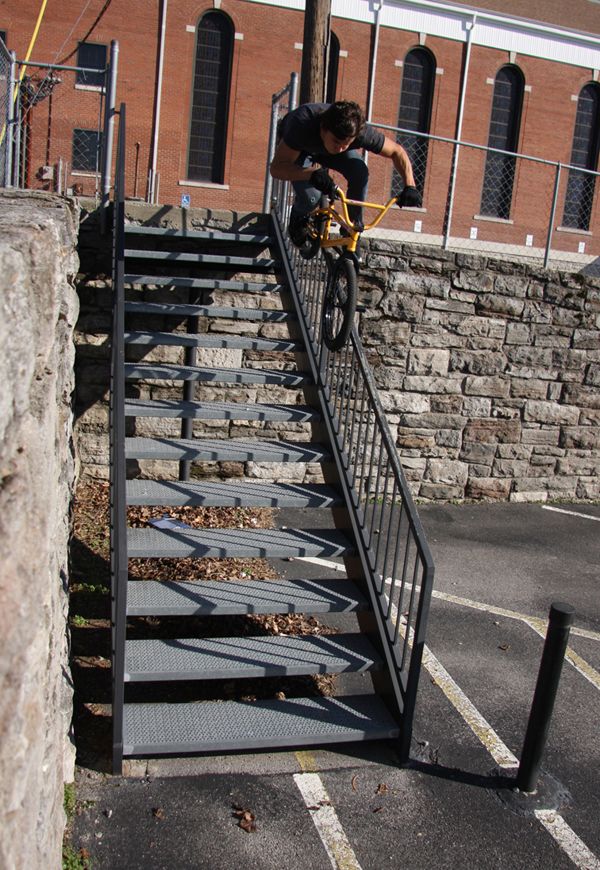 Photo Andrew White
Do you work or go to school at all, or are you doing the pro thing for right now?
I have a high school education and I'll do shows every so often and random stuff to make a little extra money. Pedaling for now.
What's the worst job you have ever had?
Would have to say this tile job I did with this guy at a Ruby Tuesday after hours. It ended up being a 10 hours ordeal, running into problem after problem. Then this goon tried to give us 100 bones after we finished the job. Wasn't having it.
What's the last song you listened to? What about movie?
Webbie- I got that
I saw BLOW for the first time the other day. Every time I tell people that they get offended. I reckon everyone and their grandma has seen that flick.
Do you spend much time on the computer? Any favorite websites?
I try not to spend too much time on the computer. Recently got a Facebook, shit is time
consuming for sure.
What are some things you would like to accomplish in the next few years?
Stay healthy and keep busy on the bicycle.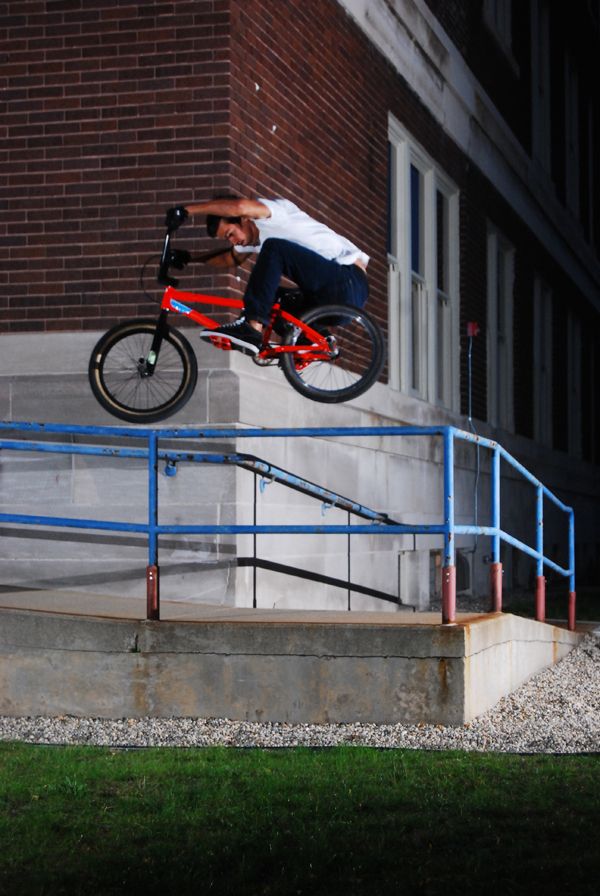 Photo: Justin Cooper
What are the three most important things in life?
My brother, mother and piece of mind.
Do you have any shout outs or thanks?
Jim C at Sunday!, Brian Osbourne at Duffs, Andrew White, Chris Mahaffey, Seeley at Garden, Tom at Vinyl, Kurt at BMXunion for making this possible. TS crew, moms and brother, and any body else that help me out in the past. Thank you
Anything else you want to say?
Murder she wrote, blood she spoke.