Photo: Tell Hughes
Alex Vazquez is a name that has been popping up more and more. You can probably remember him as the dude doing the crazy one-hand manuals, or mullet mohawk guy. Maybe you remember him as the newest recruit to the Sputnic team. Regardless, if you are reading this, you have probably heard of or saw something that he was involved in lately. I figured it would be a good time to get him some questions to find out a bit more about him, which just so happened to come the same day as his new banger of an edit for his welcome to Sputnic. So check out what he has to say, some interesting photos and recent edits. Don't forget to leave him some love in the comments, too!
Name: Alex Vazquez

Location: Tulsa, Oklahoma
Years riding: 9
What was it that first got you into BMX? Any early memories just pop into your head?
The Riverside Trails was where it all started for me. Any given day you could go there during the summer, winter, whatever, and there would be guys ripping the trails up. Tulsa definitely has had a good scene for BMX as there were gobs of gnarly older dudes that just plain ripped.

Photo: Annalisa
You were picked up by Sputnic not too long ago. How did that all come about? Do you guys have anything in the works as far as trips, filming, or anything like that goes?
I went to Vegas to check out interbike this year, ( wtf?? first time to Vegas anyways. Not to mention the gangs of rowdy bikers) and talked to the Sputnic TM. Aside from that I just love to ride. As far as traveling goes Sputnic definitely has trips in the works. It will be awesome to get away from the cold for a bit.
What's going on with The Trip these days? Have you guys been filming for another video or anything like that?
++ The trip definitely has good shit coming. So much talent in the groups of guys there. Not to mention some sweet tees coming out soon. Should be a video coming out sometime . It'll be out the next time we get the crew together and rage through some city. +rip life . ugh!
Speaking of the Trip, you have been making a lot of appearances lately in Mile's Tuesdays with Miles and other projects. Does filming keep you pretty motivated or are you pretty consistent with the riding you have been doing lately?
I am that guy who's always looking for someone to pedal around with, and I try to at least put my feet on the pedals once a day. Filming definitely holds some large sway when it comes to riding but I definitely try to just ALWAYS have fun whenever I ride.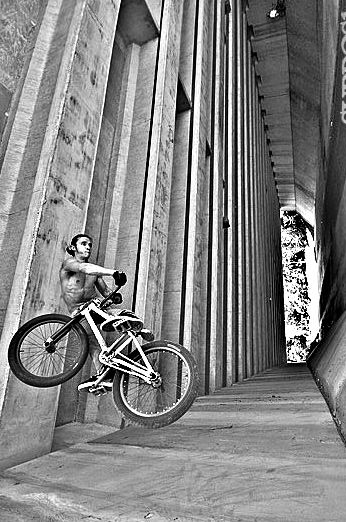 Photo/Edit: Ryan Sher
I noticed you guys have been getting a lot of time in at the new Mohawk park in Tulsa. How psyched are you on that place? It looks like it will be a hot spot that should bring quite a few people through next summer.
Mowhawk is the place right now. It's about to get lights put up too, which will make it even better. Drew York and I cruised through there early one morning and met the crew of guys who were building the park ( before it was finished) only to find out that they were all skaters/concrete guys. Sick group. They definitely made the park perfect and even shredded the bowls after they finished working every day.
Actually, Tulsa has become a pretty influential scene lately with you, Drew York, and everyone blowing up lately. Has there been more people picking up bikes around that area?
There are whole crews of kids from every differnet area in the T. Tons of shredders. I fuckin' love it!
Who have you been riding with the most these days? Any up and coming guys people should be looking out for?
All the bros from the T. J. Coble, M. Rogoish, the D. Yorker, and a whole slew of other younger talent that just shreds anyways. LOL
It sounds like Miles is going to be making his way to San Diego for the winter with quite a few other people. Do you have any plans on making it out that way to get some warmth this winter?
I am actually helping him move. Driving the U-Haul so I will be down there sooner than later.
Do you have any trips planned out for 2011 yet? Anywhere you would really like to go to?
Anywhere, Everywhere.
How the hell do you do those one-hand manuals? I've tried a few and found myself on my ass more than once.
I just love to manual period. I'm sure that helps. Aside from that ??? Just DO IT! Haha
What's one trick you can't do for the life of you?
Barspins. But I have crankflips. So I don't feel jaded
If you could load up a van with 5 people, a filmer (other than Miles) and a photographer. Who would you bring and where would you go?
This is too hard. Wish this quest read, " if you could load up a g6 with a crew…..?" Filmer Matt Phipps (Get your kicks) and photographer Jeremy Pavia. Would have to have a plane though.
What do you think you would be into if you never got into BMX?
I have no idea. Something active for sure. I have a want to try every action sport. Definitely want to drive those rally cars they had in the X-Games.
You have a pretty interesting job. How did you get into that? I'd imagine they are pretty cool with you taking a bit of time to go on a trips and what not?
Definitely owe a thank you to the Herschberger Family and the Miller Family ( both who own trash companies) for helping me along the way these past years. Trashing is not what most people would call a fulfilling job, but I definitely enjoy it. It's a release for pent up energy just like bmx is for me. If I didn't have my trash job I would probably be a spazz all day every day.
Tony Neyer: I heard you say that ratboy is your favorite rider. Tells us why he is so inspiring to you and how he helped your riding mold into the unique style it is today?
The Sombra: Finding Shade video on vhs was one of the first videos I ever bought myself. Looking back, I think Rat Boy stuck out to me because he wasn't riding the same way everyone else was at the time and it was still sick BMX. BMX is what you make of it at the end of the day. I just like to make my BMX a PARTY!
Last time I checked you were rocking a pretty gnarly mullet. How long have you been working on that one? How does your wife feel about that?
The wife stomachs it at best. She just likes it cause it's on my head lol. I just wanted to keep a piece this time when I cut it off. Why not a party? Bwahaha

Photo: Kissling Bros.
Actually, it seems like a lot of dudes in BMX have been getting married lately. What was the Alex Vazquez technique for picking up a keeper?
Farting in Public?
BMX ladies and gentlemen. It's magical.
Any plans of having a little mullet BMX shredder running around anytime soon?
Nope. But if it happened I'd still be okay.
I feel like you have a pretty high level of partying capabilities. What makes for a good night out for you?
Shots, shots, shots, shots, shots, shots! Brews, the Bros, Babes, Bikes, Bhudda 'n' Backwoods. You know, all of those awesome "b" words.
Have you been in any sketchy situations lately? Care to share a story or two?
Definitely got screamed at the other day for being on a roof. So I just jumped down ( en bicicleta ) . The latino nuns were screaming," nueve, uno, uno". Will make a great story when I'm older.
What's the last song you heard, movie you watched, and website you visited?
Common- The Sixth Sense. The last movie- The Pianist. TheTripped.com is my Android homesite and sputnic-bmx.com is the one on my laptop. ugh!
What's something you have never done, but wanted to?
Take a roadtrip in a Big Rig trailer converted to a mobile home. A six hundred gallon tank can take you a long ways.

Photo: Alex Leonard
If you could be sponsored by any company that isn't involved with BMX directly, who would you pick and why?
Peterbuilt. So I could have said truck decked out and be roadtripping right now.
Three things you can't live without?
Food, Food, andd….. Food.
Do you have any shout outs or thanks?
Everybody thats in Tulsa ( it's broad but you all know who you are) Friends, Family, Miller Express, the Herschberger Family, SPUTNIC, the ++rip. the one love.
Anything else you want to say?
GO RIDE BIKES!

Go to BNQT.com for more videos.