If you would have asked me who Andrew Brady was about two months ago, I probably wouldn't be able to tell you anything. Then Tom Arkus suggested him when I was looking to redesign the site and that all changed. Andrew is a real talented guy who not only rides but does web design, photography, filming and editing also. I was pretty stoked on his work and figured it would be cool to do an interview with him. So here it is! Check out what he has to say and leave him a little love in the comments!
Name:
Andrew Brady

Location:
South Suburbs of Chicago
Sponsors:
None
Years riding:
6
What got you into BMX in the first place? Anything special?
I remember getting a Mongoose in sixth grade and popping wheelies and things like that, then I picked up a copy of Ride BMX (with Jason Enns on the cover doing a table over a hip), and just sort of read BMX magazines and stuff throughout middle school, then finally decided to actually start trying things. So just keeping up and learning about BMX via magazines got me into it initially.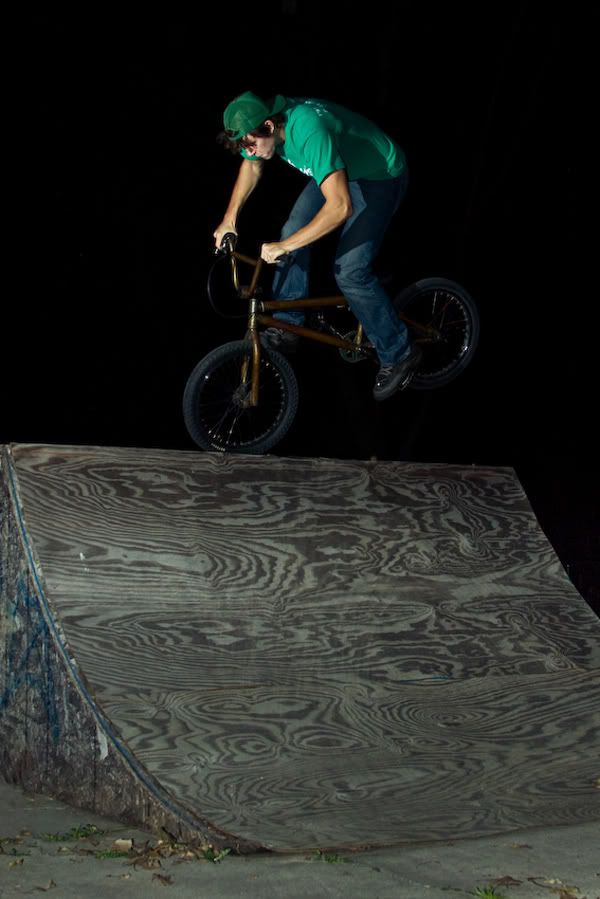 That's a hell of a memory with the cover and everything. I'd imagine you had people to ride with since you live so close to Chicago and everything. What has the scene been like since Scrap closed down a few years ago?
I always had guys to ride with, my hometown, Lansing, has always had a ton of riders. I generally always rode with my buddy Collin Broomhead, who actually just messed up his leg pretty badly. There is a skatepark in my town that has been there since I started riding. It's not the best, but it's more BMX friendly than skater friendly, so that's always bred riders. Scrap is in the northwest burbs, about an hour from my house, so I was never really involved in that scene. We have a shitty indoor park called Krush which treats BMXers like shit, but everyone still goes there in the winter anyway. I think everyone in the area just sort of migrated to Four Seasons in Milwaukee for the winter. I've been more into the Chicago scene lately and that is really good. Wilson Avenue skatepark is more bike friendly now and the vibes are usually good there. A new skatepark in Logan Square just opened and lots of kids have been riding there from what I've seen. I can't speak for the entire Chicagoland area scene, but with all the parks in the region, riding is bigger and better than ever.
Since you are around Chicago a bunch, I would imagine you ride with Kevin Porter and those guys a fair amount. Do you feel like having them around pushes your riding a little more?
Definitely. I ride with Porter a lot and he definitely gets me pumped to do stuff or motivates me to get stuff done. I've been riding concrete and trails almost exclusively recently with him and Pants and Leep from the Vinyl crew, and they've all pushed me to go higher or hit doubles I would have never done before. Even more so, riding with my hometown friends from Crossroads BMX and seeing them progress more and more gets me just as psyched and pushes my riding.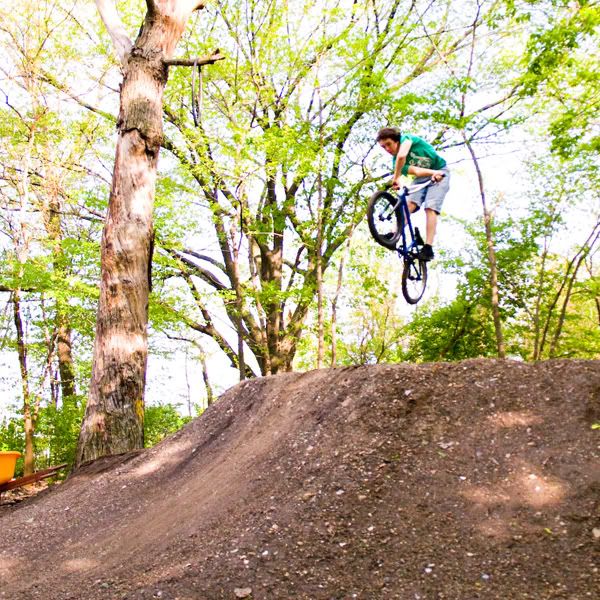 You had a run in with the great Shawn Arata not to long ago right? What was that like to meet and ride with him? Did he say if he will be making a come back to BMX anytime soon?
I met and rode with Arata a couple of weeks ago through Kevin, and then saw him again at the Garden, the local Chicago trails spot. It was cool to meet him, he's a really kind and nice guy, and seems really dedicated to his family. I was stoked to see him still ripping, he was doing some big transfers right out of the gate, and seemed like he was having a blast on his bike. He didn't mention anything about a comeback, but seems to be having a great time on his bike, which is all that really matters.
Right on, so where can you usually be found riding these days? Do you have any trips planned now that summer is finally here?
I usually ride the Wilson Avenue concrete park. The bowl has infinite lines and there are also the pool and street sections, which keep things interesting to me. I'm planning on heading out to Pittsburgh to ride and film (behind the lens) for the Vinyl full length sometime in June. Louisville is loosely on the agenda, as well as Michigan to do some filming and riding. Other than that, whatever trips come up that are possible to go on, I'm definitely going to take advantage of.
What's the deal with the new Vinyl video? What can you tell us about that?
Tom is planning on making another video to follow up Vinyl's first video, "The Best of Both Worlds." The first one was great and I know he wants to make the second one even better. There is nothing set in stone as far as I know, all I know is that the video is just going to display what Vinyl is all about; ripping trails, and flowing concrete. It's going to be filmed primarily in high def, as well as filmed very well. We're pretty big into having nice visuals as well as nice riding, so I'm sure that combination will come together well when the DVD is done.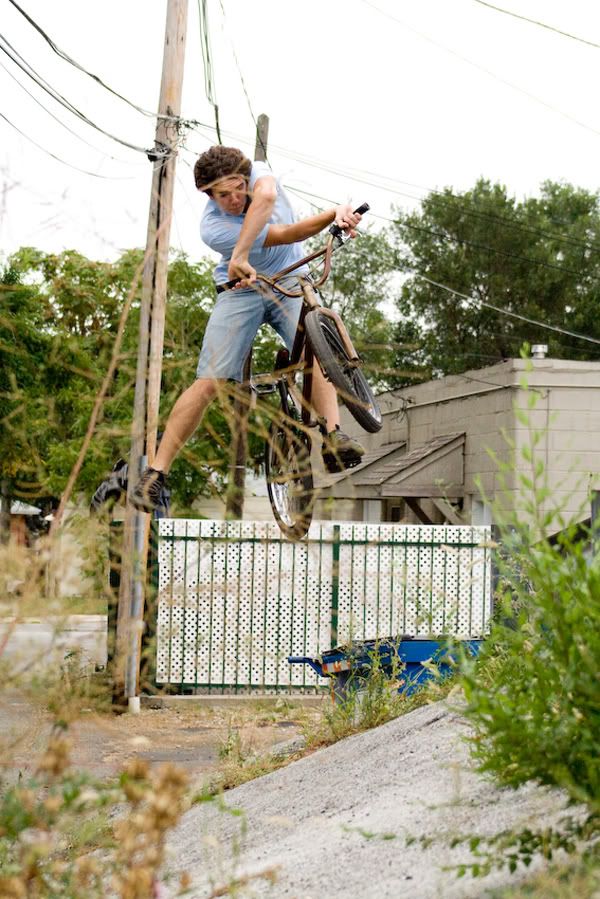 That's cool, how long have you been filming and shooting photos for? What got you into it? What kind of cameras and gear are you working with?
I've been filming for about four or five years, and shooting photos for seven. My dad was a photographer and I was always drawn to cameras in general. My gear is pretty basic, I have a Canon 30D for photos, with a random assortment of flashes that I barely use, and my video camera is a JVC GR HD1, which I plan on selling and upgrading soon. I work at a TV station, so I have access to a ton of other video equipment, my favorite of which is a green screen.
Awesome, so does that have anything to do with what you are going to school for? What is your ideal dream job someday?
Sort of. I'm studying graphic design right now, and it's nice to have the skills in general, but it will also help when getting a job. Professors keep telling us that being multi-skilled will work to our advantage, so I'm stoked that I've been able to learn these things from those around me. My ideal job would be working freelance, doing graphic design, photography, and video production. I like all of these things quite a bit and can't really narrow it down to doing one specific thing.
One of your other skills is also web design, since you recently re-did BMXunion. How did you learn to do all that stuff, and have you done any other sites other than this one? How can somebody get a hold of you to do a site for them?
I learned all of the web design stuff on my own for the most part. I took a class in college which taught me some very useful things as well. I designed Vinyl BMX (which we are currently giving a facelift/redesign), as well as Crossroads BMX, a local scene site, and Delicious Cafe's website, which is also slated to go under some revision. If someone wanted to get ahold of me, they could check out my site, AndrewBradyOnline.com, and I have a contact form and all that info on there.
So what are you usually up to when you aren't riding, going to school, or anything we have already talked about?
Spending time with my girlfriend Melissa, or drinking coffee. I've been together with my girlfriend for just about eight months now. She lives where Scrap used to be, so we don't get to see each other as much as the average couple. When we get the chance to spend time together, we do. I got hooked on "hippy juice," and enjoy sampling the newest Intelligentsia roasts and learning more about coffee and everything behind it. I also like spending time with my family, we're pretty close and I enjoy their company and feel lucky to have them in the area!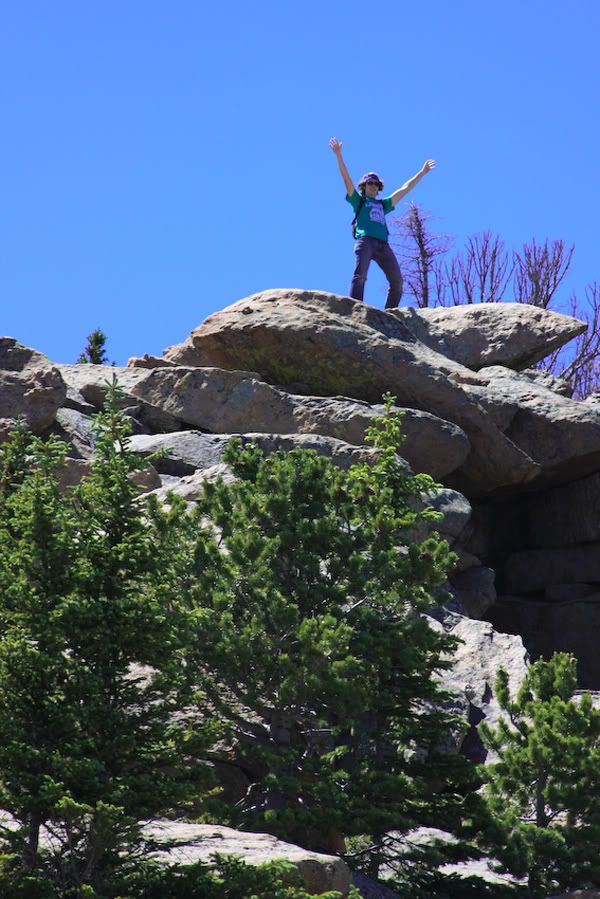 I'm going to blame KP for the coffee addiction. What's your favorite kind to have?
I got into it in Austin this winter, but yep, KP got me really addicted. My favorite coffee by far is the Kenyan coffee from Intelligentsia. Intelligentsia is a local Chicago company and Kenyan beans are the finest in the world, so its a perfect combination!
Who or what are your biggest influences in your life?
My parents have always influenced me, they definitely raised me well and taught me to work hard and be respectful. My grandparents have always been a great influence too, in a very positive way. My girlfriend is a pretty big influence on me, in a positive way I believe. Tom and Kevin have influenced me a lot lately and opened my mind up to different things, and changed the way I view things. Good design, photography, movies, videos, etc. are also things that influence me, but I would say that people influence me above anything else.
Where do you see yourself in 5 years?
Living in Chicago with Melissa, working in the media world in some capacity, still riding bikes, and enjoying life as much as I do now. Maybe having a dog or two to keep us company…I don't know if the future will pan out like this, but it would be great if it did!
What are the first 3 things you would buy if you won the lottery?
My family and friends' families' houses to take the bills away from them, a sweet pad in Chicago that is big enough for friends to come and go, and I'd probably have to go buy out B&H Photo in New York for all of my camera and computer needs, haha.
What's some of your favorite sites to check out?
Defgrip by far, such a good site. I also check Vinyl to see what Tom and Dave have posted, and I've been checking BMX Union a ton ever since the redesign to see what's been going on there. Other than that, I have an RSS reader full of graphic design blogs.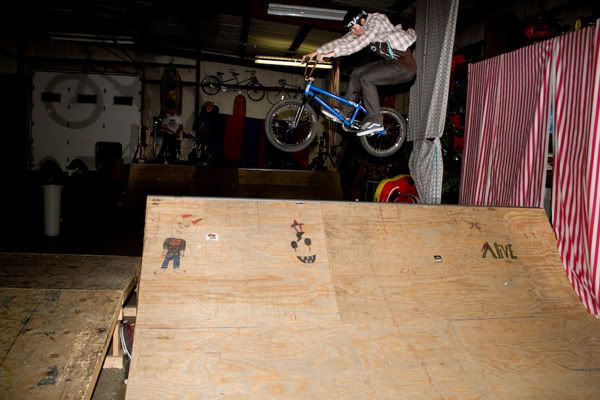 What is the craziest experience or thing you have witnessed in your lifetime so far?
The past year has been crazy for me when compared to the rest of my life. I've experienced a ton of different things, travelled to places I've never been, met tons of new people, and basically transformed my lifestyle into something completely different than before. It's not a specific event, but the past year has been a crazy time for me, and I like it a lot.
What is the best advice you can give, or have ever been given?
Just be yourself and have an open mind. I've put up a fake facade before and been close minded on certain things, and life is just so much more enjoyable when I've done these two things. I just think that everything would be a lot better if people were real and true and kept an open mind on issues.
I think I already know where this is going, but do you have any shout outs or thanks?
I have to thank my friends and family; they've gotten me to where I am today and I would be nowhere without them. More specifically, my parents and grandparents. My girlfriend Melissa, who is always understanding and loving, which is awesome. She is always there for me even in the roughest of times. Collin Broomhead, my riding buddy for six years, I hope you get back on the whip soon…Tom Arkus for getting me involved with the Vinyl crew and helping me to where I am today…Kevin for the coffee, food, and advice…the guys at LNN Channel 4 for teaching me everything I know about video production…Ross Hensley for giving me so much help with the Crossroads site…and all the rest of the Crossroads dudes, as well as the Vinyl dudes…anyone who has given me help or advice or a link or a good word…anyone else who I'm forgetting…and last but not least, Kurt for the interview!
Anything else you want to say?
Haha nah, I think we covered everything in the interview!
The edit below of Brian Kachinsky that popped up a few weeks ago was put together by Andrew.