Andrew has been a pretty recognizable name in the Canadian BMX scene over the last few years. From his days riding for the now non-existant Seshin bikes, being apart of the BMXfu crew, and just in general good riding. He had an edit drop recently that got my attention and I figured I'd see if he was into doing an interview. Well, it happened. Check out what Andrew is all about, a few photos, and some recent edits and then leave him some love in the comments!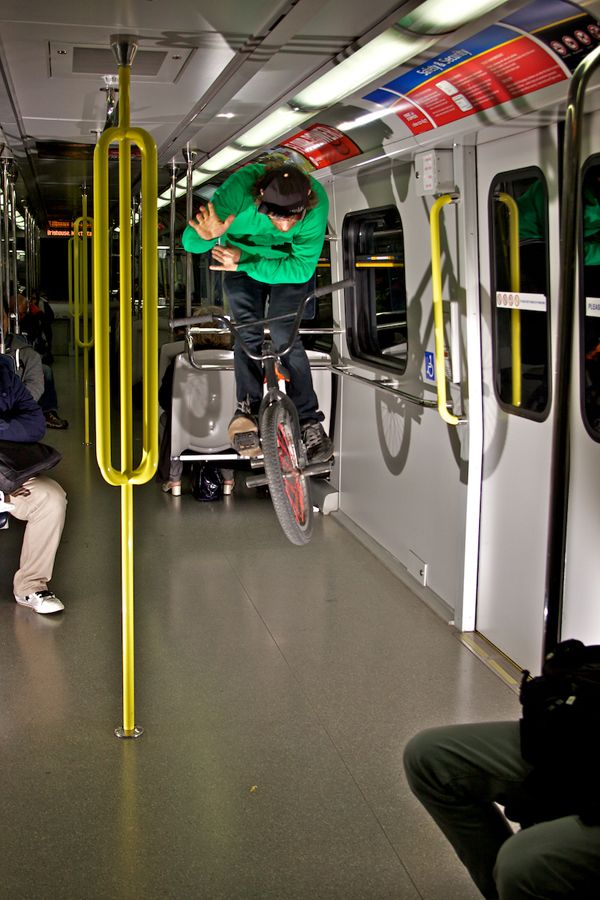 All photos by Jason Vawter
Name: Andrew Gobbo (sounds like slow mo, hahahaha)

Location: Currently loving life in Vancouver, British Columbia, Canada.
Sponsors: Got a job sponsor at Ride On Again bike shop, BMXFU flow team.
Years riding: Lucky 13 [knock on wood]
What's the Wolf Pack all about?
"In a pack, a family of wolves joins together to better navigate the uncompromising world. It's an act born of natural selection; a pack stands a greater chance of survival than a lone wolf. The combined talents of the group yield greater stores of food and safety from natural foes. Humankind would serve itself well to observe the ways of the wolf." www.wolfpackcreative.ca
Anything new going on with BMXfu these days besides the video dropping?
BMXFU is so large and in charge there's always something going on. When the BMXFU pro team isn't busy getting hooked up with dope sponsors or partying, they always seem to be traveling and filming for their next video. Looks like some bys might be movin out this way soon too. Canadian takeover.
Now that Canada has had some solid time to thaw. Have you found much time to get out on your bike and ride lately?
Well, I live in Vancouver right now so it never really gets that cold here, just rains in the winter. Ironically though that last edit I made was filmed over a month when I was visiting home in Ontario in the dead of winter. Most of those clips were filmed in 0 to -10 weather. Thawing is only a state of mind.
Where can you usually be found on your bike these days?
Lately, I've been riding in Burnaby a lot cause it's pretty fresh and new to me, and there's some really good dudes living that way right now. Either there or downtown/skate plaza. Shout outs to the ghetto mansion!
Given you just had that edit drop, have you been doing any filming for anything since? When can we expect another web edit or video part out of you?
I always seem to film one or two random clips with different people i ride with lately, but no idea what i'm doing right now. Me and some friends are pumped to just toss together some day edits in the near future, and see what else comes up. I'm also excited to try to film some stuff with John Thompson, who I will go on record as saying is Canada's best videographer. Look out for this full HD procam specialist. DOPE.
Do you have a part in FU3 it or just the bonus that already dropped online?
I have a couple jib clips in FU3 that Charlie filmed but yeah my 'section' is that Gobbonus shit that's online.
What should people expect from the BMXfu video as a whole?
Good music good vibes good riders and good times.
How do you feel about Drew Bezanson winning everything for Canada?
Drew Bezanson is the man. Way too good and nice as hell. Pure Canadian.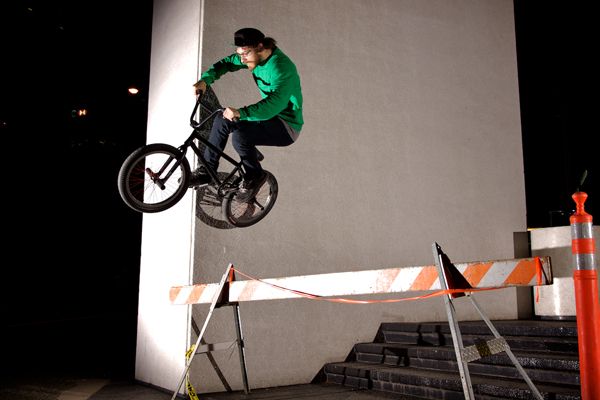 Actually, how do you feel about the scene in Canada these days?
I think the Canadian scene is awesome! I've travelled across the country a couple times now and have to say it's amazing how easy it is to just roll into any town and meet new riders that are friendly and down to ride and have good times. We also have so many good riders across the country that people don't really know about, and I'm proud to see a lot of them getting hooked up lately. All solid dudes.
So what's it like working with a big baby?
Aaaaaahahahaha. Hot Carl aka Hot Baby aka Big Stupid Gay Baby is a great source of entertainment at work or out riding. He will put just about anything in his mouth (except a dick) but unfortunately he really has to toughen up and learn to take a flurry to the solarplexes better. He is getting trained though.
How many boners do you get a day on average?
I'd have to say probably one or two?? but most of them are on purpose and get dealt with.
What's it like working with a washed up pro whos into folding bikes?
Not gonna mention any names here, but it's awesome. Funnier than Hot Carl and a pro at delivering flurries to the solarplexes. Oh, and backflipping coping to coping hips (once).
Girl problems?
Lots apparently hahahaha. Coworker problems more like it.
More park or street?
Pretty much street and street parks. But trying to remember how some of those ramp tricks work too.
Are you ever gonna lower your seat?
It's been inching down over the last couple years, but i think it's bottomed out. not sitting on your tire is awesome!
What's with the internet hate on you not going fast.
They say im slow eh?
And with not grinding all four pegs.
Total bullshit. First of all when did it become a crime to ride four pegs and not film oppo tricks? Internet shit talk can be ok sometimes, but dont call out an indian giver if it isn't one, and don't call out using one side pegs when there are clips using both. I think it's hilarious because I've actually had this happen twice now with two different videos.
Are you still gay or has the fad passed?
Jury's still out
I figure having four pegs makes you more man than man. Do you ever mix your setup up at all or are you pretty consistent with the way your bike is dialed in?
I've never made a serious point of having this bike setup but I guess it just works for me, and has for a long time. I've always ridden four pegs just because it means you can do and ride a lot more shit, and I find that riding brakeless just seems to make me a better and more balanced rider. I have to say I don't really get the whole 'four pegs makes you a man" thing though…..growing a beard makes you a man hahaha.
Are you ever going to shave?
I'm sure i'll have to someday. But it's been so long iI think i'll have to get my dad to come teach me again.
Bubble tea?
so good.
What are you usually up to when you aren't riding?
Gettin off to Daniel Dhers' tailwhips
What's the worst job you have ever had?
I've been pretty lucky with jobs actually. I think my least favourite job was actually working at a bmx shop for a summer. I realized how some people are way too into the tiny details of bikes and parts and riders and not enough into just riding having fun and progressing. Getting asked questions about how much stems weigh and which gear ratio will make you a better rider can almost ruin bmx for you. It's way easier to help and make fun of roadies and mountain bike dorks behind their backs, cause they're not embarrassing my sport.
I know the BMXfu dudes like to get down. What makes for a good night out for you? What's the drink, smoke, and prostitute of choice?
Well I don't drink, smoke or deliberately pay for sex, but I still like to party. All I need is some good tunes, tasty girls and I'm fine.
What's the last song you heard, movie you watched, and website you visited?
The last song I just enjoyed was Beach Fossils 'Vacation,' I watched half of The Jerk last night at 4am, and let's just say that the last site I was on was not pg 13. Couldnt tell you which though
Approximately how many girls does it take to satisfy one Andrew Gobbo?
Usually only one at a time.
I noticed you rock glasses. How visually impaired are you when you take them off?
Hahahahaha, check out some of the girls i dated before i got them. IMpaired.
What are some things you would like to accomplish in the next few years?
Maybe growing the fuck up?? hahaha I don't know. I just want to keep the good times rolling right now. Live the life you can only really live at this age. Enjoy my remaining youth and ride my bike til my knees blow out. [knock on wood] Let's party before we become the old creepy men on the scene!!
Do you have any shout outs or thanks?
Mom and Dad Gobbo for always being awesome. My brother for being, alright. The now defunct Seshin Bike Co. for being my first and only real sponsor, BMXFU.com, Gnarwhale.com, wolfpackcreative.com, Moham crew back in Hamilton, Ride On Again.com, and anyone/thing else out there thats just keepin it real. BMX is not the world, it's just a fun little part of it.
Anything else you want to say?
Let's do this!