Name:

Anthony Napolitan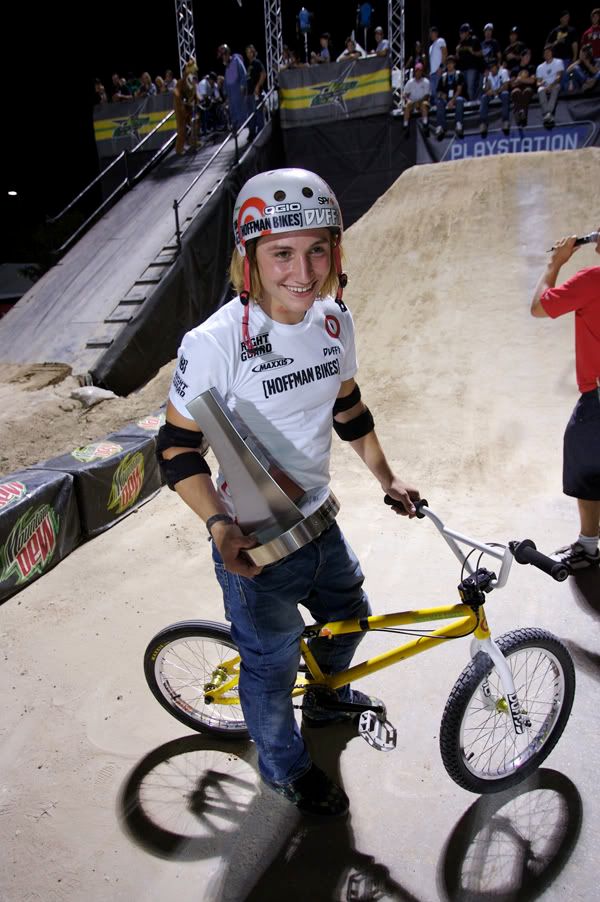 Location:
From Youngstown, OH, Currently living in Woodward,PA
Sponsors:

Hoffman/Target, Sobe, Levis, Duffs Shoes, Maxxis,Kicker Audio, Woodward, Ogio, Lavs Lab Productions, Profile Racing and System Cycle
You have had a huge year, I sware you have been around the world, how was this year different from last year?

Well this year I started off the years with some new sponsors, which I was really Stoked about! I went to Singapore for Metro Jam. Basically I did a bunch of hopping around from city to city. Sadly I started off the contest season by separating my AC joint in my shoulder. But I was quick to bounce back from that. Overall with my injury irritating me all year, I'm really stoked on how I finished up the year. I placed podium twice in the Dew Tour and took a bronze medal in the Big Air event at X-Games.
A few years ago before you were pro, did you ever expect you would be in this position?

I never expected that I would be in the position that I'm in now! I couldn't ask for more in my life right now. I ride bikes because I love it, I have an amazing and supportive family and girlfriend, I live at Woodward camp, I have the most amazing and supportive sponsors and I get to travel the world!
Now that winter has hit and the contest season has for the most part come to an end for a few months, what are your plans?

It's nice that the contest season has ended because I really get to ride how I want to now. I don't have to show up anywhere and throw down. I've still been traveling a ton with my bike. All that I really have planned is to keep riding.
Levi's has been going above and beyond doing a lot for the team it seems like, how are things going with that and is there any big news like new team members or anything you can share with us?

Levi's is amazing! Not only are they a great sponsor, but they are almost like a family. I don't have any new info that I can relay right now. But I've heard rumor that there are some announcements to be made that will be pretty exciting for the team. Other than that, Ronnie and Jeremiah have been continuing to shred!
Speaking of Levi's, how awesome is it to be able to help your little brother out?

Being able to have a brother that you can travel with and ride with on it's own is awesome. We're probably the closest brothers that you'll ever meet. It's really badass that I can help him out. There is no doubt in my mind that someone was going to try and snatch him up soon. So I figured I might as well do it before someone else does.
What is it like to have a brother that kills it to ride with whenever?

Like I said. It's amazing! Not only can we ride together, we can do almost everything together.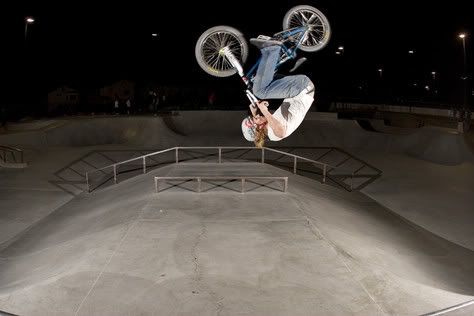 Do you have any signature parts or clothing items coming out?
I've been in the works with Duffs on coming out with a shoe. That's pretty much all I have so far.
I noticed your back at woodward now, do you plan on riding and just getting all dialed in over the winter or are you going to do some "training"?

Hahaha! I don't really train. I just consider riding bikes as riding bikes. Once people start getting into training mode I feel like they're not having much fun riding a bike. Everything that people see me do on TV is what I do everyday. Not because I have to, but because I think it's fun, and I have fun doing it.
Any new bangers you have planned for 08′ you can let us in on?

Not really. I've been working on a lot of opposite tricks. More so just trying to keep all my tricks I have now dialed.
Do you have any big plans like video parts or road trips for 08′ that you already know about or is it pretty much just the dew tour and X games that is set?

I'm pretty sure that Levi's will do another trip. It's not been confirmed yet. I'm heading to Estonia for Simple Sessions soon. I'm hoping that Levi's does a video this year. I've really wanted to put together a good video part. And of course all the Dew Tours and X-Games.
What kind of advice do you have for some of the newer riders out there who are just getting into riding?

I've said this a MILLION times. PLease don't ride bikes because you want to be sponsored. Ride bmx because you love it, and that's what you have fun doing. I didn't start riding bikes because I wanted to be sponsored. I started because I had fun riding. I'm very fortunate to be on of the few BMX riders to make money in the sport.
If you didn't start riding, what do you think you would be doing instead?

I would probably be finishing up with college by now. Unless I changed my major 12 times. Which is pretty likely.
What are 5 things you would like to accomplish in the next 5 years?

1. Buy a house. (almost there)

2. Win the Dew Tour in Dirt again

3. Win an X-Games gold medal

4. Qualify for BMX park in the Dew Tour

5. Buy a Bull Terrier
What are some of your favorite bands you like to listen to when you ride? Is it different when your not riding?

I listen to just about everything. The only thing I don't really listen to is country. Traveling has a lot to do with music. Since I travel so much I get to be exposed to so much great music. I've been listening to a bunch of dance music lately. A little bit of Lil Wayne which is my brothers fault. Hahaha
What are some of your favorite movies?

I love Pirates! When my BMX career is over I'm going to become a Pirate! Superbad is a favorite as well. Basically anything with Johnny Depp in it. He's a bad ass!
Since it is that time of the year, whats on the wish list?

I couldn't ask for anything more right now. I'm completely content with what I have now.
Who are some of your biggest influences in your life?

My parents, Girlfriend, Tj Lavin, Brother and Friends


Who are some of the riders you looked up to growing up, has that changed at all since?
Brian Foster, Tj Lavin, Chris Doyle, Mike Aitken, Cory Bohan and Jay Miron. These guys still stand there ground in my book.
Where are some places you haven't had a chance to go to that you would really like to go to?

I don't really know. Paris, Germany, parts of Asia
Do you have anybody you would like to thank or give a shout out to?

First and foremost my family, friends and girlfriend for being supportive of me and dealing with my life style. All my sponsors that I listed at the top of the interview. Steve Swope. And anyone else that I forgot and will remember in a couple hours. Oh and BMXunion for giving me the opportunity to have this interview. Thanks
anything else I missed you would like to add?

Stay Strong Stephen Murray