Oh man, where do I start with this guy. Ben is a Minnesota ripper who is super talented and super funny. He has been on the SBC for a while. I usually die laughing everytime I ride with the guy. His girlfriend is on Interbmx more than him and she is pretty damn cool too. You probably are confused by this intro so I guess just check it out and it will make more sense.
Most photos by Ben Austin others by Carrie, and Friemuth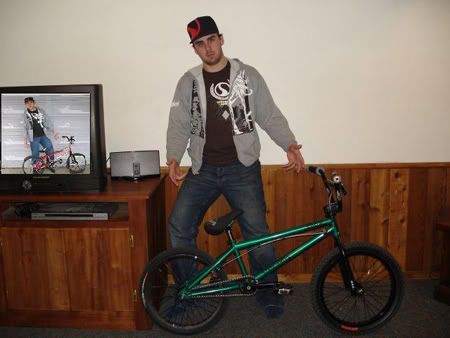 Name:
Ben Polaschek

Location:
Crystal, Mn
Sponsors:
Standard Byke Co., Goodtimes Superstore. Underline (BJ SUX!!!)
Years riding the bike:
12 1/2
You have been on Standard for years, when did you get on the team and what are your views on the company as a whole?
Summer of 02 I think. The rollin on the river deal. MN to Louisiana. Very funtrip. I was invited (KP asked me every 2 seconds to come with) haha I was hoping I could get work off for a week. We actually ran in to my boss at some restaurant and I had Rick take care of that!!! I've been getting sweet sbc goods since then.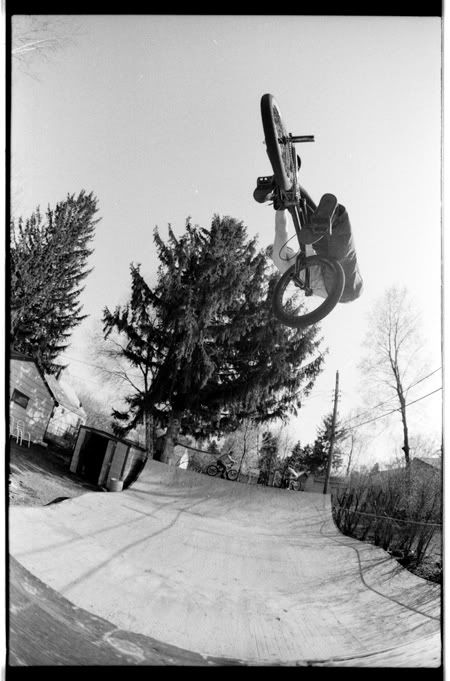 Standard as a whole is awesome. I've been riding their frames for over 10 years now. I would still buy them if I had too!!! The team is badass. We all get along good and know how to have a good time (on the bikes and at the bar) The new manufacturing shop is so sick. You can make anything in that place. There is going to be some really good stuff cranking out of there. Rick rules. He puts a lot of time in to standard and it shows. It's cool to ride for a dude that's old as fuck and still shreds harder than the young guns!!!
When the hell will there be a Benny P signature frame?
I got a crazy custom frame being built up soon. It's gonna be dialed. I'll send pics as soon as I get it.
You get pretty loose on a bike, did you grow up racing or riding trails at all? How did you get this manly style?
I raced maybe 6 times. Won the state qualifier for 15 novice and quit. I used to ride a lot of dirt. I will have some trails in the works at my house very soon. As a kid my dad would let my dig up the yard and he even bought me dirt for jumps. He claims it was for the "garden". He bought a bunch of wood and helped me build a box jump too. My parents were very supportive so I always had dirt jumps and ramps all over the yard. Plus I was neighbors with Josh Nendza. That definitely helped!!!
The manly style comes from playing sports as a kid, eating cheese burgers, not shaving enough, and trying to boost everything.
Over the years you have had a few video parts and clips in videos, which ones were your favorite?
I like my stuff in Baco 10 and props 57.
How the hell do you go so high? I saw you almost hit your head on the rafters at the contest!
Well, I weigh about 200 pounds more than my bike. I can pump like a mofo.
What are some of your favorite places to ride or places you have had the chance to ride?
4 seasons Milwaukee, undercover, G SHOCK!!!
Who are some of the people you like to ride with and why?
First off, I like to ride with anyone that likes to have a good time while getting shit done.
Jonah Lidberg, He's original.
Phil Book, He goes high and we do a lot of the same shit.
Nick Palmquist, He always excited to ride anything and he shreds it all.
Tony Mortenson, we both push each other to do bigger 3's
Josh Nendza, he can do anything he wants, usually first try.
Pretty much all my friends. Its always a good time.
You have some clicked 3 turndowns and superman's, what are your favorite tricks to throw out?
I usually only do my favorite tricks. 3's, tables, turndowns, no footed cans, no handers, I keep it pretty simple. I rather go high and make my tricks look good than do a bunch of circus tricks. But I don't mind to watch the other guys huck it!!!
What is a trick you cannot pull for the life of you?
Tailwhips took me a while to learn. Other than that I don't try anything too difficult. I'm not sweating any tricks at the moment.
What is your worst riding related injury, I know you got some fake teeth don't you?
I've been KO'd twice. Broke my teeth a few times. Yes I have 4 fake fronts. I have loose rotator cuffs so I've popped both shoulders out at least 100 times a piece. Broke my back and my cheekbone. Been pretty lucky. I've never been off my bike for more than a few weeks.
Give us a good story about you having a run in with cops, security, or angry people?
I got handcuffed at the u [University of Minnesota] while riding street when I was 16 and put on probation with some community service. I clocked most of my hours of service working on the local bmx track. (and riding it) haha
Why don't you hit up the dew tour or anything, I figure you would do decent?
I didn't even make the finals at your contest. Don't ask me how, I did a pencil to chicken butt and failed to make the cut!!!!! Haha I used to compete more, it was cool to see my friends and meet new people. I rather just session for fun. Although the dew tour set ups look amazing.
Do you have any trips over the summer planned?
none
How about videos, I know you have the one for this, but do you have any others in the works?
I just got a new camera. I have some stuff in the works.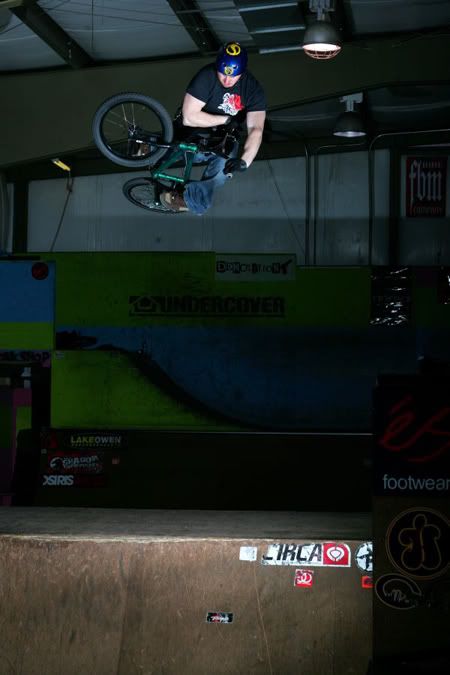 If you could go on a road trip with 5 people, who would you bring, why, and where would you go?
Any five of my friends anywhere would be a blast
What is your all time favorite memory on a bike?
Riding every day till dark after school as a kid.
If you could change anything about BMX what would it be and why?
No more cross dressing riders. Get rid of the shitty companies. Add a little more diversity. Less curb crawlers, more trail style.
Outside of riding what are some things you are into?
Music, video games, computer, filming/editing, hanging with my lady, partying with friends.
Aren't you finishing up school or something soon?
I'm going to trade school for my job as a Union heat and frost insulator. I got 3 more years of winter classes.
You got a lot of Polish pride, what the hell is so cool about being Polish?
The Sausage, duh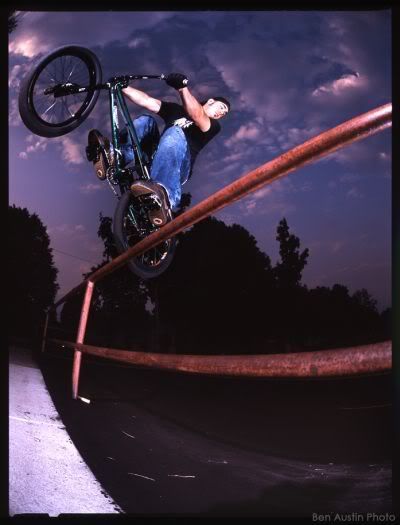 Your lady Carrie seems to spend more time on Interbmx then you, how do you feel about that?
Fine by me. Shits funny. She tortures all the morons on there.
Speaking of her, this might get you in some trouble, any weddings or anything planned?
Maybe next year?
How do you feel about ripping on emo kids on the internet?
Its good in moderation for me. Carrie loves it.
If you could have any super power, what would you choose and why?
Wolverine's healing ability. I used to have it.
You and Tony Mortenson are good pals, so I know you can drink.. What is the drink of choice?
Bud bottles, Beam and coke
How do you feel about the Minnesota and I guess the Minnesota scene too?
Winter sucks, I'm gonna get a snow bike going someday. most indoor parks suck,(reneGAYed is fun) friends rule, We have a lot of shredders. Overall its good. The other 3 seasons make it worth staying.
What are some bands you are into?
Lots of em. Anything from the beatles to Jedi Mind Tricks. Mostly alternative rock, classic rock and hip hop.
Seen any good movies lately?
I have netflix. I see lots.
If you were to win the lottery what would you do with the cash?
Buy the Metrodome, Give Nate Wessell And Fuzzy a few million to fill it up with goodness.
What are some things you would like to accomplish in the next few years?
Get the trails rippin. Finish school so I can make the big bucks. Get a hot tub and a trampoline. New car too.
What kind of advice do you have for kids who are getting into BMX?
Have fun. Don't be afraid to crash. Avoid getting a job till you absolutely have to.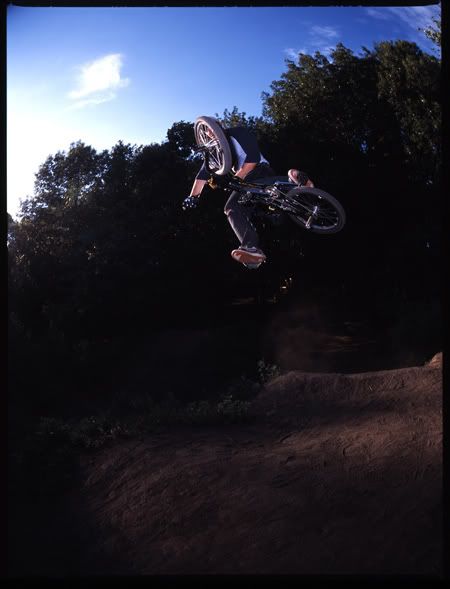 What about kids who want to be as manly as you?
Kids rather look like girls than be manly.
Do you have any shout outs or thanks?
Carrie, my parents and family, all my friends, Rick & Jess,
Ben Austin Photo
Anything else you would like to say?
ADA

stronger than some from Ben Polaschek on Vimeo.