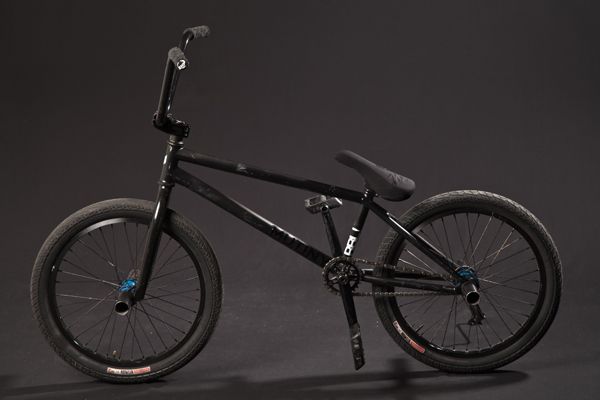 All photos courtesy of Greg Dickson
Over the last few years, Grant's name has been coming up more and more. Each time a new edit comes out, he blows minds with his ability to control a bike unlike, well, pretty much everyone. When his latest edit for Profile dropped a week or two back I decided it would be a good time to find out a little bit about the machine he has been using to kill it lately. It turns out, he recently recovered it after being stolen so it might look a little rough around the edges, but still gets the job done. Let's take a peek…
Name: Grant Castelluzzo

Location: Milwaukee, Wi
Sponsors: Mutiny Bikes, Profile Racing, 4 Seasons Skatepark, Root Beer Life and Allis Bike and Fitness
Years Riding: 11
Frame: Mutiny Loosefer 21inch
Bars: Mutiny "mid roids" prototype 8.3 rise
Fork: Mutiny Wand
Stem: Profile "Push" 48mm
Grips: ODI "O"
Headset: Fly Bikes
Cranks: Profile bossless 165mm GDH Chromo spindle
Sprocket: Profile Spline drive 25t
Chain: KMC 710sl
Pedals: Odyssey twisted plastic
Seat / post / clamp: Madera mid seat, Animal post, Profile seat clamp
Wheel / Tire: Profile Mini hub in "Blue Bench" laced to a Sun Ringle Rhynolite XL rim with Wheelsmith spokes. Animal GLH-R tire
Rear Wheel / Tire: Profile Mini LHD with TI axle and driver in "Blue Bench" laced to a Sun Ringle Rhynolite XL rim with Wheelsmith spokes. Animal GLH-R tire
Pegs: 4 Animal MK3 lites
Hub Guards: Rear Profile Aegis hubguard and two front Profile Aegis hubguards
Brakes? Just my size 13's
Modifications: I cut my bars to right around 28 inches other than that it's all pretty stock. Oh yeah and a custom flat black paint job on the frame thanks to some bike thieves who rawed it. When I got it back I wanted it to be black so I went with the classic flat black look.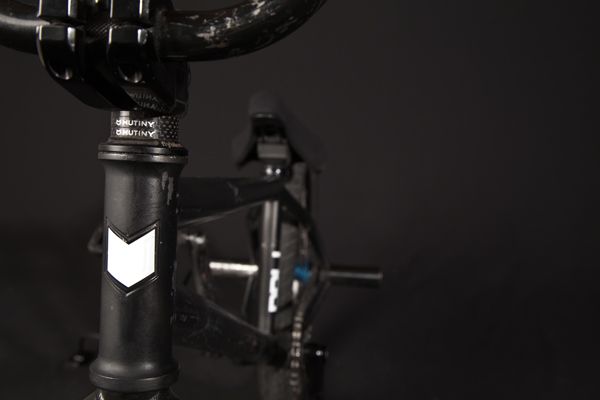 For as long as I've known you, you have always had a super dialed bike. Are you pretty OCD about the setup with where the bars are and everything?
I just like my bike to run smooth. As long as the wheels are rolling smoothly and it doesn't sound like it's going to fall apart I'm happy. I can always seem to get my bars back wherever they feel comfortable so I never stress if they move.
How light is your bike exactly? We need to figure out exactly how you are able to muscle your bike wherever the hell you please…
To be honest I really don't know I'm going to guess somewhere around the 23.5 pound mark. I'm not really particular about the weight. I run 4 pegs and hubguards so it isn't possible for it to be extremely light. I just run whatever I get, everyone makes light stuff nowadays so it's pretty light. It can take a beating though.
What's the oldest part on your bike?
Probably the seat clamp, I think I have had that for about 5 years now or so. Other than that the frame and wheels, they were on a bike that was stolen from my car and I recovered those parts and decided to ride them again because I was psyched on having them back.
What's the newest?
My Profile "Push" stem is a month or so old, I think that's the newest.
How often do you get to build up a new bike?
That really depends but its been averaging out to be about 6 months.
How are things going with Mutiny? Any trips, edits or anything coming up for you?
This with Mutiny are awesome. I got invited to go on a trip in mid January with Brandon, George, and Justin from Austin to El Paso with Walter Perringer documenting the events. It is going to an amazing time for sure.
What does Matt have you cooking on for Profile? That new edit you did for them was so good.
Thanks a lot Kurt! Right now is the chill time. I just finished up that edit and am waiting for the New Year for the new budget to take effect and see what that brings us. I would love to head down to Tampa at some point during the winter to hang out with Matt. Its always a good time down there.
Any other sponsor news you can tell us about?
Nothing that I know of!
I know Milwaukee winters aren't the worst since you have 4Seasons and Ray's for options, but what are your plans? Any trips south at all?
They are still the worst but 4 Seasons definitely makes it bearable. I literally never go to Ray's. The vibe there is pretty terrible and it costs a kings ransom to get in. Every time I go there it just feels like I'm in an amusement park or something lame. I am planning on being in Texas this winter a few times as well as Southern California. Anywhere that I can escape the cold!
Have you been filming for anything else? When can we expect to see another edit or video part out of you?
I basically am always filming. I have no plans for any edits at the moment but I am sure it won't be too long before I make a new one. I wish I had a reason to film for a full length video but that opportunity doesn't arise very often.
You spend a fair amount of time behind the lens as well. Any edits you are putting together for other people we should get psyched for?
I just finished up a new Madera edit for Mike Hinkens. We filmed all summer so I'm pretty psyched on the stuff we got. There are some talks of some other Madera edits through out the year. I am hoping to be filming and editing a lot more this year.
Speaking of video parts, how did you feel your part for The Hunt came out? Do you plan on entering again next go? I am fairly happy with how my Hunt section came together. I think its normal to feel like I could have done better stuff for sure. I know the times I went to spots and came back with nothing or something that wasn't as good as what I had originally planned on doing. Considering I only filmed for a couple of months I am psyched on it. I haven't really thought about entering again to be honest. I think it would be way crazier the second time around and I don't know if I have what it takes to hang!
What have you been up to other than riding? I'd imagine you are about wrapped up with your masters degree?
School definitely takes up a lot of my time. Between reading, doing homework, and writing papers I don't have much free time. You are correct I actually only have one final left and I will be graduating with my Masters Degree in Criminal Justice. Pretty psyched to be free.
What's something about yourself the might surprise people?
I guess it might surprise people that I am almost done getting my Masters Degree in Criminal Justice. Its normal to me but everyone I tell is surprised. haha
What's the last song you heard, movie you watched and website you visited?
Song: Jay-z/ Kanye West- Gotta Have It, Movie: Home Alone, Website: The Come Up
Anything else you want to say? Brian Kachinsky said it best "Find it and grind it"
Go to
TheHuntBMX.bnqt.com
for more videos.