Jeff K has been on the hustle the past few months with trips all over the place, getting his new website going and pounding out a ton of real good edits. While he was over in Germany recently, he had Bommel shoot a bunch of photos of his bike, so we figured it would be a good time to do a bike check and find out what else is new in his life. Oh, and not to mention this is dropping with his new damn good edit that you can see above. So after you watch that, take a closer look at his bike below!
Name: Jeff Klugiewicz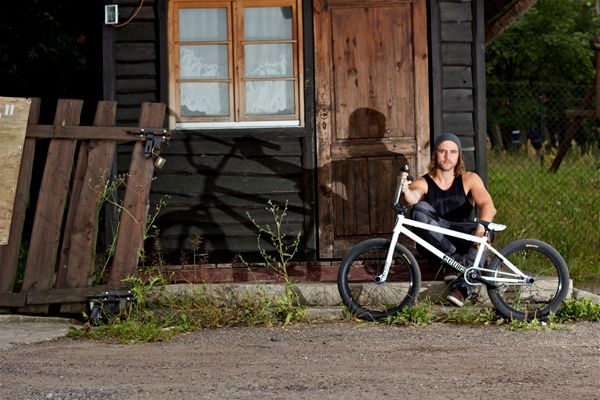 Location: Milwaukee, WI
Sponsors: Profile Racing, Mankind Bikes, Etnies, ODI, The Level Below, Sun Rims
Years riding: 11
Frame: 21.2 Mankind Forward V3.0
Bars: 8.6 Mankind Forward Bars
Forks: Mankind Justice Forks
Stem: Profile 53mm Mulville Toploader Stem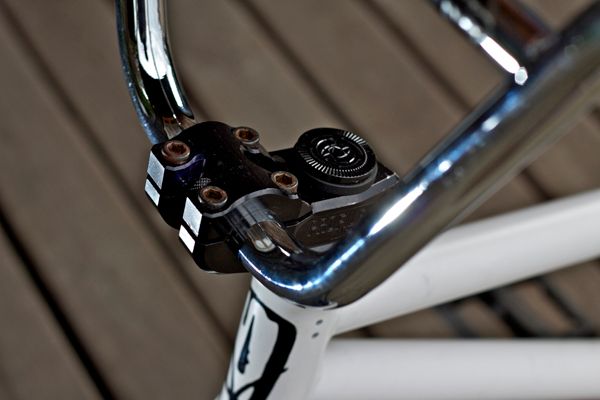 Grips: ODI "O" Grips
Headset: Mankind
Cranks: Profile 170mm
Pedals: Mankind Plastics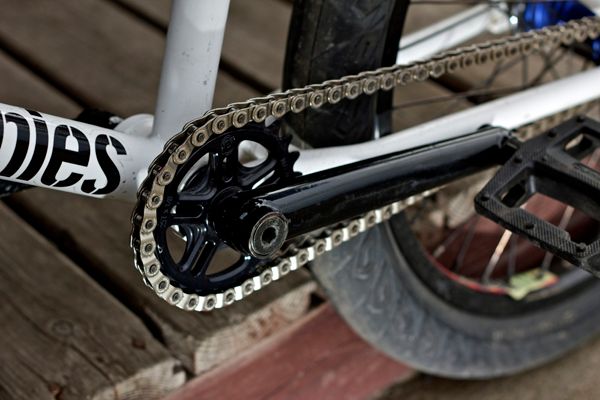 Sprocket: Profile 25t Spline Drive
Chain: Shadow HalfLink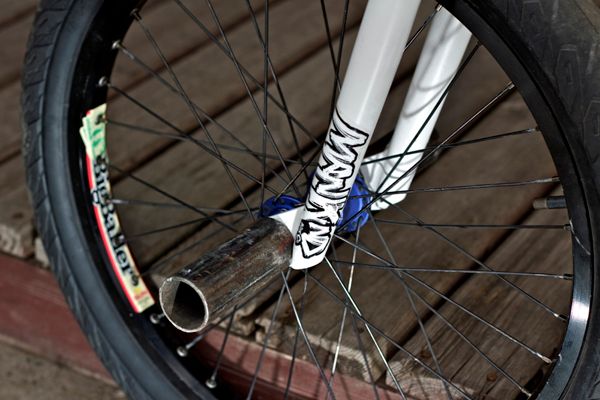 Front Wheel / Tire: Dusted Purple Profile Mini SS hub laced to Sun Ringle Big Baller and Animal Tom White Walls-R 2.2
Rear Wheel / Tire: Dusted Purple Profile Mini SS hub laced to Sun Ringle Big Baller and Animal Tom White Walls-R 2.2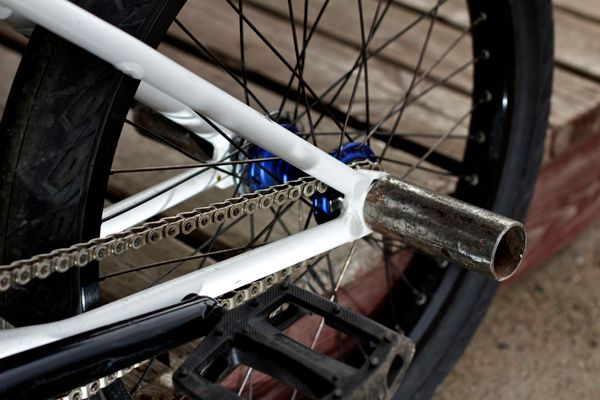 Pegs: Animal
Hub Guards: Profile Proto
Brakes? Etnies!
Mods: Don't think so…
How are things going with Mankind these days? I saw you made your way over to Germany to visit them not too long ago. Did you guys work on any new signature goods, plan any trips or anything like that?
Things seem to be on the up and up, now that System flopped it seems like we can finally move forward. Not saying that System was bad but they just didn't really try to push MK to hard, and that hurts a new company in the US. So I'm excited to see where MK ends up! As far as sig stuff goes we talked about doing a couple new things and also just fixing up other loose ends. I also hope to be going to Interbike and meeting up with Christoph(MK Owner) there and dialing in a few more details!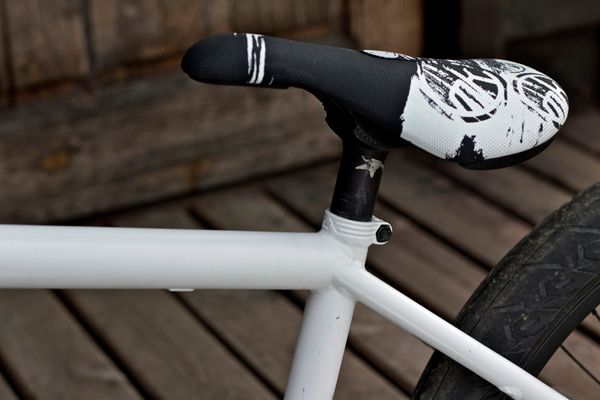 What's new with Profile? You were just on a trip with Matt and the rest of the guys out east, right? Do you have any more trips or anything in the works with them?
Right now I'm working a a few products with profile that I hope will be out next year, thats about all i can say for now… I just got back from that trip and it was a blast, I love going on trips with Matt and the crew. I will be out in Florida this fall to meet up and work on a few more things that we need to get done before the end of the year.
How are things going with Etnies? Povah send you any good news lately?
Etnies is rad. Period. Povah always keeps my feet looking fresh, so I cant complain!
What about ODI and Sun Ringle? Anything going on? I feel like it's time for a Sun trip…
ODI is pretty much just a hookup because I know Larry, and I love him for sending me out grips! As far as Sun goes… We had a rad trip a few months back and the edit just came out for that, Tony Malouf did a great job on it, and yes you are right it is definitely time for another!
So you recently fired up The Level Below. What's that site all about? What can people expect from it? Anything you are excited about that you are working on for it?
The site is all about BMX, Skate, Travel, and Art. And by art I meant anything, you will see anything from tattoo art to graffiti to building up motorcycles. Anything that my friends find a creative outlet in, I want to support it! As far as expectations you can see anything from videos, interviews, video interviews, pics, good times, and partying! Besides that I have always thrown events and "The Level Below" will be hosting a lot of them, and good times/partying is always a part of my events! I am really excited to get the clothing brand aspect of it going, It's starting slow but I am getting lots of products that I am psyched on!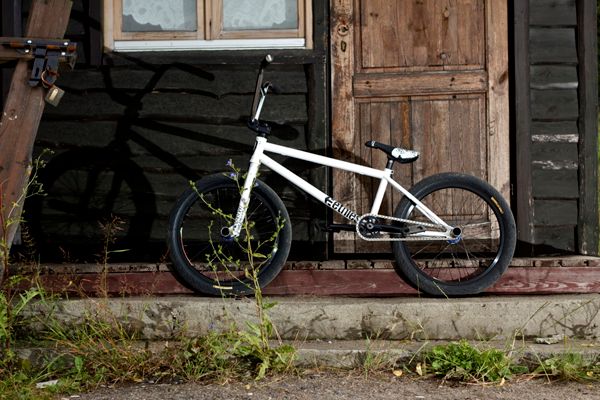 I know you have been doing a lot of film work lately. What kind of a camera setup are you working with these days? Any big projects lined up inside or out of BMX? I have a Canon 7D and I got a few lenses with that guy. I have so many projects going on right now, but they are all basically for web and promo shit. Check the site because I post new videos on a weekly basis! www.thelevelbelow.com.
Outside of riding and traveling, what have you been up to lately?
Lately, it has been traveling, filming, and the website. To be honest the website is a lot of work and that takes up most my time. But working on the site is so fun that I don't mind the work!
What's one thing you need more of in your life and one thing you need less of?
Always can use more friends, even though the ones I got so far are the best. Even though there very little of it already… I can always use less drama in my life.
What's the last song you heard, movie you watched and website you visited?
Project Pat – Choices, Source Code, Facebook
Anything else you want to say?
Ya for sure! Thanks to everyone who has helped me along the way especially Cookie, Neal Levin, Grant C, Mike Hinkens, Chris Astrike, John Povah, Jon Wells, Christoph Huber, Bommel, Larry A, BK, Jon Bartels, My Parents and Family, Alex Brown, Matt Coplon, Logan Reynolds, Jeff Teague, the whole TLB crew and anyone else who I have forgotten! You are all amazing, THANK YOU!
Go to
The Union
for more videos.