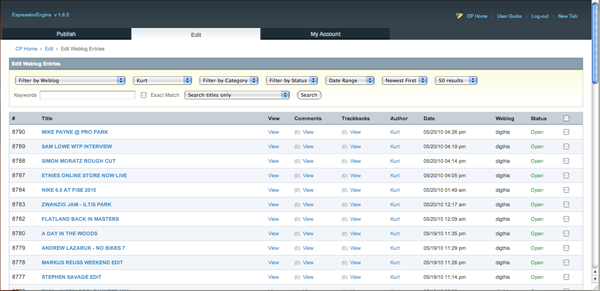 I always feel like I've neglected this site when it goes 2 or so days without any fresh content… I take full responsibility. But, I do have a valid reason! The Dig site gets about 20 posts a day filled with videos, news, and original content that I post up. I've decided to compile the original content that I've produced on that site lately just to show that I'm not really slacking, I'm just hustling a lot on Dig! So, here's that list… Oh, and expect a bunch of content for BMXunion coming in hot soon. It's just a waiting game to get stuff back!

Rapid Response: Chad DeGroot
Rapid Response: Alex Valentino
Rapid Response: Dane Searls
Rapid Response: Anthony Watkinson
Rapid Response: Roy Van Kempen
Rapid Response: Christian Rigal
Shooter: Jeremy Pavia
Rapid Response: Josh Perry
Rapid Response: Tom Villarreal
Product Spec: Federal Conquest Grip
Setups: Bryce Toole's Native
Rapid Response: Mike Saavedra
Rapid Response: Mike HinkensSetups: Tom Davis' Sunday Wave
Repo: Toronto BMX Jam 2010
Rapid Response: Randy Taylor
Shooter: Nick Ferreira
Rapid Response: Josh Betley
Rapid Response: Kevin Kiraly
Timecode: Erik Elstran
Repo: 3rd Lair Jam
Rapid Response: Jason Enns
Shooter: Greg Dickson
Rapid Response: Shawn McIntosh
Rapid Response: Grant Castelluzzo
Product Spec: Sunday Model C
Product Spec: Redline Device Complete
Product Spec: Demolition Rolls Hub
On the Spot: Best Turndowns in BMX
Baco-a-ho-ho – Park Street
Baco-a-ho-ho bowl jam
Product Spec: Kink Viridian
Rapid Response: Brian Hunt
Alright, I think you get the idea. That's just the features in the 35 (50 posts per page) pages worth of things I've posted up spanning back to November 26th of 2009. It's wild to think about how much content there is now days. So psyched! Expect MORE and MORE in the future on here and on the Dig site. Thanks to everyone who checks this site and the Dig one as well. I appreciate it!