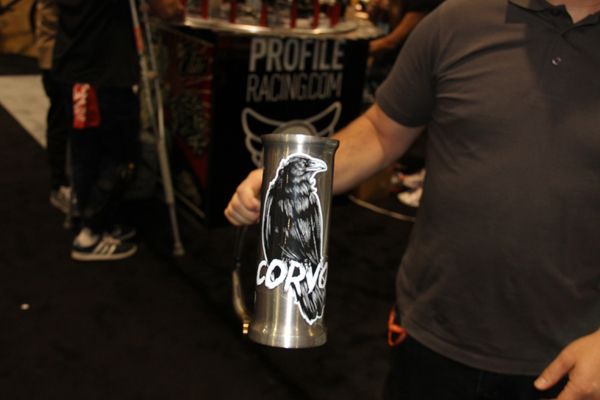 I caught up with Nuno at the QBMX booth to check out all the new products he has coming with Mutant Bikes. I always get excited since Nuno is always cooking up something new and different and it looks like he's got just that this time around. Let's take a look.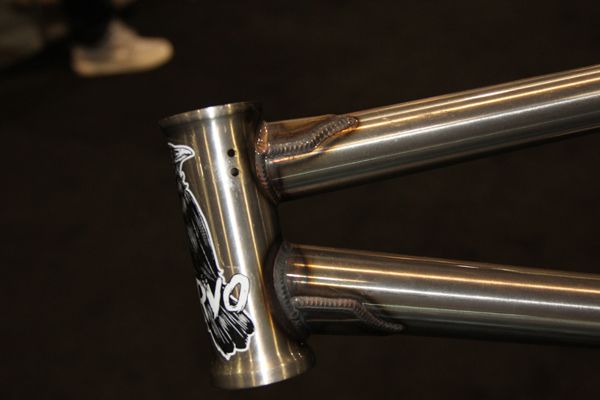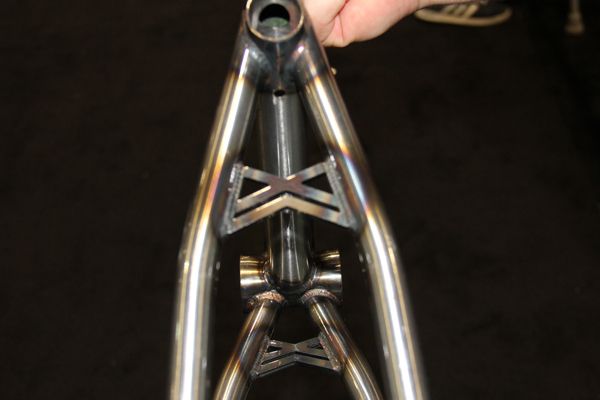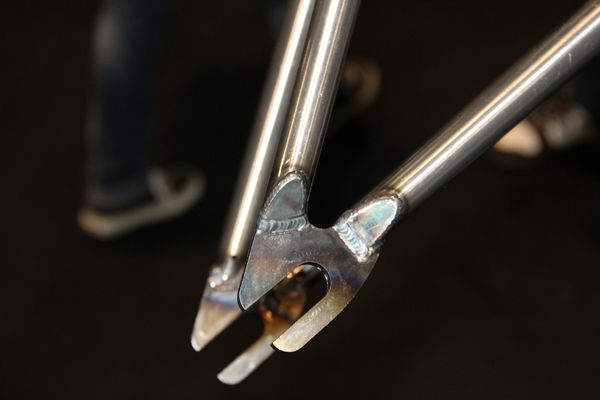 Here's a look at the Corvo frame that will be available in just a few weeks here in the U.S. The frame has a real clean look and those bridges look amazing. They've also got the bolt seat post clamp on the seat tube. Don't worry though, all frames come with the seat post for this setup included.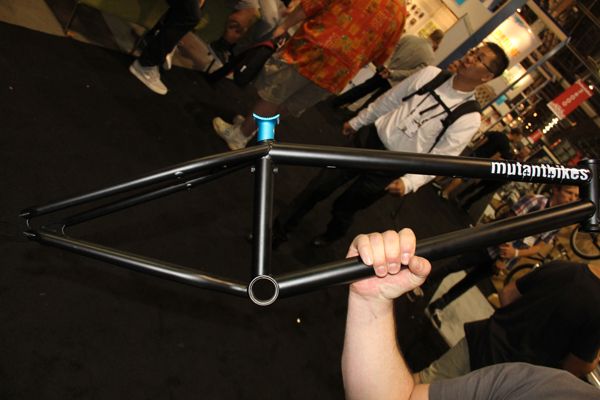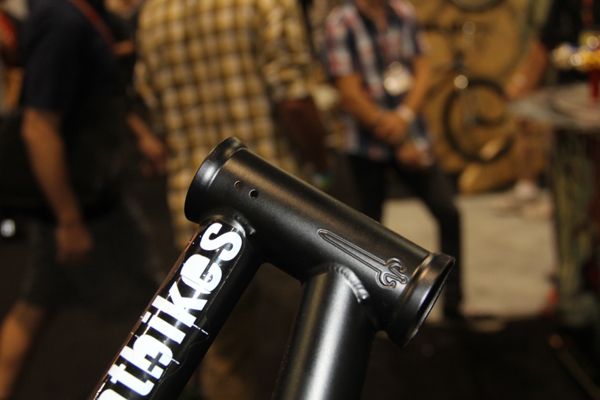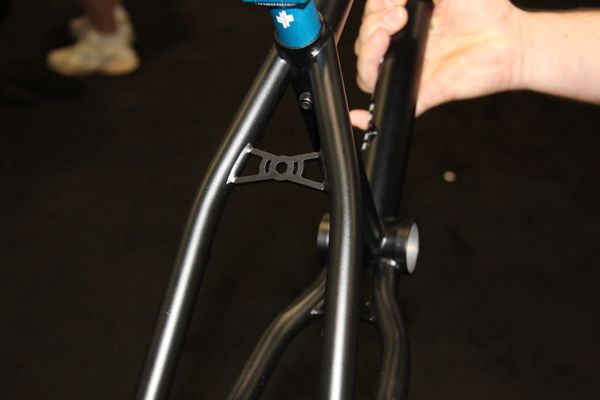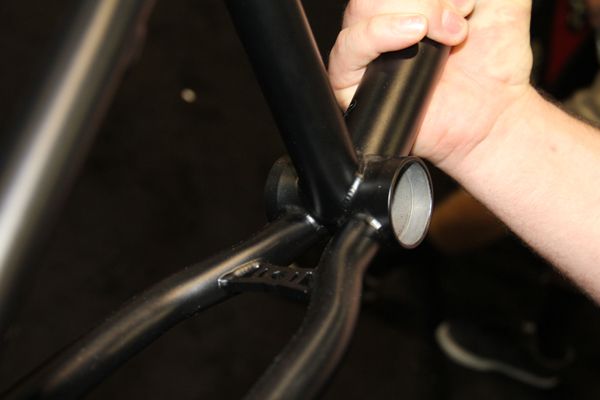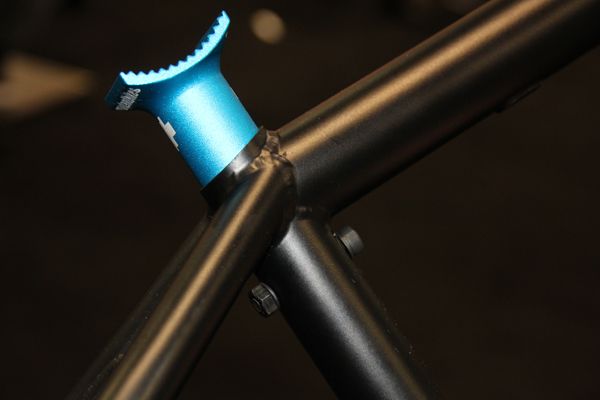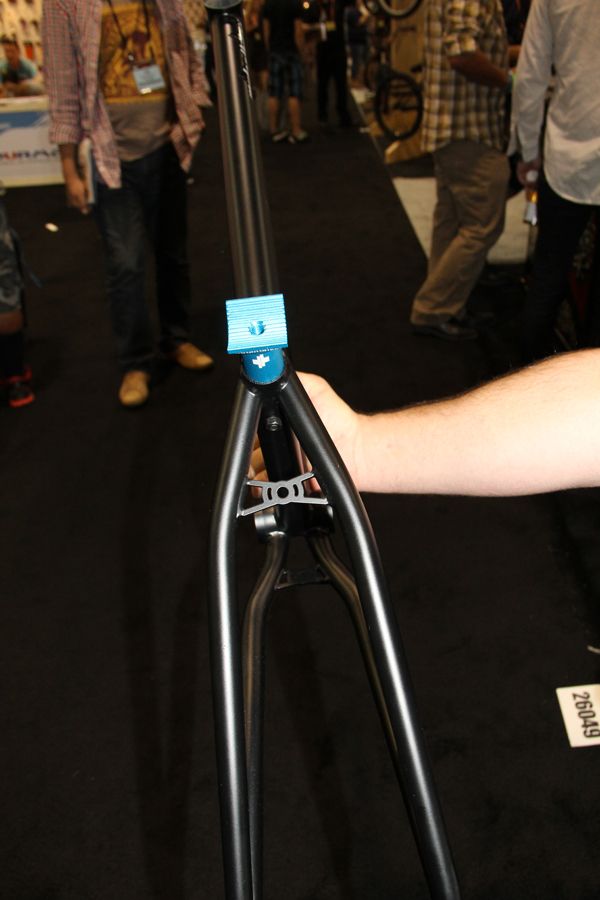 Here's a look at Daniel Penafiel's signature Tizona frame and the seat post that's included with all of their frames. This frame is a little further out from becoming available. It should be out around early 2013 if I remember right so keep that in mind for sure.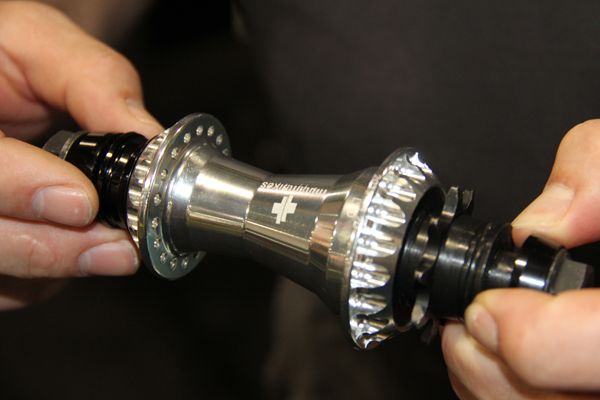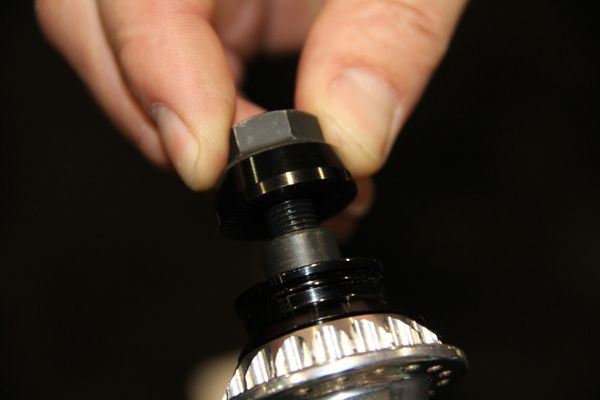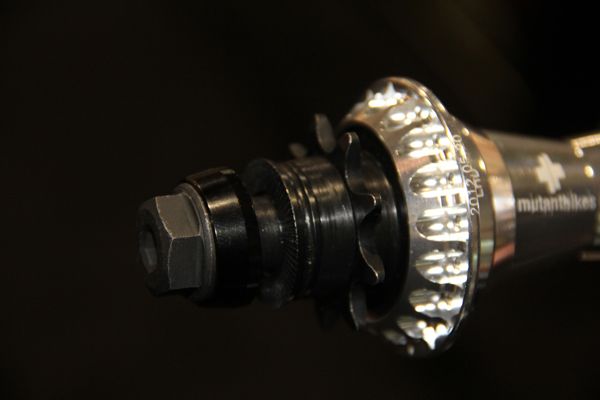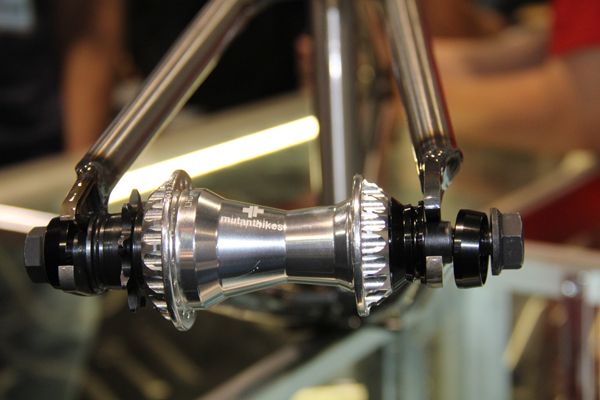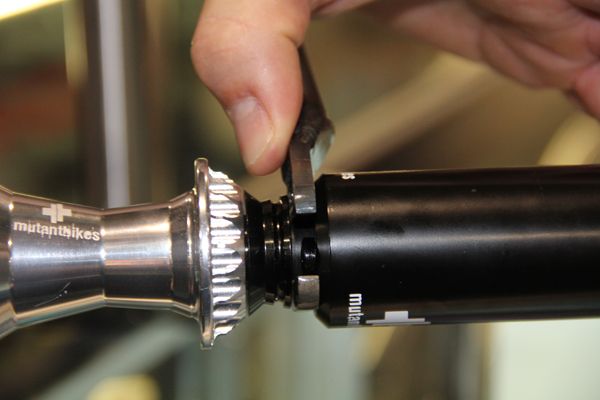 Here's a look at their new cassette hub that will be available in a few weeks as well. The hub uses a sliding female axle that is really cool. It basically allows you to tighten down the hub like you would a bottom bracket. You can tighten one side down with your fingers and then when you tighten the other side down with a 17mm it will make both sides tight. They also have this 14mm lip that sits inside the drop out so that your female axle bolt isn't sitting on the frame, but the steel from the spindle is. All around, this is a really well thought out hub design and it's definitely unique. They've also made it so that you can slide your peg on and it will fit flush with the spindle piece in the drop out as well.
This hub also comes in a regular male axle as well. All you gotta do is slide out the female spindle and slide in your 14mm axle. You can get a better idea below with the front hub.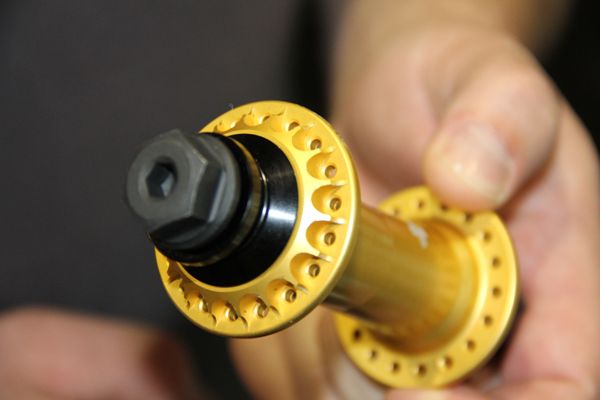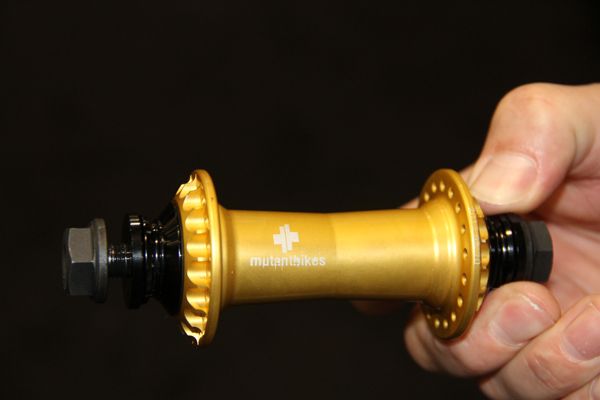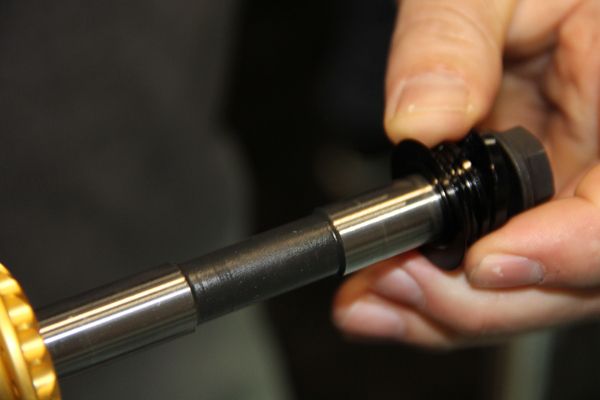 This hub uses the same design as the cassette with the sliding axle and everything. Lightweight and easy to work with.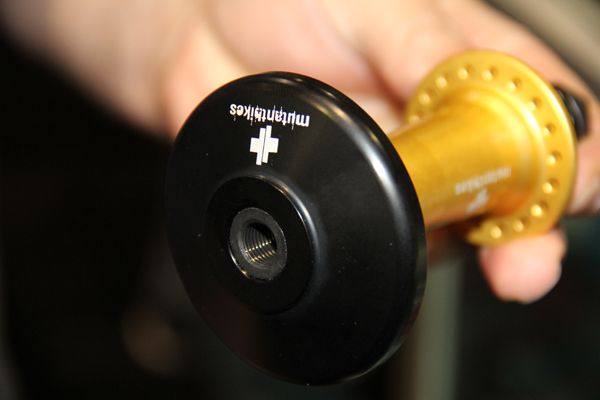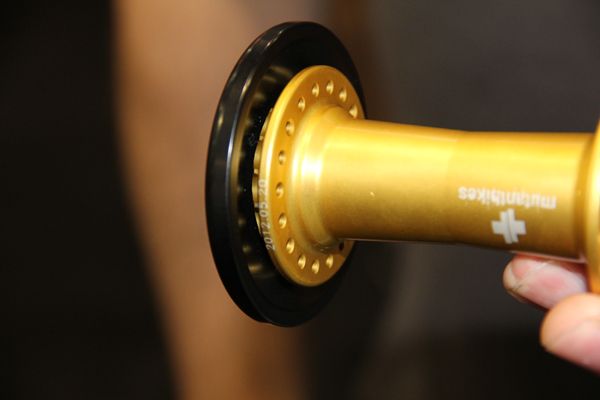 Their new front hub guard won't be out until early next year but as you can see it slides onto the axle and fits flush with the hub. It also has a thicker ring around the outer diameter where must guards take the most abuse and break.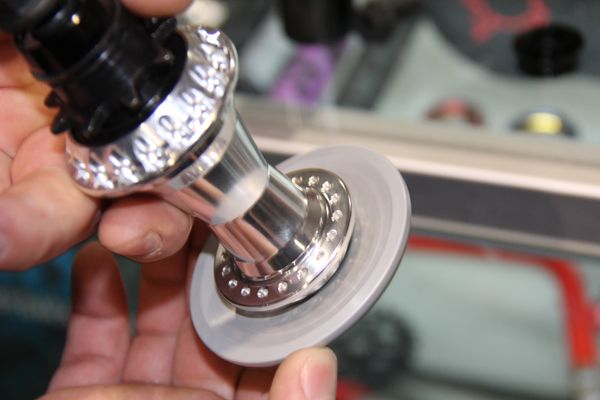 Here's a look at their rear hub guard. Same concept as the front. Slides right on and acts as the cone. This will be available early next year. They also have a drive side guard they are working on but they didn't have one to show.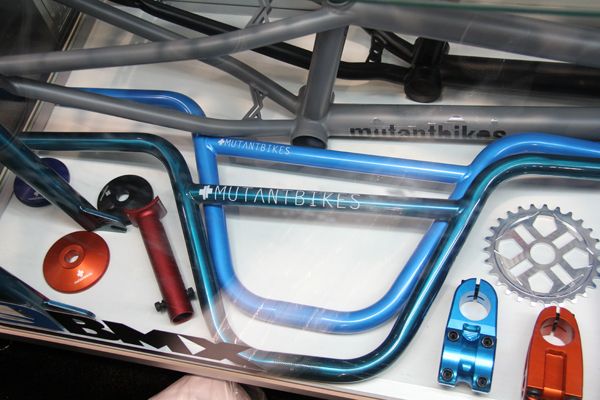 Corvo bars up front and the Tizona bars below.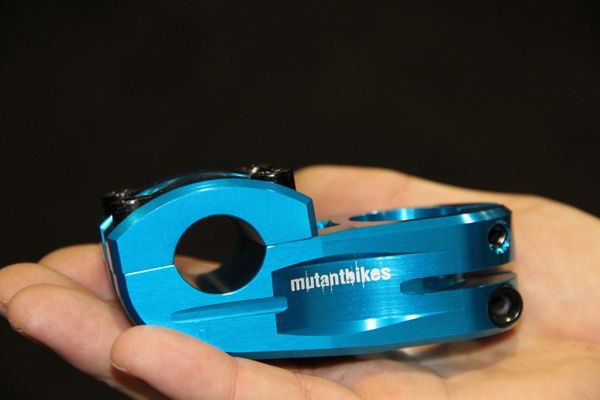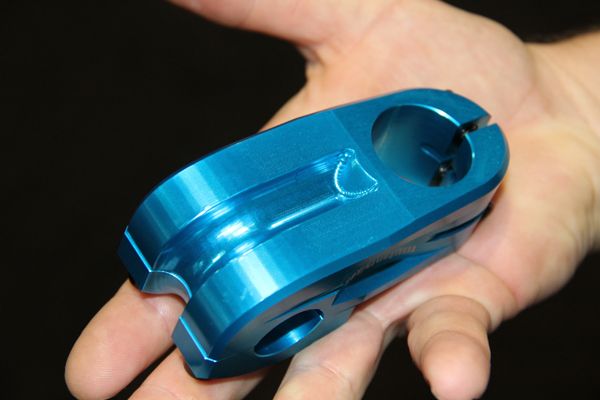 Here's a look at the new top load stem they are working on. Real clean and smooth look to it. This will be available early next year as well.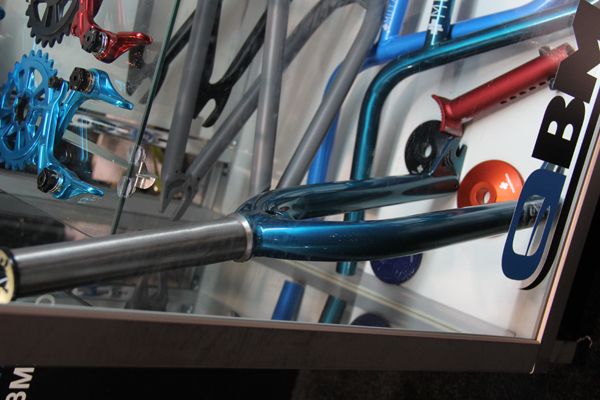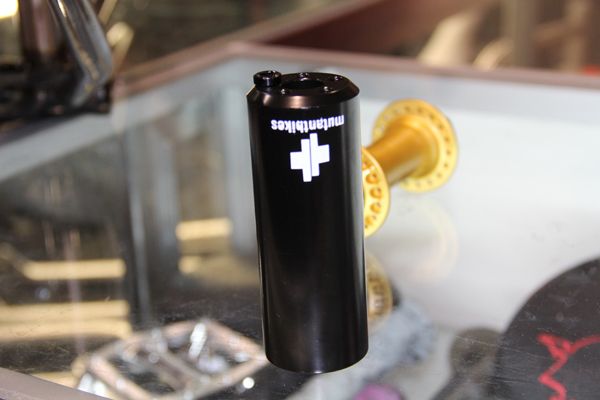 Here's the new peg with the offset internal thickness. If you look you can see in the first photo the difference. It's maximum thickness is 2.5 cm. These will be out early next year.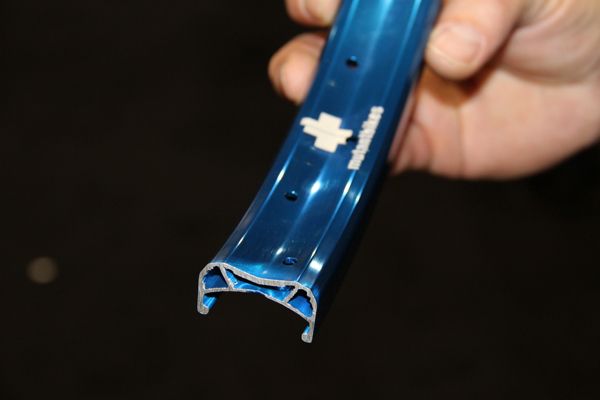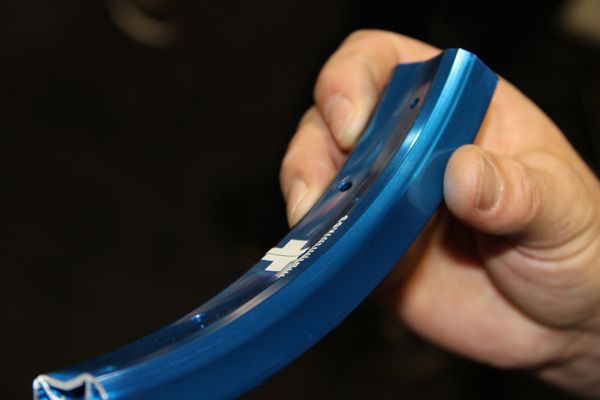 Here's the new double wall rim they are working on. They took an existing rim that had rounded edges around the top and created 2 flat spaces on the edge to make it a little stronger and give it a real clean look. Due out early next year.
If you noticed, you can get all of their products in matching colors. If you see a color of one product, you can get it throughout the whole line.
So that wraps up what Mutant bikes had on display at Interbike. The Corvo line, the new hubs and their existing line will be available here in the U.S in a few weeks through QBP. Everything else will come in the next shipment early 2013.
To find out more about Mutant bikes and their products, check out their website — MutantBikes.com