Name:
Brad Simms aka b-simms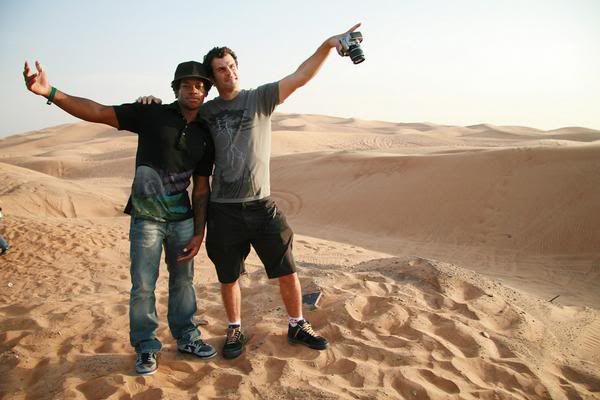 Location:
from Maryland, but i am a nomad at the moment
Sponsors:
hoffman/target/micreation/ snafu
It seems like you have been traveling a lot lately, where all did you get to go in 2007?
Singapore, South Africa, Canada, Germany, Mexico, China, Australia and Dubai
So your "living the nomadic life", does that mean you have plenty of traveling planned for 2008, where all do you know your going?
yes, 08 is going to be crazy, in the summer i am planning to go to europe and tour around for 3 months
Where are some places you haven't had a chance to go to yet that you really want to go to?
I really want to go to Egypt, Sri Lanka, India and Japan. the first 3 countries would be really hard to get to not knowing if any bmx exist there, But I'm sure it does because it's everywhere

What are 5 things you must have with you when traveling?
digi cam, laptop, bike, ipod, condoms, clothes
Do you have any new signature parts or items coming out anytime soon?
Not that I know of?
Any new sponsors or sponsor changes you can share with us for the new year?
Nope, but if so I'll let you know
You got a new web edit in the works for Micreation, how long have you been working on that, and when do you expect it to be all over the internet?
I was actually saving most of the stuff for something else, but at the last minute I decided to use it for my edit. So for about a month and a half I've been filming stuff off and on it should be on the web in a few weeks………look out
Do you have any new video parts or anything else coming out besides the Micreation edit?
top secret!
Your an all around rider for sure, what do you like better, a big blasted air on a super smooth quarter or a big 180 over somethin on street?
Doesn't matter really. Street is my favorite, but I do love pedaling fast at a big quarter and seeing if I can touch the moon.
What is something nobody really knows about you that nobody would expect?
If I told you then everyone would know. haha
What is one thing you have had the most trouble with when it comes to riding?
Trusting myself to barspin something big
Is it weird to be somewhere you have never been and have people come up and talk to you because they recognize you?
Sometimes it is and sometimes it's not. Some kids are really cool and some people creep you out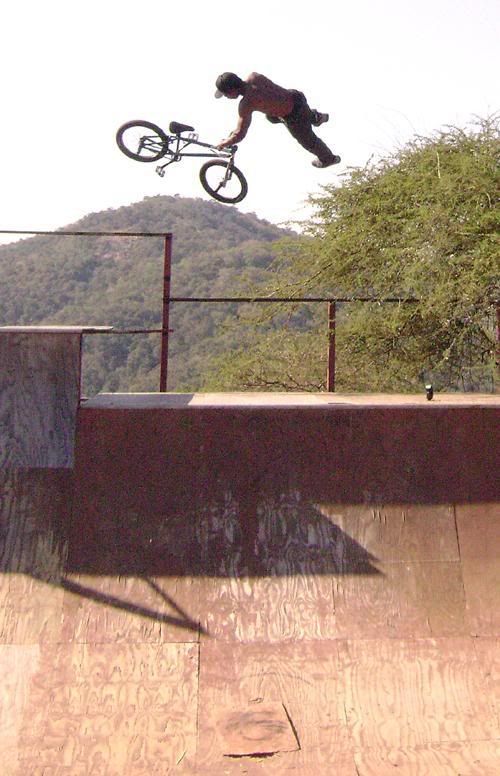 In your recent Ride BMX interview you mentioned how you got into riding from your Uncle, what do you think you would be doing if that never happend?
My uncle did. if I wasn't riding I am pretty sure I'd be playing football, football was my life until I found out how about a bike
Who are some of the riders you looked up to when you were growing up? Has that changed at all currently?
Matt hoffman, and not even because I ride for Hoffman, but because he does so much for the sport and he's an amazing person/rider. Joe Rich, Ruben Alcantara and Garrett Burns. those dudes have been everywhere that I want to go besides being amazing riders
Do you have a group of friends you normally ride with or is it hard being so busy?
I've been hanging out in cali for the winter so I don't get to ride with a bunch of people. lately I've just been riding with Aaron Bostrom, Dave Jacobs and Jeff Z.
Any riders that are unknown now that you think will be getting coverage soon or deserve it?
That Tyler Morrow dude from Greenville, NC
If you could only do one trick or ride one type of obstacle for a day, what would it be and why?
I don't know, I could bunnyhop over stuff all day long and that would be fine
You got a few tattoos, did you do it just because they looked cool or do they have more of a meaning to you?
sounds dumb, but I was bored. haha. I'll probably hate all of them in 5 years.
Your pretty beefy (no homo?) do you work out a lot? any advice for the dudes looking to get a little bigger?
Sometimes. not really because if you do too much of it your upper body will get stiff. my only advice is to do it in moderation and don't go over board with it
When your not riding what kind of stuff are you into doing?
listening to music, internet, go out from time to time and hang out with friends. practice chinese (mandarin)
What kind of music are you into? Any unknown artists you think people should check out?
Not really. rap, rock, r&b whatever sounds good
What is the last movie you watched?
American Gangster and I Am Legend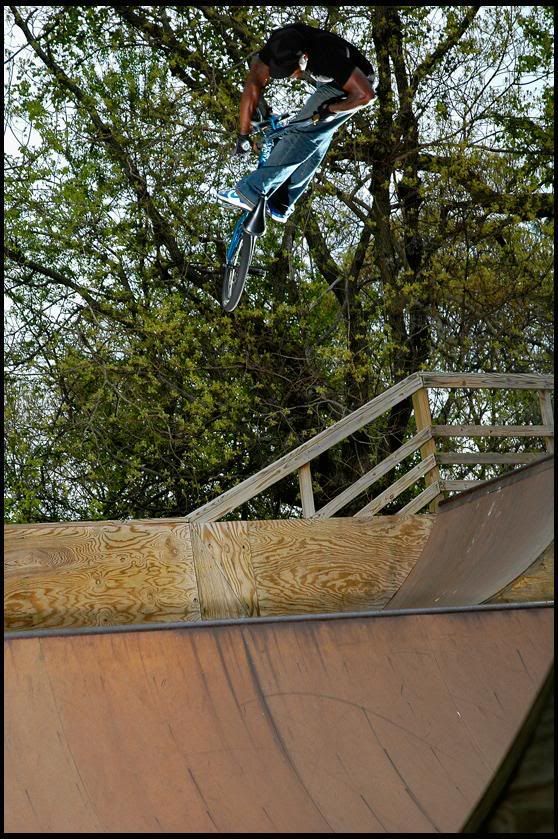 Outside of riding stuff, who or what influences your life the most?
anyone positive or any rider that is pushing the sport has a big influence on me. anyone who supports me influences me. family and friends are a definite.
5 years ago did you ever expect to be in the position you are in right now?
hell no! not even a year ago did I know I was going to travel the world like I did in 07
What are some things you would like to accomplish in the next 5 years?
continue to stay healthy push myself to the limit and see more of the world.
What is one thing you currently don't own that you wish you did?
A house, but I probably would never be in it
5 favorite websites?
hiphopgame.com
youtube.com
google.com
bankofamerica.com
myspace.com
I don't know if your a big trend follower, but what trend do you think needs to go for '08 and do you see any new ones coming on soon?
I'm defnitely not a trend follower, I don't see any new ones coming, but people cutting their seat tubes off and zip tying it to the frame has got to go.
What is one thing you feel everyone should experience in their life at some point?
Traveling. you'll learn more about yourself and life then any class/teacher/professor will teach you
What do you think needs to be changed in BMX?
It's cool where it's at we just need way more kids to start riding so all the new companies can survive because it's tough out here
What kind of advice do you have for newer riders just getting into things?
Have fun and learn at your own pace
Do you have any shout outs or thanks?
hoffman bikes/target/ micreation/ snafu/ all of my friends and family you know who you are. much love in that area. bmxunion for the interview, peace!
Anything I might have missed you would like to add?
nope!
Brad gave me the heads up that I could use this, I usually feel bad to post up legit dvd stuff.