Everyday I watch what feels like an endless number of web videos for the Dig site. After a while you start seeing firmiliar names popping up that produce some solid edits. Bret's name has been popping up quite frequently with some of those good edits from Australia. I decided it would be cool to find out a little bit more about him and what he has going on down under these days. So check out what Bret has to say, some riding photos and some of his edits that he has made…

All photos by Ryan Hunt
Name: Bret Trigg

Location: Warrnambool, Australia
Sponsors: None.
What was it that first got you into BMX in the first place? Any real early memories come to mind?
When I was a young kid, I raced BMXon an Apollo 16″. I rode that until I was 13. Then my grandpa brought me a 20″ Haro Backtrail x1. But I used to race motocross so when I wasn't racing we would be digging jumps in the backyard. I switched to ride BMX all the time when my brother quit racing.
Your name has been popping up quite a bit in the Australian BMX news with some real good edits. How long have you been filming and editing for?
Thanks man! A couple years before I started doing online edits, I made a DVD. I found out that I really enjoyed filming & editing so now I carry the camera on me at all times.
What kind of a camera and editing setup are you working with?
Pretty basic at the moment. Being young and not having much money is a bugger. I got a Panasonic NV-GS300 with a Raynox fisheye. I also use a Velbon VX-6000 tripod. Then I edit with Adobe Premiere CS3.
Australia is pretty well known for its amazing cement parks. Where are you usually found riding these days?
Yeah, we have a good range of cement parks here in Australia. I ride at my local cement park called Warrnambool, it's nothing special, just a simple fun park with one of the worst spines in Australia. At least all the locals are always good to ride with, so that's all you need.
Do you find much time to travel? Where are some of your favorite places you have had the chance to go?
Being 17 I haven't traveled very far with the bike. I've been to Thailand twice, Bali once with the family. Then I've traveled to Perth where I was supposed to ride, but dislocated my ankle, then I've been to Queensland like 5 times, an been able to take my bike twice.
Where are some places you would like to go at some point?
I'd love to head over to the states to do some filming, and to see the place. Maybe even the U.K, their outdoor wood parks look like so much fun! I'd like to go somewhere with snow cause it's awesome fun and that'd be a bit different.
Do you ever find it that you would be rather riding than filming, or the other way around?
Yes and No. I get great satisfaction from filming, but also from riding. I try to balance it out, have a good ride, then set up the camera and film stuff. I always get stoked when we get an awesome shot of something, that makes it all worth while.
Do you ever get burned out on riding or filming at all? What kinds of things do you do to keep things fresh?
Riding sometimes get a little the same, so I'll just ride different stuff and do different tricks for a while. I also try new stuff with filming, gotta mix it up so every edit isn't the same.
What do you think you would be up to if you never got into BMX?
Probaly still racing motocross, most likely wouldn't be filming, and probably be a builder or something that would give me a lot of free time to race.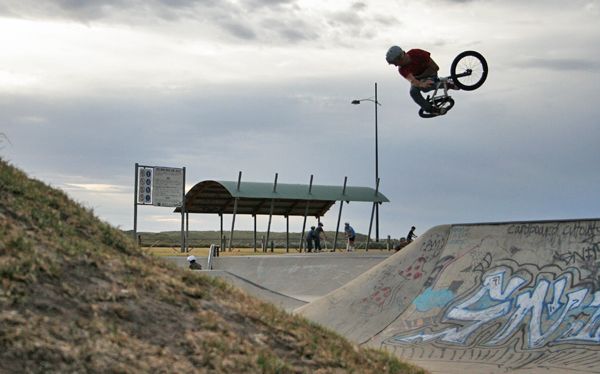 What are you usually up to when you aren't riding bikes or playing with camera stuff?
Very little really haha. Maybe build some ramps, in the summer go to the beach a lot. Just chill out really.
This is going to be kind of stereotypical, but do you get into surfing at all? I know Bohan and a lot of those dudes are pretty into it.
Damm I kind of just answered that. Well my dad was big into surfing when he was young, getting up for a surf before school, stealing the neighbours bottles of milk on the way home. But I wouldn't say I'm a good surfer, I can stand up. I enjoy body boarding a lot more. Being in the water during the summer is real good.
What's something new you got going on in your life?
Very little, I got a wweet deal with an Australian TV show that are keen to show my work.
Do you work or go to school for film at all?
Not at the moment. This will be my last year of high school. I study media as a subject, but it's a lot broader and covers all kinds of media types.
When can we expect a new edit out of you?
I just dropped one of a good mate recently. Check that out…
I should have a new one in a few Weeks. It's summer here in Australia so it makes filming easy.
Tell us something people might not know about you.
I lost my two front teeth just before I was to film with Andy Buckworth. haha.
What does 2010 have in store for you?
Get through my last year of school. Hand in a media production that I'm stoked on. Film with more amazing riders. Update to a Sony FX7 camera. And Enjoy Life!
Who or what are some of the influences on your life?
Riding wise, I really get stoked on Harry Main. He is just crazy, goes huge and tweaks everything out. My parents influence me in a lot of things, helping me make big desicions, and their always there to support me through anything.
Being still in high school… What are the girls like these days? Pretty crazy or what? Do you make your rounds?
Girls down here are fair stupid, some of the stories of what they do is just plain stupid, but it is always a laugh. There's also a good bunch of decent girls that aren't full on dumb and you can actually talk to them. It's no american pie over here.
What's the last song you heard, movie you watched and website you visited?
Song would be Daylight by Matt & Kim. Movie I watched was Carl Barron Walking Down the Street, Vitalbmx.com was the last site visited.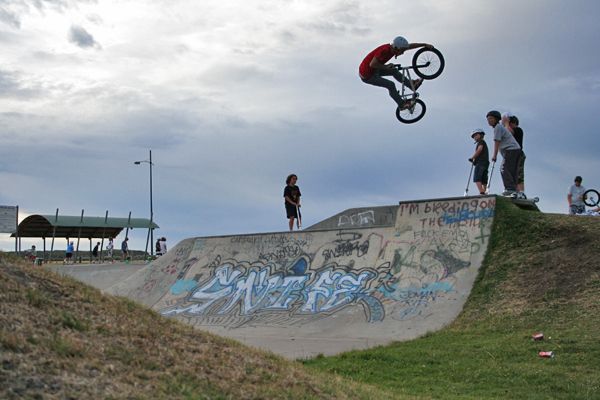 If you could go on a road trip with any 5 people, anywhere in the world, with a big budget. Where would you go and why?
If it was a big budget, I would probably choose Australia. It's my home country and to travel around it with 5 good guys to film and ride would be amazing. There are such different areas in Australia from the beach, to the desert to snow. It'd just be an all around awesome time. And finally get to see Australia as most Australians have never seen it.
Where do you see yourself in the next few years?
Finished high School, maybe at uni, or with a good job. Still filming, hopefully filming is my job. Maybe move away to Melbourne for more options with things.
What's the best advice you have ever been given?
"Always push the Limits, because if you never fail you will never succeed."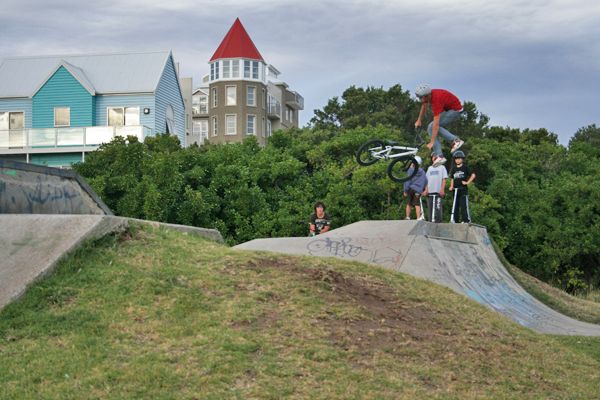 Do you have any shout outs or thanks?
Definately like to thank you greatly for this opportunity. My family for supporting me through life. Parents for helping provide me with my first camera to film with. All my mates that have taken me on roadtrips, and for letting me film with them. The Fitzgibbon family for taking me to Queensland twice, thanks heaps! And Ryan Hunt for taking the photos and just being a good dude!
Anything else you want to say?
If you'd like to have a look at my videos – http://vimeo.com/user282179/videos