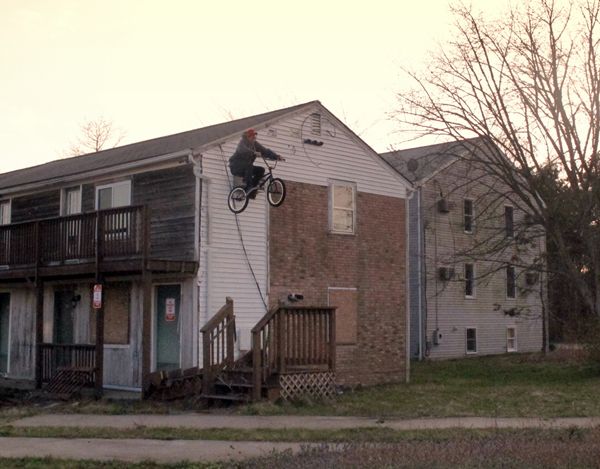 A few years back I was watching the first AOTC video and I saw Brett Silva riding for the first time. I was thinking if this kid keeps it up he's going to be real good. Then the second AOTC video came along and Brett's name popped up again. Except this time he had progressed an insane amount. I will even go as far as saying it was one of my favorite sections in that whole DVD. I knew it would be a good idea to keep the kid on the radar and see where he goes with things.
Since then, Brett has found himself riding for Eastern and consistently dropping some fresh clips in edits that have been real impressive.
The other week, Scott Crivellaro sent through a photo of Brett doing that massive deck drop above All I could think is this kid is due for an interview on here. So Scott got me in touch with Brett and we fired him some questions to find out what he's all about! Check out what he had to say…
Name: Brett James Silva

Location: Sandwich, Massachusetts
Sponsors: Eastern Bikes
Years riding: 13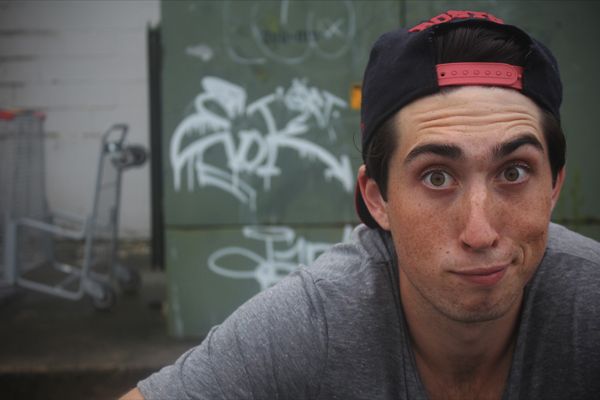 What was it that first got you into BMX? Any early memories come to mind?
Ive been riding my bike for as long as I can remember. When I was 7 my dad built me a quarter pipe and some dirt jumps and I would ride every day. I've been stuck with it ever since.
So you started out racing at a real young age. Do you feel like racing is a good place for any rider to start? Seems like it always produces the talented guys…
Racing was the best. I wish I still was racing just for fun. I think racing is a good way to learn control and get comfortable on your bike. Most racers are really good park riders and can boost the ramps but I was a little different, haha. I like to go fast but keep it on the streets
After a while, you made the switch to the tricks and everything. Do you remember why you made the decision? Anything stand out to you as the converter?
I was always trying to bust out some moves even when I was racing. I always thought it was the coolest and my dad has a bunch of photos of him doing some bar endos and other crazy stuff. When I could control my bike, the tricks were all that was on my mind. Zack cooke was also a big influence on tricks. My parents and his parents are very close so when we were young we would ride together and he always would push me to jump things or try tricks.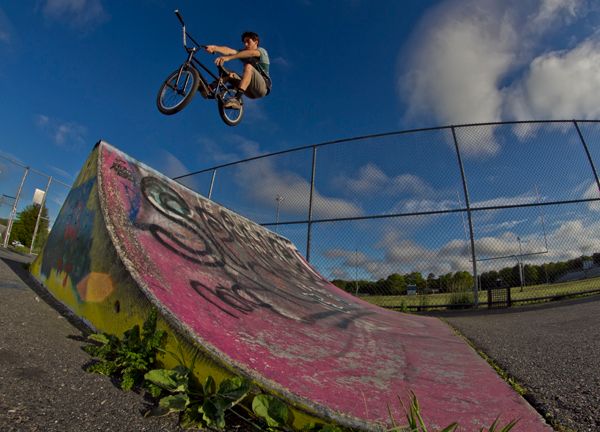 Photo: Lucas Dangelo
Now days you are riding for Eastern. How did that opportunity come about?
I started riding for Eastern a couple years ago when Josh perry asked me to be on the team. When I was 15 I came out with a pre fab edit at my local park and he said he was psyched on it. I'm pretty sure that was a big part of the reason and also that we are from the same area and he knew about me.
What do Leigh and the rest of the Eastern guys have in the works with you these days? Will you be going on any trips or anything this summer?
There is not much as of right now. I would really love to go on a trip soon but this summer I just really would like to work on making new edits and filming for some videos.
Do you have any other fresh sponsor news?
Nooo but I would really like to be sponsored by a sock company. I love socks and I will not wear them unless they match. I prefer mid calf socks, and there is nothing better than a fresh new pair of socks.
So I really started to take notice of you when you started popping up in the AOTC videos, and actually, you had one of my favorite sections in AOTC 2 now that I think about it. How did you meet CB and Chris? Did they ever pull any weird initiation on you?
CB lives in my town and I would always see him and some of the older shredders including Josh Perry and Marcus Tooker at the skateparks around here. When I was 12 CB asked me if I wanted to go to a park with him and it was funny because he found out I was only 12 and he tried to avoid me for the next year because he thought I was way older, haha. CB and Zack hung out a lot and they were filming for AOTC 1 when I met Chris Zeppieri. He came down to film with them and I got a few cips and they decided to make Zack's part a split part between us. Ever since then we have all been good friends.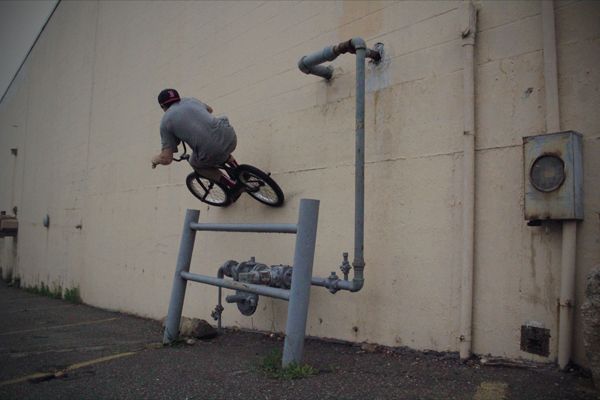 I'd imagine you have been getting some filming time in now that the weather hasn't been… winter. When can we expect to see a fresh edit or video part out of you?
Yeah! Ive been filming a bunch for Craig Passeros "Whammo" DVD he wants to come out with. There is going to be an AOTC section in it and I have been gathering a lot of clips that I am really psyched on.
Where have you been getting most of your riding time in these days? Any spots you have been real stoked on lately?
We have been riding a lot around my town. Getting lots of clips on things that have never been ridden. It has been fun. We haven't been going to the city lately because we have nowhere to stay anymore, but it's just as fun to find new spots here.
You will be getting out of school for the summer here soon. What are your plans? Do you have any trips you want to make happen?
Something I really wanna do is visit Josh Perry in North Carolina. I've been there once but I really wanna go again, it was the coolest. Other than that not much just filming and hangin out with the homies.
Speaking of school, what do all the ladies think about you being a sponsored rider? I feel like girls would be all over that stuff these days.
Hahaha, yeah right! I've had a girlfriend for most of highschool who is the best. Her name is Tori. (sitting beside me so I had to say it)
What's one trick that you can land every time and what's one trick that no matter how many times you try, it doesn't work out?
I can land a hop 360 anytime anywhere over anything! They are the best feeling and I love doing them really fast. One thing I can never do is turn around opposite. As simple as it sounds turning around out of an oppo 180 is the worst thing for me
I'm going to hold back on a Zoolander comment about going left… but yeah…You and Zack Cooke have always been riding together, right? What's the story behind that one? Do you think he has been a huge motivation to keeping you riding?
Yeah, Zack and I have been best buds forever. Our parents have always been friends so I've known him my whole life. He has been a big motivation to my riding because he has always pushed me to try new things and we have rode together as long as I can remember.
What do you think you would be up to if you didn't stick with BMX?
Hmmm. That's a hard one. I cant picture myself doing anything else. Id probably work every day because I honestly have no other hobbies, haha.
What are you usually up to these days when you aren't at school or riding? Do you work at all?
I work as a busser at a buffalo wing restaurant called DJ's Wings. It's pretty lame but the wings are awesome and I get paid pretty well.
What was your first car and how do the ladies like it?
My first and current car is a Jeep Grand Cherokee and it is awesome! I love it but it's a little rough on gas. The ladies love it and everyone always asks for a ride in it, but it's too precious.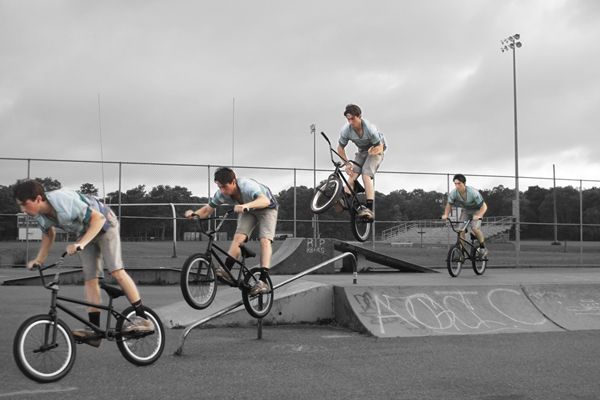 Photo: Lucas Dangelo
I know graduation is still a little ways out for you still, but do you have any plans for once school is done? Are you thinking about college at all?
No plans yet. I would like to go to college but it's expensive and I'm not sure if I could handle 4 more years of school. I really wanna travel and ride a bunch that would be the ideal plan.
It's Friday night. What are you getting into?
Ride some bikes then hangout with the lady friend. Unless something rad pops up but usually not much.
What's the last song you heard, movie you watched and website you visited?
ASAP Rocky- Out Of This World , movie – Human Centipede , webside- The Union!
Who are some of the biggest influences in your life?
My parents. Especially my dad, he's the coolest dude alive. Also, Zack cooke and all of my friends.
Where do you see yourself in 5 years?
Hopefully have my own house and a dog! And still riding my bike!
Do you have any shout outs or thanks?
Shout out to Zack Cooke, CB Coombs, Josh Perry, Chris Zep, Scott Crivellaro, Liam Crivellaro, Chris Murphy and everyone I ride with! I would like to thank Leigh Ramsdell, Eastern Bikes, my parents and everyone else who puts up with me!
Anything else you want to say?
Iphones are better than Droids… I just did the upgrade and I feel like a new man. Follow me on twitter @Brett_Silva