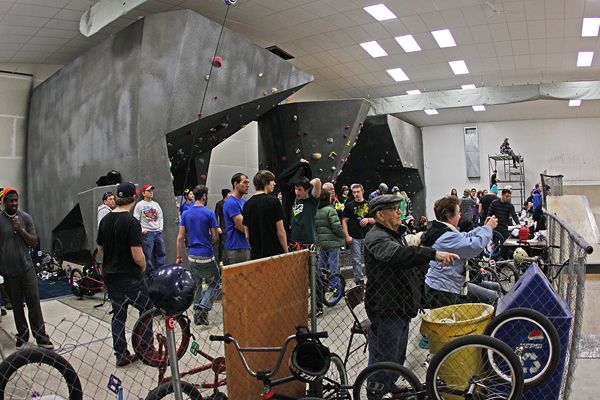 This past weekend was the first Bluff Valley Jam that I had been working on for the past few weeks. It seems like it came up as fast as it went. The day started off with plenty of people making the trip in from the locals to the guys from the Twin Cities all the way to a bunch of guys from the Chicago area that made the trek up for the event. That was just the start to things because things were about to start getting a whole lot more ridiculous. I was pretty busy during the contest part making sure the runs kept going through smooth and everything was organized with the help of my dude Deljon on the mic, so I only have photos from the rail jam and big air. I saw Erik Elstran filming along with a few others so hopefully an edit from the day surfaces soon. Check out some photos from what I had time to shoot…


The first order of business in the morning was sweeping and mopping, followed up by organizing all the product for prizes. HUGE thanks to everyone that was able to chip in to hook everyone up. People were amazed at all the real good stuff they found in their prize bags.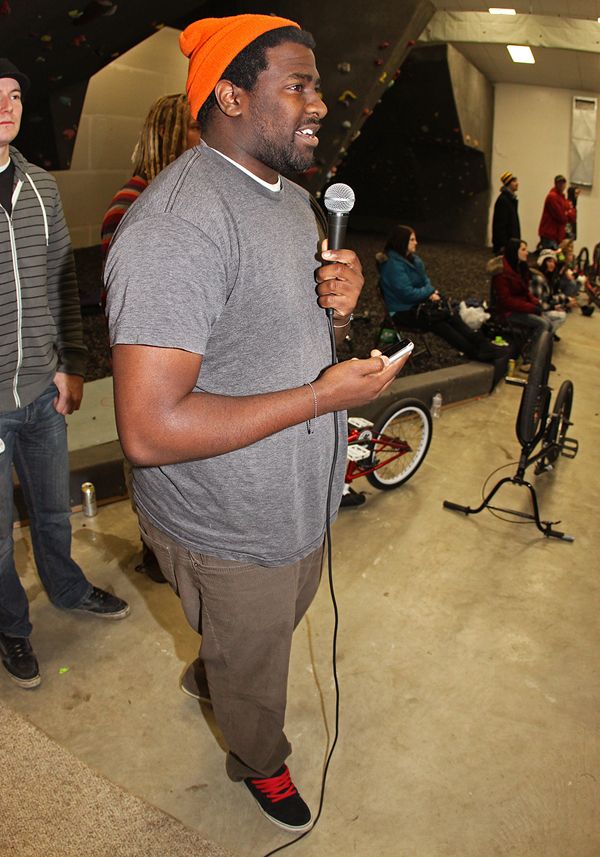 Anytime I have a contest, the first guy I think of that needs to be on the mic is Deljon. I'd like to give a huge thanks for keeping things on that end rolling smooth and in general making the day that much funnier.
Like I said before, I didn't really have much time to shoot photos of the actual contest part, but I did grab a few photos of the top 3 for beginner, Am and Expert/Pro classes. Big thanks to Adam for putting in work on the trophy plaques that turned out real rad. OTT stands for Over The Top which is the real name of the park.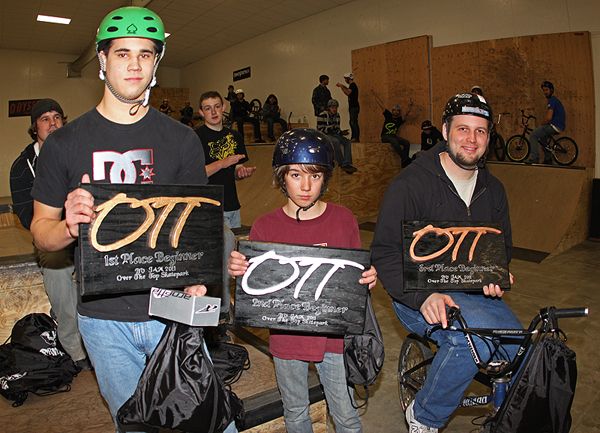 Beginner Class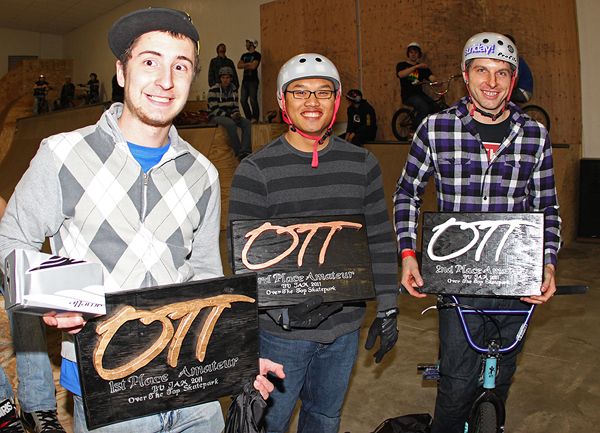 AM Class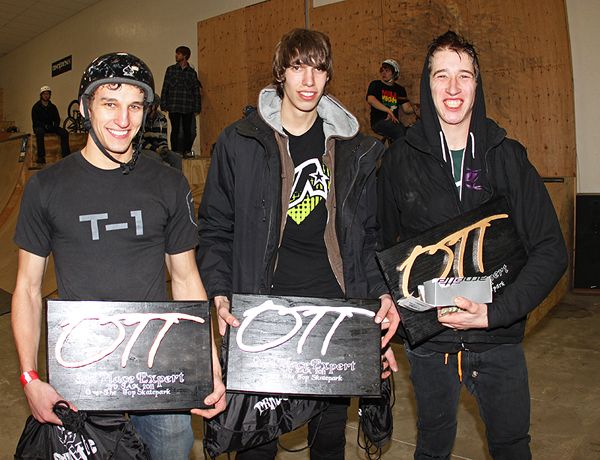 Expert/Pro class
Each of these dudes got prize bags loaded up from all the sponsors along with the trophies. Then Expert class got some cash as well which is always a good thing.
After the main contest, it went straight into the rail jam. We went and changed up the plan and gave everyone the option of riding in the rail jam or not with the riders voting on who should win. Sure, that leaves some room for error, but I think by the photos you will be able to tell it wasn't a hard decision….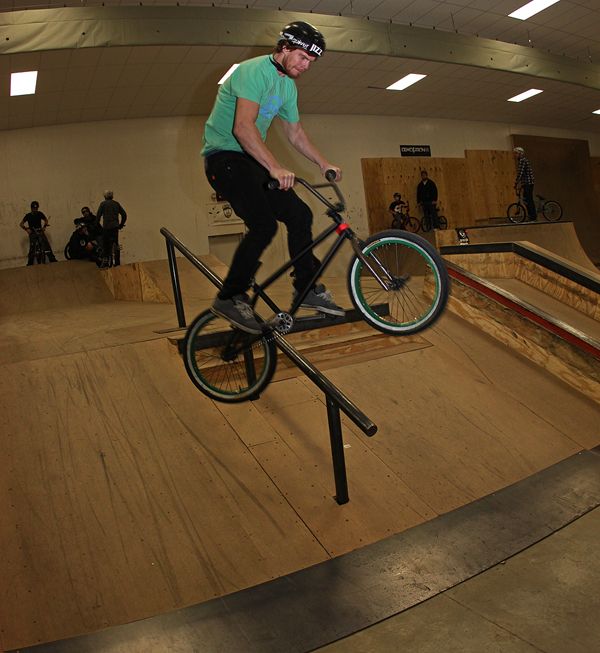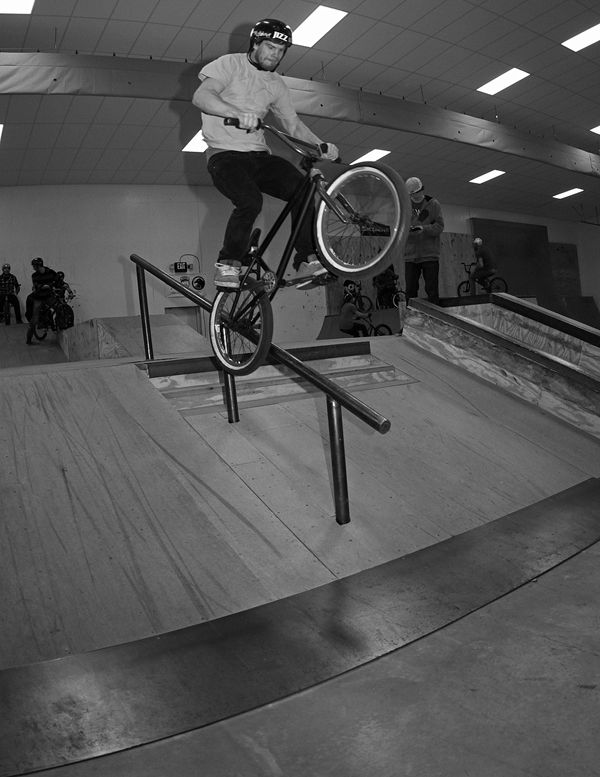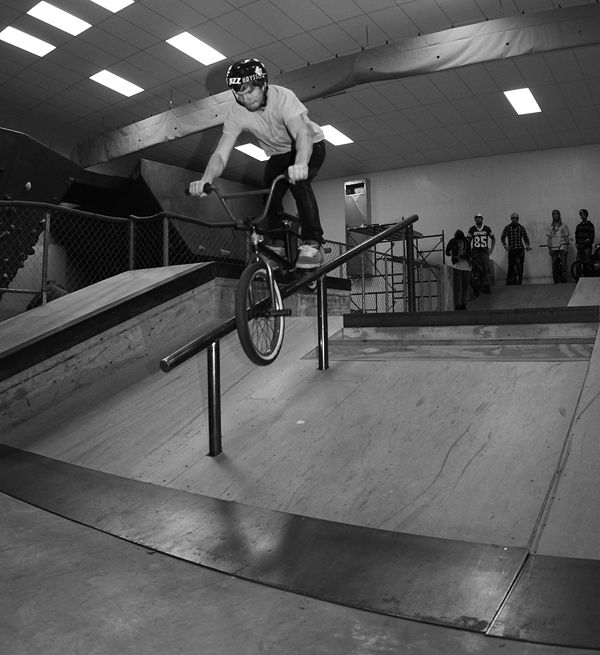 Lee Miles is rad as fuck, and notorious for crashing for some reason. However, he held his own on the rail and threw down a few hot moves.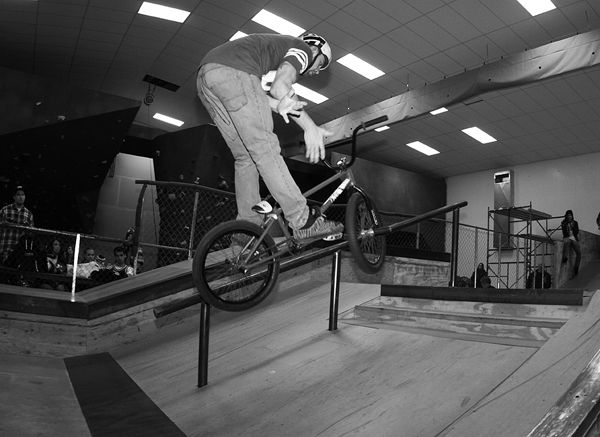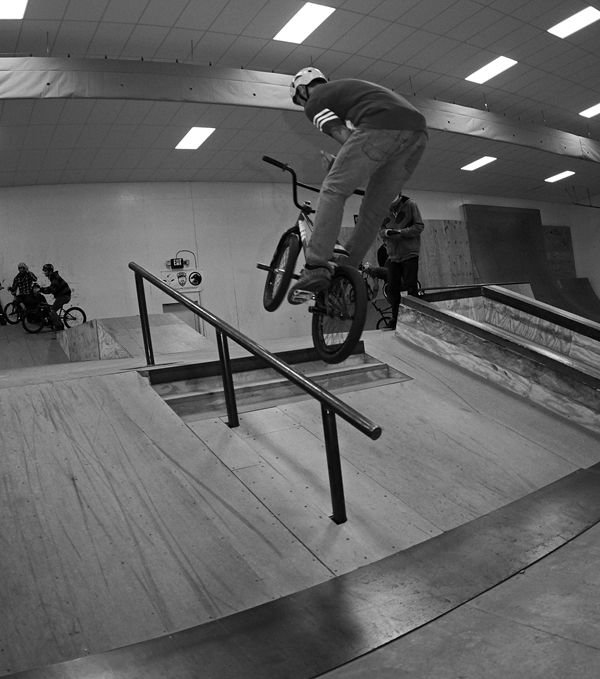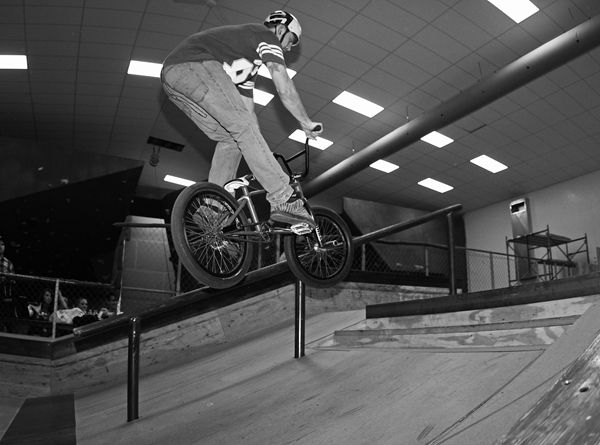 (Hop over tooth to fakie)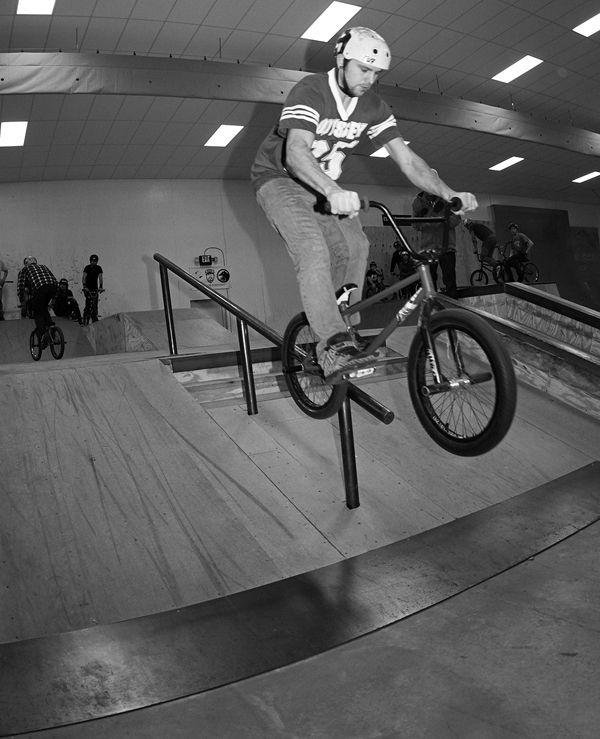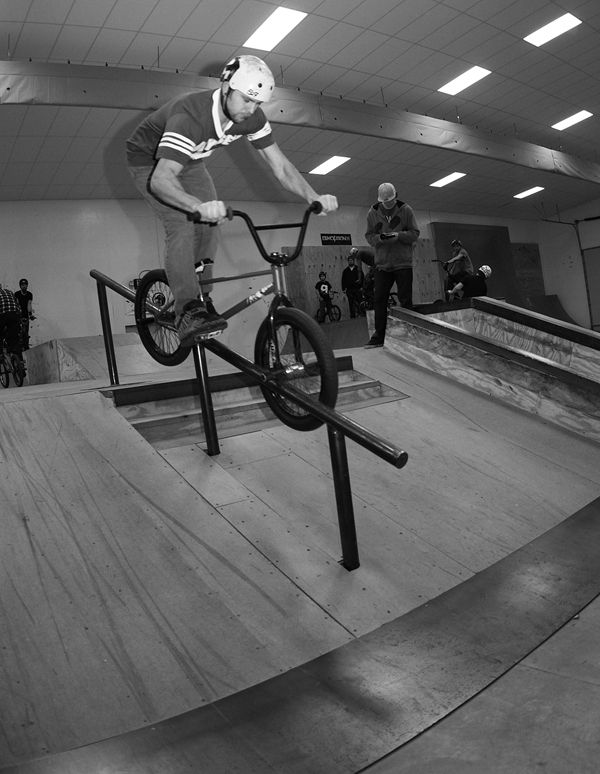 Conrad Heppner managed to loosen up after sitting up in the tower judging for 2 hours to get in on the rail jam a bit. Double peg up to barspin fakie down was real good.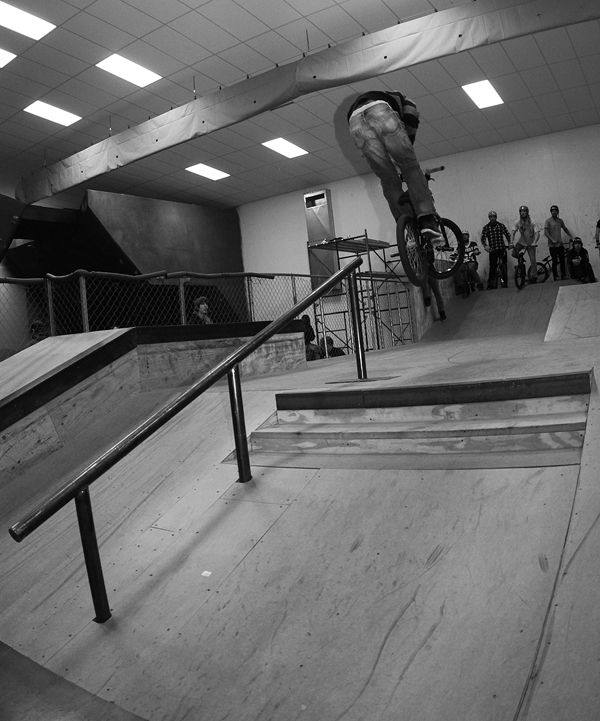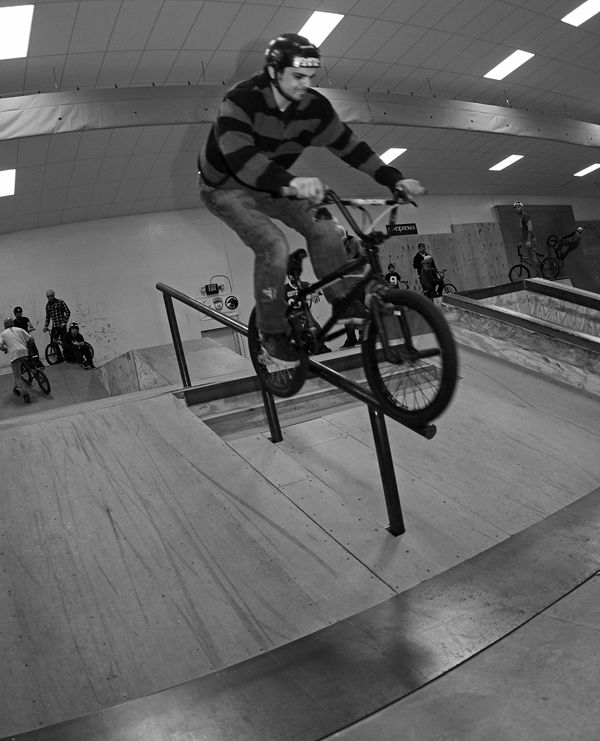 Nick Harkins was one of the Illinois dudes who made the trip and ended up throwing a few hot moves on the rail like the uprail to bar out.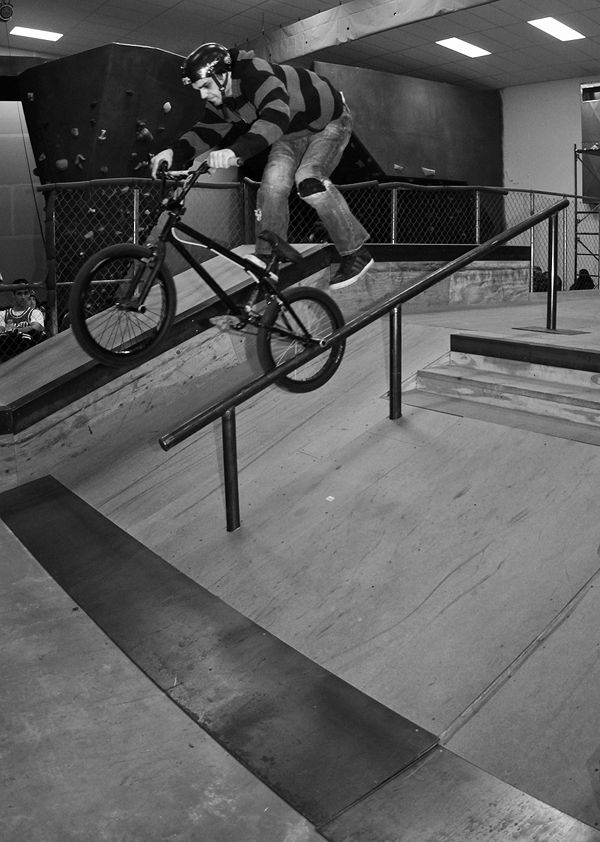 I don't think Nick actually landed this, but it was so ridiculous. I know one time he went down to his face pretty good but got up quick. I feel like he was walking around a little concussed the rest of the day for some reason. Hope you're doing good, Nick!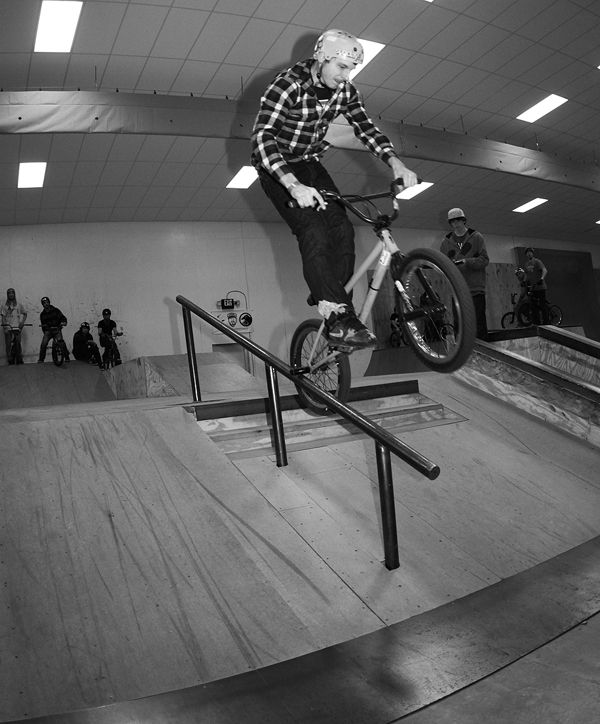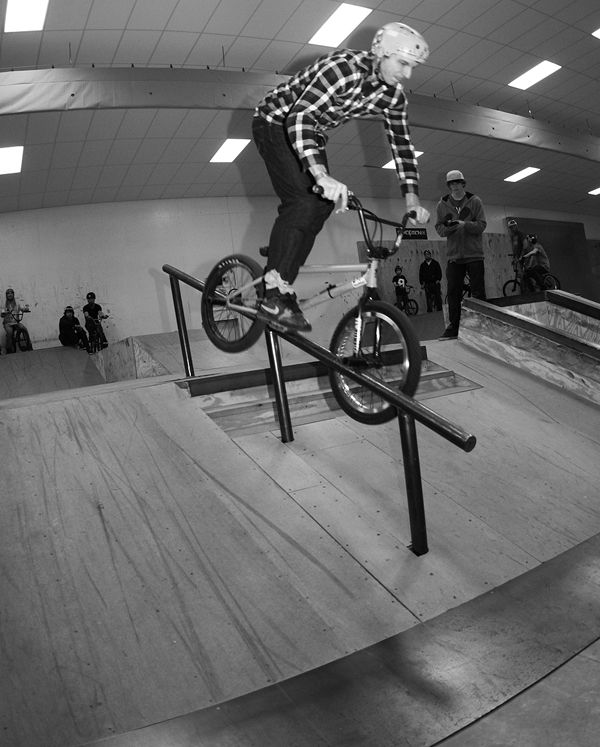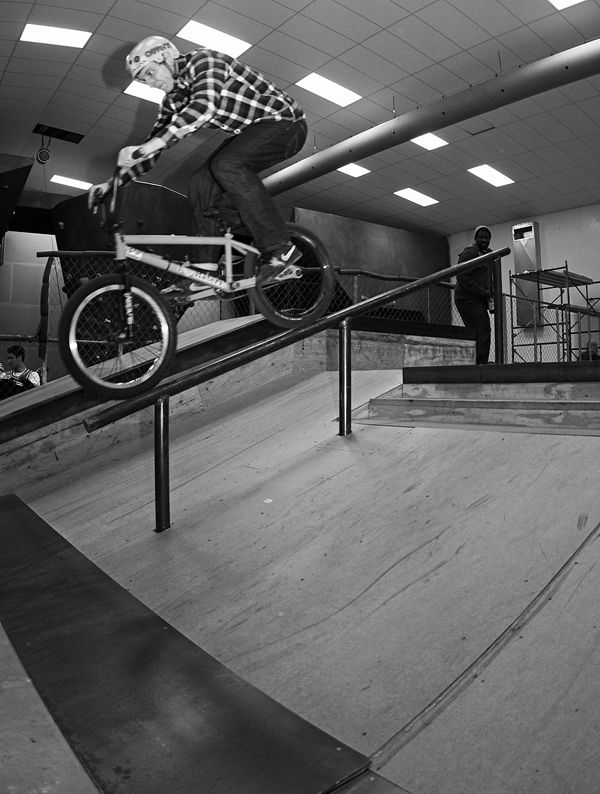 I've seen Brian Oestreich do some ridiculous rail ride tricks over the course of the last few years. However, his ass hole wasn't allowing the up rail to whip he was working towards after he took it pretty good. He called it good but managed the above moves before going down.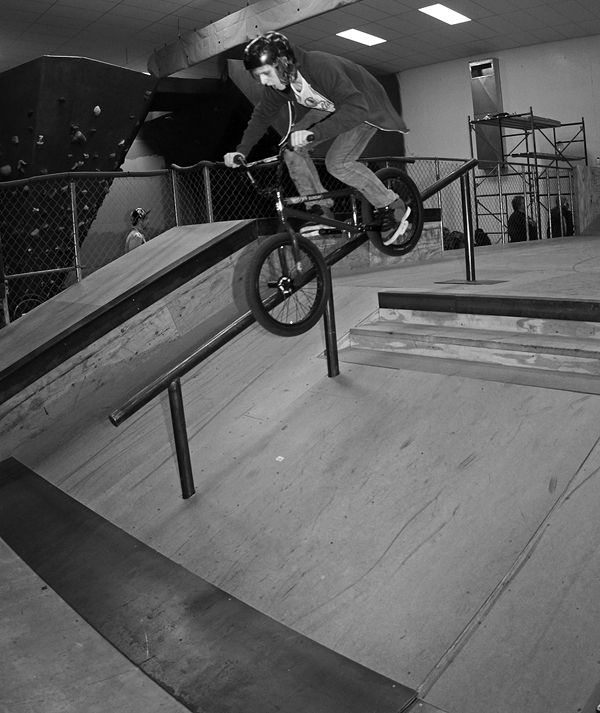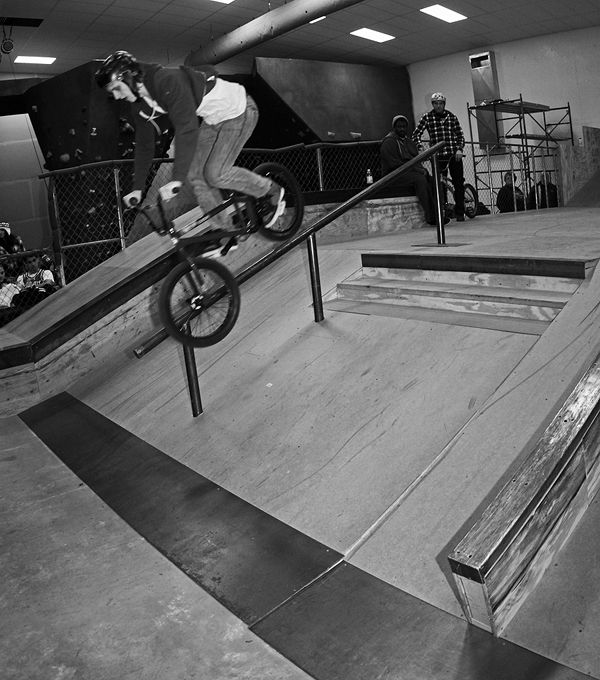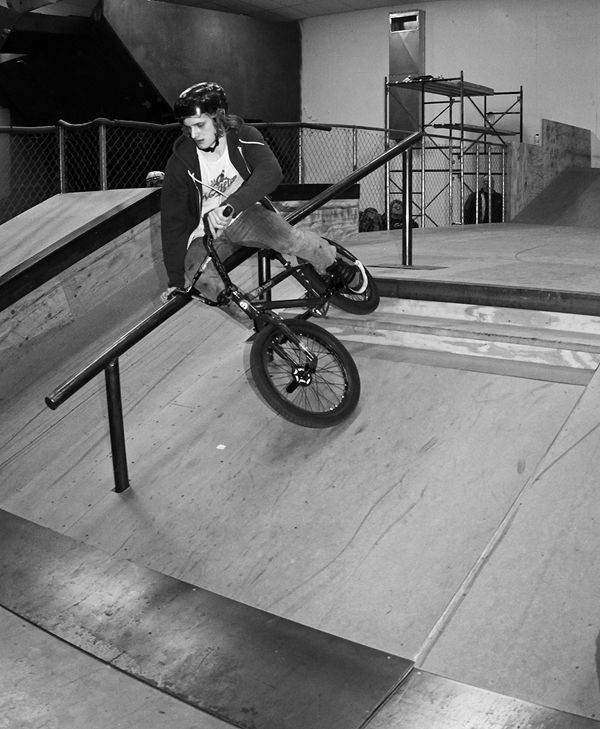 One of the least serious, most fun having people in BMX, Erik Elstran, is pretty much a local to the park these days after moving to the cities for school. He filmed about half of the rail jam then decided it was time to get in on the fun. Handlebar slide was rad.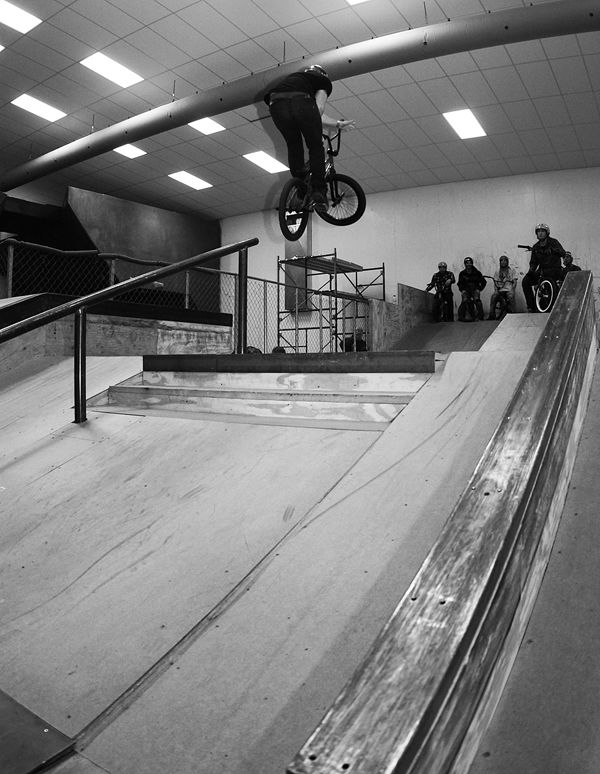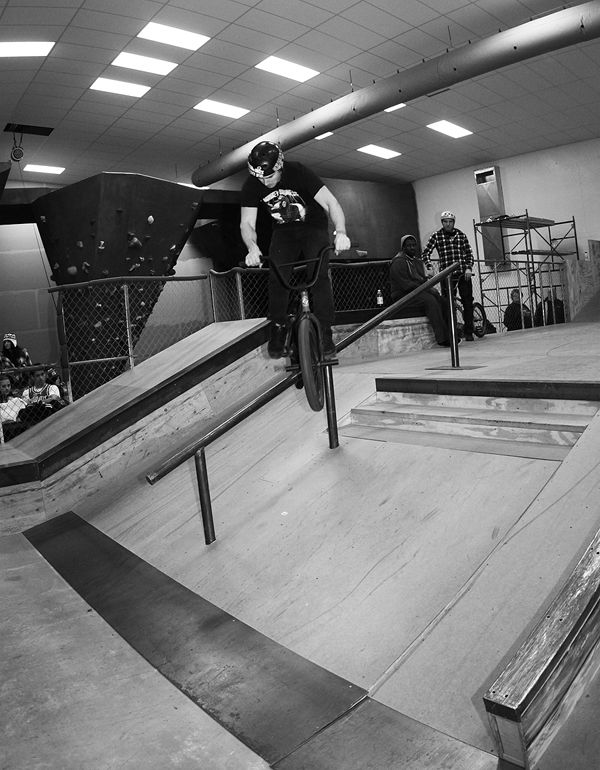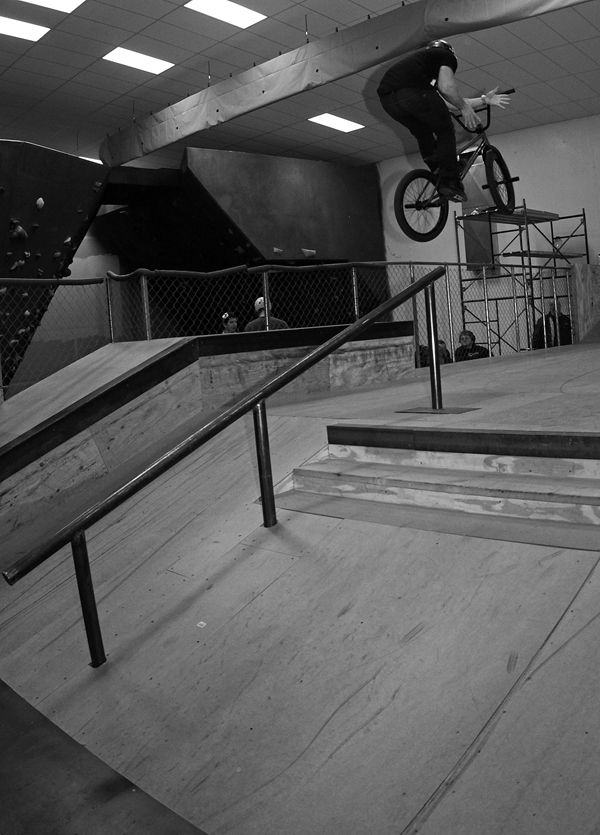 I was going to sit on these photos of Eric Holley to go with his bike check that will be dropping soon, but I decided I'll just use them twice since they are all pretty solid. Thanks, Eric for being a judge for the contest part. Hugely appreciated.
Alright…. so who won? Well, I saved the best for last. Minnesota's best kept secret, and recent addition to the Specialized grassroots program… PIRATE BMX… Nick Krausher.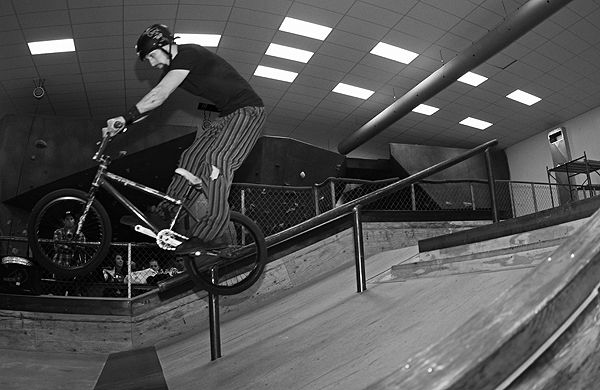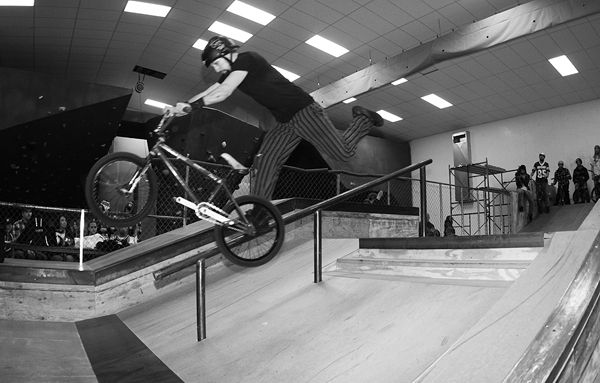 Rocket Tanya Harding Ice Grind?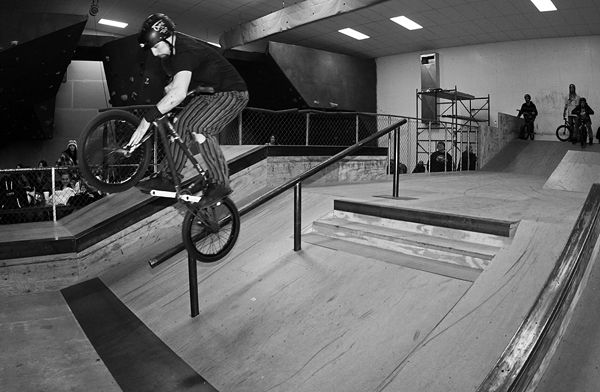 Front peg grab ice?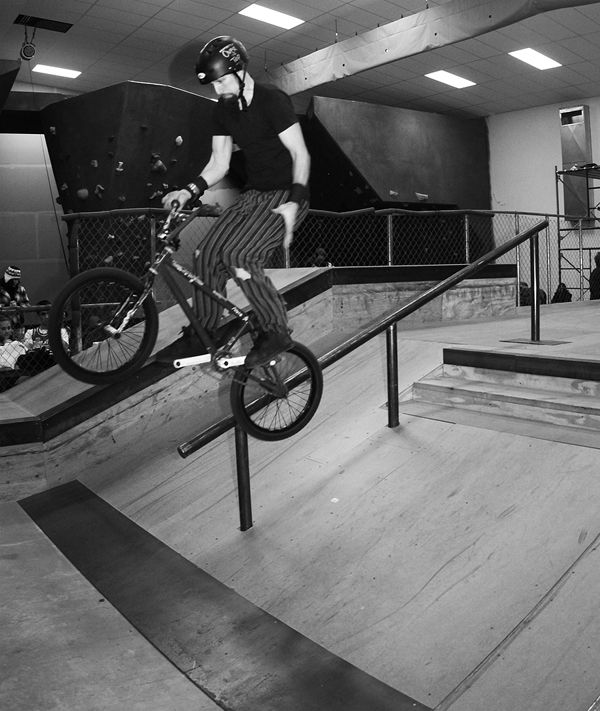 Under arm one hand ice?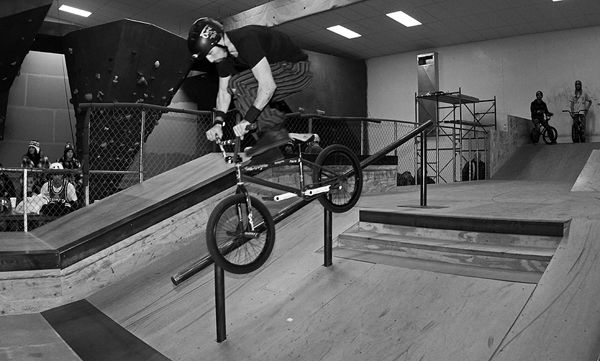 Frame stand can can double peg?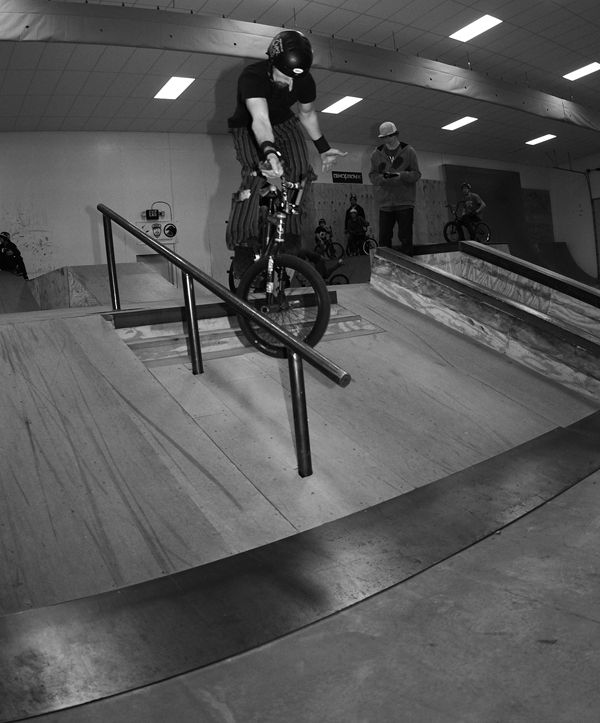 Underarm one hand tooth grind?
Yeah, that's the level Pirate is on. It's not normal, it's not sane… it is BMX though.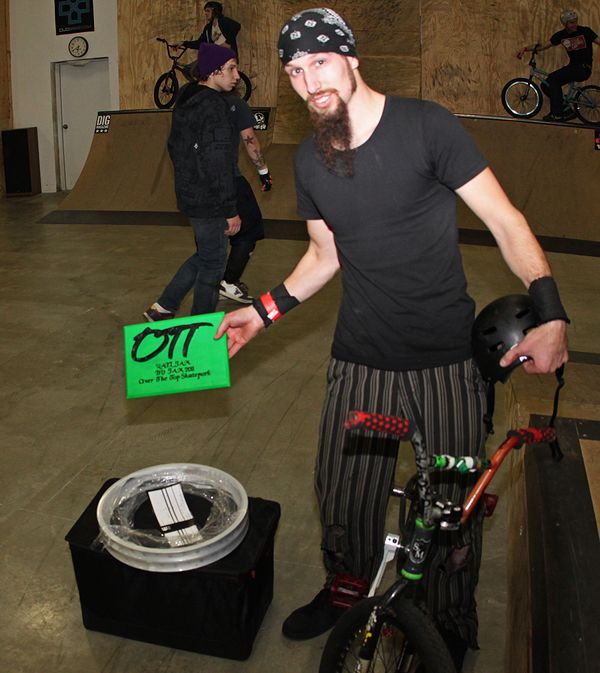 I sent Pirate home with the Treasure Chest. I may or may not have planned that prize pack out since I knew what he was capable of….
After the rail jam we threw a quick best trick. Well… it was more of a 15 minutes of chaos.. but still I wasn't about to be running around trying to shoot photos when dudes were going off everywhere in the park. There were a few ridiculous tricks up for vote, then Marc Vigna went and blasted the 540 over the box jump at the buzzer that he had been trying to get done all day. Unanimous decision to give him the win.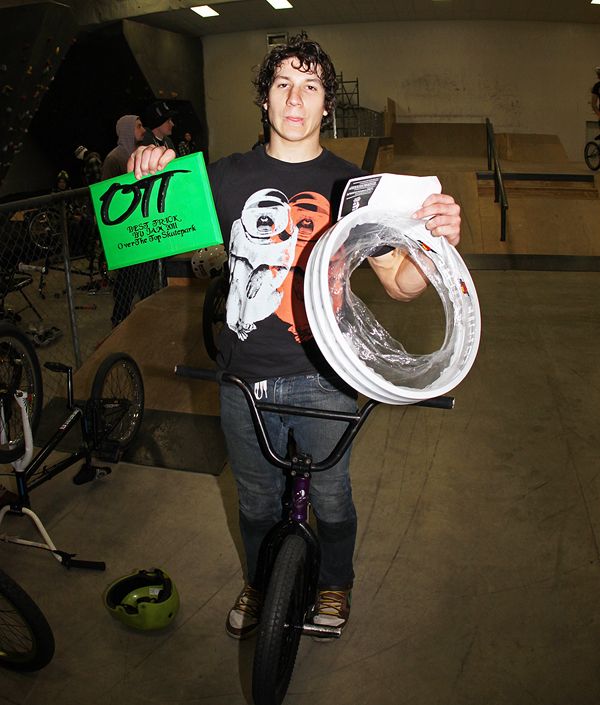 After the Best Trick we made our way over to the box jump for the Booster Rooster contest. There were only a few dudes up for the challenge after seeing Donnie brush the ceiling during his run, but it still went off…
I think this is the highest Lee has ever gone. Street dudes on box jumps is entertaining.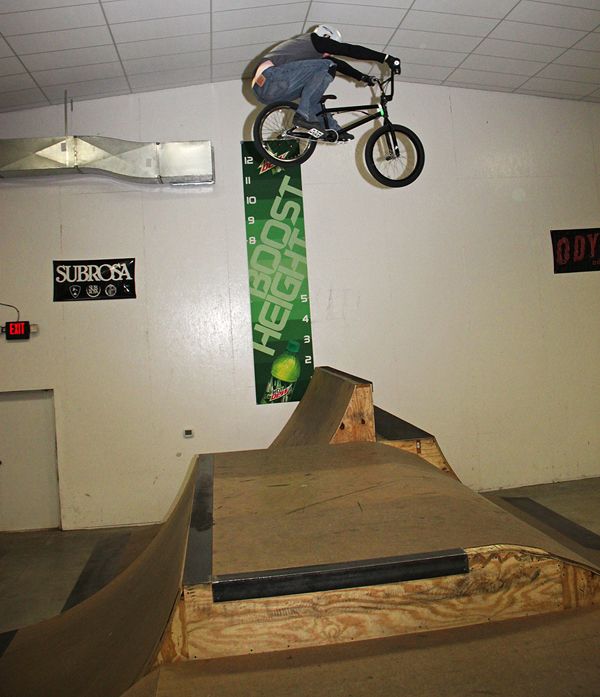 Evan Moyle has been riding the box quite a bit this past winter, so I figured that he would have a pretty solid chance. He definitely got up there….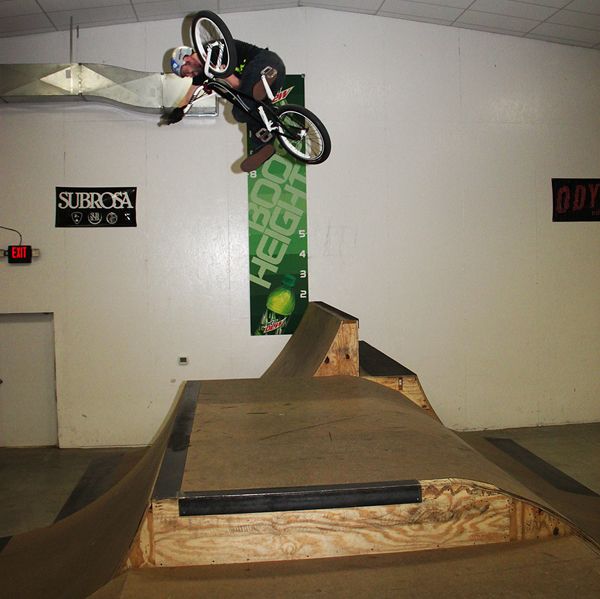 Dustin Griess took alternative routes to get a few extra inches.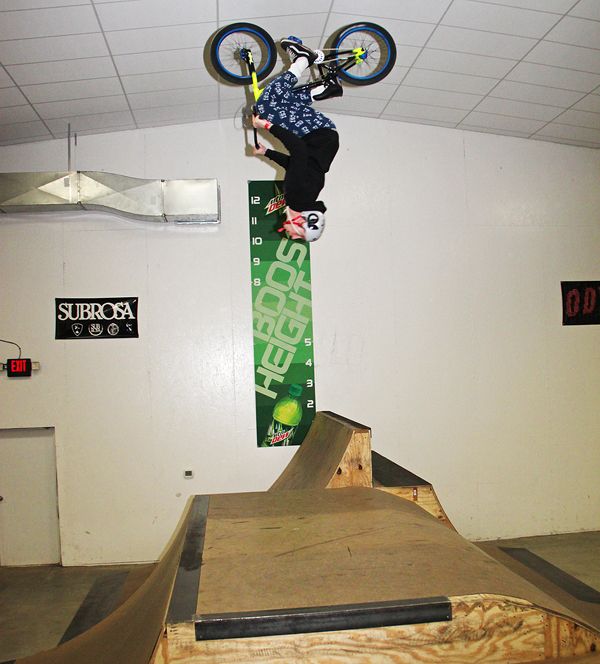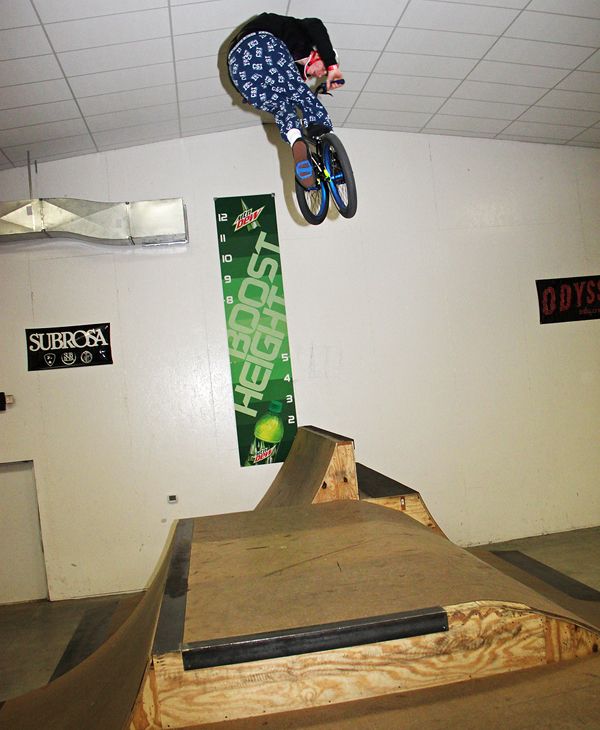 Ben Eyelander went both ways to see if he could win it…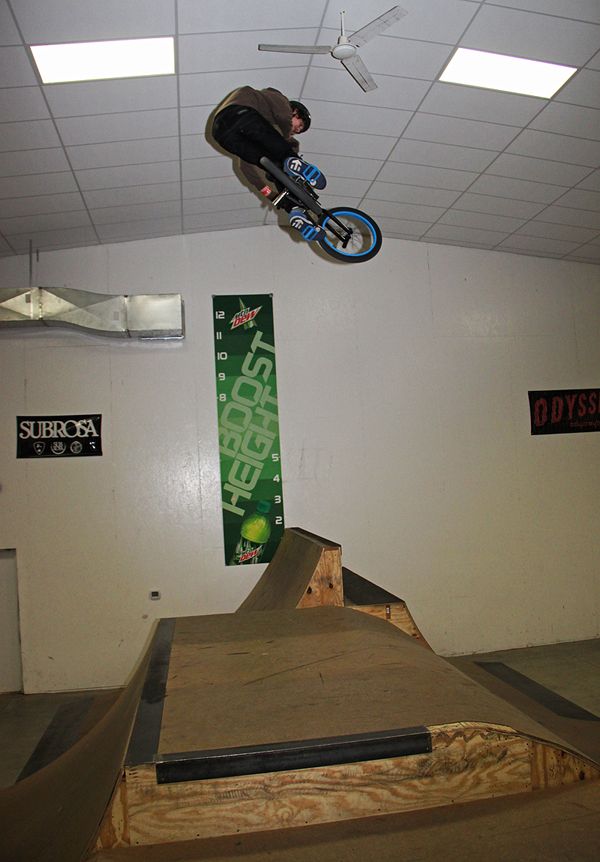 … Then Donnie Rich took a dump on everyone and took it to the roof. 20 foot ceilings ain't nothing. We should have left the fan running to see if he could get a free hair cut.
Don Rich is the Booster Rooster.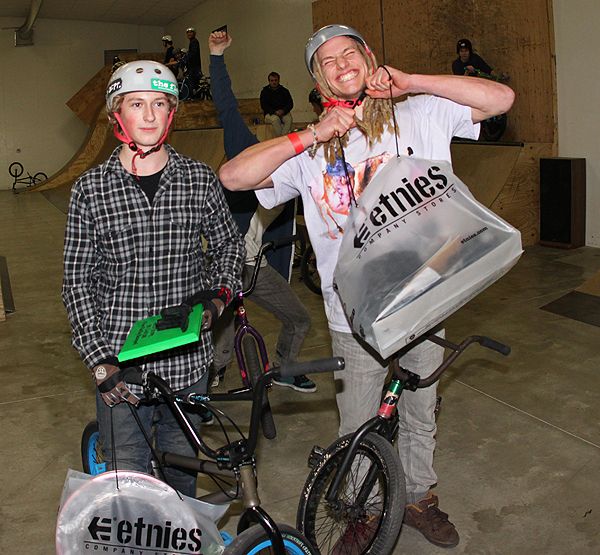 We threw a round of footdown for those who weren't already beat up or too tired from the day. There were about 30 people cruising around running into each other for the title. We ended up with so much product to give away, I figured it would be cool to give the top 2 prizes. It's always the last two that really is worth watching so why not?
Speaking of so much product to give away… We still ended up with a TON of goodies to give out after all the prize packs were put together. The product toss went down last for those who stuck around long enough to take part. MAKE IT RAIN!
Based on the over loaded Little Josh up front in the last photo, everyone ended up with something. I'm pretty sure everyone got at least $10 (entry fee for the day) worth of prizes from all the sponsors for the event.
Overall, the day went off. There were around 100 people between riders and spectators that showed up and there was a lot of real good riding that went down. Everyone seemed to have a good time, and my eyes definitely got opened up to what's possible at the park. This has been the first year the park is open and I hope we can do another one. I'd like to thank everyone who came out for the day and all of the sponsors!
Sun, Profile, Madera, United, FBM, Nice!, Shadow Conspiracy, Sputnic, Subrosa, Stolen, Quintin, Odyssey, DK, Demolition, Verde, Duo, Cinema, Arnette, Colony, Etnies and DIG all threw down to support the day. Big thanks to them.
Hopefully an edit will pop up soon! Check back for that!