It's a double whammy Saturday on The Union today. We just so happened to have a bike check with Stolen's newest team rider, Chase Zink, ready to drop on the same day as his brand new Vinyl split edit with Tom Arkus. So make sure you check out that video above and then hit that jump and check out what Chase is riding these days along with a few quick Q&A questions to find out what else he has been up to lately like working on Formula 1 race cars…
Name: Chase Zink

Location: Currently Tampa,FL.
Sponsors: Stolen Bike Co., VINYL BMX
Years riding: 12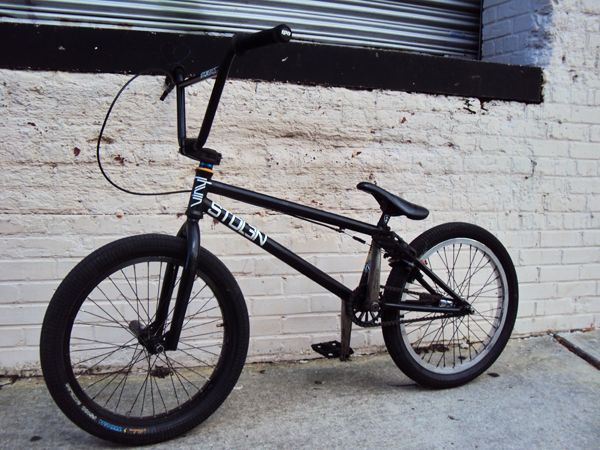 Frame: Stolen Cherry 21″
Bars: Stolen Cell bars
Forks: Stolen Vortex
Stem: Stolen TLC
Grips: ODI longnecks
Headset: Stolen Insider 2 intergrated
Seat / Post / Clamp: Stolen pivitol seat, Subrosa laid back post
Cranks: Stolen Team 2.5 175mm
Pedals: Stolen Thermalite
Sprocket: Stolen Eternity Ring
Chain: Stolen
Bottom Bracket: Stolen
Front Wheel and Tire: Tire : Tioga/Stolen FS100 Rim: Sun Rhynolite 36h Hub: Demolition
Rear Wheel and Tire: Tire: Tioga/Stolen FS100 Rim: Proper 36h Hub: Primo Cassette
Pegs: Stolen Thermalite
Hub Guards: None
Brakes? Yes! Odyssey Evo 2
Mods: No mods. Pretty straightforward setup.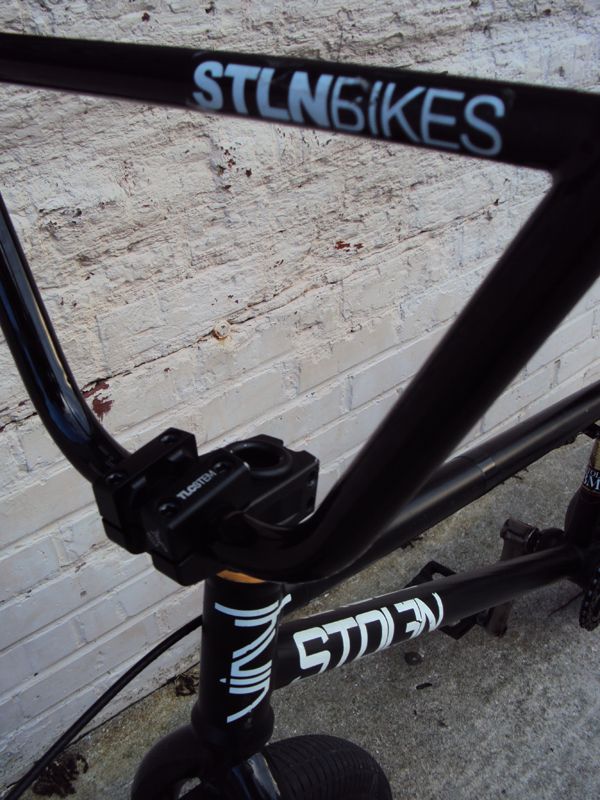 You were recently picked up by Stolen. How have things been going so far? Do you have any trips or signature goods in the works with them at all yet?
I'm stoked to be apart of Stolen. Things are good. They recently did an east coast trip which I couldn't attend because of work commitments. You can see video of the trip on www.Stolenbmx.com. Looked like a blast. No way I am missing the next one.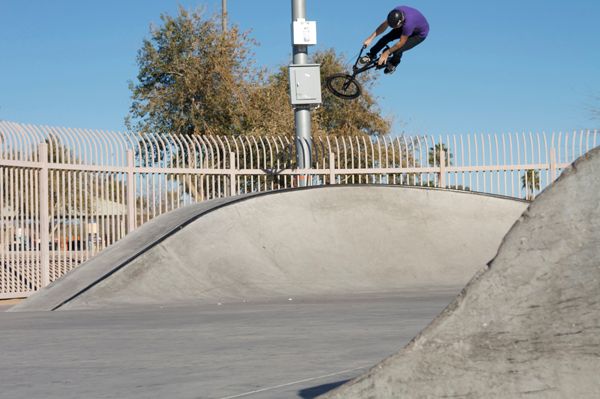 Photo: Stephan Holleman
Do you have any other fresh sponsor news you are psyched about?
Trying to film some clips for the next Vinylbmx dvd. Be on the look out for that in the future!
I know you have been traveling quite a bit lately due to your new job and everything. Where can you be found riding the most these days? Any spots you have been psyched on?
I've been traveling alot in the Southeast for work lately. I'm currently in the process of moving from Tempe, AZ to Sanford, NC. I'm currently in Tampa, FL so I have been exploring the Tampa scene as of late. But soon I will be shredding in and around Raleigh, NC. I got to ride Kona Skatepark not to long ago, that was one place I never thought I would get to ride.
Speaking of your new job, how did you get into working on race cars? Can you tell us exactly what you do?
I lost my job working construction and really didn't want to continue doing that. So I was living off unemployment for a few months but I knew that well was gonna run dry real soon. So I randomly sent a message to my good friend Tom Arkus asking If he had an opening on the race team he worked for. Just so happens he did and now I am wrenching on formula mazdas with one of my best friends. Can't really thank him enough. Basically we are race car mechanics and we have a damn good time doing it!
Any plans on leaving BMX to race professionally? Seems like that's been a new trend with the rally car thing…
If I had the money I would love to actually drive race cars. Its a very expensive hobby. I don't see myself making enough money to race for quite some time. Vinyl race team has already been talked about. Once my body is too beat up to pedal and pump around thats when I will make the switch.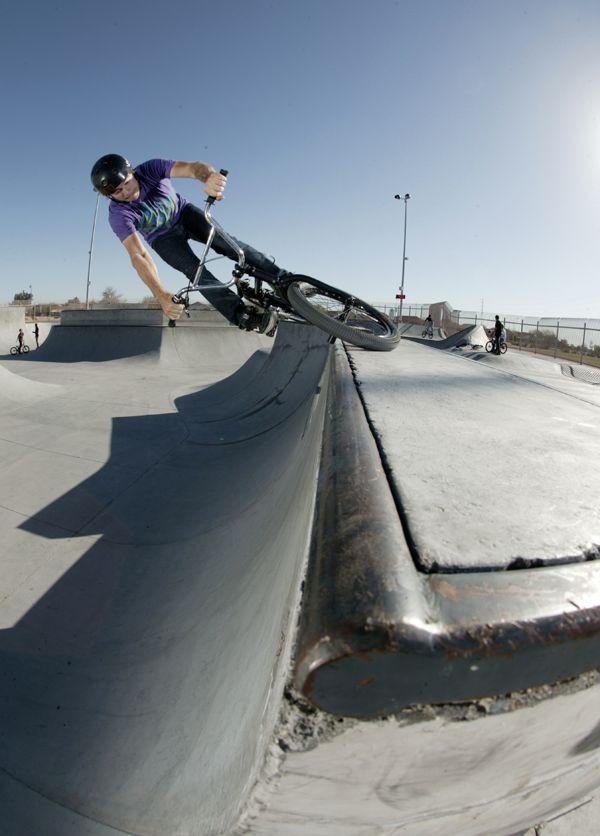 Photo: Derek Riggs
I feel like it has been a bit since I've seen some footage of you. Any plans on dropping a new edit or any video parts?
Just finished up filming some clips for an split edit with Tom Arkus. It's all Tampa footage nothing crazy just good times. Should be dropping real soon. More soon….
The edit actually dropped today. You saw it above…
What is your travel plans looking like for the rest of the year? Anywhere in particular you would like to go?
Next on my list is Pittsburgh. It's been a long time since I've rode in the woods. I gotta see if I can still roast some dirt. I heard Hazelwood is hitting so I will be excited just to see some dialed trails. After that I'll be working in Wisconsin for a week. Then I am going to spend a few days in the Chicagoland area riding some old spots with old friends. We are trying to do a Puerto Rico trip this winter which I am really looking forward to.
Outside of riding and working, what have you been up to lately? Staying out of trouble?
I have been real busy with work the last couple of months. Trying to steer clear of trouble as much as I can.
What's the last song you heard, movie you watched and website you visited?
Song: Big Tymers "Real Big" Movie: The Skulls Website: WWW.STOLENBMX.COM
One thing you need more of in your life and one thing you need less of?
More good days and less stress!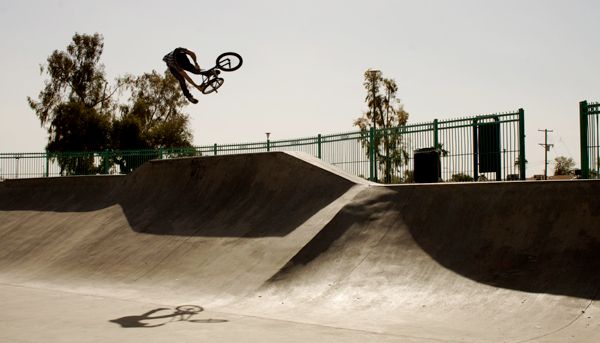 Photo: Stephan Holleman
Where do you see things going in the next 5 years?
I will still be roasting tranny! Also I want to be a homeowner in North Carolina and have the race team really doing well so I can keep stacking up that cheese.
Anything else you want to say?
Thanks Stolen for the opportunity and all the sweet stuff you keep sending me. Mr. Buros you are the DUDE! Thanks for reading now go ROAST!

More BMX Videos