Chester is a legit dude. I don't know how much more badass jumping a tree is but I know it impressed the crap out of me. From his recent part in Insight and all the other things he has going on, I figured it was time to catch up with him and get an interview, so here it is! Enjoy and leave some comments for him!
Name:
Chester Blacksmith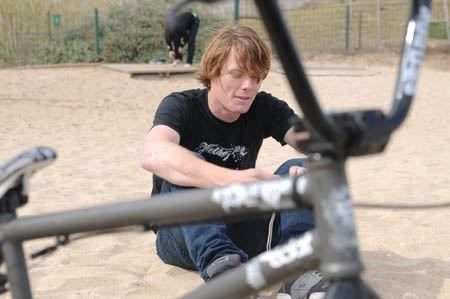 Location:
Portland, Oregon
Sponsors:
E'clat/wethepeople, Lotek, Shitluck,
Years riding:
14years this month.
Your part in Insight seemed to go over really well despite getting hurt excessively… How did you feel about the part overall? You said in the video you learned a lot about filming a video part, care to share about that?
Thanks. I Thought the part was pretty straight forward. nothing to innovative. Yeah i guess I was getting a little carried away in my head about clip counts and if stuff is even worth filming if it's not Dead man. You just gotta have fun with what your doing, if your not then don't do it.
A compound fracture is a pretty painful thing to have happen, especially in the leg, do you still have pain from that or how is that going?
Yeah I'm still in pain. It hasn't even been a year and I've already over used it twice, I can't have a high impact with out it hurting. Some times if I land real hard I can't ride for a week.
Are you filming for any other video parts or web videos at all?
Right now bruce crisman is making another video featuring Davey Watson,Darin Reed, Jack Maddock and my self. it's called Shola. and i think it's gonna be real good. You can check out the trailer at www.sholabmx.com
You have rode some pretty interesting things, what is your favorite thing you have ever had the chance to ride?
That all bike park in Phoenix was so good! I still can't believe they have a all bike park.
You are able to travel a fair amount, do you have any big trips planned anytime soon?
Yeah I'm heading back to Germany in August so that should be fun. I really like there. Before Germany i will be taking a trip to the big apple.
Where are some of your favorite places you have had the chance to go to?
Israel was the coolest place I've ever been. Madrid Spain was really fun.
Where is one place you would really like to go at some point?
Moscow, Russia.
Seeing as "contest season" is kicking in for a lot of pros, do you plan on hitting any contests like the x games street or any others?
No plans on hitting any contest. I can't hang in that scene.
How are things going over at We The People for you? Any signature goods coming from you?
I couldn't be more happy with wethepeople, Those are some of the coolest guys Ive ever met! If you don't know we started a branch off parts company call e'calt, There parts line is different than anything else out there right now I'm testing some signature grips and i have some other signature parts coming out this Fall. I think People are really gonna like the e'clat product line.
How about the rest of the sponsors? Anything big going on with them?
Lotek Just dropped there new shoe line and that stuff is Rad!
What is a trick, line, or spot that you have been having a lot of trouble with lately?
I can't do a turndown to save my life! For some reason i just can't get that one.
Is there anything your really not capable of doing on your bike?
That's a long list.
If you could go on a road trip with 5 people. Who would you choose and where would you go?
Rob Harrison,Dean Dickinson,Max Gaertig,Jimmy Levan, Rob Dolecki. From Paris to Berlin.
If you could change anything about BMX, what would it be and why?
There's not much I would change about bmx. For the most part i like everyone i meet that's involved. I think company's are heading in the right direction, as far as parts they just keep getting better each year.The tricks are getting crazier. and more kids are getting in to Bmx, what more could you ask for.
Outside of riding what are you up to?
I still work part time. Hang out with my lady and try to go fishing once in a while.
It would appear your into hunting and killing shit.. what kinds of guns do you own and what do you like to shoot?
I don't like to kill anything. Me and my Dad go shooting a lot, we take old Computers and things that would be fun to shoot, and just destroy em! I own a Ruger .22 long Rifle, Glock .45,Walther p22, and lever action Winchester 30-30 It's an old cowboy rifle. My old man is the one with a serious arsenal. We just like Shoot. I have a serous respect for Guns because if you don't it could cost you or your Buddy's life.
Do you work at all or what are some jobs you have had in the past?
Yeah i work at FedEx ground 5hr a night. It's good because it gives me health insurance.
What do you think you would be up to if you never got into BMX?
That's hard to say. I might be living in my home town not doing much.
How do you feel about porn, strippers, drugs, and midgets?
As far as strippers and porn go if your in to it that's cool, I see no harm. Strip clubs can be alot of fun but I'm not trying to hang out with that crew after the place closes. Smoking weed is fine, but it will make you stupid! Same with Drinking. As far as all other drugs go stay away from that shit!
If you won the lottery what would you do with the money?
Depends on how much. But if it was a enough i would pay off my parents house and then build my own house with a concrete Bike park in the back yard. Take 6 month long world trip with a bunch of friends.
Do you spend much time on the Internet? What are the last 5 websites you visited?
No i don't spend as much time on the Internet as i should. I can't stand it sometimes. I guess it would be Wethepeople, Lotekbrand, Myspace, Photobucket, youtube.
If you could spend the day doing anything at all with no consequences (blow shit up/ride government buildings/rob a bank/ etc.) what would you do and why?
Hell Yeah i would rob a bank! Then Grind the biggest hand rail i could find. Go back and film that gap to wall ride i broke my leg on. Jump off the freemont bridge and Hit the a-crop( The a-crop is a famous strip club in Portland with the best food ever.) for dinner.
What is something nobody believes about you when you tell them?
I like tea.
What are some brands you are into? Any you suggest people check out?
Blackrain clothing myspace.com/blackrainclothing
What is the best advice you have ever been given?
Trust your first instinct. It's hard to do sometimes but if you listen to your gut your better off.
What are some things you would like to accomplish in the next few years?
You know lately Ive been asking my self the same question and I'm not sure. Kinda scary.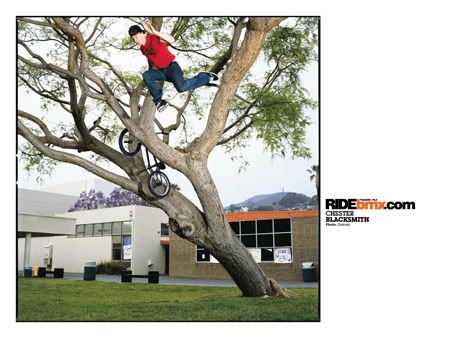 What is the key to success when it comes to meeting and hooking up with girls?
Just be confident with who you are. Girls like a guy that is Confident not desperate. every Guy has his own way of getting girls. The only way you find that out is to talk to every girl you can and get over the fear of getting shut down.
What kind of advice do you have for kids who are just getting into BMX?
You can have the craziest adventures and the best times every with Bmx. It makes no difference how good you are,it all depends on how much fun you want to have.
Any shout outs or thanks?
Just wanted to thank everyone at wethepeople, goods, Lotek, and Shitluck for a great year so far. All my friends and family. Thanks for all your help. and Thanks to bmxunion for giving me this interview.
Anything else you would like to say?
Yeah Shad!
Old Solid Ad

Chester on Scarred (don't watch if easily grossed out)

Insight Trailer

I am posting this one because I find his reaction 8ish seconds in pretty halarious