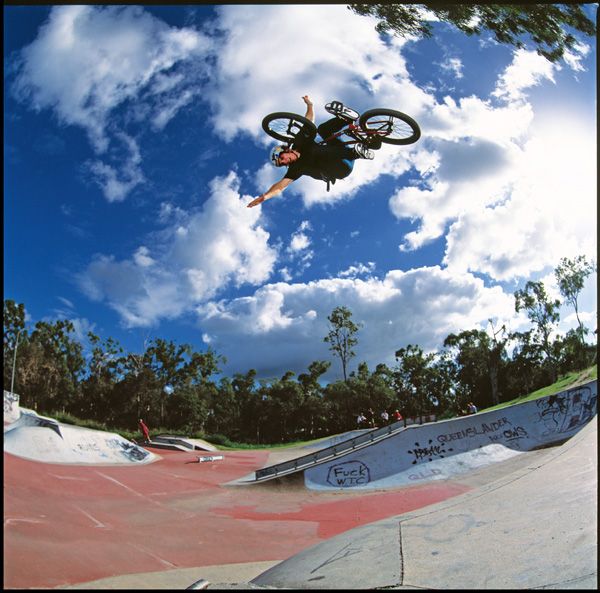 Photo: Nitai Whitehurst
Chris Courtenay is one of Colony's pros who has been getting back into the swing of things. About a year ago, Chris blew his knee out at the Red Bull Dirt Pipe contest and had been kept off the bike for about 7 months. Chris has been back on the attack these past few months riding harder than ever and even has a new signature sprocket coming through. I figured it would be a good time to find out a little bit more about Chris and see what he has going on these days. Check out what he had to say…
Name: Chris Courtenay

Location: Brisbane, Australia
Sponsors: Colony BMX, Nike 6.0 & Ride On BMX Store
Years riding: Close to around 5 years
What was it that first got you into BMX? Any early memories come to mind?
I had always raced BMX since I was about 7 and then when I moved to Brisbane I lived right by my local skate park that I still live by today. That got me really pumped on riding! I also found a lot of my friends rode and that kept me wanting more.
How are things going with Colony these days? It sounded like Clint has had you guys traveling quite a bit to film for the video, right? How's your part coming along?
The whole team has been going on so many filming trips for the DVD whether it be just a couple of us or the whole team going on a trip. We recently just went to Perth, Sydney and Canberra and it was unreal. We got to ride some spots which I never imagined I would ever ride. Good times!
You have a new signature sprocket coming through here soon as well. Care to talk a little bit about it?
I was actually still on the mend from my knee injury when Clint hit me up to get ideas for a signature sprocket. It couldn't of come at a better time. I sat in front of my computer 24/7 looking for things to inspire me for a design, and it just took a whole heap of internet searching. I'm really stoked with how it turned out for the final production of the sprocket. I couldn't be happier.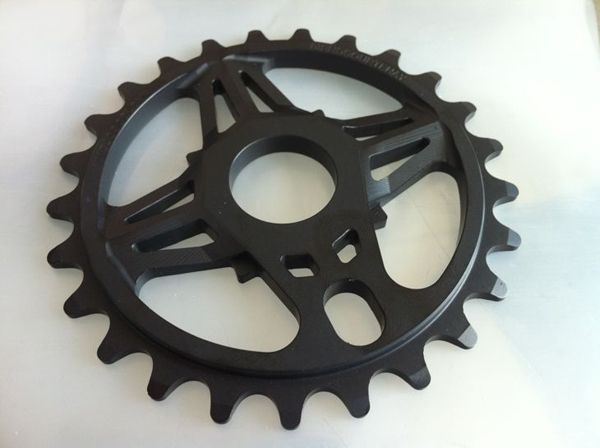 Does Clint have any more signature goods in the works with you?
Nothing at the moment, we'll have to see. Time will tell!
How are things going with Nike 6.0 and Ride On? Do you have anything you are looking forward to with them?
Nothing major in the works at the moment with Ride On but hopefully will be working a lot more with Nike 6.0 throughout this year though, which I'm really stoked on.
You just started getting back on the bike back in November after some knee surgery. How did you blow your knee out and how long were you off the bike for? Are you back to 100% now?
I blew my knee out in April 2010 at Red bull Dirt Pipe. It was my second last run down the pipe and I just had too much speed going into the last hip and I put my leg out and my knee just got absolutely destroyed. I ended up doing my acl and my patella tendon at the same time, which apparently is pretty uncommon to do at the same time! That ended up setting me back about 8-10 months which was pretty big for me being my first and only major injury. TOUCH WOOD! I'm back to 100% now which is the main thing and I couldn't be happier to be back on my bike.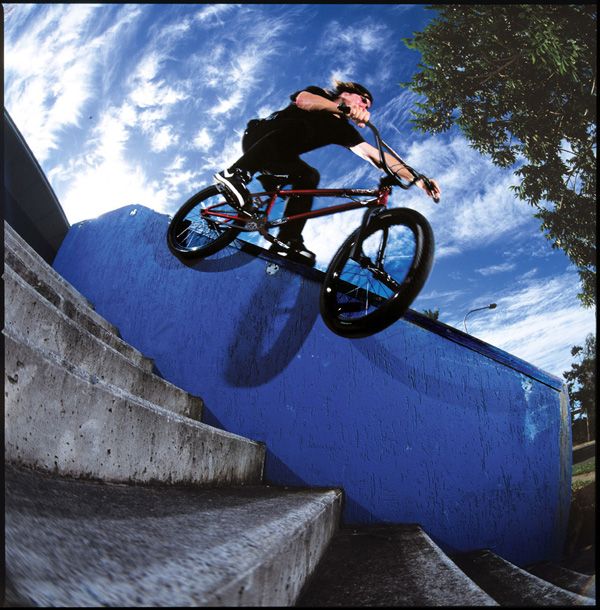 Photo: Nitai Whitehurst
Do you have any bigger trips planned for this year at all yet? Make it up to the U.S or something?
Asian X-Games this month is the first trip planned then back to the U.S in June and hopefully a couple of other little trips here and there!
I'd imagine you have been filming pretty heavy for the Colony video and the new 2020 video. Where all do you have clips going these days? Any chance we will be seeing a new web edit soon?
All the clips ive been getting lately have been mainly saved for my Colony part in the DVD. I finished up my 2020 clips just before I did my knee. Troy Charlesworth, who is filming the 2020 DVD, and I had been going on crazy filming missions right before it happened, luckily! Recently, I filmed a day web edit with Matty Lambert as well, so I'd say that should be dropping sooner or later!
I know you have been hitting a few contests lately like the Red Bull Dirt Pipe and BMX Games, then the Asian X Games here soon. Are you much of a contest rider or is it just more about chilling and goofing around at those? Any plans to hit more this summer?
I'm really into contests. I feel like being able to ride them with friends is one of the biggest motivations and helps me to keep pushing my riding. I'm gonna try and hit a couple more international contests in 2011, with the Asian X Games, Dew tour and also the BMX Masters.
Who are some of the guys you ride with the most? How's the scene where you are living these days?
I have been riding a lot with Alex Hiam, Chance Brejnakowski, Matt Whyatt & Logan Martin a lot lately! They've all been getting me really psyched to get out and ride my bike, love it! The scene in Brisbane is very large and constantly growing. BMX in Australia in general is just booming with loads of kids riding BMX, it's good to see less scooters getting around; they are a pest here!
Where can you usually be found riding these days? Any hot spots you have been real psyched on?
Been riding the GC Compound and my good friend Aaron's backyard a lot lately. Always seem to have killer sessions there.
What's one trick you can't do for the life of you?
A Turndown, hah you'll never catch me doing them ever. As much as I've tried, I just fail.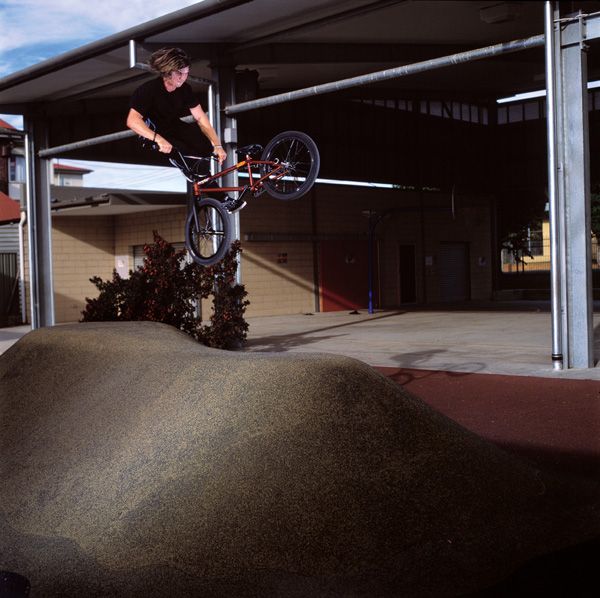 Photo: Nitai Whitehurst
Any plans of moving anytime soon? Do you have some places in mind that you could see yourself living at someday?
I just moved from Brisbane to the Gold Coast about a month ago with my girlfriend. Then Matt Whyatt moved in, up from Melbourne to hang out and ride, but we've got a good house full of friends and really close to the new indoor park that just opened. It's a good vibe and im really happy here!
What do you think you would be up to if you never got into BMX?
I probably would have tried a little harder at school and been at university doing something I'd be completely unhappy doing! Hah.
What are you usually up to when you aren't riding?
Going to the beach, hanging out with my friends, going out in town and planning on where to ride next.
What's the last song you heard, movie you watched and website you visited?
Real Estate – Wiz Khalifa, Red Riding Hood and Vitalbmx.com

Photo: Mitch Morrison
Are you much of a partier? What makes for a good night out for you?
On and off. I'll have stages where I'll go out heaps and then times where I'm just chillin' under the radar! But usually just pre drink with friends then usually go out or just keep it quiet!
Do you have any good stories from things that landed you in jail or anything like that? I feel like you might be a wildcat.
None at all, try to keep it chill.
Are you much of a ladies man? How many girls does it take to please one Chris Courtenay?
Well, I've got a girlfriend at the moment, so one's cutting it for me!
What's something about yourself that might surprise people?
My family owns an island up in northern Queensland, it's amazing!! Haha.
Who or what are some of your influences in your life and towards riding?
I really look up to and am inspired by my parents and brother, they're all just really strong people. Also, my friends, girlfriend and everyone I ride with influence me to push myself and my riding helps a lot. Thanks guys!!!
What are some of the things you are looking forward to most for the rest of 2011?
Really looking forward to traveling. I've got this travel bug since I sat last year out. I'm really keen to just ride my bike as much as I can.
Do you have any shout outs or thanks?
First of all just like to thank my family, my girlfriend Mel and all my friends for supporting my riding, Clint at Colony for hookin me up, Andy at Nike 6.0 for keeping me always fresh, Steve at Ride On BMX Store and lastly thanks Kurt for hookin' me up with the opportunity for this interview! Peaceeee!!!