How do you write an introduction for a guy whose been around BMX and is one of the main reasons for it still kicking ass. Chris Moeller is the kind of dude who everyone who has ever wanted to start a company wants to be. He is a kickass dude and has a lot of history behind him. Enjoy
S&M Bikes "board" meeting in the front office bowl.
Name:
Christopher Lawrence Moeller
Location:
Santa Ana California
All the sponsors over the years:
Team Mom and Dad, Robinson Racing, Peddlepower Bike Shop, Lucky's Crew, BMX Action Magazine, ODI Grips, Airwalk Shoes, Life's a Beach Clothing…S&M Bikes.
Years riding?
Since 1976 so that's 32 years.
S&M has been around for a long time, how many years has it been now?
S&M will be 21 this year…its party time!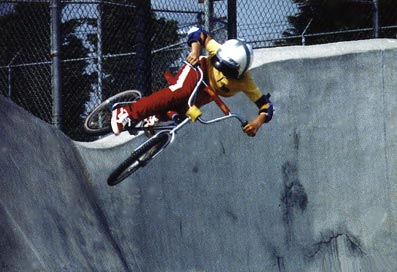 Credit: 23mag.com
Paramount Skate park 1982. This bowl was 16' deep and had 8' of vert on the face wall.
What do you feel is the biggest thing that has changed since you guys started the company?
BMX isn't as gay as it used to be.
You had some big things come out lately, like the L.T.F frame, what can we expect to see for 08′ or in the works?
We're bringing out a new Dirtbike frame, and we have a few top secret projects in the works now like a V-bar, a Uni Seat, some drilled out rims, and a plastic pedal. You know…really innovative, new stuff that's never been done before.
Does S&M have any plans for a team road trip or video? Anything of that sort at all?
There is a new team video being filmed now…Matt, Josh and Cameron just got back from Australia and they are heading to Austin, then the UK and Canada.
With so many different brands under the same roof, all of which seem to do really well, does it ever get too wild?
It get's a little hectic sometimes but we all do yoga together and mellow out. S&M is a very spiritual company…a lot of people think we drink a bunch or smoke weed to relax but actually we're more into transcendental meditation and getting in touch with our feelings.
With being a busy guy, how much time do you actually get to spend on your bike these days?
I've been riding some local trails lately but I haven't been riding as much as I'd like to. I've been heavy into hacky sacking and Frisbee golf lately.
After all this time, what hurts the most?
It hurts my feelings to see riders argue with each other on the message boards. Please guys let's just work together to enjoy this beautiful planet and the wonderful gift of biking.
What are some of your worst injuries?
Seriously, my right hip and knee are fucked. I've had some other injuries and various surgeries but this thing with my leg is killing me. Getting old ain't cool man.
You were thrown out of racing, what are some things you are banned from doing?
I got banned from my local bar. No big deal…I just moved to a new town.
It doesn't seem like S&M does controversial ads like it used to be, what ever happened to that?
No one can take a joke nowadays, and besides riding BMX bikes is so important I don't want to make light of it. It's not just a hobby, it's a lifestyle bro.


Photo: Bmxtransition.com
S&M Bikes…still made in the USA!
Where are some of your favorite places you have had the opportunity to ride over the years?
There have been so many fun spots but I really liked Bo's trails, Dover and Sheep Hills back in the nineties. Riding street in SF back in the mid eighties was fun also. I skated a bunch of old skate parks and rode a few also back in the early eighties like the Big O, Skatetopia, Paramount, Pipeline, etc. I was lucky to have a dad that skated.
What is the best story you have involving you and the police?
BMX or not related at all. Ah the Police…my favorite. My favorite Police stories are the ones that involve ex BMX'ers that turn into cops. We had a party busted up at the POW house once and the cop was Gary Turner's (GT Bicycles founder) son…that was funny because he busted in and knew who half the riders were.
What exactly causes you to be such a trouble maker anyways?
I guess I have a problem with authority although I've mellowed out with age…like a fine wine or expensive cheese or some shit.
Define a perfect day?
Doing something outside that's fast paced i.e. shredding the knar and then celebrating with some libation, preferably in a large tub of hot water to ease the pain.
What do you think of the current state of BMX? Would you change anything if you could?
It seems cool to me. I can't complain. People are doing what they want and that's all that matters.
If you could do one trick for the rest of your life what would it be?
Tricks are for kids…I just want to ride fast once in awhile without excruciating pain.
What is one trick you have never been able to no matter how hard you tried?
I never tried that hard. If it didn't work for me I just forgot about it.
Who are some of the people you looked up to most over the years?
I always liked Duane Peters the skateboarder and I was into Bob Hannah the old school MX rider. I liked all the action sports more before the big money came into the picture.
Who are some of your favorite people to ride with?
I like riding with the guys from work and/or old friends I've ridden with on and off for years.
What do you think you would be doing if you never got involved with BMX?
Probably something with skateboarding, MX or surfing. I was also into computers as a kid so I might have gone that route.
Outside of work and riding, what are some of your interests?
Snowboarding, skating, surfing, and old motorcycles right now. I also spend a lot of time traveling with my girl.
What are some things you would like to accomplish in the next few years?
I'd like to get my hip replaced and continue to dial the business in. Continue to do active shit.
Being in magazines all the time, what are the current ones you receive?
I don't subscribe to any magazines but I get all the Transworld ones as promos and I read all the BMX mags I can.
Who or what are the biggest influences in your life?
Mainly gangsta rap…just livin that thug life and being a G. Know what I'm sayin?
What kind of music are you into?
Right now I'm kind of into country rock type shit. Like Drag the River, Mike Ness, Lucero, etc.
If you could spend the day with anybody alive or dead, who would it be and why?
Hervé Villechaize. He was Nik Nak in James Bond's Man with the Golden Gun and Tattoo in Fantasy Island…the dude was little but lived large. I'd like to roll with a bad-ass midget like that for a minute.
What would you do with the money if you won the lottery?
Same thing I'm doing now but with a little less stress and a few more luxuries.
What kind of advice do you have for kids just getting into BMX?
Have fun…it's just BMX.
What kind of advice do you have for people who want to start a company or business?
Enjoy what you do, put the work in and innovate something.
Do you have any shoot-outs or thanks?
I'd like to thank everyone that has bought a bike from us, we appreciate it!
Anything else you would like to add?
Thanks.
Chris and the P.O.W.'s from Steve Emig's the Ultimate Weekend video 1990.