I met Christian Simmonds a few years ago at a skatepark in Tampa. He had full pads on but no helmet, a pony tail, front and back brakes, 4 pegs and a freecoaster. A few years later it's still the exact same way. He still listens to all the rock classics from his era like Metallica and Iron Maiden. Even though he has a wife, kids, 2 bike shops, a mailorder and a bike company, He stays true to what he is about and what he has loved since he was a teenager: The heart of bmx. BMX at it's base, in a more simple time before trends, cliques and all the internet haters… or the internet in general for that matter. – Brett Rohlfing
Name:
CHRISTIAN SIMMONDS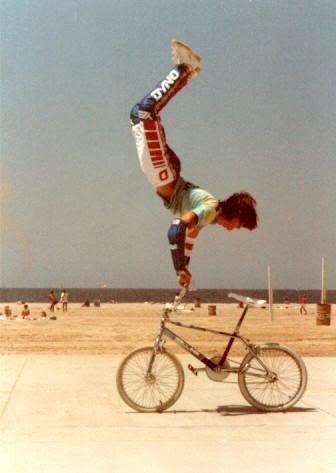 Location:
SAN CLEMENTE CALIFORNIA AND WEEKI WACHEE FL.
Years riding:
SINCE 1976 OR EARLIER AS LONG AS I CAN REMEMBER, IVE BEEN BIKING
Who was the first pro you met?
RL OSBORNE
You used to be a pro back in the day right? Tell us about that.
AFA EXPERT FLATLANDER 84-88 TURNED PRO, DID A PEPSI COMMERCIAL FOR $$ AND THEN ILLNESS STOPPED ME FOR A FEW YEARS. DAD PASSED AWAY, HAD TO GET REAL JOB.
You are the owner of hitman bikes, what is the story behind that, when did it start, what makes it different from all the other companies etc.?
HITMAN BIKES WAS STARTED AFTER 2 YEARS OF BUGGING STANDARD AND THEN S&M TO MAKE ME THE FRAME OF MY DREAMS. SINCE 7TH GRADE IVE BEEN DRAWING FRAMES . THEN OUT OF THE BLUE ROBBO MORALES, AND CHRIS MOlLER GAVE US THE GREEN LIGHT, AND SEAN MCKINNEY CALLED AND SAID THEY HAD 38 FIT FLOW FRAMES FOR ME TO MAKE INTO HITMAN TO SEE IF I COULD SELL THEM OR NOT. THEY INVITED/HOSTED US AT INTERBIKE. HITMAN WERE TO BE USA MADE BUT THE S3 TOOK OFF AND THEY HAVE NO EXTRA SUBCONTACT TIME. HITMAN IS DIFFERENT IN THE FACT THAT WE DONT DO THIS TO MAKE A $ WE DO THIS CAUSE ITS BEEN MY LIFE LONG DREAM TO MAKE THE BEST FRAME POSSIBLE.WE DONT CUT ANY CORNERS TO SAVE COST. COST DONT MATTER , STRONGEST FRAME DOES.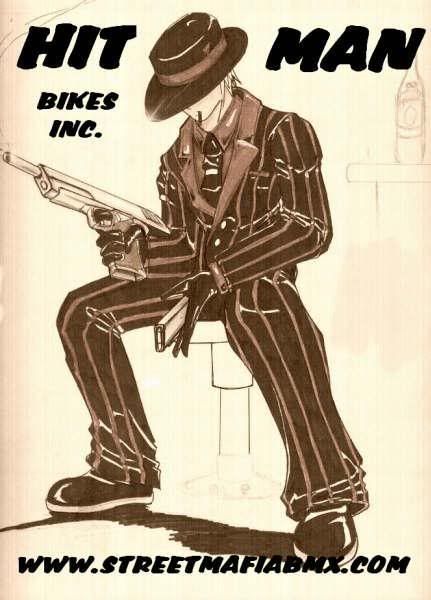 What kind of products do you have available, and where can you get them? Isn't there talks of a 3.8 lb frame!?
1 WE HAVE OUR 5+ STREET FRAME THE RUBY. MY STRONG DESIGN ,
2 A LIGHT PARK FRAME , ABOUT 4 EVEN WHEN DONE, THE SIR HAN SIR HAN.
3 AND A FLATLAND FRAME ,NEW SCHOOL STYLE THE JUDAS,
4 AND IN THE WORKS IS A DAY SMITH SIGNATURE DESIGNED TRADITIONAL FLATLAND FRAME.
5 A RACE FRAME IS IN THE WORKS ALSO , LOOKS LIKE THE SIRHAN PROTO TYPE BUT LONGER BACK END.
SHIRTS SHIRTS AND MORE SHIRTS WE HAVE ART FOR PARTS CONTEST SO OUR DESIGNS ARE RIDER MADE FROM AROUND THE WORLD.
LIGHT FRAMES ARE POSSIBLE NOW BECAUSE OF THE NEW POST WELD HEAT TREATING.LIKE FORKS , THEY USED TO BE 60.OZ AND BEND EASY.

Hitman bikes and Street Mafia… I sense a theme going on. What is the appeal of the gangster terminology to you and how does it relate to bmx?
I GREW UP IN GANG NEIGHBOR HOODS IS SANTA MONICA WHEN YOUNG NOT SURE IF THAT HAD INFLUENCE, IN FLORIDA WE WERE OUTLAWED IN OUR COMMUNITY. WE HAD TO BUY A WHOLE BUILDING TO BUILD OUR OWN FREE SK8 PARK AFTER CITY TOOK OUR $ AND THEN DENIED BIKES. WE WERE MADE INTO OUTLAWS BY OVER ZELLOUS CITY COUNCIL PEOPLE WHO DONT UNDERSTAND THAT BMX KEEPS KIDS OUT OF TROUBLE. THEY WANTED TO PUNISH US FOR PROTESTING IT GOT UGLY.
MAFIAS HAVE HITMEN .
HITMAN IS THEY WAY YOU HAVE TO RIDE TO AVOID ARREST, HIT IT AND GO! UNSEEN, SNEAKING INTO CONDEMENED MALLS TO RIDE ECT.
Some people thought you named your company after that movie "Hitman" came out in theatres, and have taken shots at the "lack of originality" that a move like that would equal. Many people do not know that you had the name and plans for your company long before that movie even began filming most likely; want to clear that up?
S&M AND FIT GAVE US A START IN 06 .WE WERE LOOKING FOR FRAME BUILDERS AS EARLY AS 2004-5. ALMOST STARTED THIS UP IN 1997 BUT WIFE MADE BIGGER $$ THAN I COULD EVER SO I WAS A HOUSE HUSBAND, MR MOM.
I DIDNT EVEN KNOW THERE WAS A GAME CALLED HITMAN.
WE DESIGNED A TSHIRT HOODIE WITH THE HITMAN NAME IN 2004 AND THE LOCALS IN FLORIDA BOUGHT THE SHIT OUT THEM. SOME GIRLS WOULDNT TAKE THEIR HITMAN HOODIES OFF.
SO WHEN FIT CALLED , WE VOTED (ME AND MY 5 MAIN RIDER FRIENDS IN FL.) AND DECIDED TO GO WITH THE LOGO EVERYONE WAS LOVING. AND WE HAD ALREADY PASSED OUT 1000+ HITMAN SHIRTS WORLD WIDE IN THE 2004 YEAR WITH STREETMAFIABMX ORDERS AS THE FREE GIFT.
Any other products in the pipeline that you can tell us about?
MORE SHIRTS , MAYBE SOME USA MADE BARS IF S&M CAN FIT US IN. A DAY SMITH FLATLAND FORK AND STREET FORK IDEAS. RACE FRAME. WE WANT TO CONCENTRATE ON BEING A FRAME COMPANY TO MAKE THE BEST FRAMES POSSIBLE.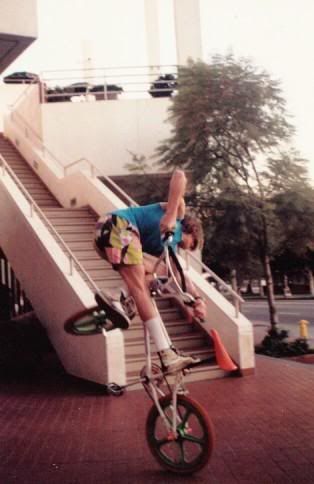 Who all is on the team?
PRO TEAM: DAVE MAHONEY (FL) , ALEX LEPACK (FL), JESSIE WARMACK (NC), MATT BROWN (RI), PAUL MEEKS (CA), MARQUESE FOSTER (AZ), BRET CLARK (GA), FLAT LAND LEGEND DAY SMITH (NOR CAL), AND BEN SNOWDEN (CA) WHOS CURRENTY AT THE ASIAN X GAMES.
FLOW TEAM IS MILES LONG WORLD WIDE WE SPONSER SOME CONTEST KILLERS , EVEN 1 YOUNG AUSSI!BUT THE FLOW WHO HOLD IT ALL DOWN ARE MARC RAMSEY, ED (GREG) COX, JUSTIN (ZILLA) LYBERGER, MIKE CRUMP, LIL CLAYTON, FLORIDA GUYS
CALI GUYS ARE NICK HANDY, KEITH SAVAGE AND A BUNCH OF KILLER LOCALS!
I go to hitmanbikes.com and it plays "Kung Fu Fighting" by Carl Douglas. Why?
CAUSE ITS SMOOTH, DOESNT DRIVE YOU CRAZY WHEN STUCK PLAYING BACK IN YOUR HEAD.I ALSO WANNA FIGHT THE FOO!
You recently moved from Florida to California, what sparked such a major move?
TO MAKE HITMAN HAPPEN . WHEN IN FLORIDA ITS ALL BY PHONE, HERE ITS FACE TO FACE.
What can we expect from Hitman as time goes on?
A COMPANY TRUE TO BMX. BMX HAS BEEN MY LIFE, THIS WILL BE MY LIFES WORK. WE WILL NEVER EVER MAKE A DECISION BASED ON COST. ALL WILL BE MADE ON FUNCTION AND DURABILITY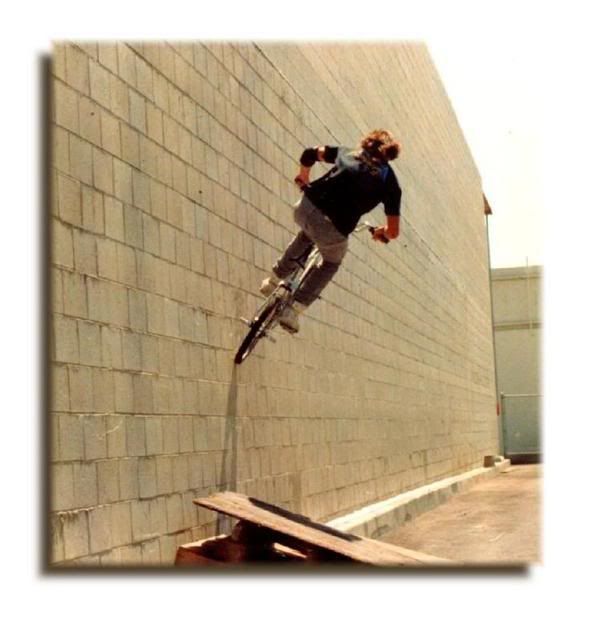 Is there any road trips/ web videos/ dvds in the works?
MAN I CANT GET THESE YAHOOS TO GET ME A PICTURE EVEN! EXCEPT DAVE MAHONEY, HE GETS BRETT TO SHOOT HIM EVERY NOW AND THEN.
Where are some of your favorite places to ride?
BURNSIDE WAS MY HOME 1990 TO 2000, SM & VENICE BEACH, 688 SKATE PARK , CHAD DEGROOTS OLD MISSION PARK , AND LASTLY I CAN RIDE ANYWHERE ANY THING SO IM NEVER WHINNING NOTHING TO RIDE. HELL, JUST A 1/2 SHEET OF PLY OR A PALLET IS ALL NEED.
You have a bunch of kids, are they all riders too?
OLDEST BROKE HIS KNEE WHEN HE WAS 8Y/O OVER A SPINE, SO HES OUT
#2 RIDES WITH ME ALWAYS AND SKATES TOO.
#3 SUMMER GOT SCARRED RACING SO PARK IS OUT OF THE QUESTION
#4 IS 2 YEAR OLD RACER XAVIER (RACER X) HES BEING DUCK TAPED TO THE GRIPS AND PEDALS AS WE SPEAK, DONT WORRY, WE UNTAPE HIM AT BED TIME.

Outside of riding and running a business and dealing with your kids, what are you into?
MUSTANGS, COBRAS, REALESTATE, HOTRODS
How do you feel about big contests like dew tour?
GREAT IF RAN BY BIKERS. SOME RIDERS NEED THE CONTEST, IT USE TO BE MY BIGGEST HIGH.
What are some things you would like to accomplish in the next few years personally?
ID LIKE TO GO ONE WEEK END WITH OUT CRAWLING ON MONDAY. HAVE HITMAN GET A BIG FOLLOWING LIKE OLD HUTCH OR JMC. SO 30 YEARS LATER THE STUFF IS STILL WANTED.
What are the biggest influences in your life?
GRANDPA- MY MOM WHO RAISED MY BRO AND I ALONE- JESUS- DAD RIP- RICK MOLENTERNO, CHRIS MOLER (BOTH FOLLOWED THEIR DREAMS AND NEVER SOLDOUT) , RON WILKERSON , MAT HOFFMAN, WIFE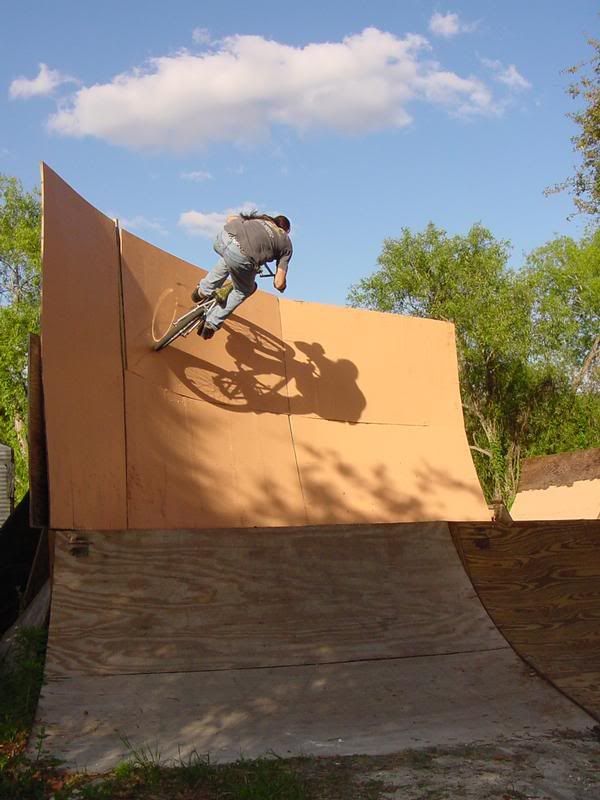 Any shout outs or thanks?
THANKS TO THE ENTIRE S&M FIT REVENGE FAMILY FOR THE START UP AND BIG BIG GIANT THANKS TO MATTHIAS OF DRAGONLY BIKES (GER) FOR MAKING HITMANS FINALY AVAIL BY HELPING TURN CHICKEN SCRATCH DRAWINGS INTO CAD THEN INTO CHROMO. THANKS! I CANT BELIEVE THIS IS MY LIFE.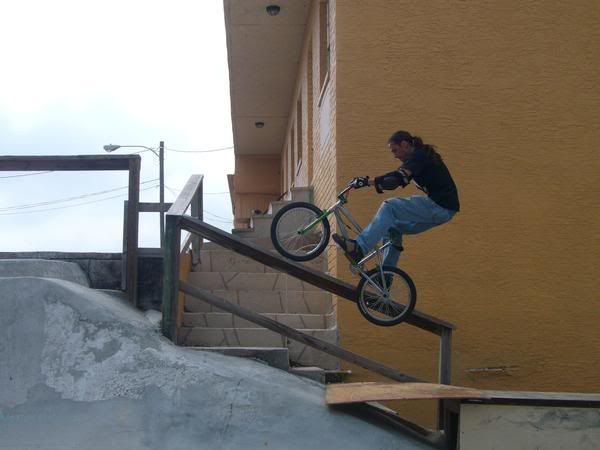 Team Rider: Dave Mahoney