Cody probably has in my eyes one of the best jobs in the world. He gets to write about bmx, take photos, travel, and all sorts of other things revolving around BMX as his job. I am really stoked on this interview for a lot of reasons. I am stoked mostly just because it was like a career day reading this for me, but maybe it's just me?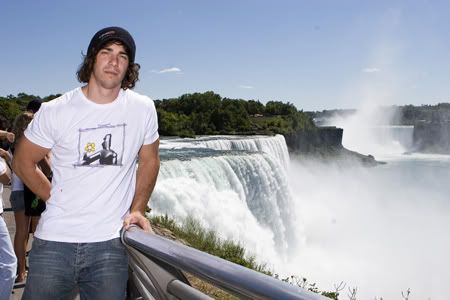 Name:
Cody Stephen York

Location:
Cleveland, OH
Sponsors:
None, but thanks to Micreation, Mutiny, Shadow, Failure Bikes, Sputnic, Ride and Ride UK and anyone else for hooking me up!
Years riding:
8
You're the editor for EXPN's BMX side of things, how long have you been doing that and how did you end up getting the job?
I've been doing it for about 6 months now and it's been awesome. In the last couple years, I have been shooting a lot of freelance BMX photos for ads and magazines and then one summer day I got a call from Mary Fenton at EXPN asking me to shoot X Games for them. It was pretty random, but obviously I was stoked; a week later, I was shooting X Games and having a blast. After that, EXPN noticed I used to work at BMX Plus! Magazine and that I had a lot of ties in the industry, so they asked if I would be interested in doing some news feeds for them which consisted of pitching story (for lack of better word) ideas, shooting/contributing photos, and of course backing up those ideas with interesting and as well as factual content. A short while later, they came up with the idea of having bloggers for each extreme sport that EXPN covers on the site. I was then offered to do the BMX side of things and that's where I'm at today.
What are some of the different things you get to do for work?
I get to travel a lot, go on amazing roadtrips, hangout and ride with some of the best BMXers in the world, shoot photos of them and basically write and share my experiences with all of you via online and through publications. But that's not all entirely through EXPN, a lot of that is on my own account when freelancing for magazines. EXPN gives me a budget to collect content for my blog (to pay for video and photo content). I don't do too much traveling on their expense. Although, EXPN sends me to X Games each year and that is always amazing! I generally collect all the content for my blog through emails, phone calls or being on the road.
Did you go to school at all to get the job?
Well, Yes and No. While it hasn't mattered for any BMX gigs that I've had, including working as the assistant editor at BMX Plus! Magazine. I did go to college for photography and received an AA degree. But in reality, going to school did little more than get me a degree to back myself up if ever necessary. What really landed me my jobs has been my passion for photography and the sport of BMX mixed in with a little bit of luck, or maybe a lot of luck. I learned most of my photography skills on my own, trial and error, ect.
Have you had the chance to do much traveling for them? and do you have any trips planned for 08′ so far?
As far as stuff for EXPN goes, I'll be heading up to New York next week for Kevin Robinson's record-breaking attempt for highest air, which should be out of hand. I'll actually be doing commentary and interviewing Kevin for video content on our site and my blog. I'll also be out in California for X Games in August and randomly traveling around the US shooting photos to contribute to Ride, Ride UK and BMX Plus! Mags throughout the summer. Just recently, I went on the Local Exposure Tour 5 for a Ride UK story and that was one of the coolest trips I've been on. I got to hang out with Micah Kranz, which is always a blast and we talked a lot about how awesome the Milwaukee scene is lately, so I'm planning on getting up there really soon too.
You do some filming and photography for the site what are your camera set ups, editing programs, computer set-up. All the things you need to do what you do?
Well, I don't do any of filming actually; wish I could take the credit and was that talented (ha-ha). No, I have a great group of videographers that produce the exclusive high-quality content for me; they are located all over the US. They are, Larry Alvarado, Chris Mahaffey, Brock Gomez and Kyle Huber. Without them there wouldn't be exclusive quality video on my blog, big thanks to those guys for making things happen!
As for photos, I do handle most of the images for my blog, here's the short list of my photography gear I own:
DIGITAL
-Canon EOS 1D Mark 11 Body
-Canon 15mm Fisheye
-Canon 70-200mm
-Canon 50mm
FILM
-Bronica SQ-B Body
-Bronica 50mm
-Bronica 80mm
-Bronica 150mm
-2 Film Backs
-Waist level finder
FLASHES
-Quantum Q-Flash (Quantum Q-Paq Battery)
-Lumedyne 400WS (Lumedyne Battery)
-Sunpak 622 (Lumedyne Battery)
-Vivitar 285 (Rechargables)
-4 Pocket Wizards
COMPUTERS
-12-inch Mac Powerbook G4
-IBM Think Pad PC for work.
-AT&T Wireless Card
-A few External Hard Drives.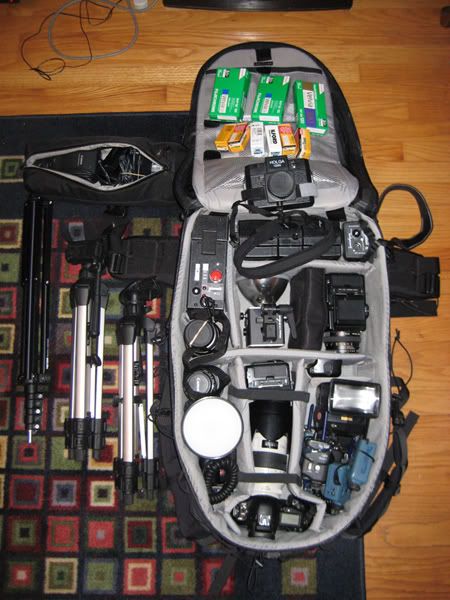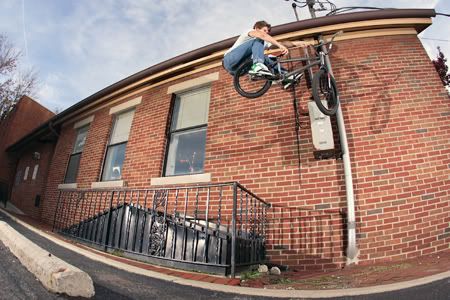 Ian Schwartz- This photo was used for a Micreation Ad when Ian was still on MI. I just love this photo because it's totally is Ian going fast and having fun and it was a good time shooting it.
With work and traveling, how much time do you find to ride?
Not much at all to be honest. Part of the reason is time, but a bigger part is that I haven't had health insurance for about a year so that has slowed things down quite a bit, but once I take care of that I'll start riding harder.
Where are some of your favorite spots to ride?
Cincinnati, OH for sure. I love that place, it's only about 3-4 hr. drive south from Cleveland and it's got one of the best scenes in my opinion. Tony Neyer holds it down and always makes my visits worthwhile. It's just super fun to ride down there cause the scene is big, lots of great riders and spots that make for a good time. Some other places I've been to that I also like riding are, Baton Rouge, Orlando and with the Santa Barbara scene, all are places that have cool spots and awesome riders to ride with.
Where is one spot you have seen in photos/videos you really want to go to sometime?
Thankfully I've been to most spots I've always wanted to see or shoot at. Some spots I love and/or would recommend are, the ghetto banks in Alabama, the dam in LA, the range peel in Florida, huge trannie walls in Baton Rouge; those are all spots that were awesome to see. I always wanted to shoot a photo of Tony Neyer on this cement vert pipe ditch thing in Cincy, but he ended up shooting it with Z when he came to town. Thanks Tony, haha!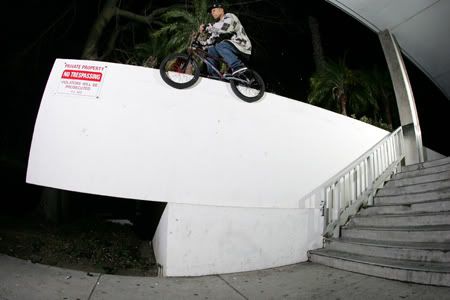 Chris Brown- This shot I took while working at Plus! It never ran and not sure why, the spot the infamous Willshire rails in LA and this is pretty nuts. Chris didn't grind all the way of the end, but still crazy!
What is the scene like where you ride?
The scene here in Cleveland isn't what it used to be but it's steadily coming back alive. There are now a few sets of amazing trails that exist that are getting better and better each year. Hightower Trails (which might be getting plowed) have been around the longest and they're amazing, the good thing is that all the locals at any of these trails, or anywhere in Ohio for that matter, are all really nice. You also have Chenga 2, Chenga 57 and Ray's MTB Park for indoor ramps here, so no complaints on that end. Everybody loves Ray's lately; it's an interesting place!
Who was the first pro you met and is there a cool story behind it at all?
Gosh that's hard to pinpoint exactly who it was, Aaron Bostrom, Billy Delfs or Nate Wessel I think. Bostrom and Delfs used to run these trails near where I grew up called Greenies, I used to go there to watch but I never rode. I was too timid, I just remember being star-struck when I met any pro at that time. Little did I imagine I would shoot photographs with these guys and still be friends with them to this day, so that's awesome!
How do you feel about BMX now days with all the shit talking, contests on TV, awesome DVDs, etc?
It is what it is, take it or leave it. It's so awesome how BMX has progressed and I hope to see the industry only get bigger, so more people can continue to make a living off it and do what they love to do.
If you could change anything about BMX, what would you change and why?
The only thing I would like to see is more positivists and less negativity in BMX.
Do you have any good stories involving the cops, security, hookers, midgets, or famous people you can defame?
Does Catfish count as a midget? No, I have way too many stories from Youngstown, OH. When Section 8 Skatepark was around I used to go down there often to hangout, ride, and shoot pics. I would always end up in the mix with 4th Grade, Catfish, Lou Bickle and those guys and I have seen everything under the sun. One time at a Section 8 contest everyone went out to the bar in downtown Youngstown where 4th Grade was working at the time and as the night ended a bunch of BMXer's got into a fight with some gangsters and they started shooting guns off and everyone scrambled outside the bar to grab cover. Everyone thought someone got shot and it was just nuts. That's just a tip of the iceberg of stories from Youngstown–just ask Catfish, that's how and why he started catfishcatfish.com.
Aaron Bostrom- Obviously this is nothing crazy but just a cool shot with awesome colors and Aaron's one of my favorite riders.
Outside of work and BMX as a whole, what are some things you are into?
The drums, I recently purchased a drum set about 3 months ago and have been having the time of my life with it. It's the last thing I could see myself doing, which makes it so fun and challenging.
What bands are you into? Any you suggest people to check out?
The list is endless but Modest Mouse is definitely my favorite band. If you like them you definitely need to check out, Cloud Cult. Bob Dylan is up there on my list too- different era, different sound, but his messages in his music transcends all time.
Seen any good riding videos or movies lately?
The latest thing I've watched has been Brad Simms Micreation video spot and I'm really psyched on how it turned out and the whole concept of it.
What are some things you would like to accomplish in the next few years?
I would just like to be thankful for everyday, not take things for granted. Continue contributing my photos to magazines and blogging for EXPN, and hopefully be inspiring to kids through my words and photos, and motivating them to ride bikes or what ever it is they aspire to do because they see it as being fun. Life should be fun!
What do you think you would be doing if you never got involved with bikes?
I would be a photographer, the content would be different of course, but for me, I couldn't imagine doing some job day after day that I didn't have a true passion for, bills or not!
How much time do you spend on the computer in a week and what are some websites you are into?
I would say around 30-40 hrs. a week on the computer between work and pleasure, which is ridiculous! Some sites I'm into are Defgrip a whole bunch of photo sites and EXPN of course.
What would you do with the cash if you won the lottery?
Well, first I would have to play the lottery to win. But if I did, I would give it away to friends, family and people I knew that needed it the most.
Kip Williamson- This shot of Kip was taken in Florida and never ran in anything but is still an awesome photo. Kip's a cool dude and was super fun to hangout with. I like shooting flat and love the positive attitude all flatlanders have.
What is the best advice or quote you have ever heard?
"Dream as though you'll live forever, live as though you'll die today." –James Dean.
What kind of advice do you have for people who want to get into writing/blogging/ photography/ web stuff?
Make sure your extremely passionate and love what it is you want to do. Never quit, be patient and always have other projects and things in the works to fall back on or to clear your mind if you get into a rut or things don't work out.
Anybody you would like to give a shout out or thanks to?
I would like to say thanks to anyone that's helped me out, supported me along my journey and allowed me to continue doing what I love, my family, my Dad, Beth, my girlfriend Johanna, EXPN, Johnny Devlin, Dave Jacobs, Aaron Bostrom, Larry Alvarado, Raul Ruiz, Chris Mahaffey, Darren Hendrix, Brock Gomez, Jeff Z, Chad Shackelford, The Leftovers, Justin Simpson, Tony Neyer, Ride UK, Ride US, BMX Plus!, Shine, BMX Union for this interview, and anyone I may have forgotten, the list goes on and on…thanks!
Anything else you would like to add?
Check out my blog on EXPN.com and don't be afraid to email me and say hello, that or leave some really funny comments!