There are a million things that come to mind when I think of Deljon. The guy is probably one of the funniest, and most fun people to be around. Wheather he is riding, filming, or mooning unexpected bystanders, Deljon is kicking ass. I personally owe him huge for announcing at the last Renegade contest, he got everyone so pumped up. I won't lie, I wish this was done months ago. Check it out!
Interview by Alex Douangmala
Photo: Tristan Thiel
Name:
Deljon Marqurise Willis

Age:
22
Location:
Uptown (Minneapolis)
Years riding:
Like 8 or 9?
Why did you choose to ride bmx over every other sport out there? What got you into it, and why do you continue to ride?
Because it just seem to fit me better and I had a lot more fun doing it than going with whatever everyone else did. I have just had way more fun with it for the last 8 or 9 years than I ever thought I would.
Basically what got me into it was me kinda just finding out about it. I always used to jump off stuff when I was a kid and I remember seeing a Ride BMX mag one day and from there on it stuck with me. The reason why I have continued to ride and still will is because of the places my bike has taken me and all of the wonderful people I have met because of it. hahaha Ya can't beat that ya know!
What are you typically riding these days?
Weird crap. Basically any garbage spot that me and Dilly doods find around town. You can spend 20 mins at a spot or just ride there allllll day and always find something fun to do. So street.
Living in Minnesota, a good portion of the year forces you inside. What do you usually ride when you aren't able to ride outside?
I would have to say Renegade and 3rd lair. We suck for skateparks man. All these people starting parks up please look at 4 seasons. That's how a park should be. Real good.
Who are you usually riding with these days?
Mostly Dilly guys like Brandon, Seth, Jesse, and Cody. I'll ride with mostly anyone where ever. Rode a lot more with Phlandus and Quentin this year which was a good time. I ride with that man mini mall a lot too. (Mini mark).
I know you're an Apple freak, tell me what you jam to while you ride, or while you're going to ride?
A lot of Explosions In The Sky and Eluvium. Just can't get enough of it. Redneck Manifesto, Pat Benatar, Eddie Murphy, Frank Sinatra, and Four Tet just to name a few.
You seem to ride and film a lot, which of these two, do you catch yourself doing more often?
I would say filming mostly. Lately its been riding though. Mostly because the camera is kind of on the fritz.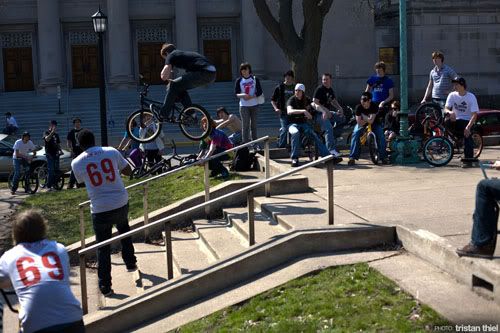 Photo: Tristan Thiel
You have been involved in filming for Props in the past, care to explain how that came about?
Well there was a jam that I went to with Brandon and Grant Castelllllluzzo and a couple other friends. I had met Stew Johnson a couple times before that and would talk to him here and there and just asked him if I had gotten enough footy of the jam if he could get it into an issue of props and he told it wouldn't be a problem. Myself and Grant filmed for that little section.
In what BMX videos can we see some of your work?
Props issue 59 the Racine, WI jam,
The first dilly video-ride away on your pussy ass bike,
The second dilly video- IT DO! (GO GET A COPY NOWWWWW! myspace.com/teamdilly $15)
and various other edits floatin around with clips from me here and there. I also think in the new Madera video if Grant has clips in it. I think I filmed a couple of him in there also.
I'm sure there's some sort of tech nut out there wondering what kind of gear you use. Care to tell us?
I run a DCR-VX2100 from Sony with a Century Precision Optics Fisheye also known as the Stew Johnson special. (my name for it)
Being a Veteran filmer, are there any tips and tricks you can give anyone out there looking to start filming?
I wouldn't say I'm a "veteran" but to anyone out there starting up just don't be afraid to try. You wont always get the shots you want right away and everyone has their own style to how they film. A lot of people think videos all look the same when in fact they don't. There are similarities in the filming but not all the same. People have different ways of getting a long shot or some angle they use for a fisheye. So, just have fun with what your doing and if ya keep at it good stuff will come out of it.
After hanging out with you a few times, I've come to realize there is definitely a lot more to you than bmx and filming. If you cannot be found on your bike, where can you be found?
Well, playing on X-box live or some type of gaming. Kind of a tech nut and what not so always looking up something crazy on my phone or telling something to someone that they have no clue about, or just plain chillin around doing movie trailer voices.
Any sort of hobbies you have besides riding and filming?
I go to shows every once and a while. Anything to do with cellphones or some odd technology to do with it. Also, comics for sure love them. And of course hanging out with friends when I get a chance to.
Why haven't I met your girlfriend yet?
Hey man shes been around you haven't been! Plus she has covert skills hahaha I don't know you will sooner or later. I hear she's pretty good looking.
You should announce more often…
Don't even get me started with that.
What are some of the pet peeves you have while riding?
I hate when my brakes don't work when I'm running them. Also I can't stand when my bike has some rattling noise coming from somewhere I cant find.
While filming?
When everyone asks me at the same time to film something when they clearly see I'm in the middle of trying to get something else.
I understand you are affiliated with Team Dilly, What is Team Dilly and who does it consist of?
Mannnn Team Dilllllly! hahahah just a bunch of doods having a damn good time a bike. the team is
Official team list
minnesota chapter
kali melby
cody smiglewski
brandon morcomb
seth peterson
kyle stark
john dunlap
jesse hilliard
landon anderson
nick anderson
reed stark
nate krier
caleb evenson
matt thompson
maaaaaaack
mesh
mike gelle
josh clancy
deljon willis
ryan guggenberger
phlandus alexander
aj haines
–
Dilly Worldwide
charlie crumlish
bink seavey
jawn proppe
dominic trovato
logan reynolds
anthony malvasio
rick kane
longjon
ashton
t-money
riley mcmaster
christopher kowaleski
drew hosselton
bobby kanode
dane wild
and that's just for now the team changes and what not so yea.
Who came up with the idea of Dilly?
Actually I'm not really sure of the whole story of how it all happened. All I know is Kyle, Landon, Brandon, Cody, and Seth know.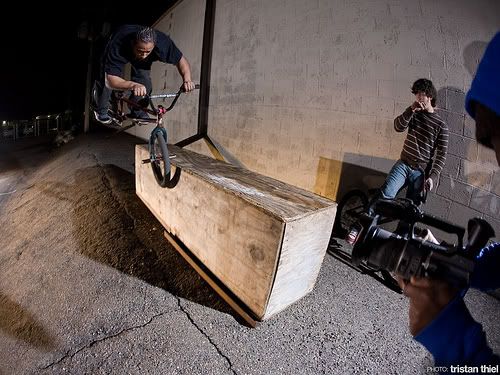 Photo: Tristan Thiel
Are there plans for Team Dilly in the future?
Keep having and good time and for some of the team more shit talking.
Where can we find Team Dillys video?
Ride away on your pussy ass bike is on google video somewhere I think. If you just look up team dilly or dilly.mp4 something it should come up. As far as the new video you can check out the trailers and then you can get a copy at myspace.com/teamdilly for $15 shipped or $12 in person and you can get a copy from Seth.
How is bmx different today, than when you first started riding?
All in all its about the same there's just more shit talking now and a lot more "clicks" of people. It also seems like people seem to stress over bmx. When did it become stressful? I can understand if there's a trick you are having trouble with and things like that because that happens to everyone who rides. I'm talking about kids who only do these tricks because they are what's in at the moment and what not. Just ride and don't worry about what someone thinks about it. Bmx is supposed to be fun right? Why take it serious.
Do you feel bmx has a positive influence on your life?
Yes most definitely. I am straight edge and me riding all the time kept me out of trouble when I was younger. I never fell into the whole drinking and drugs deal. I was always about riding my bike whether it was with people or by myself.
Where do you see BMX going in the future, and do you think you will still be riding 5 to 10 years down the road?
I think it will just get crazier. I mean do you see some of the tricks people do these days? Let alone down how many stairs they can find to go down. I will always be riding my bike no matter what happens or at least always be involved in it.
What places do you hope to visit with your bike in the near future?
I would really like to go to Texas or AZ which will probably happen sooner than later. I'll finally be able to ride in California this spring which should be a good-time. But if I ever got the chance to go overseas to France or England or Australia or anywhere like that it would be a dream come true for sure. Especially if I was there filming for something.
Any shout outs or thanks you have for me before this ends?
Basically to anyone I've ridden over the years or have met thanks for making it a fun time and hope your still having as much fun as I am which is probably too much for a 22 year old to have hahahaha. Also my mom for being a good lady and helping me out when I needed it. All of Team Dilly because I don't want to write out all your names and any other friends I ride with now or have rode with ya know who ya are and I love you guys. Brothers. But to name a couple people so I don't get yelled at are Brandon Morcomb, Grant Castelluzzo, Mini Mark, and Jesse Hilliard.