Dennis is amazing. Litterally, when I was his age I couldn't handle getting my homework done. This kid is all over the world and still has school. I figured it would be cool to catch up with him and see how everything has been going for him these days. Maybe some of you people out there can leave some comments for him. If you hate on him, you are just jealous and need to accept that. Enjoy!
Name:
Dennis Enarson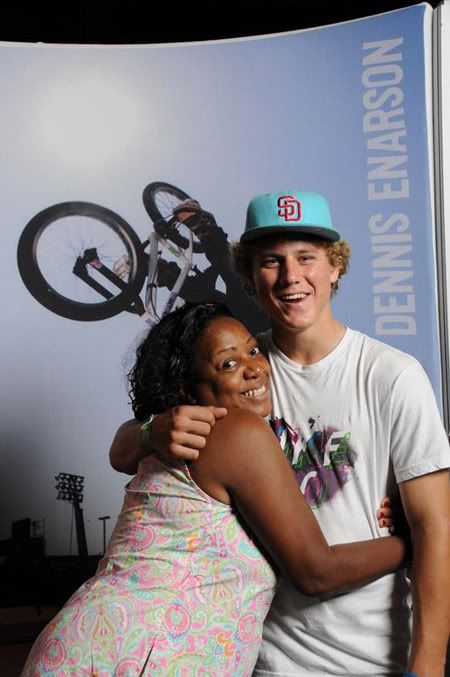 Location:
San Diego CA
Sponsors:
Rockstar Energy Drink, Generation Max Snacks, Nike 6.0, Haro Bikes, Demolition Parts.
Years Riding:
About 7
What was it that originally got you into BMX?
My Dad took me to the race track and i loved racing, but eventually i learned i really only liked racing because of the jumps so i stopped racing and only rode freestyle.
You have had some injuries lately that kept you out for a bit. How are things treating you these days and are you at full speed now?
Ya this year has been my roughest year so far. I broke my foot, my elbow and my shoulder poped out of socket. I'm doing really good right now though, hopefully i can stay this way.
You have had some big sponsor changes over the last year or two, how are things going with Haro these days? Any signature parts, videos, or anything cool like that?
Yup, i went from volume bikes tis year to Haro bikes. I loved Volume, but how could anybody say no to Haro? It's the biggest bike company in BMX haha. All the guys there are awsome and the opportunities they give me are amazing. Were not doing any videos right now, but hopefully some signature stuff will start coming.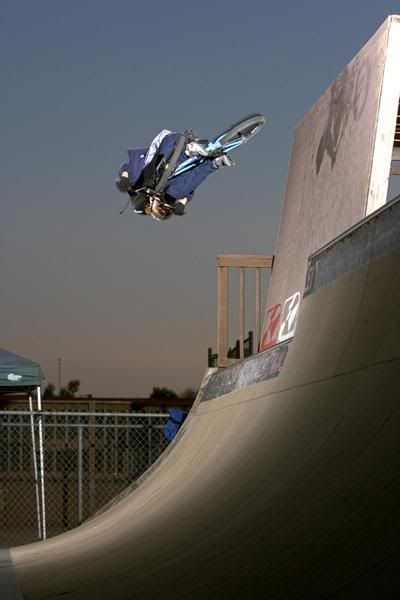 Photo: Ryan Fudger
How about Nike, isn't there a video in the works with them? I imagine you will have a part in that? Also, do you have any signature shoes coming out?
Nike is rediculous! it's probably the craziest sponsor you can have. ya the video should be out in a couple months and were all almost done with our parts. It's going to be amazing we've been going all over the world filmig for it so i can't wait to see how it turns out.
How about the rest of your sponsors like Demolition, Rockstar, and Ogio. Anything cool going on with them involving you?
Rockstar is amazing and going to keep having awesome jams all year long. We also just started filming for the new Demolition video this month, so I'm pretty excited to start working on that. And i got this new candy sponsor called gen max. It's abrand from snickers 3 muskateers, and twix so im so stoked! Free candy!!
With contest season slowly coming to an end, how do you feel you have done this year and what contests do you still have left to get to?
Ya contest season is winding down, only two more dew tours and some jams and LG contest left. I felt like I've done pretty well accounting the injuries that kinda held me back this year. Going into every dew tour this year something has been hurt on me so I've been kinda bummed about that, but hopefully the last two I'll be %100 so i can ride how i want to you know.
Your travel schedual is pretty crazy. Where all have you been this summer and do you have any big trips planned coming up soon?
I've been so many places this summer. The first day i got out of school i went to San Fran for a week, Then Woodward East for two days, then the first stop of the Dew Tour in Baltimore Maryland, Then to Germany for a week, then to Portland for a week, then to the second stop of the Dew tour in Cleavland Ohio, then to woodward west for two days then to LA for x games and a nike trip right after, then to Reno to start filming for the Demolition video, Then back to portland for the third stop of the dew tour. I dont have too many trips planned out right now besides Barcelona to finish filming for the Nike video, and the last stops of the dew tour.
Where are some places you haven't had the chance to go to that you would like to go to someday?
I've never been to Barcelona, but I'm going next month so I'm really excited!
It always seems like you have something new and crazy trick wise going, what are some tricks you are working on these days?
Hah that's funny because i never really sit there and work on the trick i usually get pumped up in practice at contest and just try stuff haha. I've been thinking of a couple tricks lately and hopefully I'll feel good at these next couple Dew Tours so i can get them done.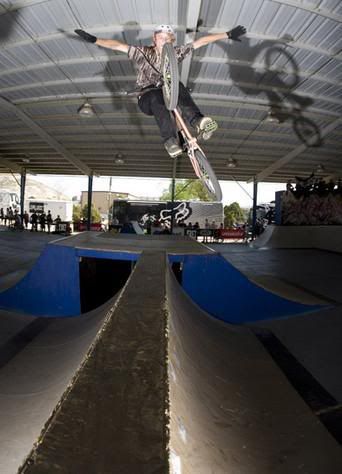 Photo: Mark Losey
If you could only ride one place for the rest of your riding days, where would you want to ride and why?
Clairemont Skatepark, Because it's the funnest park ever and all my local buddies go there.
What are some things BMX could use less of and what could it use more of?
More hot chicks riding, and less weirdos.
Outside of riding what are some things you are into?
I like snowboarding and skating a lot, and i surf when it's really hot.
With summer coming to an end, will you be going back to school or what?
Ya i already started school. I still go to public school so the teachers hate me because i miss like 50 days a semester haha.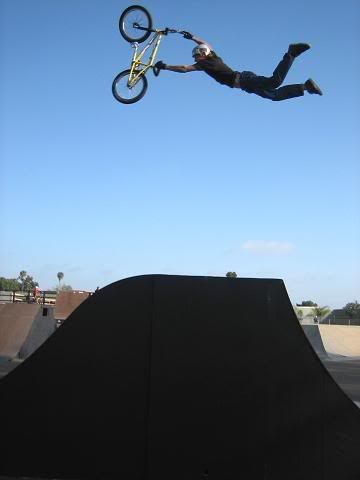 Photo: Corey
What is your best story involving you and Kyle Carlson?
One time at Chipotle he was saying how many burritos he could eat and i bet him $500 dollars he couldn't eat 11. He sat there for 4 hours while we rode the parking lot and finished all of them and two bags of chips.
Since your a pretty well known dude, have you ever had stalkers or anything?
No just wierd myspace girls haha.
What is the key to hookin up with the ladies? How many girls have you hooked up with on the Dew Tour or X-Games?
Just be chill haha. Ummm….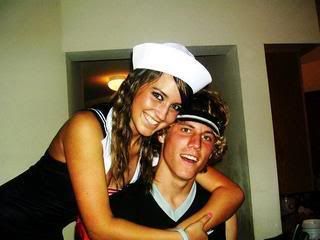 This chick is way too hot, I don't think he hooked up with her haha maybe he did.
What are some things you would like to accomplish in the next few years?
Keep filming good video parts, do good in contest, Buy a house, and get done with school.
How weird is it to have an ad of you in pretty much every magazine?
I think its really cool, but really wierd because last year i think i only had one photo in ride, and this year it seems like theres been a bunch. I'm really stoked about it though!
Have you ever been in a fight and did you win?
Ya middle school this dick head thought he was way tougher then everybody, and one day after school he was talking crap and it ended up he was a big pussy because i only hit him one time and he freaked out and stopped fighting haha.
What is the first song to come to mind?
Painted by number, The Sounds
First movie to come to mind?
Big Daddy
What are some of your favorite websites?
Vital, The come up, and Myspace of course.
If you could be sponsored by any non-BMX related company, who would you choose and why?
Jack In The Box! Because I could live off that stuff and my friends would be stooked!
If you could change anything about the world what would you change and why?
People Hating People Cuz that sucks.
One rule for this team! Everybody Love Everybody… Sorry good movie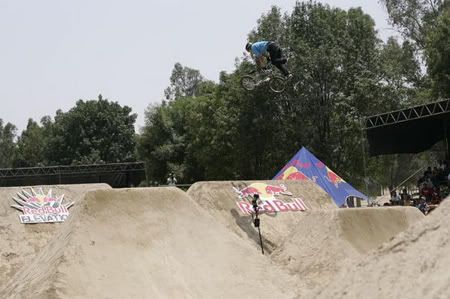 What kinds of advice do you have for kids just getting into BMX?
just have as much fun as you can and dont worry about anything.
Do you have any shout outs or thanks?
All my sponsors, My parents for always being there and helping me with everything, and all my friends.
Anything else you would like to say?
Keep on having fun!!