When I first had seen some footage of Denny, I was laughing so hard. The guy knows how to have a good time and make people laugh. It took me a while to get ahold of him but I am glad I got the chance. This interview turned out awesome. Check it out and leave Denny a little love in the comments!
Name:
full name, Denny McLee Pascasio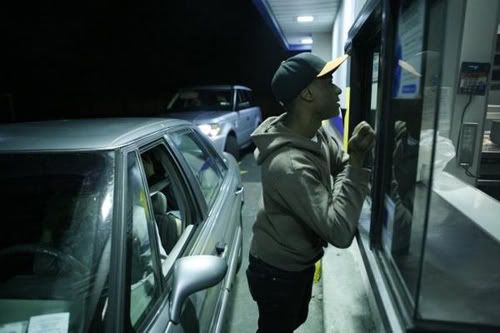 Location:
Ridge NY, its on Long Island
Sponsors:
The Take, Long Island Bike Shop, Team Jeff Dupaul
Years riding:
around 8 or 9 I think?
What was it that first got you into BMX?
I live in the middle of nowhere, where deer over populate humans 20 to like 9 it seems. So there was nothing to really do but play on this ratty trampoline in this kids backyard. Once that shit the bed. I started riding my bike over these little dirt mounds in this field by my house. I pretty much set my mind off to this rules from those days on.
Did you ever expect for it to turn into what it has become today?
Phew, definitly not. I used to just be another little 14 year old gromet type kid, who just watched X-gaymes and rode a mongoose KO and a tailwhip was impossible. Now it's just insane to see every kid with 15 year old fever & being able to hop truck down a 12 stair. Then the people spinning their bikes eight times under them, and how astonishing bikes alone progessed. I used to be stoked on 36tooth sprockets, now the things bikes are capable of and everything is mind blowing, it pretty much rules intensly.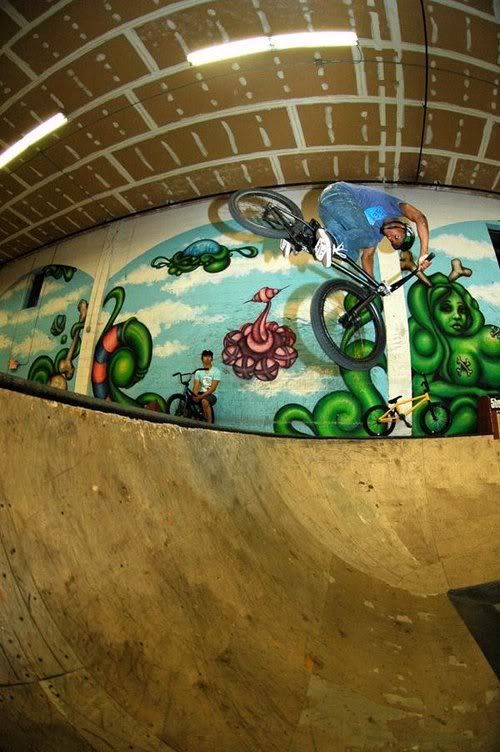 How are things going with The Take? Any cool stuff involved with you going on there?
Oh man, I couldn't be more stoked! The Take is bringing the fun and helping me out a ton. So I'm just trying to return the favor by bringing that fun out when I go out and pedal everytime. But, we have a whole bunch of stuff in the works that I couldn't be more excited about. We are starting to do Monthly web edits soon, some kiddies have stuff to enjoy for sure. And with the help of Jeff those should go a total diffrent route then the usual haahaha.
What is the story behind Team Jeff Dupaul anyways?
It started out as a little joke Andre Postell made cause Jeff always seemed to come with the funds when the dude needed ciggs. Andre said its like your my sponsor now. When the time came for Notro Jam, Andre listed Team Jeff Dupaul as one of his sponsors and it kinda blew from there. Just bringing us Northeastern pedalers together. And also for the fact, Jeff just rules and has played a major roll on these parts I think, hahaha his house is pretty much a hotel. I'd like to think I have the super pro contract of the team, only for the fact that some how I end up and his house for weeks and his wallet turns into my ATM. I'm kinda makin this answer lengthy, but now we got some serious duties in the works. So I guess we are becoming like Give D! East, just TJD instead haha.
It seems like Jeff is always posting up videos. Do you have any new web videos, or video parts in the works?
Yeah, we are all currently filming for a TJD web video, that will premiere on Defgrip. No exact date yet, cause we are all pushin in duties and tryin to beat this shit before Frosty comes down to hang haha. In between that, we are putting out little web edits in the mean time to show our fun and big chillin. Aside from TJD videos, Mr.Dupaul has been helpin other dudes get there side projects on, it's pretty sweet. Too much goin on for one clown to handle.
How do you feel about the scene where you are living? What is the crew like out there?
I really could bull about this question so much, but I'm not going to though. In my opinion trying to ride on my end of Long Island sucks so bad. I live in the most redneck of towns. I'm suprised I'm allowed to even live here haah, but anyways theres seriously absolutely nothing, but some handicap slopes, curbs, and some trails. I dont touch trails around here anymore though cause the locals are weird around me I guess. I can say there are a handful of kids that just shred this damn forsaken island, but we are all so spread out so it's kinda hard to meet up. The crews are so mixed with so many diffrent types of riders and when we do meet up it's a good time. LIB is doing a good thing too, keepin the kids pedaling on. I have so much to say for this question but, hahaha I don't want to go nuts on it. Let me just say, that Long Island lacks, but we make the most of it.
If you could live anywhere else because of BMX, where would you go and why?
Even though the lack, I don't think I'd move, I'd do more of do a reconstruction. I'd smash Boston, Long Island and CT together, bring on some Cali weather and make Long boscalnnecticon. Either that, or just live in Cali for the winters hahaa, thats way more simple.
Have you been doing some traveling lately?
Just around CT my second home, thats about it hahaa. Sometimes rarely, but sometimes like Boston and stuff.
What is the craziest thing you have experienced because of BMX?
Dude, the first splatter of what the f-ck?!! I think of everytime I get this question, is seeing that dude just get at the banks just gettin Gnarley Davidson'd. Just full blow smashed by a guy on a chopper bike, then his bike stolen I believe! I felt like I was in the matrix of oh my damn, cause there was just so many things wrong there. Oh and the best was the roadkill dude saying, Ugghhghhh dat mudda fuggaa, while laying flabbergasted and pretzel'd on the floor.
If you could remove anybody, any trick, anything really from BMX, what would you pick and why?
hmmm… Invert to fakie? Everything else is just awesome for a good laugh or a jaw drop. Oh Oh Oh and X gaymes superpark…what the hell was that?!
What are some things that make you want to go and ride?
Seriously, everything does pretty much. I'll see some kids far into youtube videos of kids just feebling a ledge and not giving a crap, and just seeing my friends doin there thang. man hahaha I just love laughing and pedaling.
What is your dream set up or spot to ride?
A school with just crazy hips and banks and stuff, fun flowy stairs if thats possible. And just real easy fun chilling trails. It really depends on the day.
Is it all about the trick list or how much style you have?
I lean for style 87% of the time. I mean its rad to see dudes goin crazy and shower themselves in redbull to whip in and out of everything, but I'm all for it looking really original and stylish. I mean I'd def like watching someone do real simple stuff like take a hand and a foot off and make it look super good and clean with flow, then watch a dude that looks like someone kicked a 2×4 off a lip & its flipping and spinning like crazy. So style ftw!
How do you feel about contests? Do you ever hit any of those up or plan on any?
I like contest for the pure fact, they let you travel, have a good time and see all your buddies from all over and get to shred Contest as a whole, naah not really for me. I cringe out, forget what I wanted to do, lose myself and end up huckin somthing dumb for 48 seconds. Stuff like Baco I like cause its really laid back and all for a good time. Dewd tour I'd never touch, I don't think. I wanted to hit Baco and Notro this year, but umm hahaa thats not happening.
If you could go on a road trip, who would you bring and where would you go right now?
As of right now, I'd be escape the frostbite tour, and I'd be all of my TJD buddies, Jeff, Garret Reeves, Chris Z, Mike Mastroni, Matty Long and the list goes on for all long as the fun does.
What is BMX all about in your eyes?
FUN. 100% and complete fun. Just being stoked, gettin a good laugh, a good story, doing what you want to do. Meeting good friends. It's just too much good, and too much fun man.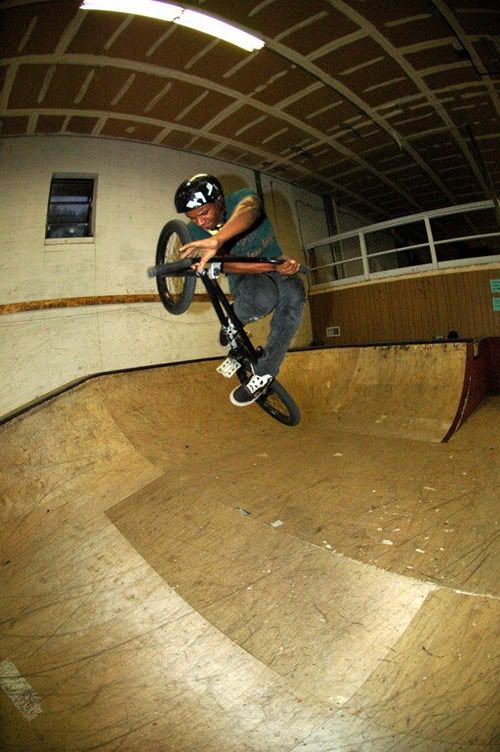 What do you think you would be up to if you never got into BMX?
Well I did/do go to school for Visual Arts and cartooning, so I'd total be a Comicon/Anime freakazoid. Just playing xbox and watching porn 85% of the time. The other drawing dudes with cracked out eyes, puking, and stuff hahaa. Or wishing I was awesome at skating.
What are you up to when your not riding?
Usually, just hangin. On this little life sucker of a machine, just cruising the web or just hangin with some dame of some sort…and as all these webbies of me floating around show. Having fun at a party somewhere, not gettin too out of hand. I need a job asap hahahahahah.
Do you go to school or work at all?
Back to school in the spring and I'm trying to get a job at Target, as I said to Nick(SPAM) "If i get this Target job, it will kinda be like I'm on Hoffman FLOW!" haah
You got a fairly new video series going with Jeff Dupaul called "LOL Material". What got all this started and when will the next episode be out?
Maybe I should let jeff answer this one, and I'll put my input to it too hahaha go jeff. HA, "He went kinda nuts on it. The LOL series wasn't an intentional thing, I just had lots of footage of humerous moments in Denny's life on tape. I had left over party footage from when I had a little party at my house and between the music video and his take edit, I still had lots of other footage. So, I made a little montage. I also added in a falls montage since Denny falls a lot hahaha. The another day, we had a concert at Haven and Denny talked to all the girls as they walked by, so i turned my camera on and captured Denny being, well Denny. I think everyone who has ever meet Denny has liked him and probably found him to be hilarious, like I do. So I made these little edits for more our friends who know him and would understand his humor and laugh at it. Then one day on the come up, I saw kurt didn't have much to post so I thought I would send in the videos, maybe other people would find them funny too. Basically, long story short, the LOL series is just me capturing denny being himself every day, and hoping everyone else gets a good laugh outta it just like all my friends and I do. Because lets face it, Bikes are only like 50% riding, the other half is having a good time with your friends and laughing and just making memories. So I thought I'd share them with you all." Yep that was my dude, Jeff puttin it into college perspective for ya. Cause I have no input on them, I'm just being me thats all.
How do you feel about the Daddy Vision videos? Do you think they influenced you to start yours?
I lost count on Daddy Vision after D.Vision #1,39423. I think they are pretty rad, but I'm totally not aiming to be that. It just seems to be happening hahaha weird man.
Are you just naturally a funny dude or have you hit your head a few times?
I think haha I'm just not serious enough and dumb! I just like to see smiles and a good time for sure!
Has anyone ever told you that you remind them of Chris Tucker? Would you be pissed if I told you that I get that vibe?
Crap, I'm trying to think how many other people have said that, I wish my voice was as high pitched as that guy! I come close to it cause Jeff Dupaul is pretty much my Jackie Chan. I guess I can take that as a honor, guy has some steez!
What are some of the keys to an awesome party or night out?
Alright, this list is
-Enough of party influencial products to get you going but not retarded
– Some where with alot of people and open space if not go the total oppisite, tight space with alot of people.
– MUSIC, you need music no matter what
– have some GIRLS, DAMES, GALS, TRICKS, HOES, IDIOTS.
smash that all together in a blender, with sprinkle of love
and thats pretty much it. Automatic, no manual needed fun.
write that down Kurt hahahhaha!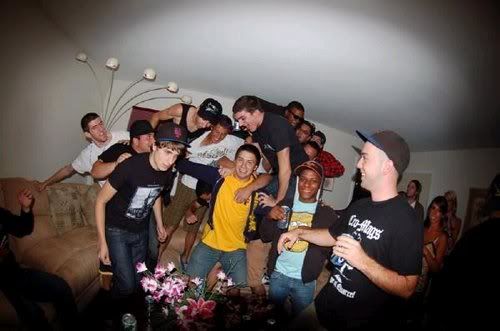 What are some of the most important things in your life?
I'm real bad with priorites for sure, but definitly getting a education, staying in school, family and blah blah. All and all is remember to not stress, things can only be bad for so long and theres always something good around or some good you can make or learn from it. So don't stress hard, Have a lot of fun, no matter what the situation.
What are some approaches you use when picking up girls? Any advice for the hopeless ones out there?
hahahaha! Don't push yourself on them. Make em giggle and they might show you some jiggle. Make em laugh and you might get some ASS. I don't know what I do to make em think I'm something special, cause I gots nothing. I had game, then my playstation 2 broke.
Have you ever been in a fight or arrested?
Never a fight in my life, I mean the closest thing to a fight, was me punching this kid on the bus in the eye by accident in 1st grade. I had one of those sweet gay 50cent rings on, so it did some serious damage. Arrested, no. I have had/have a ticket for $75 dollars for something real dumb (drinking in public even though it was closed beach & it was a half a beer or some crap)
What is the first song to come to mind?
Spams re-make to Loquat's Swingset Chain or whatever. His was " Theres a plaaaay ground that we used to play on, and Mike Mastroni films alllllll alone…" we all died including mike hahaa so freakin awesome. oh and Listen to J.Dilla instrumentals that guy was a genious!
If you won the lottery what would you blow the money on?
Phew, Umm I'd have to payback Jeff. Buy a random ass house somewhere over here, have some of my best people stay. Give my mama some money(I gotcho back Momz!), wait now see…what if it was only 30 bucks?
What is the most embarassing thing you have ever spent your money on?
hahahhha man, I can't even rememeber. I haven't had money since like January 20th of this year. I'm a bum!
What kind of a car are you driving around? What is your dream car?
You want to hear a sad secret, I don't even have my license, my road test is the 5th of Novemeber. My dream car…a smart car with 4 people seating! Heck Yeah! Thats asking for a good time!
If you could hook up with any model or famous chick, who would you pick and why?
dude, you see that girl CASSIE?!
She can totally be my official girl! Or maybe Vanessa Hudgens, I'd totally make another kind of high school musical with that dame sheesh!
Do you have any good stories involving hookers, midgets, cops, pissed off people, or the homeless?
I could show you a sweet kid with dwarfism that lives down the road, that kid has real moves and can punch you in the nuts with no effort! The only thing I have crazy with Bums of some sort that I can think of was, this one time when I was riding in my town we were all heading off to eat some Mickey D's and get some sweet slop feeling going but, on the way there we see some like person in the middle of the road with super long hair. And we are like "is that some naked girl?", so we pedal up closer and come to find out its some crazy naked redneck dude in the middle of the road, in front of some mobile home complex. He is screaming " YA GUYS SEEN MY DAWG?! HUHHH?! HAVE YOU GUYS SEEN MY DAWGGG?!WHO TOOK MY DAWGG?" completely naked, not even the decent enough to wear socks hahahha. Then after we got to the McSpot, my friend pointed out after all the laughter and says "I like how no one said he has a small penis…", the guy had the right to hangout I guess haa.
What are some things you would like to accomplish in the next few years?
Yeah for sure! I want to get out to the west sometime soon, give Texas a check too. Mostly see more out west and stuff. And get some more things done for The Take and stuff, web edit wise and product design help.
What is something you aren't very good at but wish you were?
When it comes to me filming a clip, hahahah. It's even a big joke around with my TJD pals, I fail so hard. It's like I can do stuff during a regular session first try and even laugh after it, but once the camera is out, I forget what I want to do and get out my riding character and forget what I want to do and it takes like 50 tries. So If I could, I'd like to be able to turn it on and keep having fun even when I'm gettin chased around with big ol soul stealer!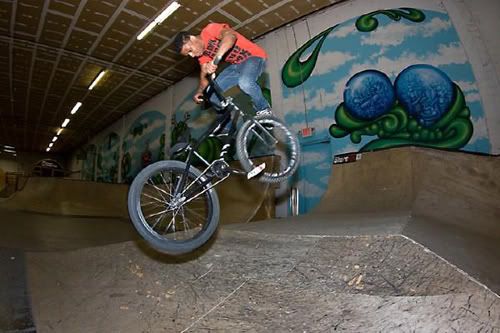 What is the best advice you got for the people out there?
Just listen, remember what you're doing you're things for. Not what "ANONYMOUS" says. HAVE FUN EVERYDAY, laugh and stuff, even though I sound like a played out Halmark Card, ya gotta do it.
Do you have any shout outs or thanks?
Heck Yeah, everyones fave.BIG BIG thanks to you Kurt for giving me this opportunity to do something as rad as this. Thanks a bunch dude. I'd like to give a big thanks to all the dudes at The Take, Alex for being so freakin awesome and keeping a "nig-nog on lock", John Lee for being THEE nicest dude on the planet, Mike Erb/FBM dudes for helping me with last minute goodies and such. HUGE THANKS for Jeff Dupaul, cause face it without that dude, I don't even know what I'd be doing N/H or whatever.Long Island Bike shop for hookin me up big time, even though I barely ever make it out there cause I suck. ALL my TJD pals that I see doing there thang and reppin that fun. My Mom for putting up with my broke bum butt for so long.Dan Foley for being Dan Foley. Tyson chicken wings for being so good in the morning. Girls for being so awesome to look at no matter what the situation hahahhaa. And sleep.
Anything else you want to say?
I just hope that everyone gets to know me at some point hahaha and realizes I'm the least serious person you'll ever meet and pretty much am stoked for anything, hahahaa even crap talk. And thanks a bunch again Kurt, this ruled and it was was kinda hard!