Devin is a guy in BMX who knows what is up. He has worked hard to get Peg Leg the reputation of a badass crew and it shows. I had the chance to ask him a few questions and this is what he had to say. Show some love for Devin in the comments.
Photos: Sven Meszaros and Jay Elling
Name:
Devin Feil
Location:
Hudson, Massachusetts
Sponsors:
Attila(attilabikes.com), Eastern Boarder(easternboarder.com)
Years riding:
8
What was it that first got you into BMX?
A friend of mine I hung out with a lot had a bike and was just trying to start out riding, and I would get on his bike and try myself. I knew right away I had to get a bmx bike of my own and have been riding ever since.
You are the dude behind Peg Leg, when did you get it all started and what made you want to do it?
It was 4 years ago when I got things started with Peg Leg, and the driving force behind it all is my love of riding. Having some friends who I would want to start something like Peg Leg with and a love for bmx videos/filming were also major factors.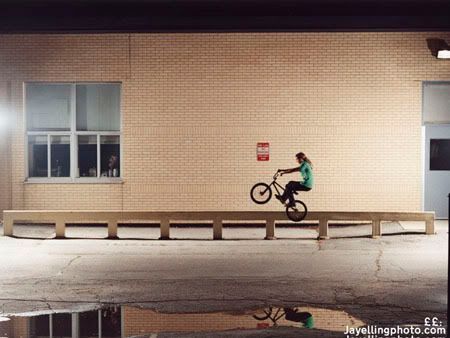 What can we expect out of the crew these days. I know the DVD came out not too long ago?
You can expect a lot, things have been pretty quiet the last 10 months since we released the dvd, but that's about to change. Peg Leg is starting to work with DIG and put up online edits exclusive to digbmx.com and first one will be up very soon. Two members of the crew have their own video projects going as well, Alex Raban with 'Roll Wit Us' and Travis Splain with 'Business Casual.' Matt Barchus on the crew just finished up filming for the next Shook video, and Jeff Martin will be working a section for an upcoming one soon as he is healed up.
Any new clothes or anything in the works?
We just put two new shirts up on the site including a shirt, which is in part a tribute to my grandmother who passed away earlier this year and was the biggest fan of the classic celtics you could ever meet.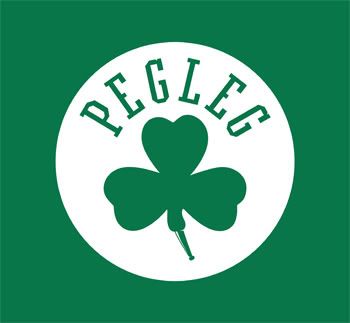 What kind of advice do you have for people looking to start a clothing company?
Like anything in life do something that is true to you. Produce things that you yourself would be into, not what fits into what is popular.
So what is the scene like from where you are from? I figure most of the Peg Leg crew is from your area?
There is no scene where I am from, I ride by myself or with my older brother who skates 90 percent of the time. There used to be kids around who I rode with when I was younger, but not for years now. I think that's a pretty common thing, for most everybody from an area to end up quitting leaving one or two people who wouldn't think to stop riding. The closest dudes on the team are Jeff Martin and Matt Barchus who both live around an hour and a half away. The crew is spread out in Connecticut, Baltimore, Virginia, Arizona, California, Newfoundland, and more.
If you could take the Peg Leg crew on a trip anywhere in the world to film. Where would you go and why?
To get the whole crew together for a trip would be amazing, and going anywhere with all of them would be the best. If I could pick any destination I would say Germany or Spain, just because of the spots I have seen in magazines and videos.
What does BMX need more of?
Pegs. Just kidding I don't really care if people run pegs or not, but I don't see myself running any less than 4 ever.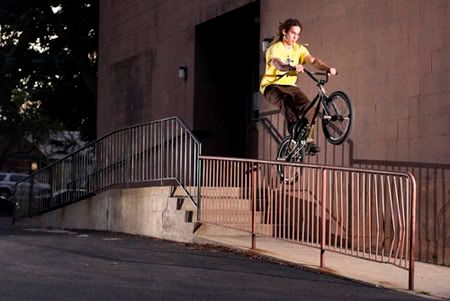 What is the best story you got from a time you were out riding involving security/cops/homeless/hookers/pedestrians?
One that comes to mind is campus cops in Syracuse hauling ass in SUVs and driving down stairs after us. Another good one was Montreal with the Metal team and burns spanking some crackhead then her pulling her tits out and trying to put one on my lens, you can see the footage in Dead Bang.
What are some things you would like to accomplish with Peg Leg and just BMX in general in the next few years?
In the next few years I would definitely like to produce another Peg Leg dvd, and see some of the crew get hooked up and the respect they deserve. I feel like the industry is really sleeping on a couple kids on the crew. They aren't riding to get sponsored, but it sure would help make taking trips and keeping a functioning bike going that much easier.
What do you think you would be up to if you never got into BMX?
I think I would be doing more with photography. That has been a major interest of mine for almost as long as I have been riding and has for the most part been separate from bmx. I started to shoot some riding this spring.
What are you usually doing when your not riding and stuff?
Lately I have been doing a little web design work to make some money. Since I was so tied up at school all year I really have been just riding a lot recently now that I am free to.
Do you work or go to school other than the Peg Leg stuff?
First I will say that I have not made a single cent from Peg Leg, all the money goes right back into the company so that I can do as much for the crew as possible. Some of the guys sold copies of the dvd in their area and I let them keep the money to put towards something like a road trip or whatever they wanted. I went back to school to a pretty hectic one year photo program this past year. Currently I am working some odd jobs and trying to find some sort job in photography. If people are interested they can check out my work from the past school year at devinfeil.com.

(Devin took these)
If money wasn't an object. What are some things you would like to experience in your life?
I would just travel the world avoiding winter, and take in all that I can and ride a hell of a lot too.
Where do you see yourself in 5 years?
I have no idea. I know I will still be riding, and I would imagine I would still have Peg Leg going. Beyond that I don't have all that much planned out.
Who or what has had the biggest influence on your life?
In regards to bmx I would have to say my older brother was my biggest influence. I grew up watching skate videos with him and as I got more and more into riding he has always taking me out to spots he knew of and been on the look out for new things for me to hit up. He has been there to help me get things filmed and just been a great brother to me altogether. Very supportive and motivating.
Do you have any shout outs or thanks?
First and foremost my family, who really have been as supportive as I could ever wish for. Eastern Boarder for hooking me up over the years, especially the Natick shop for always being more than helpful. Cleggy at Attila for hooking me up, its really flattering to have someone ask you to ride for their company. 4Down, Traffic and TripleSix for distributing the dvd, amazing to have it out all over the world. Chad Shack for asking us to do the section in We Are Everywhere, it was really awesome he gave us an opportunity like that. Thank you to all those who have let myself, or the crew crash at their place, or showed us around to your spots. Of course the whole Peg Leg crew, can't wait to take some more trips with all those guys.
Thank you to anyone and everyone who has shown support towards Peg Leg and myself. Hearing all the positive things people have had to say about the DVD has been truly appreciated and motivating. When we started filming I would never have thought it would be so well received. I promise when we get around to producing a follow up it won't disappoint. Thanks for asking me to do this interview Kurt.


Funny Crash From 2000 from peg leg on Vimeo.


Peg Leg DVD Trailer from peg leg on Vimeo.