If you haven't heard of Devon, there's a good chance you don't really ride that much, or you are too busy actually riding. In the last probably two months he has had this explosion of web videos that seemed like he had come out every other day. The talent Devon holds got my attention and I started getting more and more curious what this guy was all about. I figured I'd see if he would be into an interview, and he came through. Check out what Devon has to say and a couple of his web videos and then leave him some love in the comments!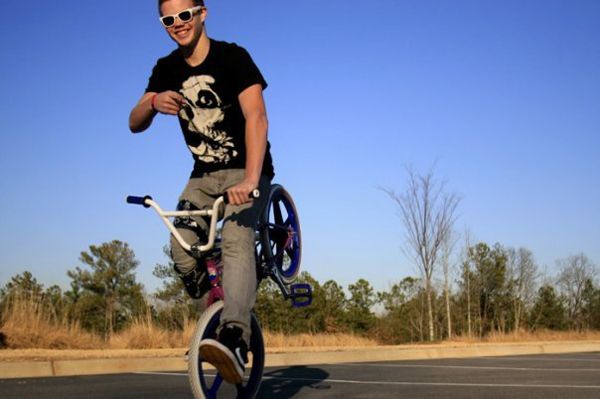 photo: Eric Stewart
Name: Devon Charles Smillie

Location: Suwanee, Ga
Sponsors: Boat-n-bike, DK bicycles flow, Monster Energy flow, Famous Stars and Straps flow
Years riding: 14
What was it that first got you into BMX? Any early memories come to mind?
It was so long ago I hardly remember, but I used to watch a lot of motocross videos. I would watch these videos and try to replicate what they did on my bicycle. I think I was about 2 and 1/2, falling on purpose because crashing was cool.
So you got into riding at a super young age. I'd imagine you started out racing, right?
Yeah, I started out racing at 3 and kept racing till I was 7 or 8.
What made you want to switch over to the freestyle side of BMX?
There was a small ramp setup at my local track, nothing special, maybe a quarter pipe and pyramid. My parents knew what was up, so they built me a nice freestyle bike for my 5th birthday
You have been getting hooked up by DK for a little while now, right? How's that all going? Do you have any trips or anything along those lines planned with them?
It's going great. I can't thank them enough! Catfish has been hooking me up with whatever I need part wise since about December, and I think there might be a trip planned coming around my area but I don't have all the details so we will see!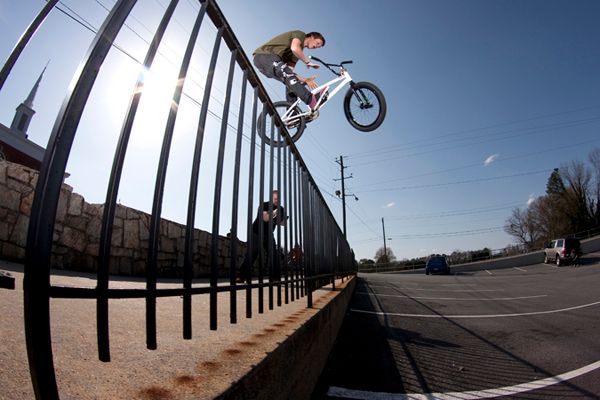 Photo: Andrew White
Have you been doing many shows lately? Do you have anything going on over the summer you are looking forward to?
I haven't done a show in quite some time. I've mainly just kept riding street and parks keeping it chill. But I'm hoping for this coming summer to make it out to woodward east. That place is such a blast!
The thing that really caught my attention was the number of web videos you have been popping up in lately. What has been motivating you to film so much lately?
When I got back riding from surgery at the end of february, I was just having so much fun riding and was so thankful to be able to ride that we were riding everyday. My good friend Eric has a nice camera and films so he came out to a lot of the sessions and filmed. So really, no reason for them, just having fun riding. haha
When can we expect your next edit out? Do you have any full video parts that you are working on?
I don't really know when my next edit will be out. I am working on one right now, but we need some more clis filmed. And about a video part, I think we may be doing something in the future so were kinda starting to film for that too.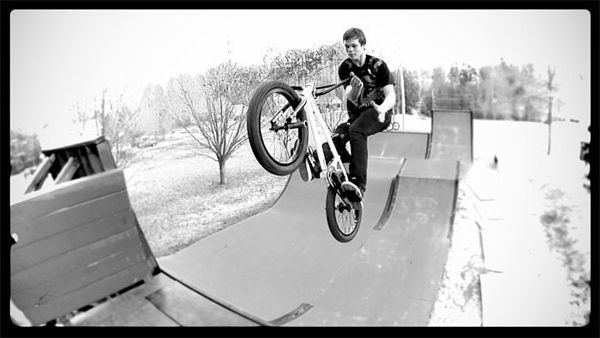 I've noticed you can pretty much ride whatever is put in front of you. If you had to pick, what would you say you like to ride the most?
You can never go wrong with a public concrete park. It's solid, smooth, free, lights are on till 11, and you won't get kicked out. Well at least at the park by my house.
Where can you usually be found riding these days since the weather has been real nice lately?
I'm all over the place. But usually, you can find me in the A.
Who's your usual riding crew? Any of your friends that you think people need to keep their eyes out for?
Eric Stewart, Bobby Goodwin, Tyler Jacovetti, Nick Thurmond, Nick Taylor, Little Justin. That Nick Thurmond guy is so smooth and stylish. He's one of my favorite riders in Ga.
I feel like there isn't a ton of tricks that really give you a problem. What's one trick that you just can't do for the life of you?
Backflips. I've done them, but just don't like to. Therefore, I consider myself not able to do them.
I've noticed you ride with a knee brace? Have you joined the knee club or is it just something to prevent it from happening?
I tore my acl in February of 2009, rode all 2009 on a blown out knee until December 16th. Had surgery, did some physical therapy, and after two months I started riding. Taking it really slow, but I was riding. I think my recovery time was 6 months? Yea, that's too long.
You have had the chance to travel quite a bit because of BMX. Where are some of your favorite places you have been and where would you like to go in the future?
California, Ohio, Woodward east, Greenville, NC. One place I've always wanted to go to, Barcelona. One day.
Who are some of the people that influence your riding the most?
Garrett Reynolds, Sean Sexton, Randy Taylor. These dudes are sick.
What do you think you would be up to if you never got into BMX?
Motocross for sure.
What are you usually up to when you aren't riding or filming an edit?
Riding some motocross, skateboarding, or even the X-Box.
You're also pretty dialed on a skateboard and dirt bike right? Do you find much time to get on those much these days?
Not so much the skateboard cause its dangerous for my knee, but I've been riding my dirt bike every so often hitting some tracks out of town or even my own track.
What about dirt bikes? Do you race or anything like that?
I raced for a couple years, then blew my bike up and couldn't afford to fix it. Then that's around when my knee got messed up, so I continued riding BMX mostly.
You're about to graduate here soon I'd imagine. What is your plans after that? College?
I graduate in a couple weeks actually! homeschooling got me out early. But I was thinking about doing something in college for some kind of art degree. I don't know yet.
Lets say after BMX, what are you thinking you would want to do?
Im hoping I can ride for a while. I know it seems trendy cause all these BMXers and motocrossers are doing it, but when I'm done riding, rally car racing would be so amazing.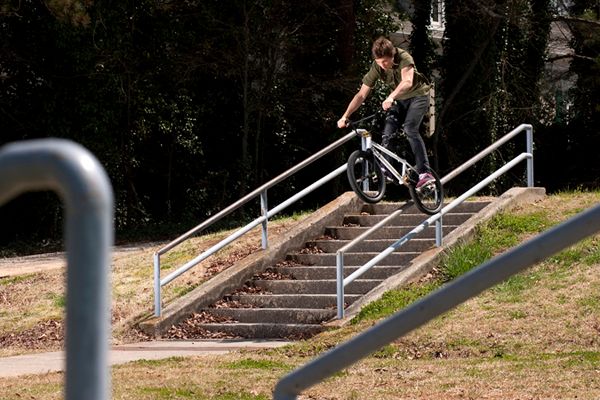 Photo: Andrew White
What's the last song you heard, movie you watched, and website you visited?
Song, Chip Tha Ripper- Feel good
Movie, The Hangover
Website, Facebook!
I know when you're a senior in high school, there's always a party. What makes for a good night out for you?
Since I'm home schooled, I don't get in on the high school parties. I'd rather be riding anyways. A good sesh before going home is the perfect night.
What's something about yourself that even some of your closer friends really don't know about you?
I knocked some teeth out a couple days ago!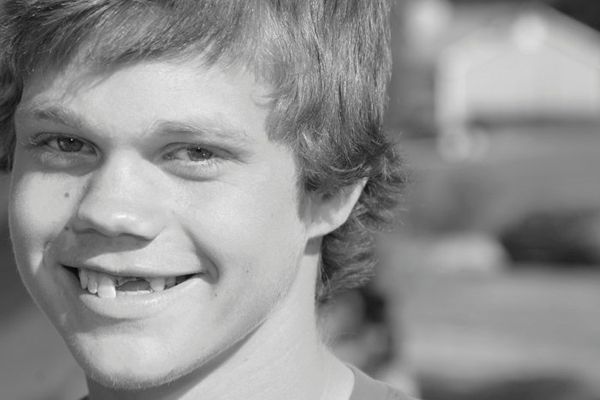 Where do you see yourself in 5 years?
I don't know where im headed. lol. hopefully still riding.
What's the craziest situation you have been put in?
I drove my car into the garage with my bike on my roof rack? Is that crazy? lol
What's the best advice you have been given, or able to give?
A positive outlook has a positive intake.
Do you have any shout outs or thanks?
Of course! God for giving me the ability to ride a bike in the first place, my parents for all there support with the shop and everything, my homies i ride with keeping me motivated and having good times, Catfish at DK for helping me out with parts, and I wanna say thats about it.
Anything else you want to say?
Life's a garden, dig it hahaha
Devon Smillie Edit – More BMX Videos