Here are the photos I didn't use on Dig from the third day of the Dew Tour. This is the final day and quite the experience. I won't lie, I am not a very good photographer. I had never shot an event like the Dew Tour before, and definitely not a vert contest before. I think as time goes on things might get better, but I don't want people to get the impression that I think I am awesome. As time goes on, I hope I become awesome. So check out the photos, feel free to leave comments. I'll take some critiques too but I may have valid reasons. At least for the vert haha.

Brian Kachinsky had a autograph signing for Action Village in the morning of the third day. I didn't have anything to do so I came and hung out with him. Brian signed a poster for me with Vikings x'ed out. He's from Wisconsin, and I am from Minnesota. So we got a bit of Vikings Packers rivalry. I shut him down when I asked him how he felt about Brett Favre playing for the Vikings this year. Brian is still the man though!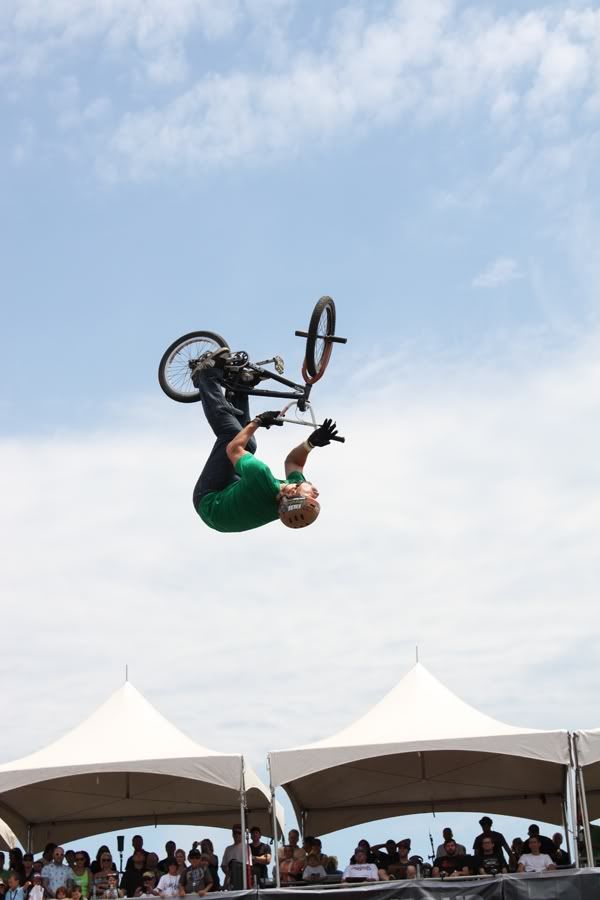 These are about as close to normal looking tricks I got of Morgan all weekend. He seriously stretches all his tricks to some crazy torqued positions. I was cracking up super hard when I zoomed in on my camera of this 3 whip. Morgan is looking directly at the crowd instead of looking at his pedals. That dude is a CROWD PLEASER.

Which way do you think Daniel Dhers is going in this photo? Well, I'll tell you he is coming into the lip of the box (going right). This is him coming down from a 720 from the landing to lip. Yeah. I think he landed flat on this?

There was two things about the Dew Tour that made me mad. They were where they let me shoot photos from, and where they wouldn't let me shoot photos from. The park course sucked because I couldn't see the spine or hitching post, but I was still infront of everyone and got quite a few good shots from the box jump. The vert ramp sucked because photos looked WAY better from the deck of the ramp, but I was still able to get quite a few good shots from here though. I guess the vert ramp was better from the flat because it looked like all the guys were tripping over each other up there.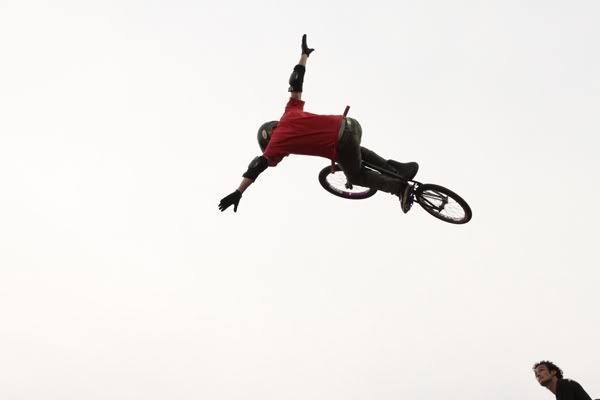 This was the first time I saw a vert contest in person. I don't think you will ever really appreciate how badass vert is until you are either standing on the coping watching the guys blast 5-8 feet above you, or from the bottom watching them blast 20 feet from you. These guys have balls of steel.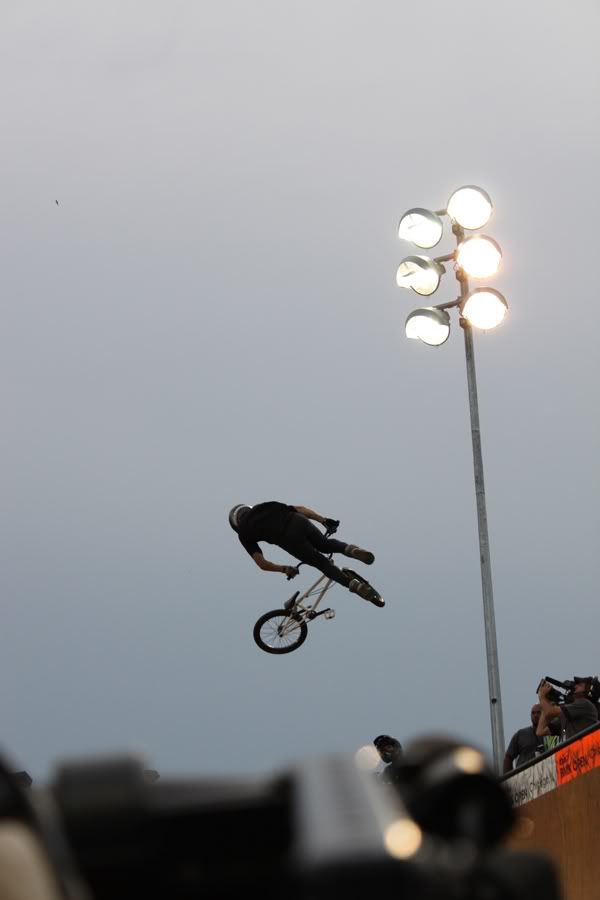 There were two ways to fuck up a shot from the spot I got to shoot from. The lights, or the camera guy for TV who positioned himself right in front of me.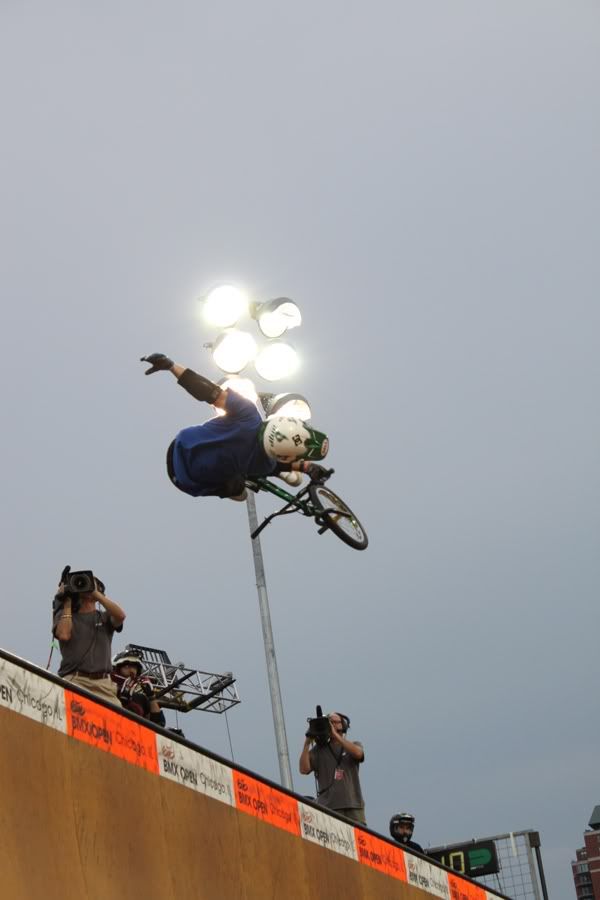 Chad Kagy blew my mind by how FAST he goes. Holy crap. Bestwick goes high, and Kagy goes mach 69.

I can't help but crack up at this photo everytime I see it. Jamie's first run went not good. He slid out on a flair early, and instead of getting on his bike he started doing push ups. I was thinking "Holy shit, Jamie Bestwick is doing push ups in front of me?" Oh, I should probably mention I had never met him before. I owe Will Stroud a big high five for introducing me to him in the lobby of the hotel on my way out to go home. That was awesome.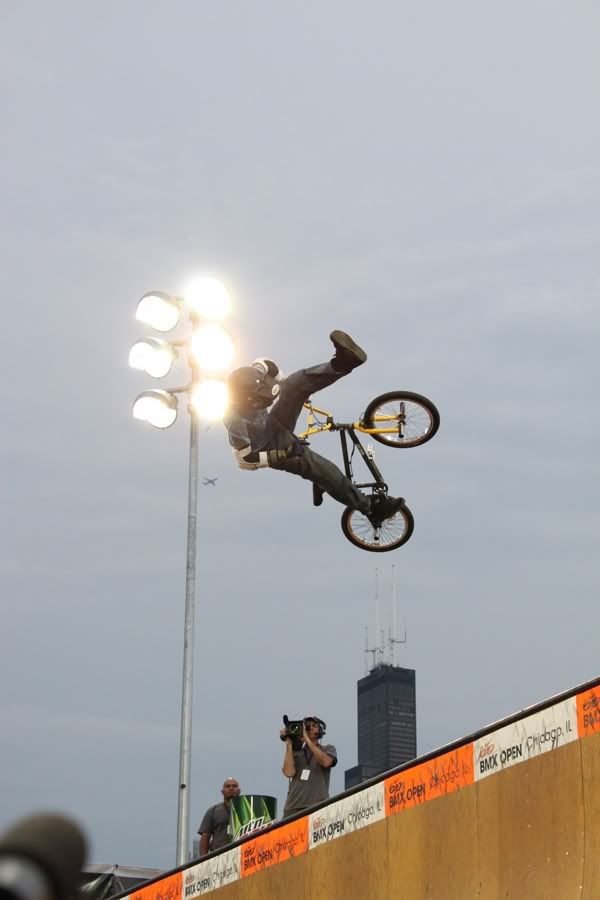 Seriously, Candy Bars are coming back in 2009. I know they never left vert, but the trick is so rad that it needs to make appearance in trails and park more. I don't really care if it shows up on street, it won't look very bad ass a foot off the ground.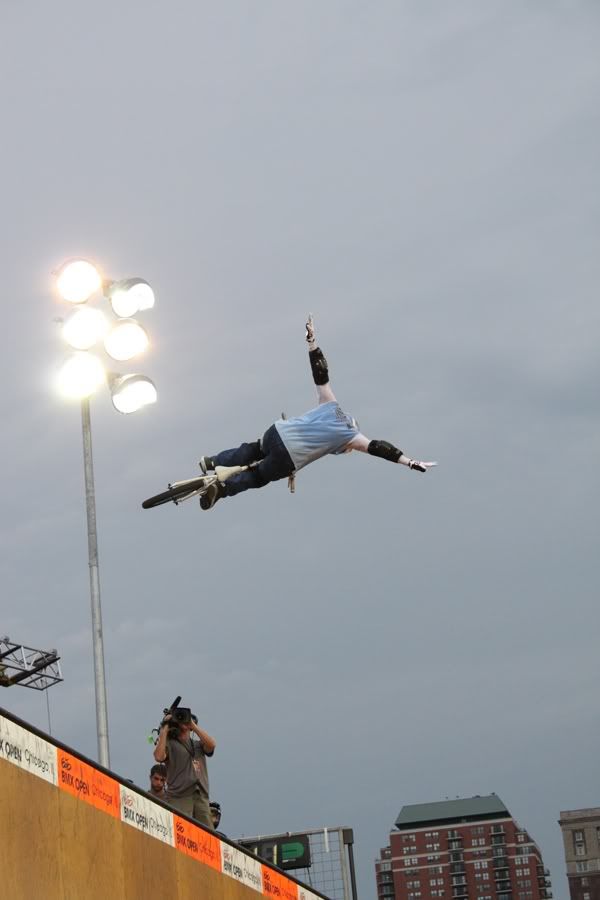 Kevin Robinson is seriously a beefcake. If Kevin were to want to fight me, I would have left Illinois completely. He could probably snap me in half and then air out with my dead body dragging behind. Too bad he is actually really nice and that would never happen. Haha.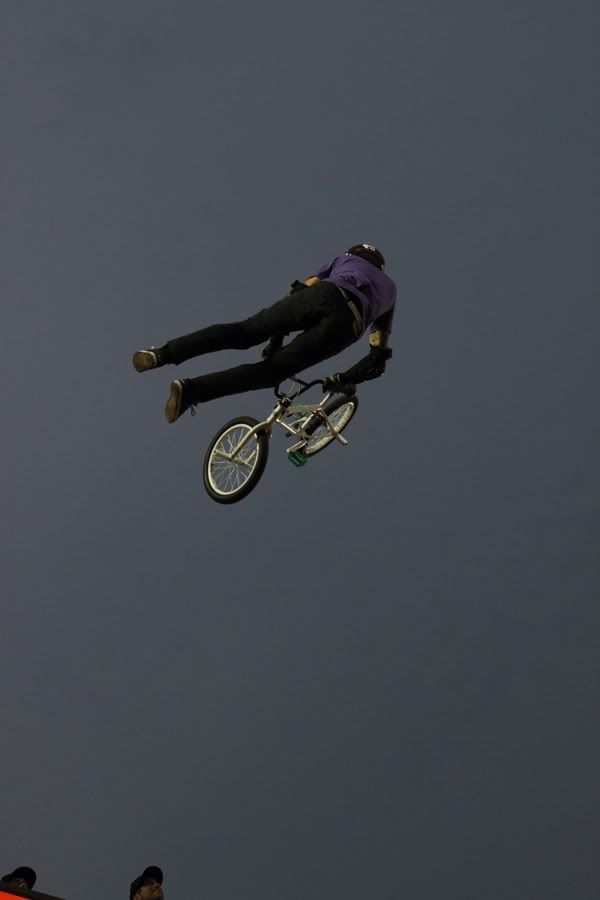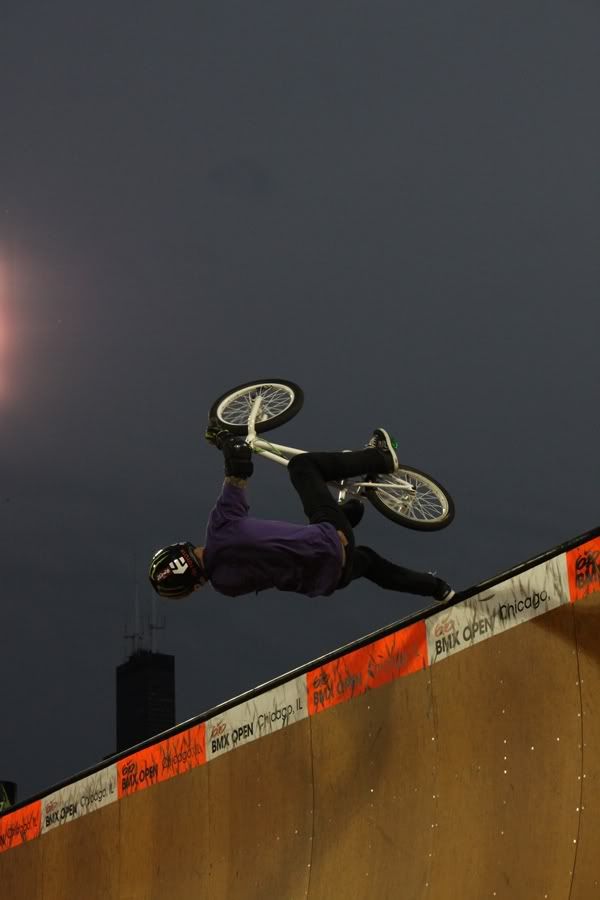 I meant to actually keep the last two photos as a sequence of his fastplant flair. However, when I was going through deleting photos that really sucked, I accidently deleted part of this, so I kept the first two frames. Imagine trying to hit your foot on the coping going super fast while trying to flair. I don't get it. Jamie Bestwick forever impresses me.

Catfish came up to me after the contest and was like "Hey get a photo of me with him". I was a little confused as to whose kid was just running around on the bottom of the vert ramp until he said "It's Jamie Bestwick's boy". I thought the photo came out pretty funny so why not use it? The kid has a badass dad.
Those would be all the photos. Make sure you check out DigBMX.com for a few others I snapped over the past weekend.