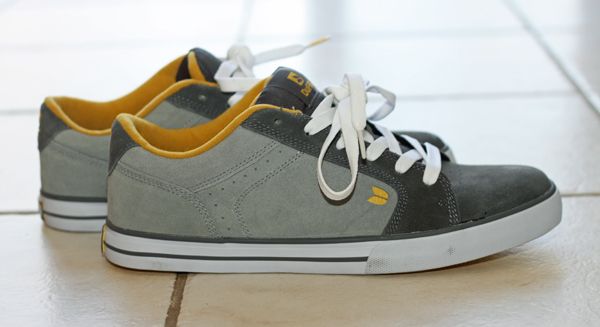 Happy Thanksgiving, all! I know there's a lot of things that I have to be thankful for, and I'm sure that list is like a lot of peoples. It has been another real good year and I couldn't ask for anything more. However, I am thankful for this little gem that showed up on my door step yesterday. These fresh new DuFFS Revert's were found inside. Continue on…


The Revert is a suede shoe with a heavy duty canvas tongue and some triple stitching to keep the shoe together. They've got the Bone Saver insole with the heal and arch supports to help prevent the discomfort and bruising from a rough landing. Then of course, the ever popular vulc style sole that's low profile and made from that gum rubber so they stay grippy on the pedals. They have a few other colors for you if you aren't into the grey and yellow which you can check out on the DuFFS site.
I haven't had a chance to give them a go on the bike, but I've never had an issue with DuFFS in the past so I'm sure it will be just fine. I'd imagine the only issue I'd run into is maybe a little ankle bite since they are low tops, but otherwise they seem pretty solid. They are real comfy and a good relaxing shoe since I spent a few hours in them today with the family.
Big thanks to Brian and DuFFS!