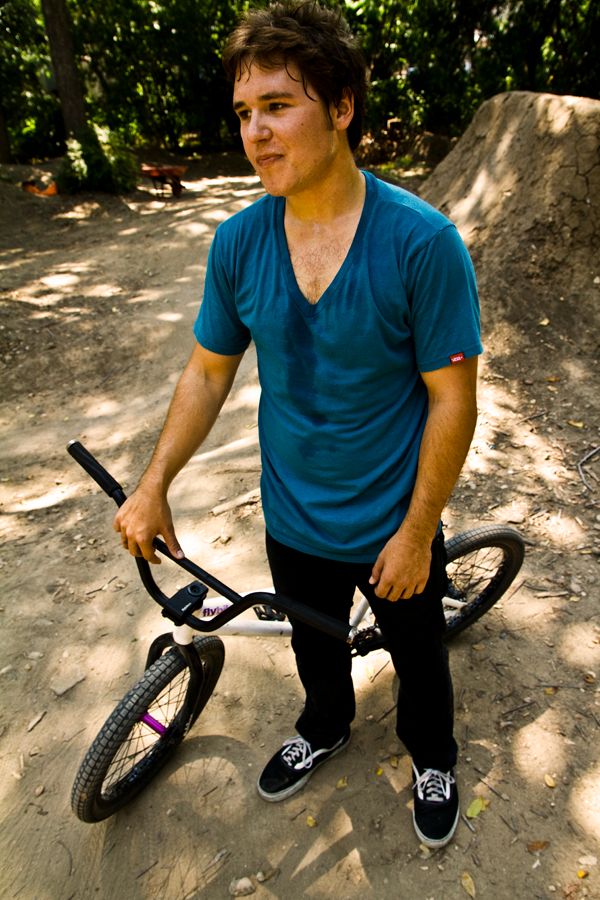 Photos: Ryan Smith
Dylan Smith is another one of those real talented shredders from Austin, Texas who has caught my attention over the last few years. I figured he has been pretty busy filming for a possible Fly video and the Empire video, and it would be a good time to see what he has been getting into. That and if you're into guitars and music this one should be interesting. So check out what Dylan has to say, some photos from 9th Street and some past edits!
Name: Dylan Smith

Location: Austin, TX
Sponsors: Fly bikes, Empire BMX, Vans, V-Club
Years riding: 15
What was it that first got you into riding? Did you start out racing and work your way into tricks or what?
Yeah, I started out racing when I was 7. We had just moved to Austin from California, and the bike shop guy told us about the BMX track in town. We went to go check it out, and were hooked from that point on. My brother and I raced for a while, but after 6 years or so we realized the most fun part was jumping. We eventually just started going to the skate park instead, and stopped racing all together.
How are things going with Fly these days? Have you been filming much for the new video?
Fly is awesome, my BMX family for sure. Yeah, I have been filming, but it's been taking us so long partly because we have a huge team. David recently sent an email saying that he wants to cancel the DVD project, and do something different on the web. He's stressing about wasting too much time and some of the footage getting old, so it might just come out in a series of web edits now rather than a DVD. We'll see, I still don't know what is going to happen.
What's new with V-Club these days? Have you guys started working on the next video since "For The Sake Of The Video" has been out?
No, we haven't started on any new projects these days. George Boyd and Randy Taylor have both been hurt the past couple months due to a torn acl, and broken leg respectively. Heal up soon guys!! We've just been riding and hanging out in Austin. We might start another one, or some kind of web project once it cools off here in Texas. Depends on how busy everyone is with other stuff. It's definitely the most fun working with V-club, because we're all good friends and have been for a while.
Anything going on with Vans and you these days?
I'd like to say so…haha. I guess I'm on the flow team. I still get product from them, and they pay for me to travel sometimes. I'd like to get more involved with Vans for sure, but there's a lot of good riders on the team, and new riders like Ty and Dakota. I guess I've been put on the back burner a little bit, haha.
I'd imagine this time of year gets pretty heated down in Austin. Have you been finding much time to travel or just spending a lot of time in the shade?
Yeah, I went to Chicago earlier this summer, but I ended up spraining my wrist pretty badly the first day. It was a bummer because I didn't get to ride at all on the trip. It's all healed up now, but it's so hot here I've mostly been swimming and just hanging out with friends. I can squeeze in a little session right before the sun goes down, but that's about it.
Do you have any filming trips coming up? I'd imagine getting clips for the Fly video and Empire video is on the list of things to do.
Well, like I said before, we still don't know what is going on with the video, but I wanted to try to make it to Europe one more time this summer. I was thinking about trying to go for the Rebel Jam in Portugal and stay for a few weeks or something. Not sure about any Empire trips yet, but I bet one will come up sooner or later. I got to go to Ray's earlier this year, and that was pretty fun.
Where are some places you haven't been that you would like to go to at some point?
Well I've never been to Canada even though it's not that far away, I've heard good things from everyone, so that sounds like a good trip.
How has 9th Street been running these days? Where else can you be found riding these days?
9th street is off and on during the summer. It's hard to keep it up running every day during the summer because the dirt is so naturally dry. There's a couple people that still water it often during the summer, and I try to get in there and lift a shovel whenever I can. Other than that I've been riding a lot of spots in downtown since I just moved there, as well as My friends' trail spot hush.
Who are some of the dudes you have been riding with these days? Any up and comers that people should keep an eye out for?
I've actually been riding by myself a lot lately, but I ride with my brother, Hanson Little, Jeremy Hrabal, and my good friend Nathan whenever I get the chance. Tom Smith is someone everyone should keep an eye out for. He's gonna have some banging clips in the next Empire vid, as well as Tom Dugan.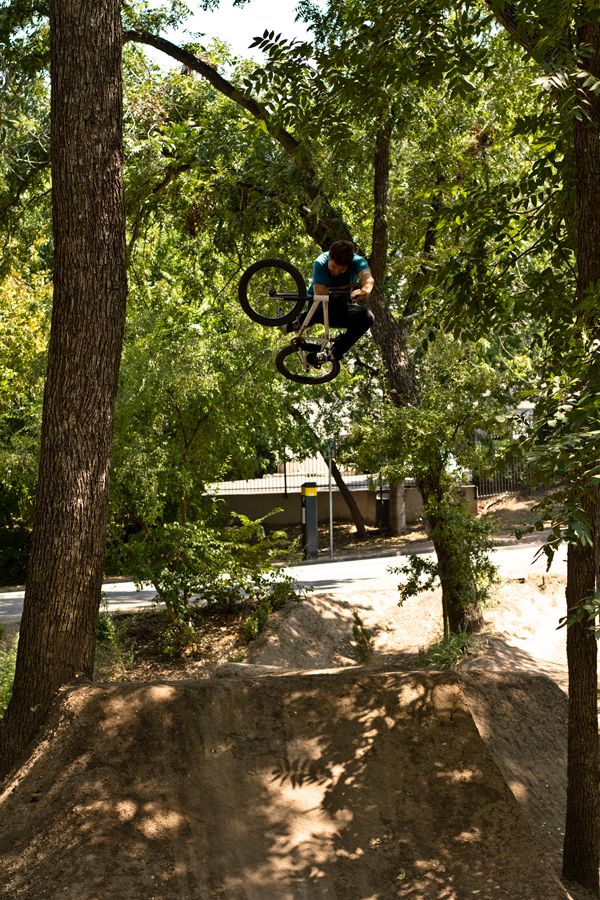 What's it about the Austin scene that keeps you there? Could you see yourself living anywhere else ever?
The thing that keeps me in Austin is not just the BMX anymore, but just that there is so many other things to do as well. It's the live musical capitol of the world, so you can go see a cool show any night of the week. There's also tons of good swim spots to hit up in the summer, I bet it would take you at least a week to go to all of them. There's still really good riding in Austin too, when it's not 100 degrees outside. I've thought about where else I'd live, but most of my friends and family are here, so it'd be hard to leave.
Do you ever find it hard to stay motived? What are some things you do to keep riding fresh for you?
The only time it's hard to get motivated is the summer. The best cure for that is to just get out of Texas and ride somewhere new and cool, as in not hot. Usually I spend most of the summer traveling, but this summer I've stayed in Austin more than being gone.
What do you think you would be up to if you never got into BMX?
I'd probably be using my degree right now, working a 9-5. Either that or trying to play music in dirty bars in Austin.
You're pretty big into playing guitar right? How long have you been playing? How many guitars do you have? Anywhere we can check out your stuff?
Yea I started playing when I tore my pcl in my knee and couldn't ride for almost four months. That was what got me into it, and ever since then I've been hooked. I play at least a little bit every day, but usually more! Right now I have three guitars: An Ibanez art core hollow body electric, a cheap dinky epiphone acoustic, and an epiphone bass that looks like an SG. You can check some of the songs that my friend and I have been messing around with at www.ourstage.com/profile/fightthefriction. It's just a few home recordings we made for fun. We want to try to get a band together, but he lives in Dallas right now and it's kind of hard to play often.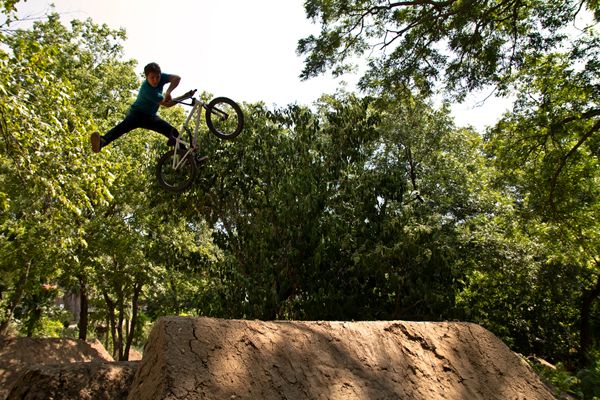 What are a few bands that you are into that you think people should check out?
Arcade fire, The Walkmen, Vampire Weekend, Beach Fossils, and Spoon are some of the newer bands I've been listening to.
You occasionally throw out a tweet every now and then. How do you manage to keep it once a week and not every 5 seconds like Aaron?
HA! That's easy, I just spend my time not living on my iPhone.
What are three things you're really psyched on right now?
Summer of swim, My new apartment downtown, and riding the Empire bowl after hours.
Last song your heard, movie you watched, and website you visited?
Last song: "Suburban War" Arcade Fire
Last movie: Capote
Last website: pitchfork.com
If you could be sponsored by any non-bmx related brand, who would you pick and why?
Gibson, so I could get all the sickest guitars for free!
Do you work or go to school at all? What could you see yourself doing after BMX?
I just graduated from college last December, so I'll probably end up putting my degree to use in some way or another. Not sure exactly what I want to do, but I still got some time to figure it out. I'm studying to get my certification as a licensed engineer right now, so we'll see what happens.
Where do you see yourself in a few years?
Most likely living in Austin, hopefully still riding bikes.
Do you have any shout outs or thanks?
My parents and my lovely girlfriend, all my sponsors: Fly bikes, Empire BMX, Vans, and of course V-club. Also, all my good friends, that help and support me!
Anything else you want to say?
Stop reading this and go ride! Also pick up an instrument, it will change your life.