It's cool to see people who you have little or no idea about, who absolutely kill it. I got an email from Klavs a while back telling me about this kid, I was stoked about his ideas and this is the interview and bike check he put together. Check it out and leave Eddie some comments!
You probably don't have a clue where a small country in Eastern Europe called Latvia is, but I'm sure you know what is the host country for one of the craziest bmx event of the year – Simpel Session. Latvia is Estonia's neighbor country, which has brought Olympic and world championship race gold medalist Maris Strombergs and is known for good freestyle riders as well. Nose-dipped 360's and plenty of style – you definitely noticed him in this year's Simpel Session. Eduards Zunda from Latvia – representing Simple bike co.
Interview by Klavs Vasilevskis.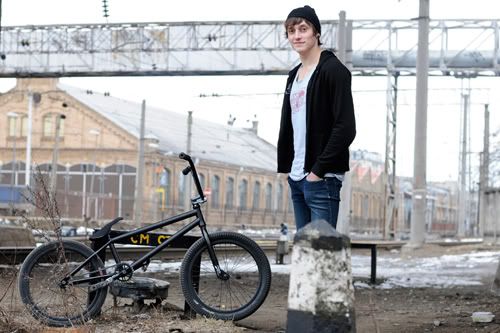 Photo: Janis Dreimanis
Name:
Eduards Zunda

Location:
Latvia, Rīga/Saldus
Current occupation:
Riding, School
Sponsors:
Simple Bike Company, Parbmx.com, Sporta Manija bike shop
Years riding:
9/10? not sure
Lets step back in past. Where, when, why and how did you start riding?
– I lived in a small city called Saldus.I was a small kid and next to my house was a kind of trails. I liked to watch the older guys riding and i knew most of the dudes already, so i decided to try with my friend's bike these trails, crashed, but nothing serious – it was fun. After that my dad built my own bike, sketchy stuff, but i really loved it.
Your first considerable sponsors was Simple bike co, am I right? How did things with them start happening?
– My first sponsors were Sporta Manija bike shop. SIMPLE was well known company in Latvia, even if they weren't available there for a while. Aivars Sneiders and Janis Dreimanis started distributing SIMPLE parts and after that they asked Niels if maybe he need a latvian rider in the team, so since that time I'm in the team! Big thanks to Niels! That's how it started, haha.
2008 was a pretty good year for you. Tell me about some of the contests and trips you took part in?
– Yeah, year 2008 was pretty much the best year, traveled more then previous years. One of the best trips I have ever been is Simple trip to Denmark, Copenhagen, I have been to Romania contest, few times to Ukraine, Kiev for a Redbull contest and show and lots of times to Estonia, riding.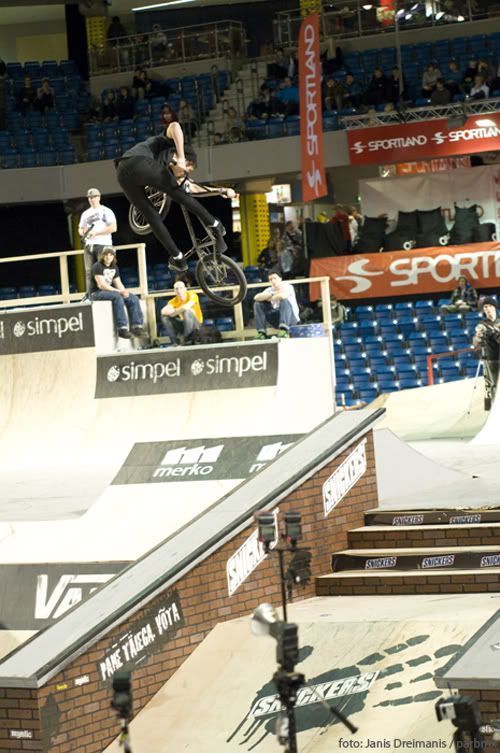 Photo: Janis Dreimanis
Impressions about this year's Simpel Session? What place did you get?
Any highlights? How is the feeling of almoust placing higher than Nathan Williams?
– Simpel session 09 was nuts! So many awesome riders, lots of people, really good park mix street/park, amazing! Can't wait for the next year! Reynolds destroyed the course, thats the highlight for me! Nathan is amazing rider! I went there for having fun, to try the course, enjoy the trip with my friends, not really for beating someone! I'm not sure but i think i ended up in 29th place…
I heard Catfish had problems with spelling the names of some European riders, including Latvian? Did he spell your name correctly?
– Yeah Catfish is fun, it sounds so funny for me when he tried to spell latvian names, haha… I had luck that my name is pretty simple, so it was almost correct, haha!
Ride BMX wrote that you were wearing a girls shirt. Any comments on that?
– Hahahaahahaha ! Yeah thats right! It was a good shoping day when me and my girlfriend bought exactly the same shirts with different sizes! Still wearing that shirt .
We know, it's pretty bad situation with limited chances to ride indoor here in Latvia in the winter time. Where do you ride when it is cold out?
– We have one good indoor park in Tukums – brand new! Aaand indoor in Ventspils, pretty sketchy, so the situation is not the best, but usually we go to our neighbors Estonians, they have few indoors.
In cold period (winter) we got lot of snow and all streets are wet, so there is no other choice than indoor..

Photo: Janis Dreimanis
What do you think about the whole economical situation in Latvia and the recession in most part of the world right now?
– Lots of nonworking people, who are getting angry, fighting just to get some money, and stealing… That definitely sucks.
Are you a contest rider or do you just like to chill and film for video parts?
– I ride contests, but i'm not really into it. Tthe best part of contests is traveling and meeting new people! I like filming, chilling, being lazy sometimes, hah, whatever – I just enjoy riding and being together with friends.
Can you describe your riding style? It seems you like to combine street and park moves.
– I like riding trails, parks and street, whatever, even a corb. Just need the right people, so it would be fun! Combine moves, yeah! I think park and street is pretty similir to each other, i guess that's the reason 
A good set of trails, street or park? What do you enjoy the most?
-Sorry, can't choose, haha.

Photo: Artis Ludbozs
If you had chance to ride any famous park,trails or street spot in whole world, what would you pick?
– I would love to visit Barcelona, seems a good place for street riding, some crazy stuff! Definitely The Unit, Greenvile looks such an amazing place and I guess Pinter's trails? There is so many different places i would love to go…
How do you like your bike built? Describe your current setup. Any modifications?
– Clean, noiseless! I amm getting angry if my bike starts making noise, so I'm trying to tight everything!
I know you have been brakeless for a while now. Why and when did you decided to take the brakes off? How has it changed your riding style?
– About a year and half ago I took them off after simpel session 08, I don't even know why. I wanted to try it and yes, it's a different feeling – riding brakeless. I think it changed for a reason, but not sure how.
Are you into listening music when you're riding? Any top artists, genres?
– I used to listen to music when i was riding, but now i'm trying not to, cuz i always ride with friends and its not good if someone talks to you and you dont hear anything, so i prefear riding without music now…
I like Lukestar, The Daysleepers, Blonde readhead, 65daysofstatic, The applesseed cast, The Mars Volta, lots of music 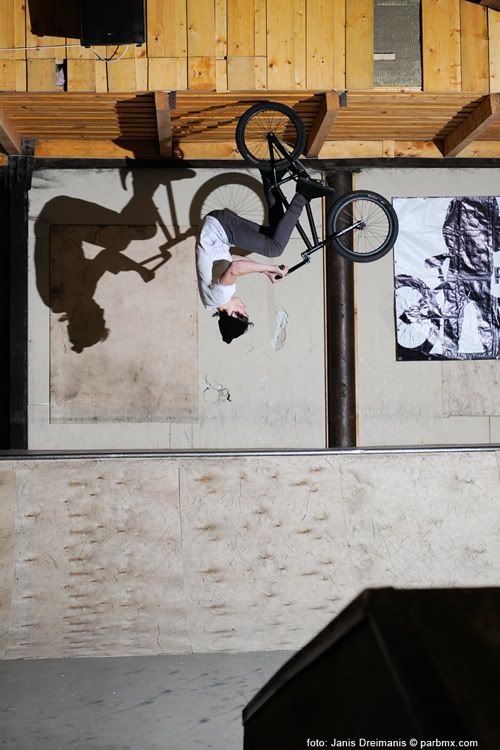 Photo: Janis Dreimanis
Have you ever had troubles with cops or random people because of riding so far?
– I'm glad I haven't had any problems with cops and other people so far.
What do you do when you are not riding?
– Meeting my girlfriend, visiting parents, school, watching videos, playing games, playing guitar, partying, haha.
Speaking of parties – when was the last time you got drunk?
-Simpel session 09! Good times, good times!
What does your girlfriend says about you and bike riding?
– Hmmm, sometimes she is afraid, but she really supports me, she tries to understand me! Thanks to her!
Do you like cooking? What's the best thing you can make?
– Yeah, homemade food is the best! I do like cooking, when i'm not too lazy! I can do a lot of nice stuff, practice, practice, haha.
Do you have any pets?
-Yes, dog and cat. Dog is called Maxis, but my cat is all black and both of them are small, love them!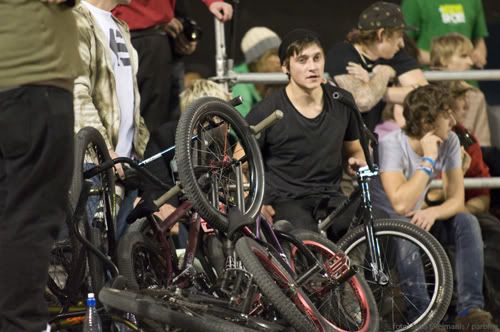 Photo: Janis Dreimanis
What are the most impressive videos/video parts you have seen lately?
– Props Road Fools 16, Kink Safety First, Brighton Aint Ready, Endsearch, These Days…
Any favorite riders? Riders you look up to?
– There are lots of good riders but I like watching Nathan Williams, Sean Sexton, Corey Bohan, Stefan Lantschner, Dakota Roche… There is too many to name them all, haha
How did the idea to ride the beach when it was freezing cold come to you? Pretty original, I'd like to admit.
– Haha, thanks! We have tried it already few years ago with friends, but this time we went riding to Ventspils indoor, it was closed at 15:00, so we had to find something else. Ventspils has a nice beach, so we decided to check whats going on out there and we found exactly what we were looking for – some sandy spots, haha. That was fun.
Ok, last question about your web edits. Tell me about that crazy gap at the trails in Ikskile?
– Hahaa, yeah, it wasn't the best idea, the landing was too mellow. I tried it few times till the last try … So when i went down, both of my ankles hurt so much that I couldn't walk for few days, but now I'm fine! I would love to try it again, just with steeper landing!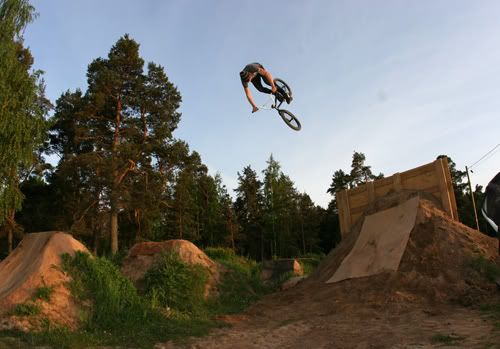 Photo: Artis Ludbozs
Your typical riding crew?
– Most of them are dudes from parbmx.com – Andris D, Kristaps S, Oskars Z, Ruslans K, Janis D, Aivars S, Ainars M, Raitis H, Janis Z. I think these are the usual dudes i'm riding with…
How are the things with your sponsors going recently? Any plans for the near future? Any signature products coming out?
– I could say that everything is fine… Were testing now Simple EZ stem what is my signature stem and soon we will have some prototypes of my simple frame, should be awesome, cant wait for it .
That sounds pretty good. Can you give us more information about that EZ stem?
– The stem looks pretty awesome, Niels is the man! Haha, the stem will be 49mm, as i like it, weight 236grams, its pretty short and nice .
If you could be sponsored by any company that has ties to BMX, what would you pick and why?
– Redbull, Carhartt, Eastpak, Orchid, Fox, Levis, Etnies, Vans – I like companies that make trips for the team, it's the best thing!

Photo: Rutger Pauw
Do you consider yourself the most stylish person on a bike in Latvia, haha?
– Fuck no! Haha.
What do you have to say to all kids taking brakes off their bikes, getting big bars and slim pants?
– Hmmm, if they like it – why not? But first practice tailtaps before doing tailwhips and flips. It's just because i see a lot of kids riding, who don't have brakes, doing tailwhips but they can't do a
tailtap…
What are the biggest inspirations and influences in your life and riding?
– Definitely my friends who i'm riding with! We started riding together and we still ride together, teaching each other how to do somethig, and how it would be better and and and, i think these are the biggest influences in my life. Thanks to my buddies!
Where would you like BMX to take you in future? Can you imagine yourself after 5 years? Have you thought about that?
– I'm not sure how everything will go, but yes, I imagine myself riding after 5years and even more… It's one of the most important things for me!
Who would you like to say thanks?
– Thanks for supporting to my parents (family), my girlfriend Ieva for beeing so sweet! Thanks to Niels Thanild from SIMPLE Bike Co! Thanks to Aivars Sneiders and Janis Dreimanis from PARBMX.com! Thanks to Krists Mertens from Sporta Manija bike shop! Thanks to Kristaps Pagrabs from REDBULL and thanks to my friends and everyone who have supported me! Thank you!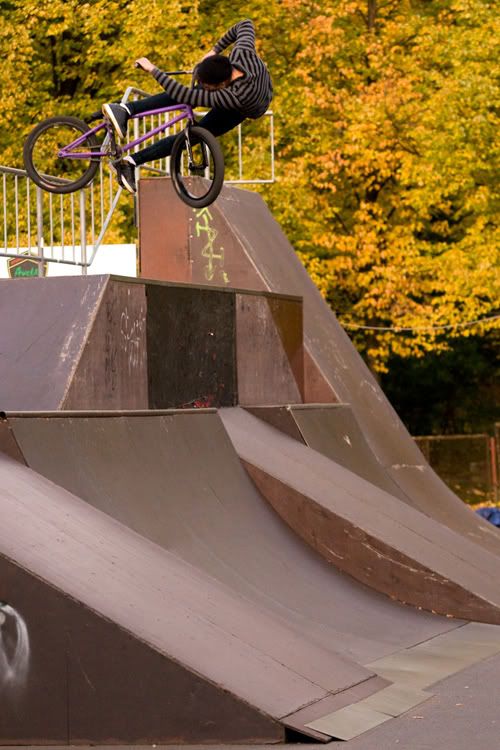 Photo: Janis Dreimanis
How would you like to end this interview?
– Enjoy riding and have fun!
Thanks, good luck, Edd!
Aivars Sneiders, Janis Dreimanis, the owners of PARBMX (http://parbmx.serveris.lv/).
When did Eddie become a member of your team and how did your cooperation start?
– We knew Eddie for a long time before we started distribution in Latvia, ride together and so. Thats why he is our member from the very begining. We thought that he is good. Thats all.
One of the first companies we started to distribute was Simple bikes. And this is where everything starts for Eduards. We told Niels about him. And everything started working for him.
Any products, trips coming out? Plans for 2009?
– Simple – EZ sig stem and signature frame from Simple bike co, counting days for the parts!
Anything else you want to add about Edd?
– Beside spending all time on bike sometimes he find a way to get to university. Thats great.
You have spent a while with Eddie, how many beers can he drink?
– We usually don`t count. Drinking beers with Eddie is always fun. He can stay up and have a great party all night. Girls like him.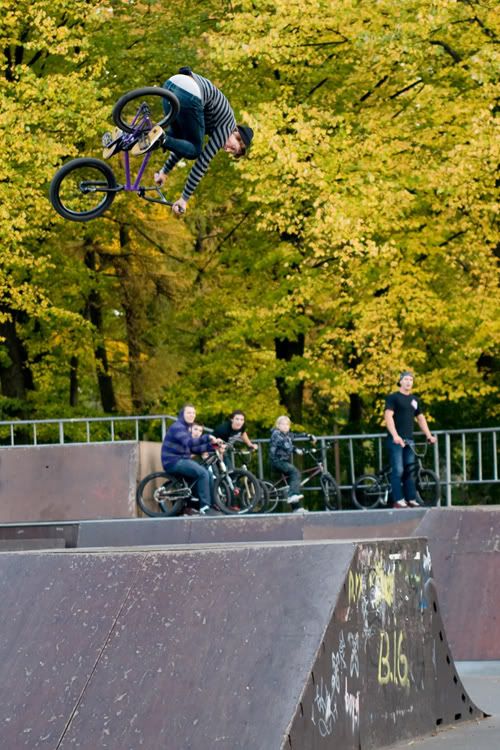 Photo: Janis Dreimanis
You can check Janis Dreimanis photo portfolio with some good shots of Eddie on Ridebmx site here: Ride BMX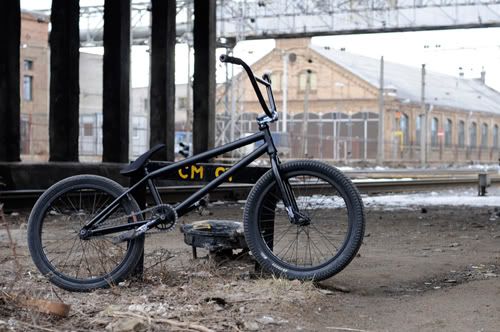 Photo: Janis Dreimanis
Bikecheck.
Frame: Simple Bike Co – Ace 21.1" Toptube
Fork: Simple Bike Co – Monarchy
Bars: Simple Bike Co – Jetset 8.5" rise
Stem: Simple Bike Co – EZ stem (which is Eddies Signature stem)
Grips: BlackMarket
Barends: Animal plastic
Headset: Simple Bike Co
Clamp: Simple Bike Co
Seatpost: Animal Pivotal
Seat: Federal Slim SL (with a lil bit of handwork)
Cranks: Demolition medial 2.0
Sprocket: Simple Bike Co – Copenhagen 27T
Chain: Shadow Interlock
Brake:less
Front Tire: Odyssey Mike Aitken PLYTE
Front Wheel: Simple Rim and Simple eject hub (36)
Spokes: Kink
Rear Tire: Animal GLH
Rear Wheel: Simple Rim and Simple hub (36)
Pedals: Animal plastic

Photo: Rutger Pauw