Eli Platt is a very interesting dude. Not only can he kill it on a bike, he is a very smart person. With so much going on with him I really was excited to get this interview because I personally have been a big fan of his riding. This interview turned out real good and I think you will like it. Let us know in the comments!
Name:
Ellison Platt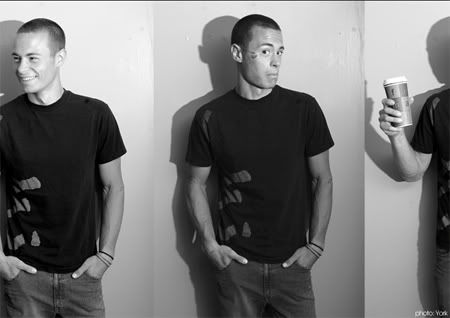 Photo:stolen from Micreation

Location:
Columbus, OH
Sponsors:
Subrosa, Shadow, Micreation, Lotek, Amy's Kitchen
Years Riding:
Not too sure, 10 sounds good.
What was it that originally introduced you to BMX and what keeps you at it today?
I grew up spending summers in Lancaster, Oh, and some kids I knew down there were into it. I just grabbed a hold of it and never let go. I was (and am) a bit of a loner, and was really drawn to the fact that it was something that I could progress at without a teammate or coach. I'm still into it for the exact same reasons.
Your riding has been very influential in BMX these past few years, did you ever expect to become one of the big dogs in BMX?
Um, first off, I think both of the above points are lies. Secondly, I feel like I am still just a kid looking up, daunted by what people are doing these days. Thirdly…..there is no thirdly.
Modest are we? I don't lie haha
You are one of the Subrosa crew members with a recently released signature frame. How are things going with them? What do you have planned? Any video parts/web edits, road trips, more signature goods, or cool stuff like that?
Subrosa has been, and is, amazing. I have so much fun with the guys on the team it is incredible. I believe a trip to Japan and a video coming next year are the only things upcoming that pertain directly to me. I'm sure a bunch more is in the works though, Ryan and the Sparky's guys always have something in the oven.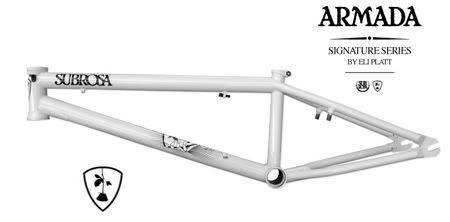 Eli's new frame!
How about things over at The Shadow Conspiracy? Anything exciting going on with them and you these days?
Shadow rules. I knew it would be a good time, but I had no idea. I seriously love all those involved. The team is full of some of the best guys I have ever met, and I consider myself lucky to even be on the same list as them. Sometimes I find myself sitting in a van with the dudes and thinking "what the hell am I doing here?". I just got back from my last filming trip with the guys, and everyone else is wrapping up as well, so the video should be out around Interbike. That is certainly the biggest thing going on with them at the moment.
You had your Micreation web video come out a while back which was great, do you have anything else coming from them anytime soon?
Thanks. I think we might be trying for some sort of shirt design that incorporates a quote I like, maybe a track jacket. I can't handle hoods getting in the way anymore, so we'll see. Dave has some other new designs in the works as well.
And once more, how about Lotek? Anything going on there?
I had hoped to make it to SF at some point to shoot for the video, but other trips and work obligations have made things really tight. We'll see…
Alright enough with the sponsors, what have you been up to lately? Any cool trips or experiences due to BMX?
I have just been travelling a bunch, primarily for the Shadow video, and other odds and ends. I spent two weeks in England just recently, and that was incredible. A huge thanks to the Seventies guys for that one.
What do you think has the most influence on your riding these days?
Martial arts and Jordan highlights. No doubt about it.
You have had the opportunity to ride some amazing places in your day, where would you like to go as time goes on?
Anywhere overseas. I crave the culture shock. I am happy cruising down a street in someplace entirely new, regardless of spots.
Who are some of the dudes you ride with more on a daily basis and what are some of the "usual" riding spots?
When at home I ride with some old friends, and riding quickly becomes a secondary to just shooting the shit. If I'm at home and want to ride seriously, I just cruise by myself. I can focus better that way. I live a mile or two from the campus, so there is plenty to play on.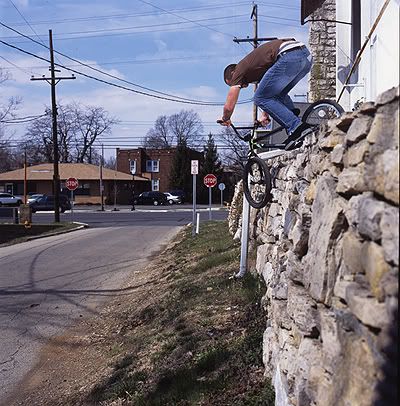 Photo: Stolen from Ride BMX
You have a lot of tricks in the bag, but what trick do you think you will never get sick of?
Popping a good hop out of a manual. I love it. I've grown fond of tables recently too. I suck at them by today's standards I'm sure, but I don't care.
Anything new you have been working on and kicking your own ass with?
I just took my brakes off, so pretty much everything is kicking my ass, and I love it. No room for slop, just control. The simplicity and consistency of my bike is an awesome feeling.
Do you ever get burned out on riding and what keeps that flame going strong?
Absolutely. Sometimes I can't stand it. But usually that is because I let a bunch of ridiculous stuff get in the way. Riding can be the simple thing it was as a kid, it just takes bit more work these days, and maybe some blinders.
Do you ever get into any of those bike games to play like foot down or b-i-k-e for a little fun?
No, actually. Maybe I should give those a shot….
What does BMX need more of and what could it use less of?
I have no clue. Anything I could offer would only be the opinion of one person, and that shouldn't carry much weight anyway. Let it be what it is, and take it or leave it depending on the outcome. I'm just trying to ride my bike down the street.
If you could have a session with any 5 people at any spot in the world, who would you pick and where would you ride?
I don't know where to start, but one thing is for sure, and that is that I would never be able to session with the dudes I chose. I would just want to chill and watch. I get shaky in those situations.
What do you think you would be up to if you never picked up a bike?
I might be in law school or something, playing basketball every now and then and yearning to travel.
Outside of riding that bike what are you up to?
Just working, running and reading. I have what must surely be a clinical addiction to running at the moment. My day doesn't begin without it, and I depend on it to get me feeling right. I'm absolutely loving it. I ran a bit over 40 miles last week (a personal best) and am thinking of maybe doing a marathon. Maybe.
Now that you are done with school do you still find yourself finding ways to teach yourself new things?
Definitely. I say pretty often that I study now more than ever. It was easy to slack off in school when grades were the measure of success and you got the grade, but now there is just fulfilling personal goals and exploring personal interests. That is a real workload.
Any plans on going back to school anytime soon?
After two years of trying to get into grad school and failing, I am taking a break. Philosophy is just so wildly competitive at that level that I think I need to bolster my resume, or perhaps I will just try for law school. But for now I am enjoying riding my bike and scratching the itch of the boy inside me. I'll grow up someday, but not right now.
What do you feel is the most important thing to find success in life?
Never letting the best part of yourself down. If, by your most exacting measure, you are content with where you are, then that is the only success that matters. We owe it to ourselves to wear ourselves down by our life's pursuits. Unachieved potential is such a waste.
How do you feel about politics and do you have any intensions on voting?
I am pretty into politics, and all I can say is that my hope for a better America lies in Obama. That man is awesome. Check out his book "The Audacity of Hope" and I think you will agree.
If you could change anything about the world what would it be and why?
I would get rid of the human ego.
What are some things you would like to accomplish in the next few years?
Build a foundation for long-term happiness and fulfillment. I know that sounds completely ridiculous, but I never want to be 40 years old and unhappy with where I'm at. Each day is a foundation for tomorrow, and I want to make sure I don't screw things up.
How are the ladies treating you these days? Any tips for success?
My girlfriend Celine is amazing. We just got a dog, so I think things are going pretty well. I got lucky, so I have nothing to offer in the way of advice. Seriously, I didn't and don't know what the hell I'm doing with the ladies, so I got nothing.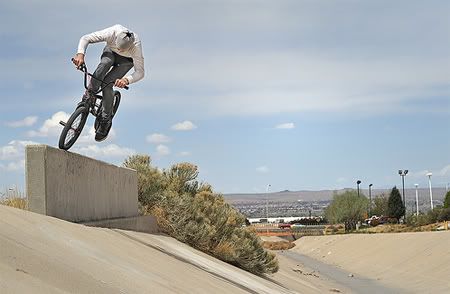 Photo: Chip Riggs
Who or what are some of the things that has had the biggest influence on your life?
My mom, BMX, working at a young age, X-men, basketball, my friends, Celine, Christian upbringing, Emerson, Thoreau, school….
What kinds of music are you into? Anything that you suggest people to check?
I'm into all sorts of stuff, and any day I may list off five different bands. Explosions in the Sky, Built to Spill and Eluvium have been constants for a while now though.
I feel like maybe you are into reading? Any books you think people would be into?
Yeah, I read quite a bit. I just read "Into the Wild" by Krakauer for the second time. I last read it six years ago and it had a big impact, and it is a trip to read it now through more mature eyes. I am also reading the Dune series by Herbert, and it is incredible.
Do you spend much time on the computer? Any favorite websites?
When things get slow at work I poke around a bit. I check out the Come up for one stop shop bmx news, then head over to runnersworld.com, fatfreevegan.com, or espn.com. I'm not on it much longer than that.
What is something about yourself that nobody would believe?
I couldn't even guess. I'm pretty believable on all fronts.
What is some of the best advice you have ever received?
When I was much younger and working at a bike shop with an older friend, I was slacking on something he told me to do it right. I asked him what the point was, saying it didn't really matter, and he said "because it's what you do". I'm sure he didn't mean it to have the impact it did, but it opened my eyes to the mindset of doing what ever it is you do to the fullest. Everyday is bursting with opportunities to see just how far you can push yourself and how well you can live your life, and that is something to take advantage of.
What kinds of advice do you have for the people reading this?
Disregard everything I have said.
Do you have any shout outs or thanks?
Thanks to Ryan at Subrosa, Ronnie at Shadow, Dave at Micreation, Rich at Lotek, Amy's, Celine, Azlan, Johnny Devlin, my mom, my friends, and anyone else I've ever met.
Anything else you would like to say?
Thanks for the questions and thanks for reading my ramblings.


(you may have to scroll over to Eli's video but it is worth it! Just click videos and go over to it!)