I spend entirely too much time on the internet. It's pretty aparent, I know that. There is one thing I do on the internet too much, and that is sit on The Come Up Board. There are a lot of real unique people on there, and one kid in particular who blows my mind. Eli, also known as EAT, has an insane progression level with a real good personality. I knew I wanted to get him some coverage. I had some help from some of the guys on the board, so there are some interesting questions and some stock. Check it out, and let him know what you think in the comments.
Name:
Eli Taylor

Location:
Sarnia, Ontario, Canada
Sponsors:
Nadda
Years riding:
About 2.
What was it that first got you into BMX anyways?
I had this specialized mountain bike, and had wanted to try bmx for a while. My cousin had wanted a mountain bike, so I traded him for his OG S&M dirtbike.
I usually don't ask how old people are, but I have always been curious?
I am 15 years of age.
You are pretty well known on the forums from your edits that you have made as the kid who progresses super fast. What do you think it is that makes you progress so fast?
I am not sure really, I guess it could be because I have never really worried about the consequences, if there is something I want to try, I usually don't give my self time to think about it, I just go for it.
What are some things you have been working on trick wise lately? Anything that has been killing you that you want to get dialed in?
I don't remember the last time I learned a new trick, haha. At the moment I am not really trying any new tricks. Maybe once winter is over so I can get out to the streets.
You have a real unique style. Was there anything that really played as an influence on how you ride, like a certain pro, or was it just something that you naturally figured out?
Thanks, And it has really just came natural because I have never focused on trying to copy a pro o ride like them. I also think that riding a coaster has made my style much more diffrent than it would be if I rode one of those hubs you have to pedal backwards on.
What is the scene like from where you are from? It seems like all the ramps you ride are home made and there is like one other guy you ride with?
Haha, I dont even think I have a scene where I live. I live in a hick town of like 4000 people, most of them being farmers. There isnt many riders here, I really only ride with 2 of my good friends. And yeah, I do ride alot of homemade ramps, the reason being is because if I didnt have my mini ramp in my yard I doubt I would ever ride when I am at home. My town doesnt have a skatepark, and the only street we have is curbs. And dont get me wrong, curbs are fun, but after riding the same curbs for 2 years they get really boring.
Have you had the chance to travel much yet? Do you have any trips you would really like to do soon?
I havent had the chance to really travel that much at all. Right now I just want spring to hit, so I can get out to some more cities around me and get some street steeze happenin.
You are one of the few riders who rides with a helmet on the majority of the time. Why do you wear your helmet all the time and how do you ignore the pressures of not wearing one "like everyone else"?
I would have had so many concussions If I didnt wear one regurlarly, because I do not think I have met a rider that hits there head as much as me. aha. It has saved me quite a few times, and I honestly don't care to be like everyone else so the pressures don't get to me.
If you had to pick riding park or street, which one are you a bigger fan of and why?
Street all day. I just love riding stairsets and exploring new places, finding new ways to use setups I overlook any other day. Its just way awesome.
You will be riding in Notro this year. How stoked are you to be going to a contest like that and how do you feel about contests in general?
I am pretty stoked on it, I am not sure what it will be like but I hope it deece. Contests really aren't my thing, all that Dew Tour quad tailwhip 900 to barspins stuff isn't for me at all. I am riding in Notro because I have heard it is not really like a contest, well it is, but I heard most people are there to chill, ride and have fun.
I heard you were originally riding a flatland frame. Was that intentional or something where you just rode what you have? What are you riding these days?
Yes I was. It was a WeThePeople Div frame, Travis Colliers signature one. And it was intentional, when I bought it I was 5 feet tall, I dont think any taller. I was a wee little guy so it fit me really well, Allso at the size I was I thought it wouldnt hold me back like a bigger frame would. I am currently riding a Sunday wave. I love the frame, its amazing.
What is it that inspires you to ride? Do you ever get sick of riding at all?
Riding is fun, and I don't know there is just something about it that makes me do it, haha. And I may not get sick of it, but sometimes I would way rather hangout with my friends and watch TV and play video games.
Are your parents pretty supportive of what you do? How did you convince them to let you have a mini ramp in the back yard?
Tracey and Randy are great, they are real supportive. I always had some type of ramp in my yard which was fine with my parents. My rents always wanted me to keep them as small and out of the way as possible, but they eventually got bigger and bigger.
If you could change anything about BMX would you? If yes, what and why?
Most people would probably say there is too much hate in bmx. But theres always gonna be haterz, so people need to just stop caring. More creativity would be good, Chase D for example, the dude is insane on a bike, but there is like 1000 riders out there that could be mistaken for him.
What do you think you would be up to if you never got into BMX?
Aye, most likely skateboarding.
You have been putting together some pretty solid edits lately, what got you into filming and editing?
Thanks dude. I think bmx does that to you, most likely if your a bmxer you have taken a photo or made a video before, I found it fun at first, so I kept doing it.
What kind fo a camera do you use? What about editing equiptment? What is your dream set up for a camera?
I have some canon camcorder, and what I have used recently a kodak digi cam. Not amazing by any means, but it gets the job done. I edit my stuff with sony vegas, its awesome. I would want one with real good quality and was pretty resistant to being dropped and such, something like a GL-2 maybe.
I know you check The Come Up, so what other websites are you into?
I do go on TCU I also check bikeguide, ride bmx sometimes, youtube, stuff like that.
How do you feel about school? Do you see yourself going to college after high school?
School is alright, It can be fun somtimes and suck other times. And I have absolutly no idea what I want to do when I am older.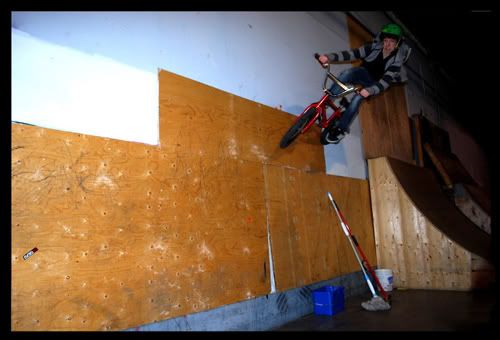 If you found a bag full of money, what are the first 5 things you would buy and why?
Depends how much skrill was in the bag, but most likely a whole lot of candy, a large freezer full of various Dairy Queen products, maybe some electronics, things with motors, and probably buy a house in a warm place if there was some left.
If you could spend the day with anybody in the whole world, who would you pick and why?
Way to many people to choose from.
What are some of the biggest influences on your life?
The parents and my friends.
If you could change anything about the world, what would you change and why?
People need to be way less caring of what other people think of them.
Do you have any shout outs or thanks?
You, Kurt for this interview, Randy and Tracey for being dope, Pickard for being cool, Dallas for being legit, probably lots more, Jared, Zach, probably lots more, you know who you are.
Anything else you want to say?
Canadian winters suck. Once spring hits I hope to have some new non-indoor riding videos and pictures.