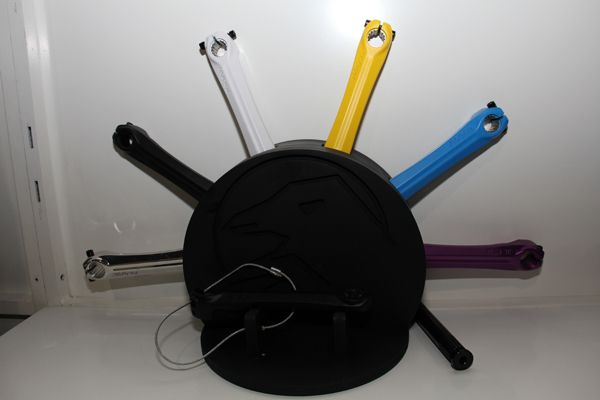 As expected, The Shadow Conspiracy has a TON of new goodies to offer up for 2012. Ronnie Bonner and Ryan Chadwick gave me the low down on the newness and I shot a ton of photos of what they have to offer up. Let's take a look, I think you will be stoked on this…
UPDATED: – Missed the multitool some how and got Drew Bezanson's brakes in at the bottom!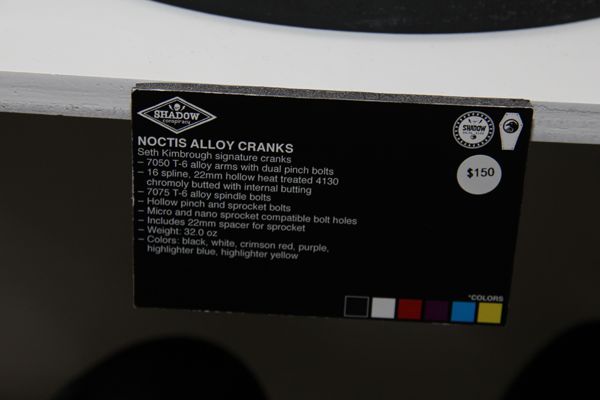 Seth Kimbrough's Noctic cranks aren't "new" news… but there's a look at all the colors they are available in for next year. There's some black ones in there too.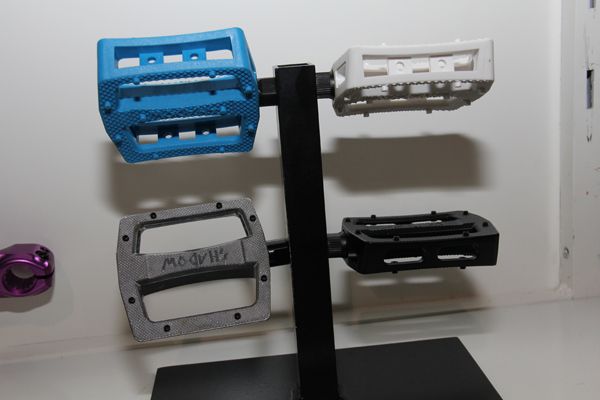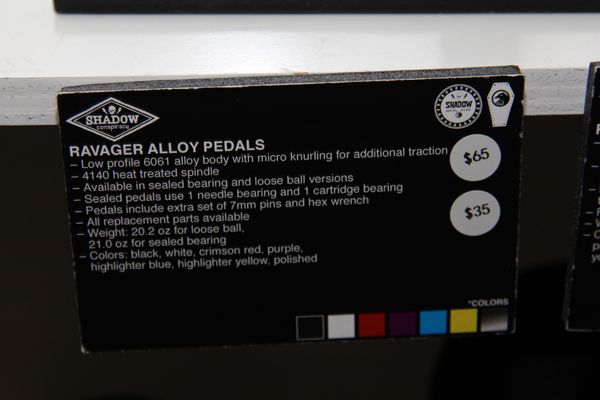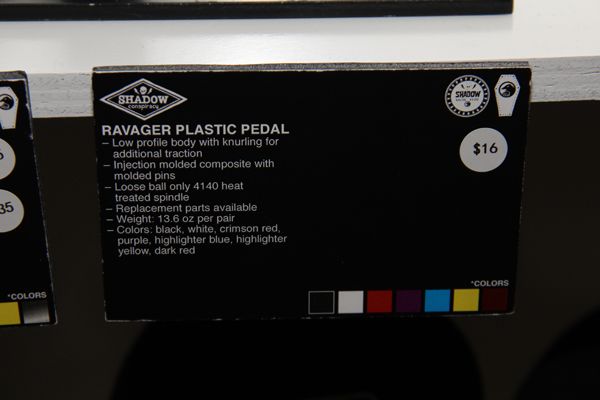 Plastic or metal? What color do you want? Plenty of options for anyones taste.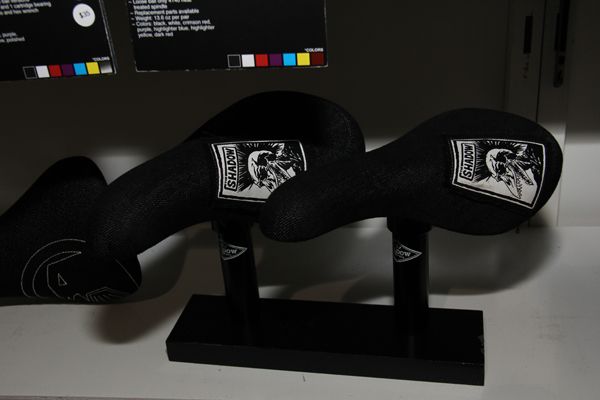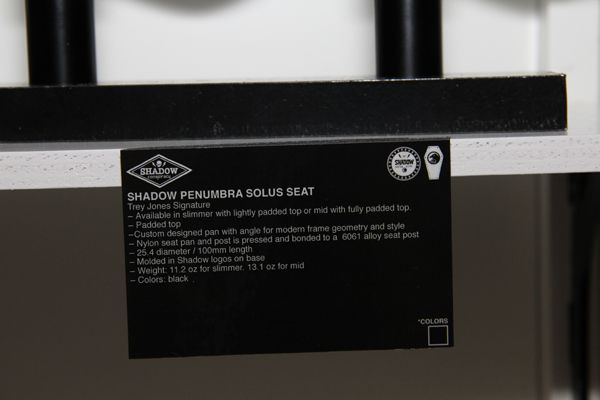 Here's a look at Trey Jones' new seat that will be coming through.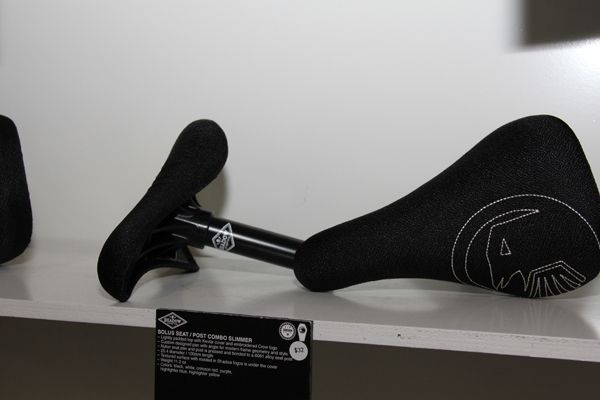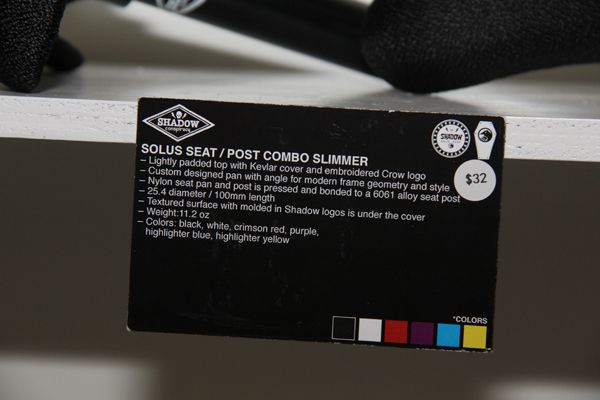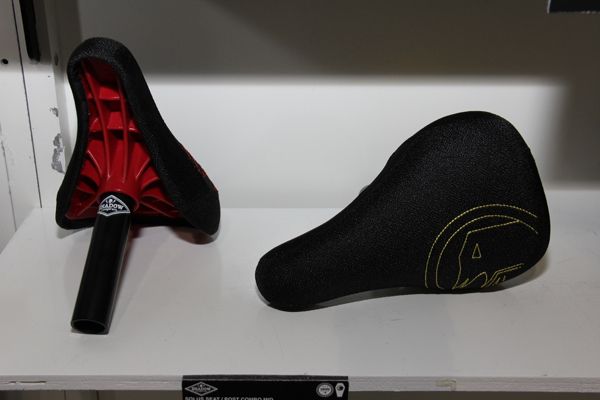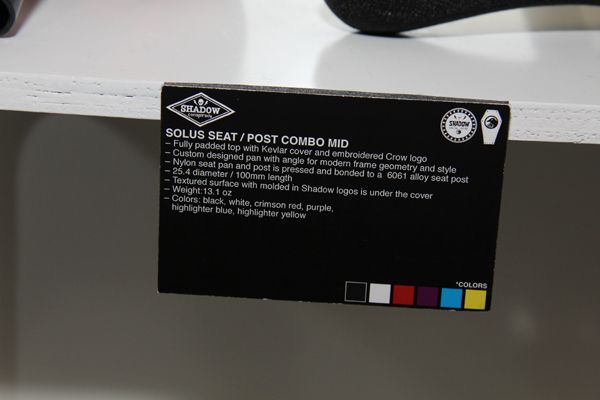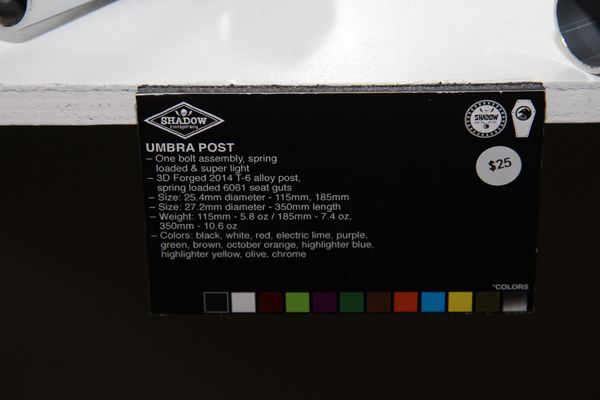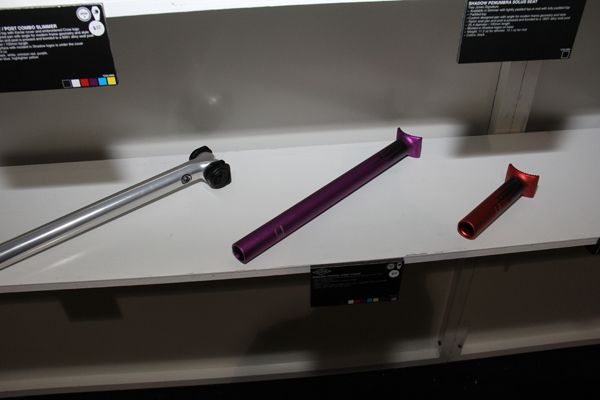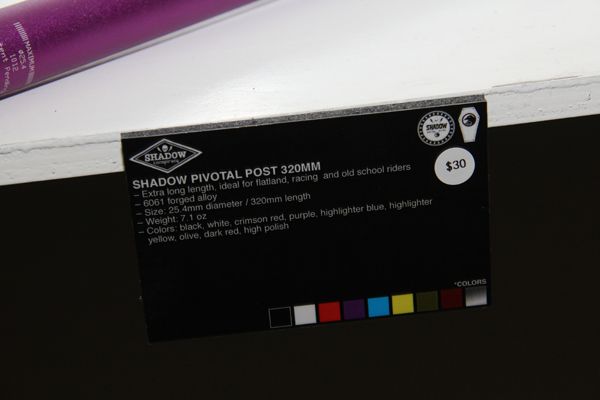 Seatposts for the pivotal or railed people.. Low seat, high seat. Options.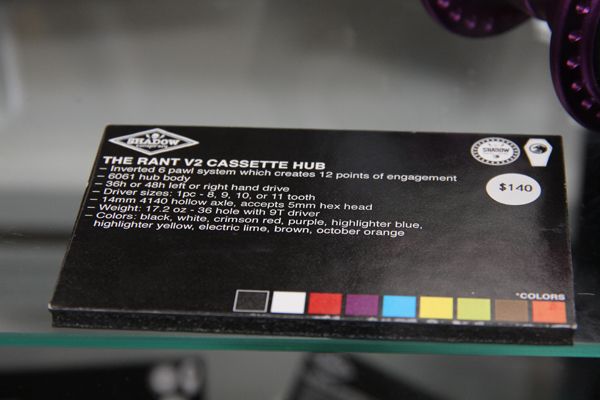 Not the best photo, but here's a shot of Shadow's new 3/8th's axle converter. Basically, their Rant hub is now convertable for the riders out there looking to run 3/8th's axles in the rear. Slide the 14mm out, drop in the new 3/8th's kit. Real simple.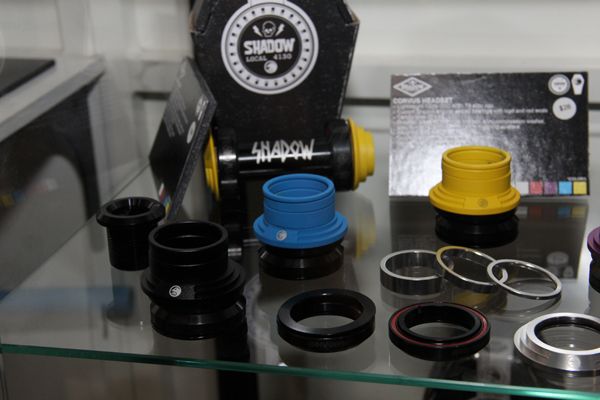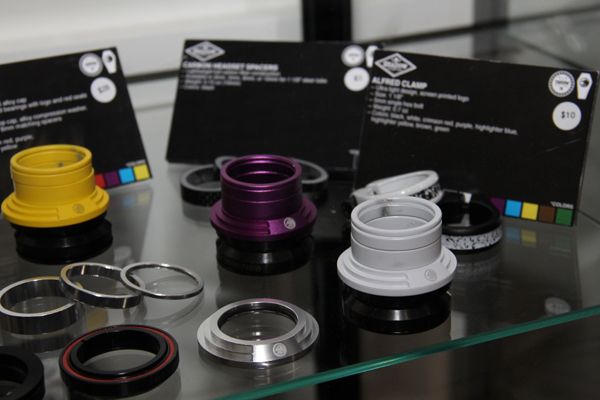 Headset's and colorful spacers.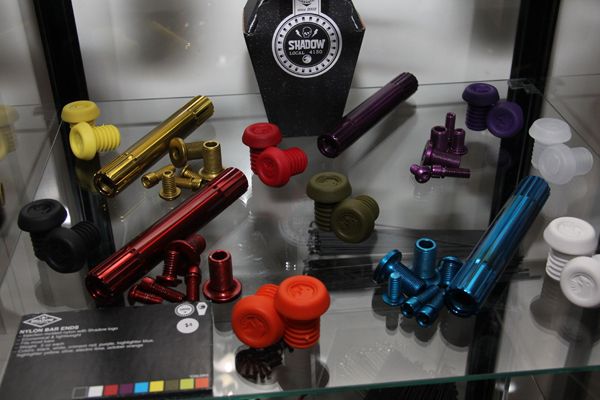 Colorful replacement crank spindles and bolts. Bar end color options as well.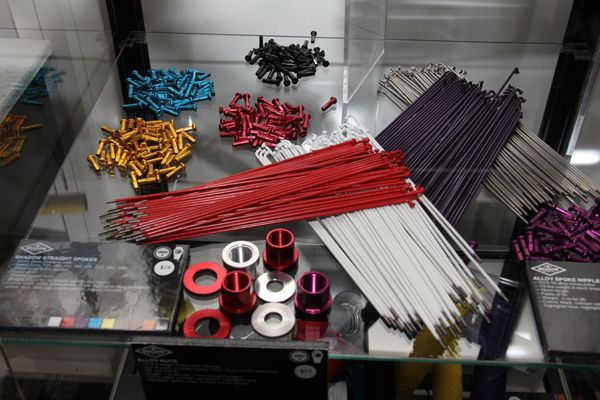 Spokes and nipples (giggity…) in an assortment of colors.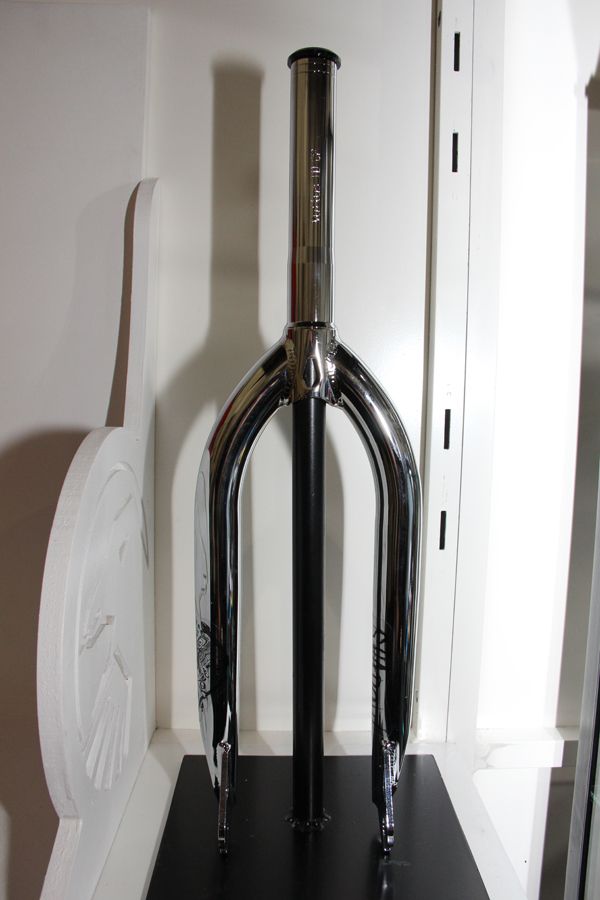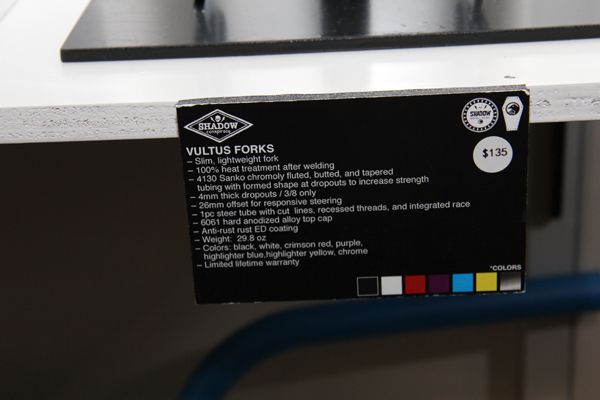 The Vultus forks that have been out for a while. I've been running these for a few months and I'm psyched on them. Want to know more? Here's a review that I did.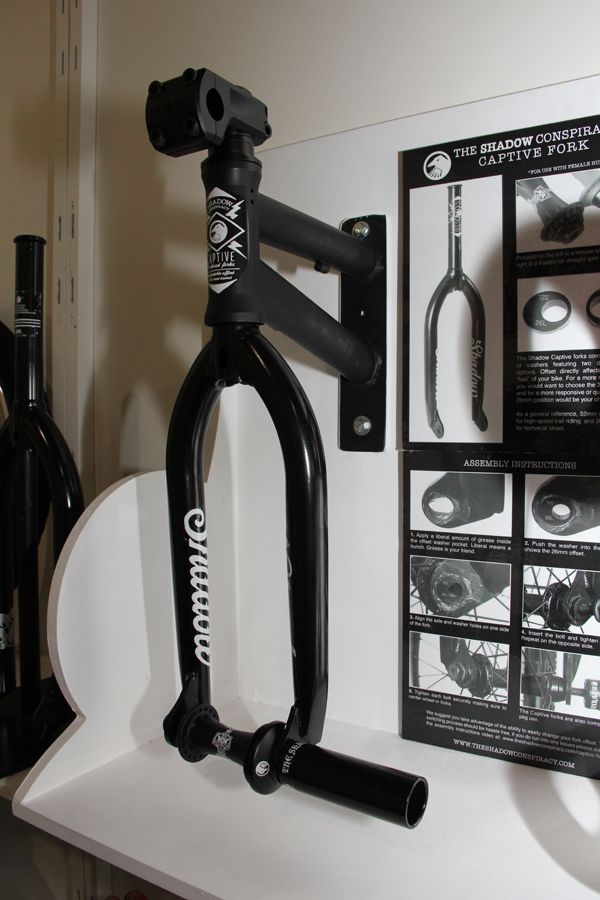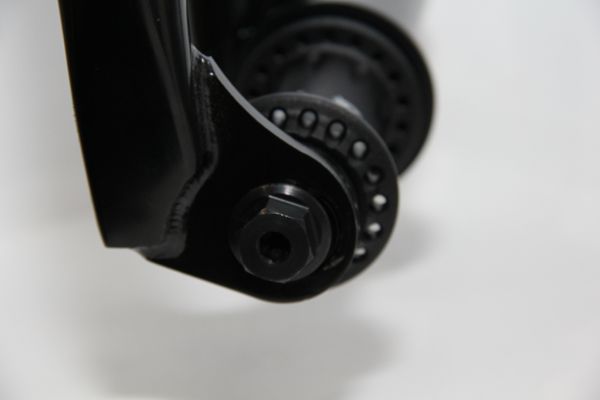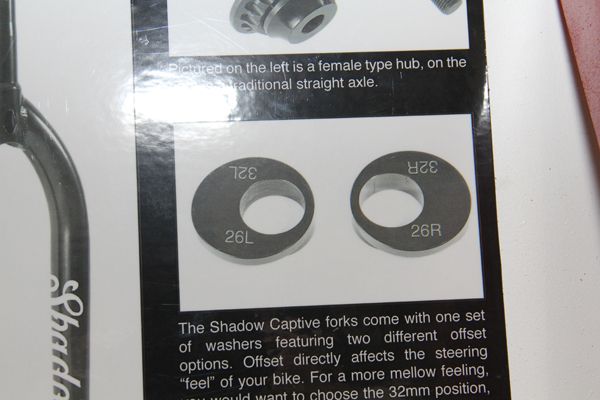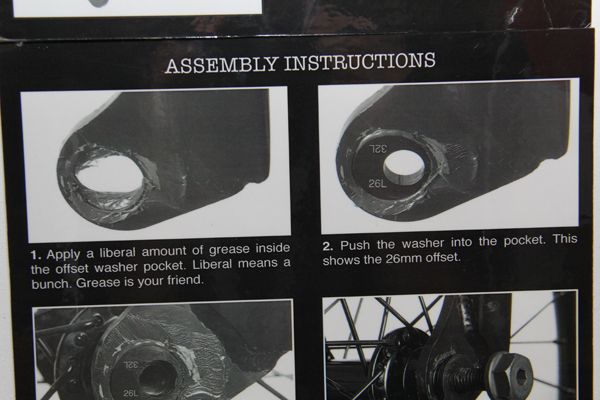 The Captive forks aren't exactly "new" news either, but they will be available soon. These forks are unique because they offer 28mm offset an 33mm offset in one fork. Basically, these forks only work for female axles, but all you have to do is pop out an insert and flip it around and you have changed the offset of the fork. 33mm for a traditional feel, good for trails or 28mm which gives a more responsive feel and makes tricks like nose manuals easier. You can find out more information right here.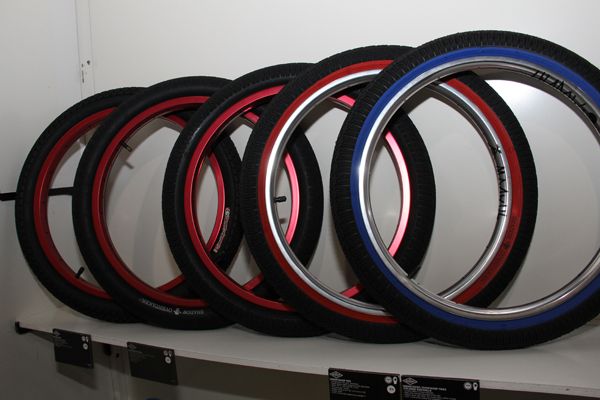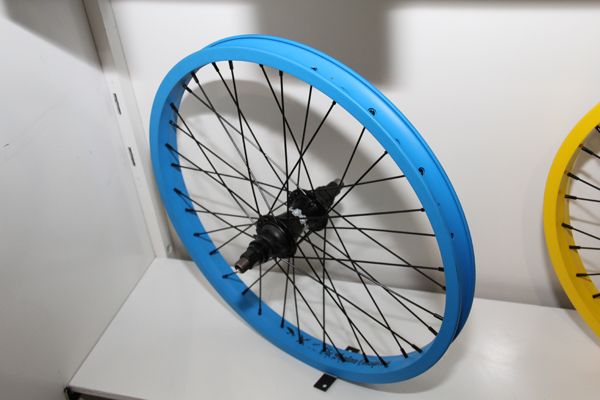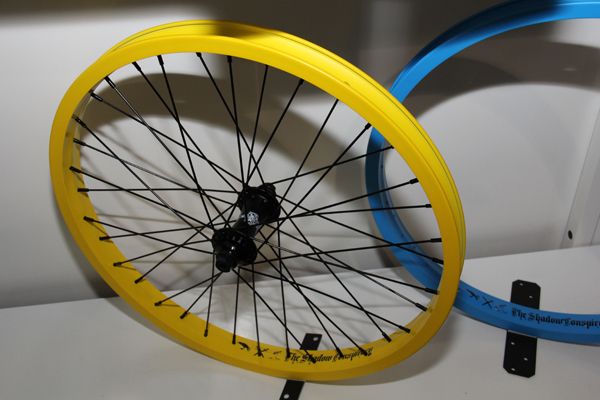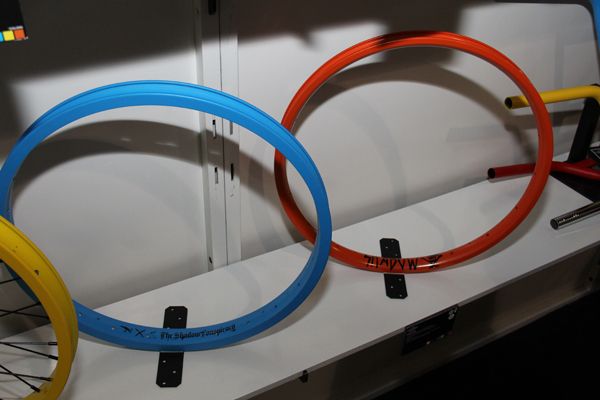 Colorful rim and tire options.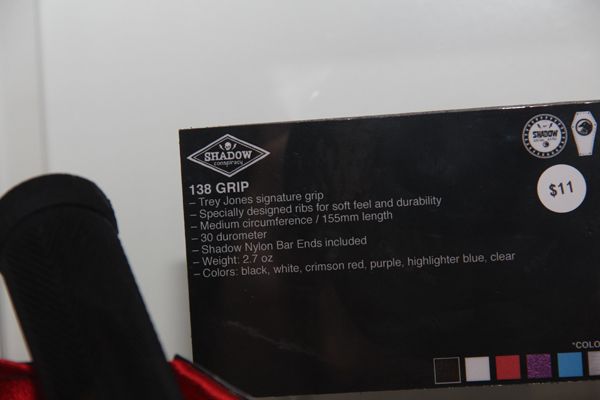 Trey Jones' new signature grips. From what I hear, Trey worked super hard on the design process of this and was there pretty much everyday making tweaks and adjustments to make it perfect.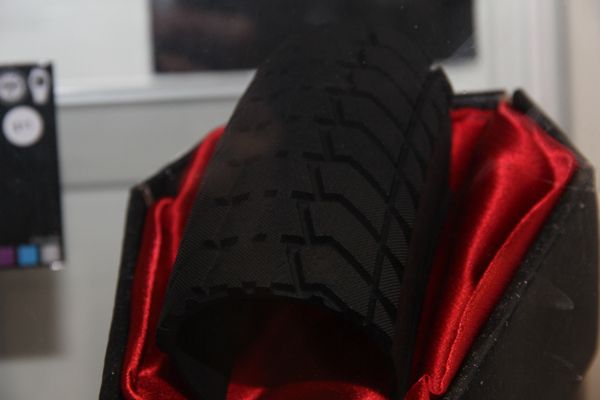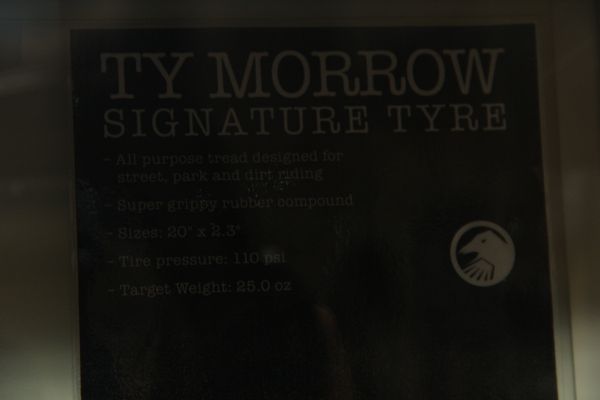 Sorry for the dark photo. Here's a sneak peek shot of Ty Morrow's new tire that is in the works. It sounds like Ty took a while to draw out the design of the tire and everything. I wonder if these come with a spring? Maybe that's how he hops so damn high…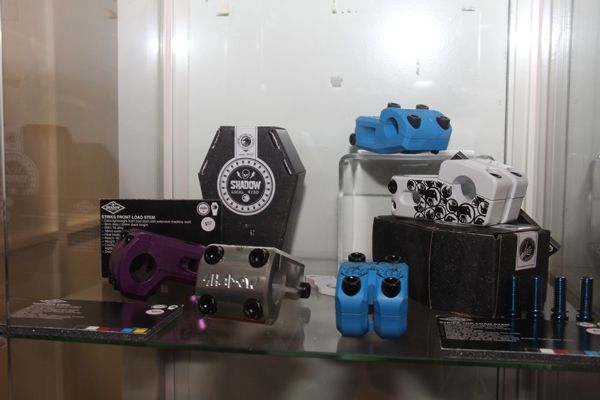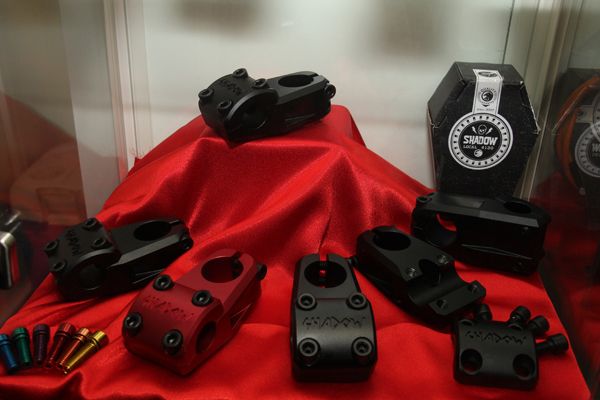 Stems… No big changes and have been out for a while. Digging the new packaging though.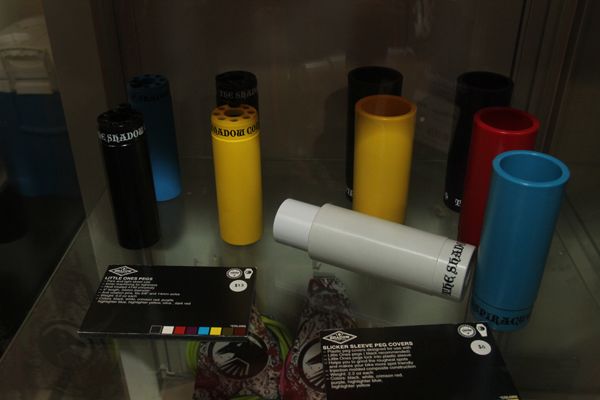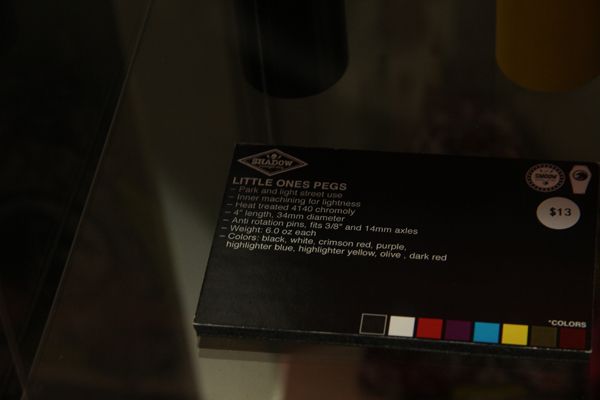 Pegsies.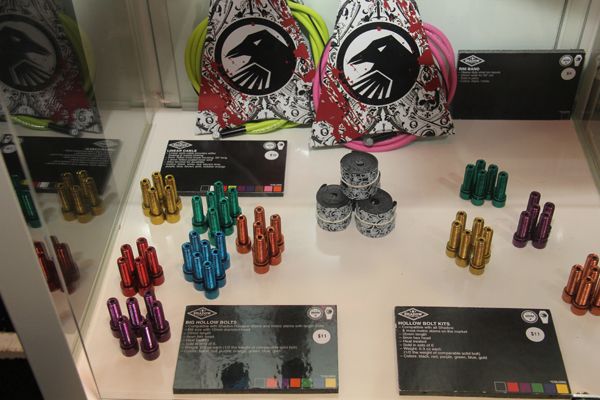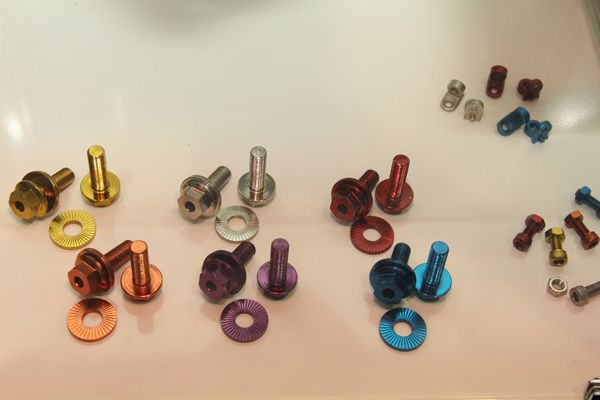 Rim strips and replcement stem and axle bolts.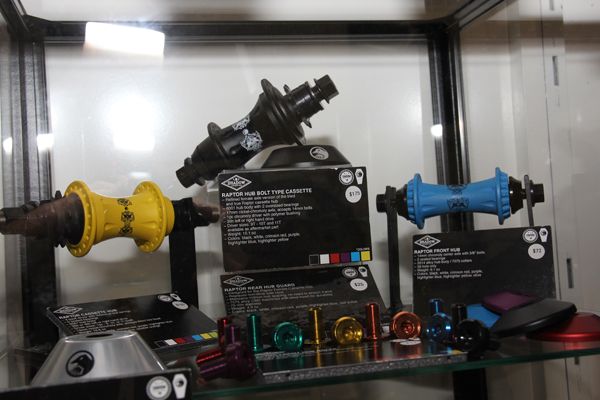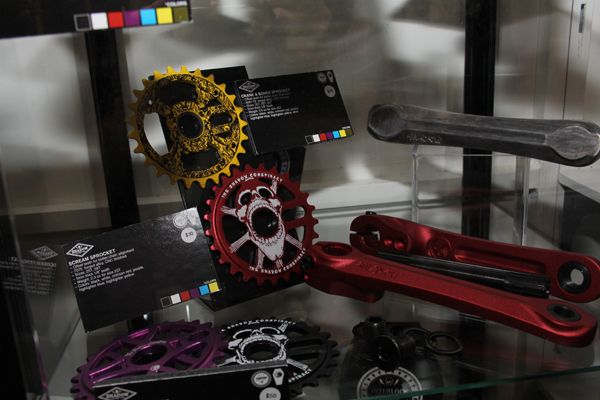 Scream sprocket? I don't remember that one being in the lineup…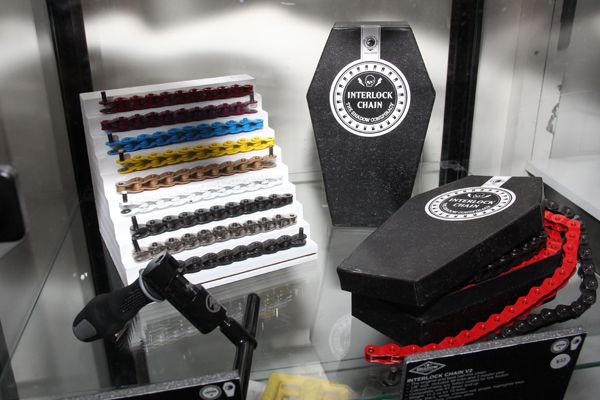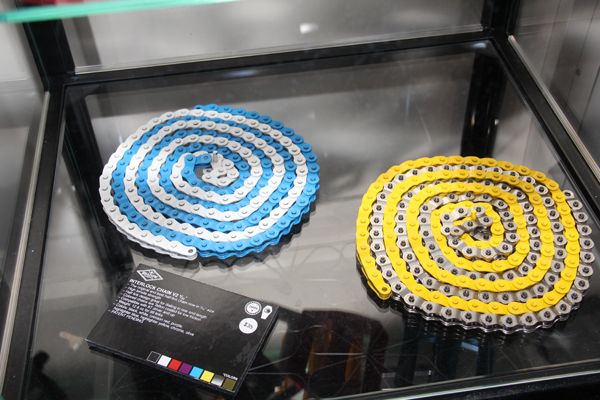 Ah, here's something new. No, not that the halflink has new colors… but they will have a 3/32nd's version of the halflink coming through soon. This will work for racers and well, whoever runs a 3/32nd's sprocket/driver. It sounds like Mike Cottle has been running one of them for a while and had 0 problems besides having to machine down his sprocket and driver… It sounds like they are just as strong as the regular 1/8th's version too. Rad.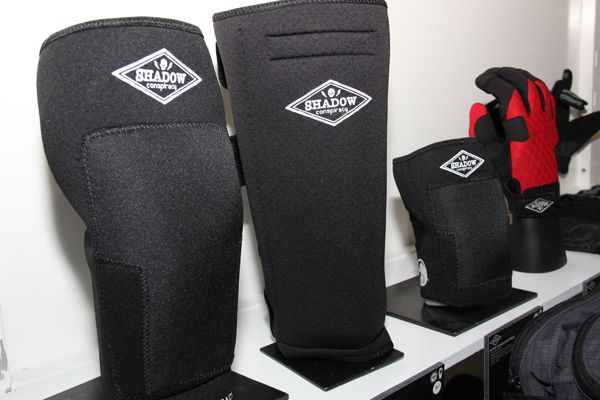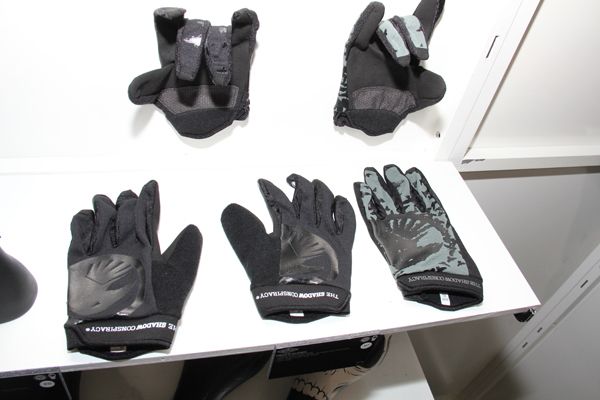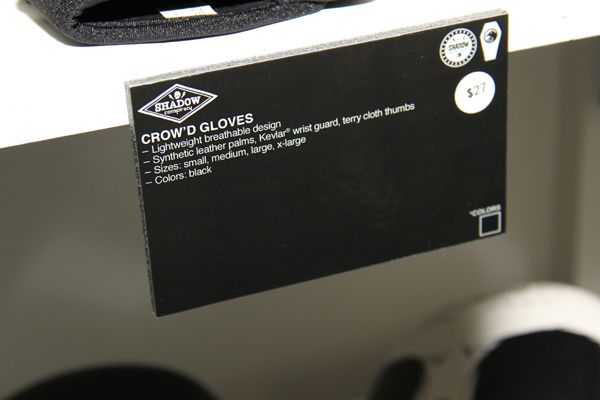 Pad up!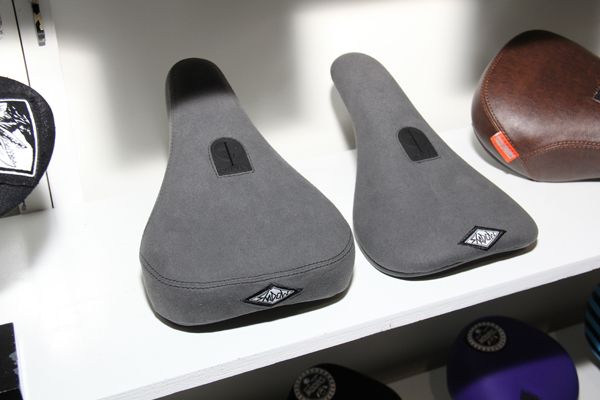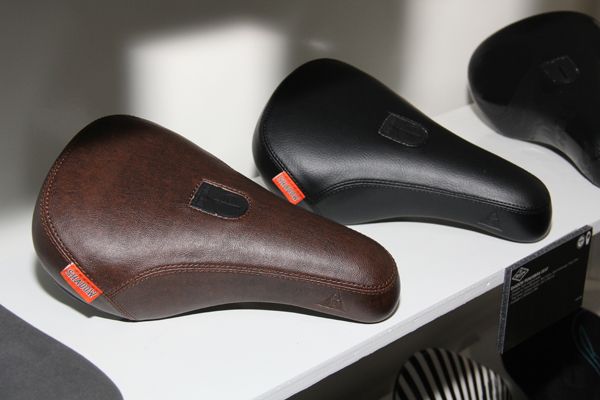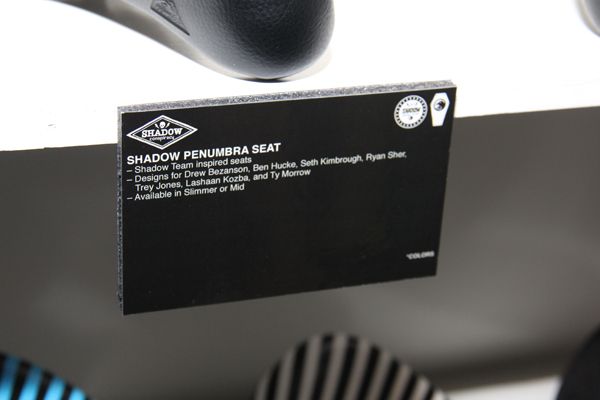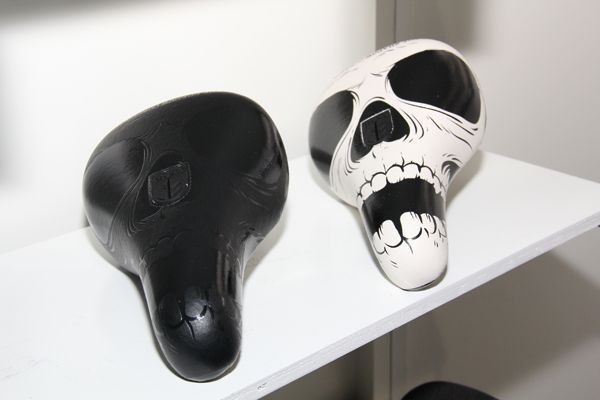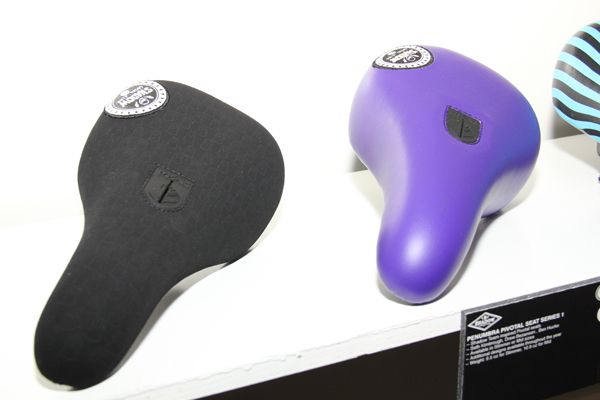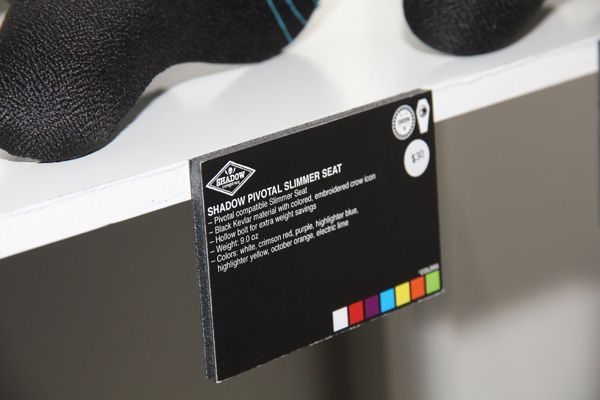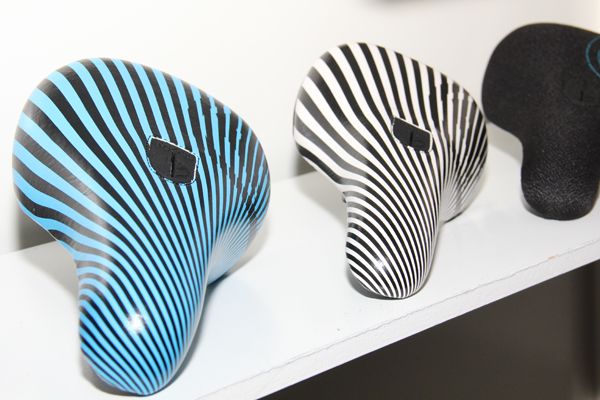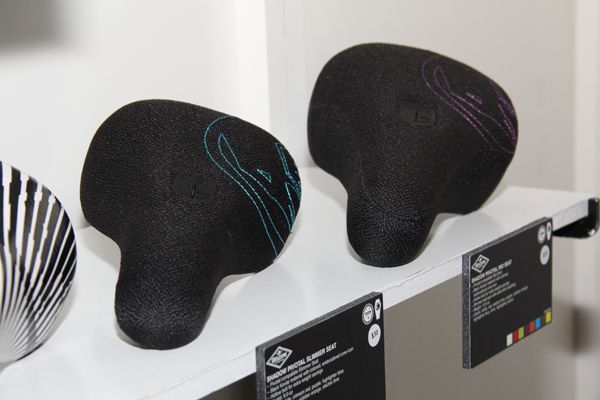 Ah, shit. I goofed up the order. It's not my fault. It's that the booth was crowded. If I remember right, the grey seat is Lahsaan Kobza's seat.. One's Ty Morrow's new seat… One is Seth Kimbrough's… My bad on this one. Either way, psyched on the grey one.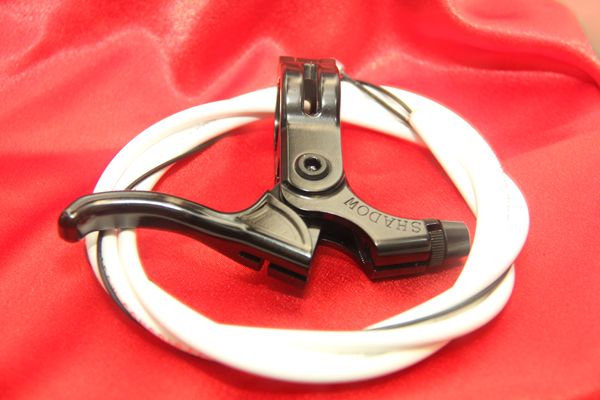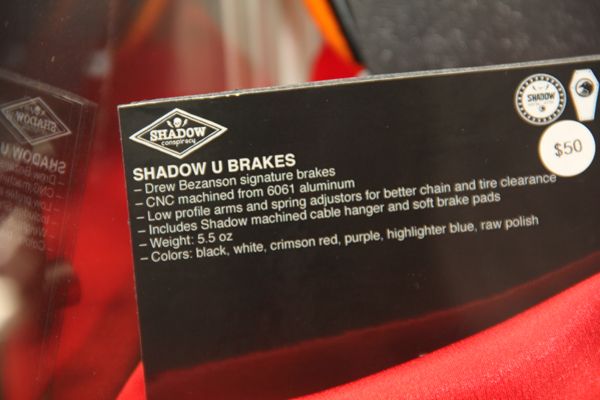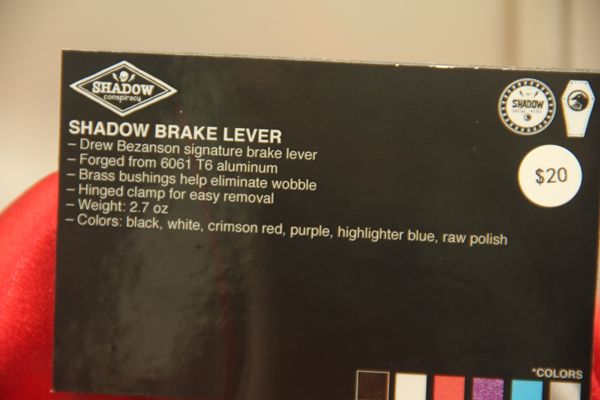 Boom. Got some shots of Drew Bezanson's signature brakes and lever. I'm telling you… brakes are coming back!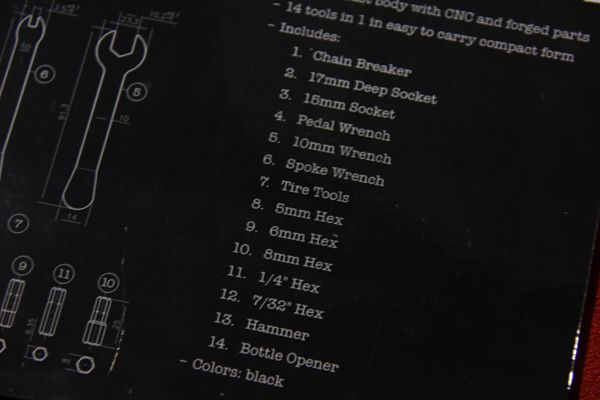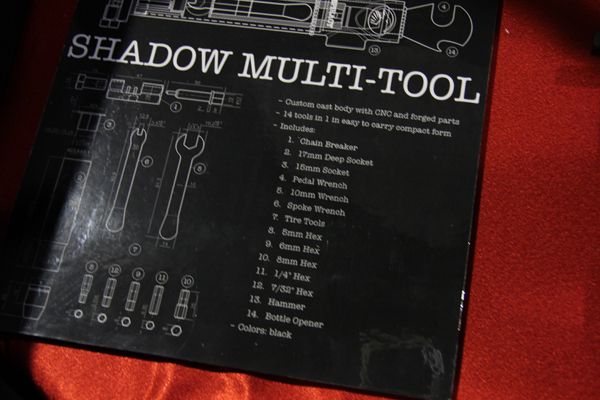 Shadow is making life easy!
All right, so that's what The Shadow Conspiracy had at their booth.
Let me know if you have any questions!