It was pretty funny how I first really got to know Francis. We had talked a few times during Interbike, and then I bumped into him at the Mosh party at the Hard Rock. I was with this girl I met on the plane and she was looking to get her drunkness on. It just so happened that we were all not looking to blow our money at the bar and there was a bottle hidden behind a bush in the parking lot. I wonder who put that there? Minutes later we are hanging out in the parking lot and we started talking about doing an interview. This is what comes from meeting people in awesome situations. Enjoy.
Name:
Francis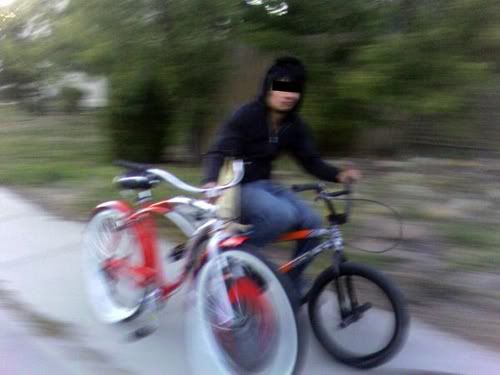 What was it that originally got you into BMX?
When I was 11, I basically exchanged a video game for a Huffy from Target. I had never owned a bike before and didn't even know how to ride one so I figured I'd give it a shot. By sunset that day, I was literally addicted to how it felt to pedal. About a year or two later, I discovered BMX. It came in the form of the 1996 X-Games and watching Mat Hoffman blast the vert ramp with a broken foot. In between his runs, they'd show clips of his foot, all swollen and blue. He always had a smile though and that's what sold me on it.
You are the man behind the new Odyssey website. How long have you been working for Odyssey and what is your job title?
Yes, I am. I've officially been at the office since August. My professional job title is "Website Guy." Please send all death threats regarding flash websites to: heywebsiteguywhydoyouhavesuchalongemailaddress@odysseybmx.com.
Back to riding, living in California I imagine you don't have much trouble finding something good to ride. Where are some of your more common stops when it comes to riding? Do you have some usuals you like to ride with?
Downtown Long Beach is a few blocks away from me, so I cruise around there a lot. Fudger and Jeff Z live in town so I try to tag along with them as much as possible. They're fun to ride with and know where all the good spots are. Sometimes we head out to the Santa Monica park and Bauer's usually over there. That always ends up being a fun session. If I'm riding by myself, which happens often, I usually just head out the door and start pedaling fast at a crack on the side walk or a curb cut. Then I just ride around aimlessly.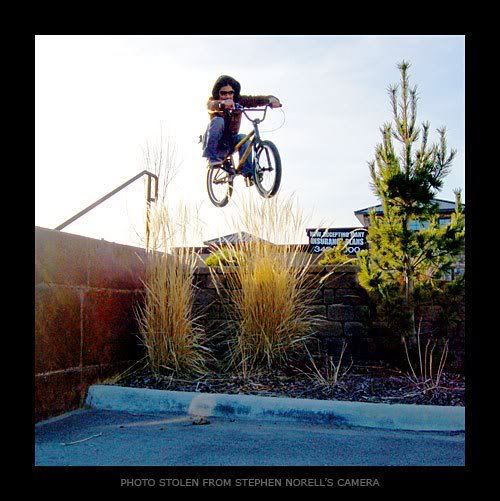 Photo by Stephen Norell.
Circa March 2008.
I have this thing called Radial Tunnel Syndrome and it basically restricts the movement of my left hand (I can't open it all the way). I didn't think it'd screw me up as far as riding goes but it has a huge affect on how I hop and land. When the syndrome was at its worse, my hand used to spaz out on harsh impacts and just let go of the grip at the most inopportune moment. This little drop was taken after my surgery and it was basically just a test to see if my hand would be able to hold on. It did but it still hurt and tingled like hell when I landed. If you look at my left-wrist, it's bent all funny 'cause I didn't have full control of it.
I know you made it out to Interbike recently. Do you have any other trips you are looking forward to?
Not really. I'm going home for Christmas so I guess I have some drunken kareoke to look forward to.
Where are some places you would really like to experience?
Outerspace. Deep sea. Some tiny, deserted tropical island that maybe has a coconut tree to take a nap under. The roof of the world's tallest building. Some crazy ancient structure that hasn't been tapped by tourism. Canada.
If you could be capable of riding like anybody else, who would you pick and why?
Mat Hoffman.
Do you worry about kicking ass and trying to progress or are you just a chiller?
I like to progress but I try not to sweat it. Half the time I'm just trying not to regress. The other half is spent skidding, bunny hopping and/or doing half-assed table-tops.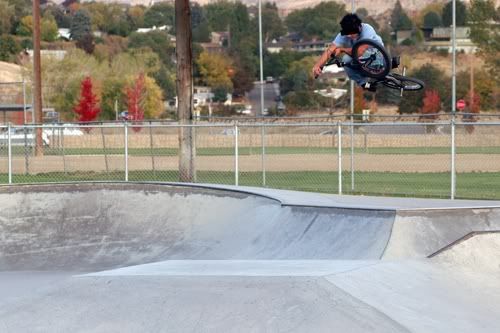 Photo by Andy Pecchenino
Circa 2003
I went to 5 different dollar stores in search for those spoke-e-dokes.
Have you had the chance to beat yourself up much? Any injuries worth sharing?
I knocked some teeth out at the Ride 150th Issue party. I'm the guy smashing his face on the ground at the end of the video… That one gave me stars and tunnel vision. The funny thing about that crash though is I didn't see it coming at all. I thought I was going to eat shit on the wall-ride right before.
Seeing as you work at Odyssey, if you could have any signature part what would you make with the help of Ben Ward?
180mm cranks, a coaster brake and a belt that doubles as a bike-lock. Ben teased me for wanting 180s though and I don't think he's too into my coaster brake idea either. I haven't brought up the belt thing yet…
If you could change anything about BMX, what would you change and why?
There's a lot of silly things going on in BMX, but on a personal level, I don't see a need in changing any of it. BMX is a sacred entity and it's at a place in my heart that nobody can ever touch. People can bitch and complain about things all they want but as long as I have a bike to ride, I couldn't care less. Some other kid's bike, attitude, pants or anonymous internet comments aren't going to affect my hop.
Photo by Jason Richardson
Circa 2003
Haro Grinddisk!
What do you think you would be up to if you never picked up a bike?
Either a lawyer, a doctor or a magician. Probably all three.
Outside of work and BMX what are you usually up to?
I started getting into reading for recreation again. I used to try to avoid it at all costs 'cause it cramps my productivity. I don't mind it too much now, it's good for the soul. Other than that, if I'm feeling ambitious, I try to shoot photos. I'm a fan of arts and crafts type of stuff too.
When did you first really start getting into computer stuff?
Back in the days of D.O.S.
Did you ever go to college for web design or was it just self taught?
If I start typing on this subject, I won't be able to stop. Lets just say I did both.
If you weren't able to work at Odyssey, what do you think your dream job would be?
On my resume, under career objective, all it says is, "Become a financially secured hippie." I'm not really sure what that entails but I'll probably strive for that. A transient lifestyle seems interesting, too.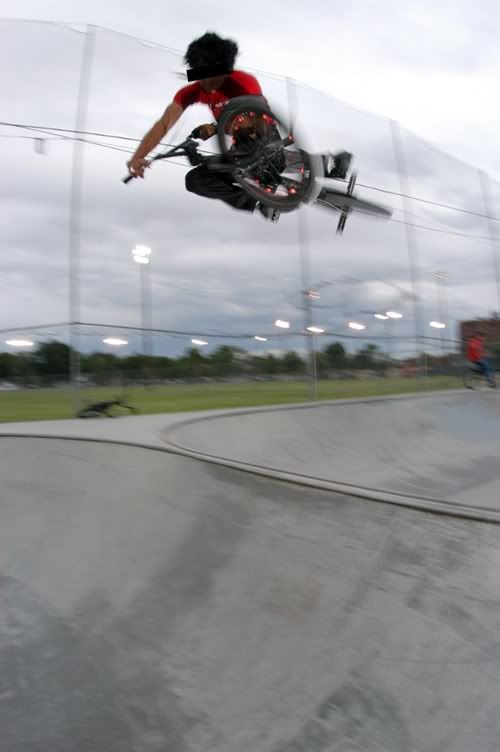 Photo by either Andy Pecchenino or Steve Norell
Circa 2003.
This is actually in the middle of a 360. I learned them that day and found out I can't turn my head into a spin while doing tables.
Have you ever been in a fight or arrested? Care to elaborate?
I've never been in a fight but I did get arrested once for resisting arrest… I'm still not sure how that was possible. It's considered a felony and when I went to court to fight it, they brought up all of these other ridiculous charges on me. There was some weird loop-hole (or scam?) where if I were to forfeit my bond, it'd all go away and wont be on my record. I looked into it and figured it wasn't worth my time or stress to try and dance with the legal system. I ended up just giving up the bond. In the end, I basically paid $300 to spend a night in jail after getting in an altercation with a drunk guy holding a shovel in a parking lot. In retrospect, it was all pretty funny. My friends thought it was a prank phone call when I called from jail.
A good night of partying consists of…
…wandering around in public with a few good friends and sipping out of inconspicuous beverage containers, wholesome in appearance but corrupted by bottom-shelf liquor. Night is ok, but I prefer it in broad daylight.
What is your best story you got involving hookers, midgets, alcohol, or crazy people?
This one time, I drank way too much alcohol and ended up making sweet, passionate love to a crazy, midget hooker in a bathroom at 7/11.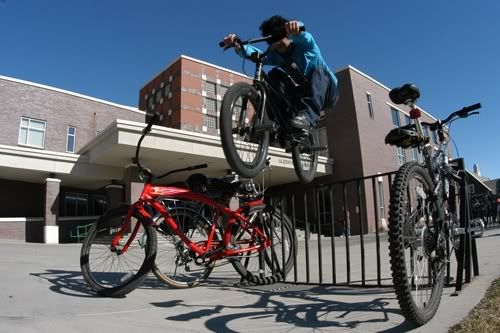 Shot by Andy Pecchenino
Boise, ID.
Circa 2004
This was shot for the university newspaper for an article about bikes on campus.
I ended up trading that frame (S&M PBR) for a pack of cloves and a bottle of Jack with Andy (the photographer).
What are some things you would really like to experience in your life at some point?
A solo sky-dive jump. Live in a fancy hotel, Royal Tenenbaum style. Watch the speedometer needle squirm at it's peak. Watch the world turn from the inside of some space ship. Get kicked out of a fancy hotel, Royal Tenenbaum style as well. A near death experience of some sort. Live without having to subscribe to the bureaucracy of society. Base jump. Kiss while falling. Watch a live taping of Conan O'Brien. Sex against a window of a very tall sky-scraper. Fly a large balloon (maybe multiple balloons?) like a kite. Sell a piece of art/shit for a relatively ridiculous amount of money. Live in the Philippines again.
What is the key to success with the ladies?
Don't sweat it.
Being a web guy I am sure you have some cool websites you suggest people check out?
Google's pretty good.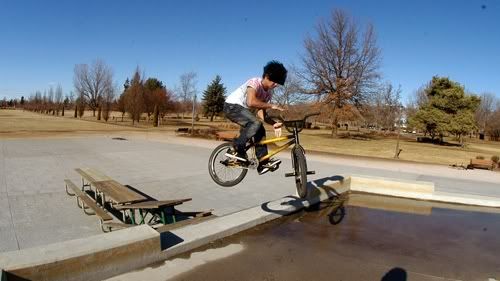 Photo by Little Aaron Big Fro
Circa 2007
That was the last bike I bought before I worked at Odyssey. Other than the frame, it pretty much had either Sunday or Odyssey parts on it. Right before I moved down here, the headtube cracked like crazy and I could I feel it flex on bunnyhops.
What kind of music are you into?
Shitty vocals, singing about the crazies in life, coupled with a soundtrack that'd make you feel at ease about driving a car off a cliff.
All time favorite movie?
I don't have a favorite but there's a handful I wouldn't mind watching again: Fight Club. The Royal Tenenbaums. Amelie. Donnie Darko. The Princess Bride. Eternal Sunshine of a Spotless Mind. I'm sure there's more but I always forget.
What are some things you would really like to accomplish in the next few years?
Build a machine that runs itself.
If you could live like anybody in this world, who would you pick and why?
I can't really think of anybody in particular. I'm a fan of life experiences though so I'd probably want to just sample a ton of different lifestyles and mix up my favorites. I'd most likely throw my own ingredients into the recipe as well.
What kinds of advice do you have for people looking to get into graphic design and web design?
Get a computer with all of the software you need and then develop an addiction to coffee.
Shot by Bethany Walter
Boise, ID.
Circa 2003.
4 pegs, a gyro and a Primo Pervert!
Do you have any shout outs or thanks?
My family for loving me unconditionally, my friends for being accepting of my social ineptness, my dog for being a mutt, Odyssey for providing me with a dream job, Kurt for this interview and ******* for making me happy.
Anything else you would like to say?
Yes.