Freak is a fairly well known guy… Some hate him, some love him, but from how it appears he really could care less and is doing what he likes doing. The interview was bound to happen, so just enjoy it right now!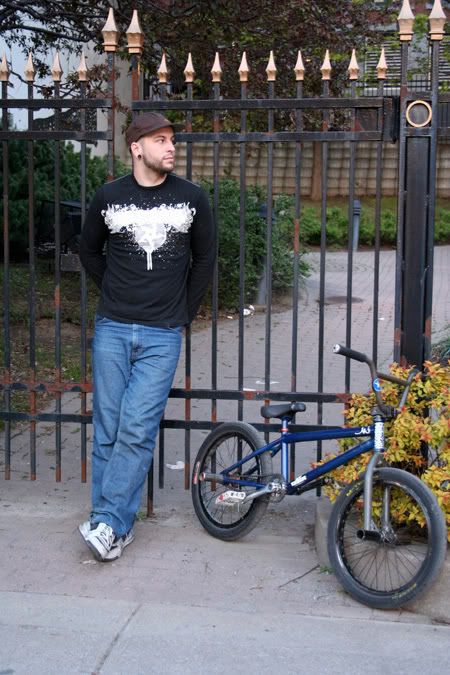 Name:
Freak Leclerc
Location:
Montreal
Sponsors:
Tough Love Clothing and Empire Bike&Boards
Years riding:
This summer is my 7th year of riding I believe.
Your pretty involved in the BMX, running FYSbmx.com and then aren't you TM for Seshin? I take it you stay pretty busy?
Lately Ive been pretty busy with riding, working a full time job, having a girlfriend and updating FYS but it's not like it's stuff I dont enjoy so it's not bad at all. For the Seshin question, I left a little while ago. There's no hard feeling or anything, I still talk to Ted pretty often but I think it was just best for both of us that I leave.
Now that the new FYS website is up, what were the biggest changes and what is this all about with people being able to sign up and post stuff for the site?
The biggest change is definitly moving out from blogger, it's not that I didnt like blogger but it's just not professional and it's pretty limited too. The other big change is like you said, people being able to create an account and post stuff. I wanted to do that so everyone can show us what's going on in their scene…cause FYS means "For Your Scene" right? So everytime Ill log on the computer Ill check all the submissions I got and if it isnt porn or dumb shit, there's no reason why I wont publish it. The other good reason to register is that some article will only be viewable by registered people, i.e. porn or lame stuff.
Even though you left Seshin fairly recently you guys get along good, so what was in the works before you left?
Like I said above, I'm not involved with Seshin Bikes anymore but the new frame and chilko bars should be hot hot hot.
Being up in Canada, and spring is finally here how much time are you getting in on your bike?
I ride at least 2hours a day with my Ipod at my shitty local 3ft high ramp skatepark and if Im not too lazy I go ride downtown all day. Thats the only bad thing about Montreal, we cant ride all year long. April, November and December are shitty/cold but still ridable, everything in between is fun time.
Where or what are some of your favorite spots or set ups?
Theres so many sweet spots in Montreal its hard to pick one. When I go ride I usualy look for weird/unusual stuff to ride,anything you can bump jump or thread the needle is fun. But if I had to pick one Id say the triangle ledges.
If you could ride anywhere in the world where would you go and why?
Barcelona, from what Ive seen in bmx/skate magazines that city looks like heaven. Ive been learning a bit of spanish recently so if I ever go there it will be fun time…buenos notches, tu eres bonita mamassita…dame une beso mi amor? does that make any sense?
Your pictures would lead me to believe your into nose picks?
What are some of your favorite tricks to throw? Ive been riding front brakes since the beginning of winter only so I dont have much front brakes tricks yet, I can do basic tricks like nosepick over on spines, canadian pick, sprocket to nosepick, disaster to nosepick and nosepick to fakie, nothing impressive. Ill see what I can do with em this summer on street. Right now my brakes are off till I get my new setup .Also I think this is the right place to say that Jaimy Spreitzer is the most amazing rider in bmx.
What are some tricks you cannot do for the life of you?
Tailwhips…I gave up after destroying my ankles and my knee.
If you could have a session with any 5 riders, who would you pick and why?
-Seth Kimbrough, he've been my favorite riders since testimony in 2001-02.
-Jaimy Spreitzer, at the age of like 37 he can shred more than anyone else and he could hopefully teach me a few nosepick tricks.
-Matt Hoffman, I dont think anyone had as much impact on bmx as him.
-Charlie Crumlish cause HE IS the definition of FUn.
-Eric Trepanier, what would be a session without your best friend?
-Steven Hamilton cause he's so epic (ya I know that 6 riders)
What is your worst riding related injury?
Knee something. Last august I was barely recovered from a separated soulder when I crashed on this stupid gap. I saw 3 differents doctors and they all told me "Your knee is just fine" but I have hard time walking for more than 30min…I need to get a MRI but thanks to Canada's free health care system I have to wait 5 months.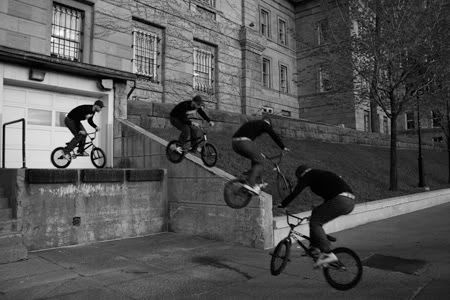 Who is your typical riding crew? Any guys you think should be getting coverage?
I ride with whoever is down to go ride, most of time I ride with Eric T, Corey Dewey or Albert. I think Dewey should totaly get more coverage…I hooked him up with Seshin and Alienation ,hopefully people will see more of him in the future.
If you could be sponsored by any company, who would you want it to be and why?
haha thats a pretty weird question, I dunno really….I guess Odyssey, Ive been riding the same wheelset for more than 3 years now and its still just fine. Some company makes parts just to have parts on the market, I think Odyssey puts alot of research in every products wich explain why Ive been riding the same wheelset for 3 years haha. ok enough ass-kissing.
You seem to be pretty well known around the canada scene, how did you accomplish this?
I dont really know…back when I had a car I used to travel quite a bit and met tons of people in quebec/ontario and I also lived in Edmonton (alberta) for a little while. I used to go to every jam/contest and I guess that helped.
What is the story behind your nickname "Freak"?
Before bmx I used to be into graffity, breakdance and pretty much everything related to hip-hop.At high school we had tons of activites to keep students from droppin out I guess and I wanted to do a huge graffity on a wall so I met the guy in charge of the activities and after a few days he started calling me "Le Freak" cause I was doing tons of random crazy shit all the time. After that everyone start calling me Freak at school then at the skatepark…
How do you feel about kids talking all tough behind the "anonymous" name?
Thats dumb, if you're scare of what people will think of your opinions just dont say (type) it. But on the otherside there's people who takes internet way too seriously but what can we do, 1n73rn37 15 53r10u5 bu51n355.
If you could live anywhere in the world, where would you want to go and why?
Montreal in summer cause its home and girls are amazing and australia in winter so I can ride my bike and kangaroos.
Do you talk shit on America, like American's talk shit on Canada?
Why would someone talk shit on Canada? But no not really, there's good and bad things about everywhere/everyone, America just have more Bad than good. New Hampshire is awesome tho…exept for that city were bikes arnt allowed in the street, weirdest thing Ive ever seen. I went to that spot its like a 2 huge rainbow ledges ( Vinnie Sammon did feeble up to hop on to 180 to ass plant in the credit or bail section of a animal video I think) and some cops came telling us that this city doesnt allow bicycle in the street…weird shit.
What are you up to when your not causing havoc on the internet and on your bike?
Playing FF7, making babies, cooking, watching the girls coming out of the subway station across the street from my balcony, shopping, listening to music, working on my bike, eating cheese and sometime gettin drunk in the morning.
What kind of music are you into?
-French hip-hop mostly
-hip-hop prior 96 like wutang, souls of mischief, L.O.T.U.D, dilated people…etc
-Glam rock
-hardcore stuff like dance gavin dance, a black rose burial, 3 inches of blood, black dahila murder…etc
-Lucero
Seen any good movies lately?
Actualy Ive been watching tons of movies lately thanks to torrentz.com. Here's some of my favorites:
40 years old virgin
knocked up
House party
Borat
FF7 Advent Children
King of Kong
Pootie Tang
What are some websites you suggest people to check out?
FYSBmx.net
HHQC.com
Defgrip.net
bmxfeed.com
catfishcatfish.com for sure!!!!
What kind of a man are you? Tits, Ass, or Dix?
PB&J all day!
How do you feel about the current trends in BMX?
Other than stripped seat nothing bothers me. Some kids are taking the big bars thing way too seriously tho…I saw this kid in edmonton he was prolly 5'9″ and he had 28″wide bars + 2″ extension each side.
If you could change anything about BMX what would it be and why?
More bmx friendly parks and less kids that learn how to start riding bmx on internet. Like when I start riding I didnt know shit about bmx, I was going in the street and learn stuff naturaly. Now it seems like kid check out what they have to learn then learn it and win the dew tour. I guess its kinda good for the progression of bmx but its just weird as shit to me.
What is some of the best advice you have ever been given?
"She can't get pregnant in the ass" -someone on bmxboard.
I heard you were addicted to porn? Is this true?
hahah no I think you're thinking about Dane Wild.
Where would you like to see yourself in 5 years?
Somewhere with a bigger balcony and hopefull having a bmx-related job and a kid.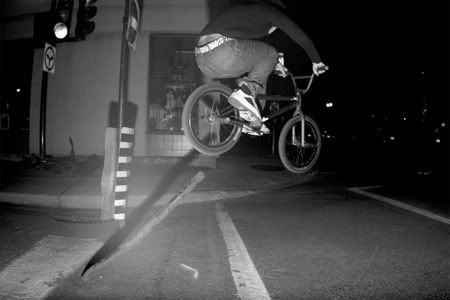 Do you have any shout outs or thanks?
My mom, Casey @ ToughLove, Josh @ Empire Bike&boards, Liam @ Uab, Jeremy for the pics, Eric T, Cole P, all the guys who help me with FYS (you know who you are guys), everyone that check FYS daily, all the montreal local who are down to ride, you for this interview…oh and fuck Chris Chitaroni.
Anything else you would like to say?
Dont believe the hype.