This interview is one that I'm especially stoked on. For those of you who aren't firmiliar with Fred, he's the all around guy at Dig (website, magazine, photos, etc, etc) and freelances quite a bit as well. In the last year that I've been working for Dig, I've worked pretty closely with Fred doing the website content and for the products section in the magazine. Not only that, his photos are really good. I wanted to get an interview with him and it's finally here for you to check out. This one is also pretty cool because he sent over a few of his favorite shots he took to go along with this. Check out what he has to say, some of his photos, and then leave him some love in the comments!

"Cologne underground, Germany. Photo by Tony Malouf on Dave Sowerby's camera."
Name: Fred Murray

Location: Glasgow, UK.
Sponsors/Hook ups: Will, Grant at BSD and Mingo at 20Twentystore.com all help me out.
Years riding: Must be 12 years now…
Years shooting photos: Around 5.
What was it that got you into riding in the first place? Any early memories that come to mind at all?
There wasn't one defining moment; I've always jumped bikes since I could ride one. I used to set up a piece of wood and a few bricks and see how far and high I could launch on my multicoloured Ironhorse. I remember the stem used to slip every time, I can't believe I didn't crash more. I made some money when I was a kid selling mobile phones on the Internet when auctions were a new thing, and bought a Yamaha PW80 motocross bike. I started ragging that around a bunch (i lived in the countryside at this point) and within a few weeks I was jumping it over whatever I could and doing surfers. My friend then got a chromed out Diamondback and I thought it was the coolest thing ever, I got a real shitty Huffy and things just went from there. I grew up in the middle of nowhere and my mate with the Diamondback didn't ride so I just cruised around on my own mostly, and sometimes with my mate Jared.
From my perspective, it seems like the Scottish scene is just growing up and really starting to get noticed. Maybe that's just me and I'm wrong, but what do you think about the scene around those parts these days?
Well, Scotland has always had a good scene. It isn't the biggest country so most of us know one another and for the most part get on pretty well. Scotland also has a ridiculous amount of skateparks and good ones at that. As I speak there are a few concrete parks in the works. Thanks to Dave Sowerby for that! I think in the past few years we have been getting more exposure through magazines, web edits, videos, etc, which helps.
When you aren't doing a number of different things for Dig or out on a trip shooting photos, where can you usually be found riding these days?
That's a tricky one… If I haven't got much time I will pop to KG which is a concrete outdoor about 2 minutes ride from my flat. If it's raining I'll be under Kingston bridge or at Unit 23. When I have time and it's a nice day anything could happen. As I mentioned before there are so many good parks in Scotland it's sometimes hard to pick.
Do you have a regular crew of guys you ride with? Anybody coming up you think people will be hearing more about sooner than later?
On a day to day basis I usually ride with my friends Pete, Grant, Tian, Movie, Gogorilla, etc… They are super chilled and loads of fun. Usually on summer days we chuck the bikes in Pete's Volvo 480 Turbo and rag it over Scotland. Other than that I will ride with anyone who is about. Everyone's cool.

"Hard at work or hardly working? Simpel Session '09, Estonia."
You find yourself behind a camera at a lot of events like Simpel Session, The Worlds and countless other events. Is it hard not to try and get a session in when you have set ups like that right in front of you?
For the most part at contests I'm perfectly happy taking photos, I would also prefer to not embarrass myself in front of loads of people! When it comes down to trips or street shoots it sometimes is a bit hard to resist. Usually it's cool though as I can get 10 minutes in here and there, and also I get quite into 'photo mode' when I know I need to get good shots.
Speaking of that, where are some of your favorite places you have had the chance to ride at over the years?
Well, I'm on my way back from Barcelona as I type this, that's always fun. I've never been to a city that had such perfect architecture for riding. I love the NW of the States too. Portland especially. I love the way that place works, you have everything from kooks to hippies to punks to 9to5ers. Everyone seems to be pretty chilled there and no one seems to pre-judge. If I could live anywhere in America it would be there. Saying that I like New York and New Jersey a lot too. The landscape of Morocco was incredible to see as well.
It seems like you are off somewhere quite a bit these days. What do you have for trips coming up? Anything big for 2010 you are looking forward to?
Well, so far in 2010 I've already been to Holland, Estonia and Spain and the usual UK places. So far it looks like I'll be heading to Germany, France, Italy, Spain again and possible the States.
How long have you been working for Dig? What are your roles that you play for the magazine?
I've been working at Dig properly coming on 2 years now, but I helped out a bit before that for a year or so doing odd bits and bobs. I don't really have a set role at the magazine, I do a bit of everything. I take photos, proof read, do the website (with you), send stuff out, email, chase people up, sort text, help lay the odd bit out, promos, comps, make flash files, look out the window, go down the shops, pester Will about stuff… it goes on…
Every day I wake up I feel lucky that to have such a sweet job. I think it's really important to never take anything for granted.

"Cam Hardy tucking off the bench with Jake 'Bigfoot' Daw looking on. Cam amazes me every time with how much bike control he has. This went double page in the latest Ride UK photo issue. "
You also shoot a lot of freelance stuff, right? Where have some of your photos been featured?
Yeah I shoot a bunch of stuff for people. The main places my photos appear apart from DIG would be Ride UK, random woman's magazines (jewellery photos), product for BSD, portraits, I shoot the odd catalogue and random stuff for different clients. I have to admit I shoot weddings too when they come up. The extra money helps out and it's pretty easy work. I've shot photos of babys, animals, kids and anything that I get asked to. It's always good to have a varied portfolio and you never know who will recommend you to someone.
A couple months back you had to pull together a new camera set up due to a bad situation. What's your camera bag looking like these days?
Yeah, that was a shitty time… My mate's flat got broken into and all my camera gear went. Everything… Even some of Tom Nunn's gear which I was borrowing. In total it was about £7k of stuff. Thankfully I had insurance and got about 75% of the money back so I'm getting my stuff back up to speed slowly but surely. Right now my main setup is a Nikon d700, a few film cameras, pocketwizards and the usual stuff you would find in a BMX photographers bag. Quantum T2 turbo, Sunpak 555, Canon flashes, an Elinchrom Quadra soon too. I have a bunch of lenses but usually it's my 1.4 50mm on my camera most of the time. It's perfect for getting quick shots of whatever catches my eye. If I can recommend anything to photographers with a good amount of gear, it would definitely be to get insurance. Losing my gear was one the worst things that has happened to me. I felt lost for 2 months.
Did you ever go to school for photography or anything or was it all self taught with the help of guys like Ricky Adam for advice?
No, I never studied in any way, I just picked up a camera, starting shooting and figuring out how it worked. I always bought every issue of DIG and was kind of obsessed with Ricky's photos, especially his black and white stuff, so I had an idea of what a good photo looked like. I've always had a very mechanical mind too, so when I got a camera I worked out what was going on inside which made it a lot easier to get the results I was after. When I was a kid I would take everything apart to see how it worked.
The first camera I bought was just before I went to the States on a riding trip for 3 months when I was 17. I was staying out in the NW with Caleb Ruecker at the time. I took some photos of Jeff Landtiser blasting a tree ride in Portland and I sent the photos over to John Paul Rogers who was working at S&M at the time and he decided one would work for an advert. Once I got home most people had seen it and everything just went from there. I've never stopped taking photos since. Nowadays, I have the best people around me if I ever need advice. Ricky has helped me out a lot with my photography even if he doesn't realize it.
Speaking of Ricky Adam, who are some of your favorite photographers?
Well, Ricky is the main one, I can never get over how he sees the world. Most people look in one direction and Ricky will be facing the other way looking at something completely different. His work has really inspired me over the years. Other BMX photographers who stand out to me are Jeff Allen, Rob Dolecki and Walter Pieringer. Jeff Allen definitely has something special going on. David Leep is a great photographer as well. Outside of the BMX world there would be way too many to name and remember, I see a bunch of stuff all the time which I think looks great. I just re-read Annie Leibovitz's book and that made me think a lot about her stuff too. So, to give you a short answer, a lot of people.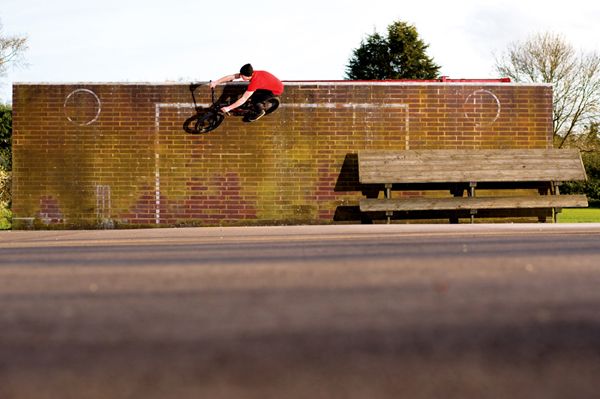 "Mike Miller, hop onto the bench to wallride. This was actually shot in Mike's old school playground about 20 seconds from his house. It's always a pleasure to ride, hangout and shoot with Mike."
Have you ever thought about what you would be up to if you never got involved with BMX? What do you think you would be doing?
A few people have asked me that before and to be honest, every time I think about it I feel a bit sick. I don't know what I would be doing, but I know for damn sure I wouldn't be as happy as I am now. I would maybe be a grease monkey as I did that for a bit and have always loved motorbikes and cars. I had a lot of jobs from the age of 14 and none of them have made me get out of bed in the morning with a smile on my face except for this.
What are you up to when you aren't fighting deadlines with Will, shooting photos, on a trip or riding?
Ummm, well BMX takes up a lot of my day but when I do get a moment away from that I like hanging with my girlfriend and mates, sitting in the sun, sleeping, movies, pub, etc. Whenever I have a minute away from BMX it seems to fly by so quickly.
Prior to working for Dig and everything, what kinds of jobs did you do?
Well, I've done a bit of everything. I've worked on my stepdad's fishery and farm, been a secretary, driver, butler, cleaner, mechanic, babysitter, bike shop mechanic, carer and any other odd jobs which have come my way. I used to work in the place Madonna got married which was alright and at the British Golf Open. Random stuff…
Have you ever considered joining the UFC? It seems like you get caught up in a lot of scraps? What's your record looking like?
Haha, no I've never considered joining the UFC. I think I would be killed in 20 seconds. I hate fighting and it pisses me off when people feel the need to prove themselves in that way. I think a lot of the time people fight out of boredom and possibly worried about the size of their manhood… I think I have a face which people get attracted to hitting. I'm not sure why. I tend to zone out quite a lot and maybe I stare at people without realizing. A few days before Christmas me and my mate Tian were celebrating the festive time with a few beers at mine. We were on our way out to the pub and randomly got shit from 8 little pricks. It just happens, Glasgow is not always the friendliest place. Anyway, we did pretty well in that situation.
I'm not going to lie, it would appear you have skills when it comes to women. What is your key to success with the ladies?
I don't know where you got that impression!
Don't think I don't Facebook creep you every now and then..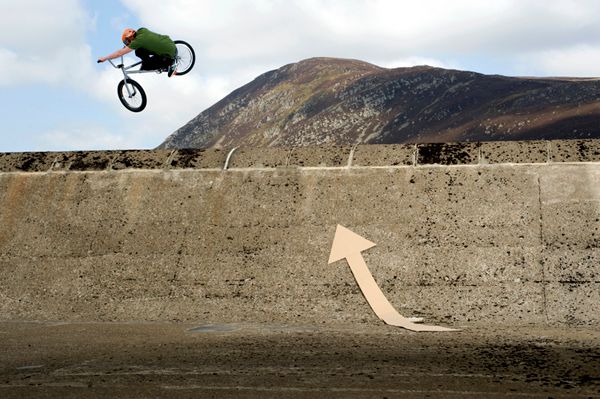 "Kriss Kyle, Grant Smith and I drove to this spot about an hour or so from Glasgow. It was super windy and trying to keep the massive arrow down was a nightmare in itself. The lumedyne i had at the time also blew over and the £100 bulb smashed for the second time. Thankfully everything still worked!"
But yeah, What makes for a good night out for you?
Well, it would probably have to include Grant Smith, Pete Gallacher and Tian Kheesiongboys, some beers, good music, bad dancing and shit talking. I'm pretty good at having a fun night wherever I am.
What is something that really pisses you off?
I try not to think about things that piss me off, it's not worth the stress or time. If someone has a shitty attitude I will flat out ignore them. I have no time for negativity.
What is something that gets you really stoked?
Man, where to start? Waking up to a sunny day, getting into a cold bed, eating great veggie food, taking a good photo, doing something scary on a bike, cats, dogs, in fact any animal, people with a good attitude, loyalty and honesty, smoking on a really cold day, when it rains on the continent, cheese, rad barnets, finding money, meeting new people, seeing my family and friends, watching friends progress in whatever they do. Just seeing people happy gets me psyched.
Who or what are some of the biggest influences on your life?
This a toughone again. So many people and factors have influenced or inspired me. First off my parents and the step parents, all of which have at some point driven me in the right direction. My stepdad has been a really strong influence, teaching me the meaning of hard work and loyalty. My Mum showed me the importance of caring and politeness. Everyone in my family has played an important role. Out with the blood, Will Smyth, Tom Nunn, Ricky Adam, Grant Smith and friends…
What's the last song you heard, movie you watched and website you visited?
The last song I heard was 'All That She Wants' by the sweet vocal cords of Sam Barrow. Last movie was Sunshine and the last website was Facebook. I've become a bit addicted to it. Sometimes me and Will just look through random people's profiles. It's a bizarre concept if you think about it… Would you let a random person in your house to look through your photo collection or through your diary? Facebook is a love/hate thing for me.
Where would you like to see yourself in a few years?
In much the same position really, except maybe a bit more comfortable financially, a bit wiser and still loving what I do.
What is the best advice you have ever been given?
"You've got to know where you came from to know where you are going."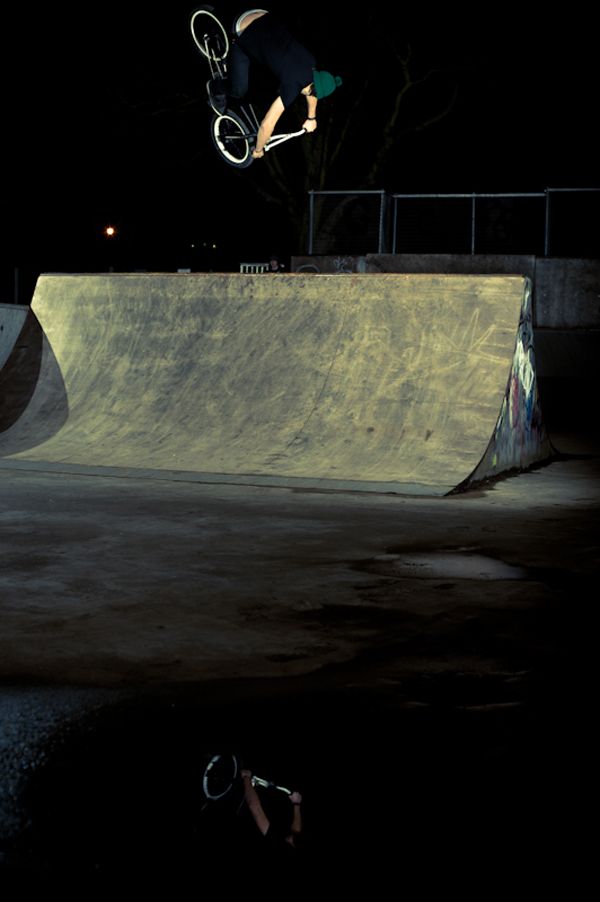 "Jake Daw, 540 flatspin. This was shot for a Stereo Bikes advert. Look out for more this year!"
Do you have any shout outs or thanks?
Too many people! First off my Mum and Dad for everything they have ever done and their never-ending support. It means so much to be able to do what I love with the knowledge that my parents are happy too. Second up is Will at DIG for all the opportunities, support, advice and friendship – I'll never forget everything. Along with Will, I have to thank Lauren, Sarah, Tom, Laura, BSD, Tian and Pete.
All the riders I hang with or who have helped me out at any point, you know who you are! Mingo for flowing me so much stuff and being a great mate. Everyone at DIG and Ride UK and Kurt for keeping things going when I'm away. Also thanks in general to BMX! You're pretty sweet…
Anything else you want to say?
HOLLA AT YA!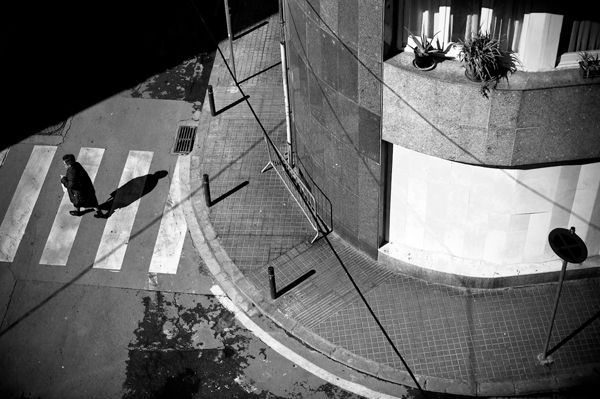 "Old woman crossing the street in Barcelona, Spain. It seems odd that she is wearing a massive jacket but it actually snowed the day before so it was still a bit chilly. This was shot from the roof of the hostel we were all staying in."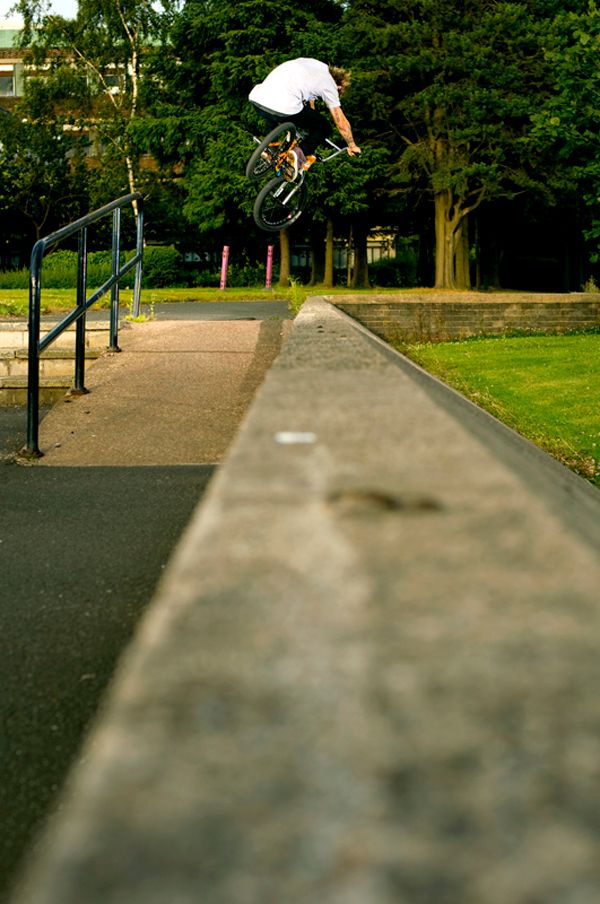 "Miles Rogoish, double peg to hop into the bank when he was over visiting. Miles is a good dude and way too much fun to hang with. I can't wait for the next time!"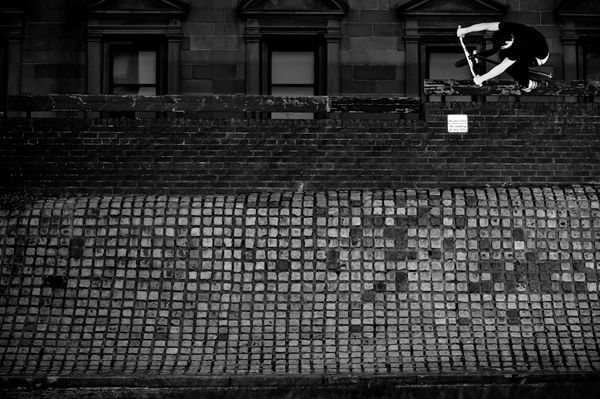 "Kriss Kyle boosting Glasgow's legendary Gnarly Bowl. This thing has seen a lot, from amazing riding to the lowest low life goings on. I always think Glasgow can look so grim…"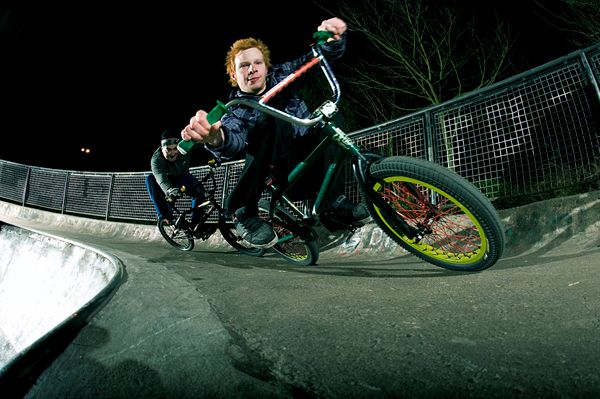 "Ginger Pete and Gogo flying full speed around Livingston Skatepark. If you don't know about this park, google it. If you've never been, GO!"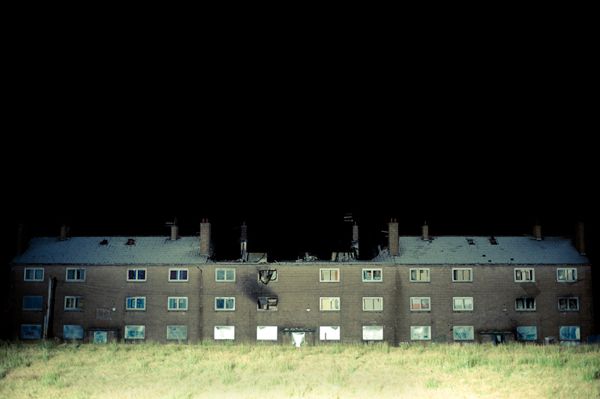 "This was a quick shoot and go photo. People still live in this building and they're not the kind of people you want to piss off. Easterhouse, Scotland."
I'd link to his photo site, but it's currently being redone. Check back for that later.