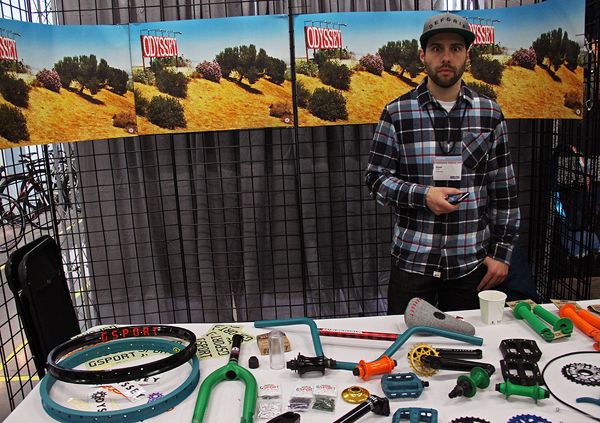 Yesterday was a doozie. I made my way up to Bloomington bright and early to make it to QBP's Frostbike. The day was filled with talking with the different BMX brands QBP carries about product, along with a lot of other things that were less than business talk, which is more than expected/needed to make the day move.
I made the first stop at the Odyssey booth where I found Nuno Oliveira hanging out and slanging goods to the shops who were in attendance. Don't worry, he was far from the zombie look he has in the photo due to all the coffee floating around. As expected, there wasn't much for "new" (in relation to Interbike new), but there were still a few new things that were on the table like the two new colorways and a few other goodies. So, let's take a peek…


Blue Anodized Burlington sprocket.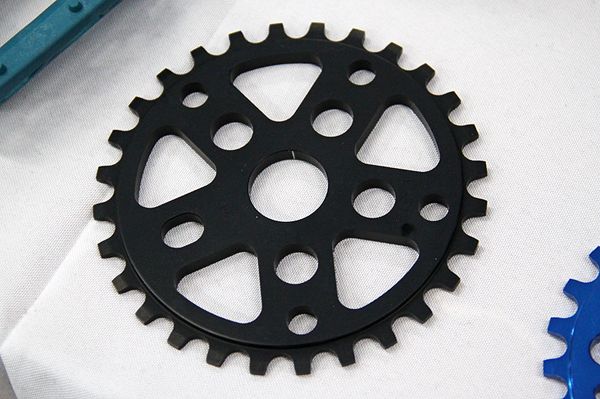 Chase Hawk's new C-512 sprocket. The remake of the classic C-915 sprocket Odyssey had made yeaaars ago. This one is cool because it will be available in the black and raw, but it will also be available in different colors as time goes on. The first round will be in the Safety Orange kit. I just think it's cool they paint them, then re-machine the teeth so there's no paint where your chain sits. You can see an example here. That little extra to make it look rad.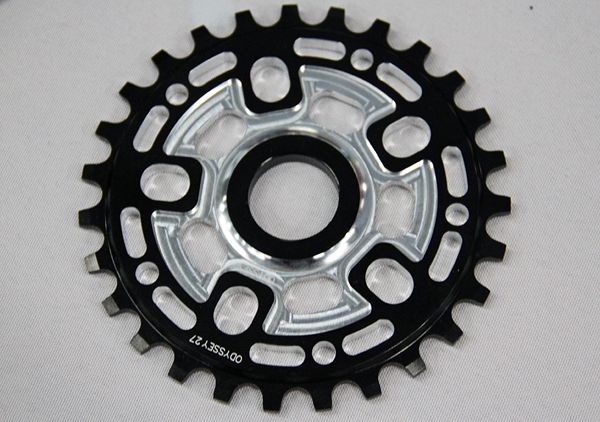 Chainwheel sprocket.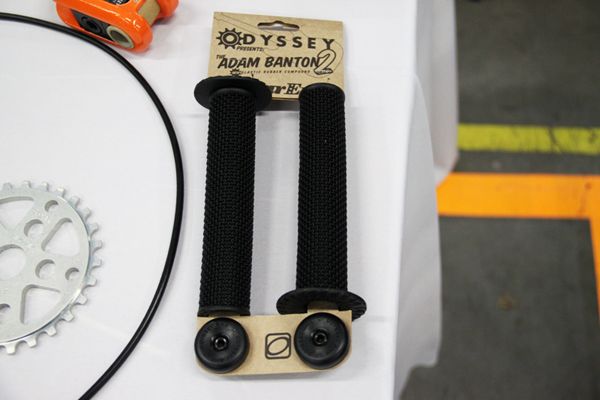 Adam Banton's second version of his signature grip. Less guitars on this one, but plenty of comfy grip. They use an Olastic compound that is real soft, but wears like a harder grip and is less likely to stretch out. Sounds good to me. Will be available in the Kelly green kit coming through.
Chase Hawk grip in the new Kelly green, Aaron Ross grip in the new Safety orange, and the Griswald grip in the teal that has been out for a minute. You can also see the Elementary stem in Safety orange as well.
The Hazard Lite rim in the teal. These rims have definitely stood the test of time. I ran one of those rims for almost 4 years.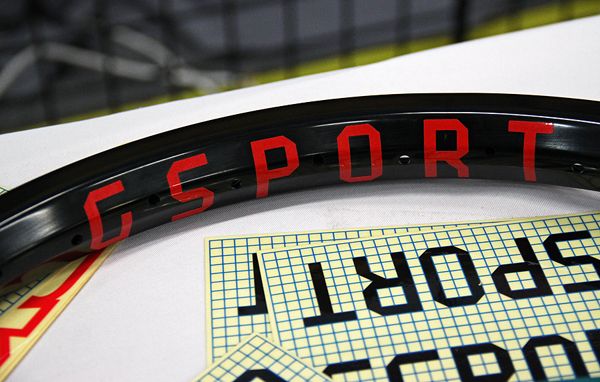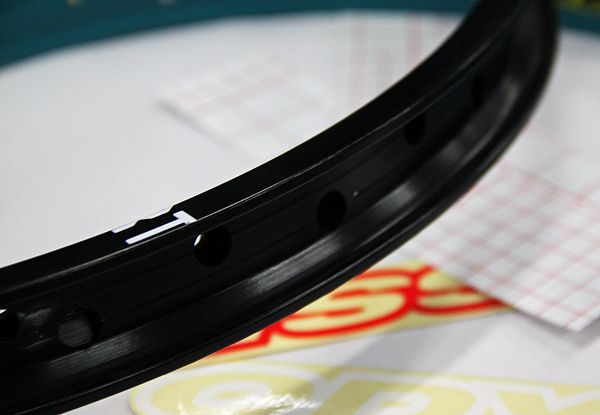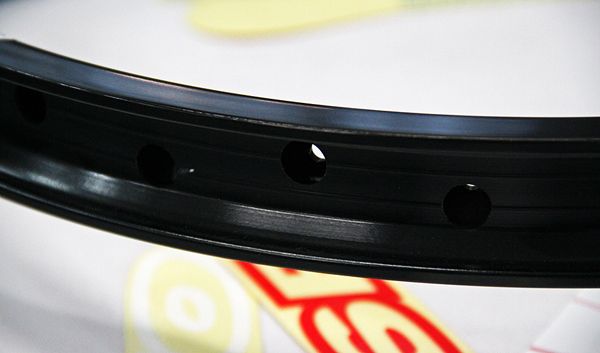 The new G-Sport Birdcage rim. First off, this is the first time I actually got to hold this rim, and it's damn light. 14.4 oz. (408 grams) to be exact. I honestly asked Nuno if it was a single wall, if it was made to be a front rim only, and how they were holding up because I figured there was no way it could be this light and still be all those things. Nuno responded with double wall, no, and yes – Dakota Roche was running some for quite a while before he switched over to Cinema and they held up fine.
So why are they so light? George worked up the rim with a bunch of different things like the hollow bead and cross lacing while using the "Aero" style rim. If you want to know more about the rim hit this post on the G-Sport site. Overall, these rims seem pretty wild and I'm curious to see how they pan out. They will be available within the next two months if everything gets produced and shipped on time. Start saving…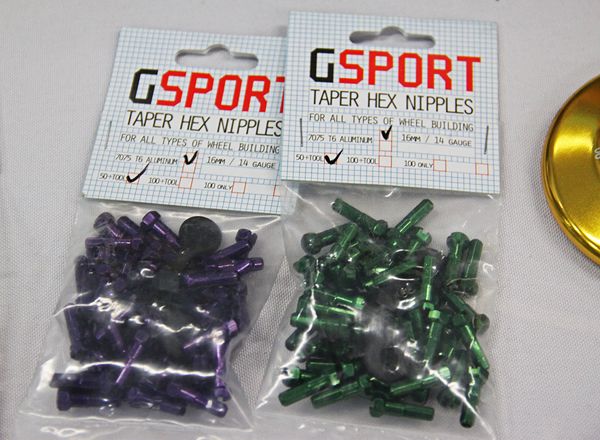 If you're building up new rims you will need new spokes and nipples. The hex nipples are available in a bunch of different anodized colors and include the special key to fit on the tapered/hex designed nipples to reduce stripping and get the most out of each turn of the key.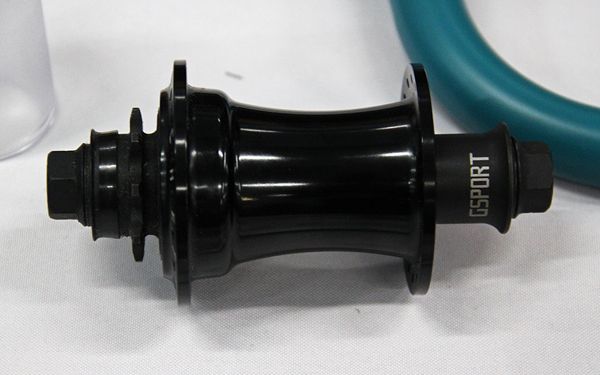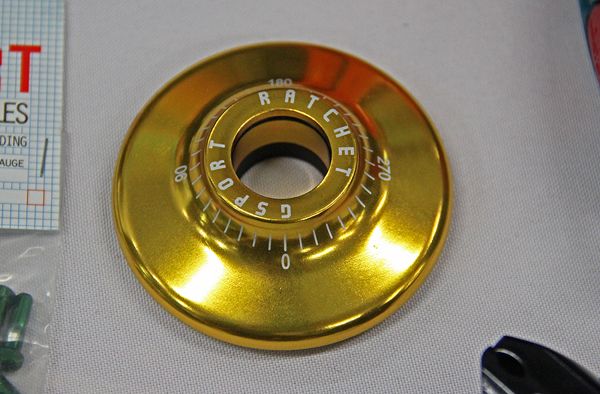 The Marmoset hub in the new Safety orange, and the Ratchet hub and guard. I kind of laughed when Nuno said "I don't think everyone knows we even make black parts anymore."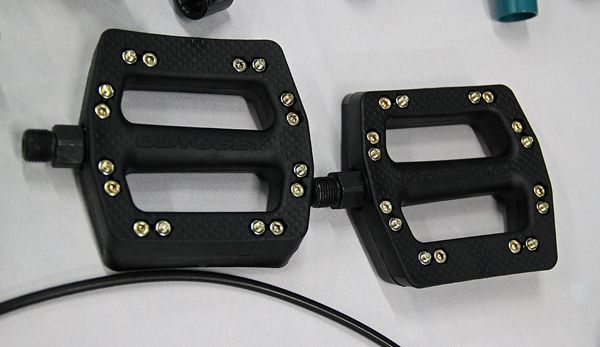 The JC/PC's have been out for a while now. I've been running the sample pair I got for two years now and they are still awesome. These are definitely one of the best pedals I have ran in the last 10 years.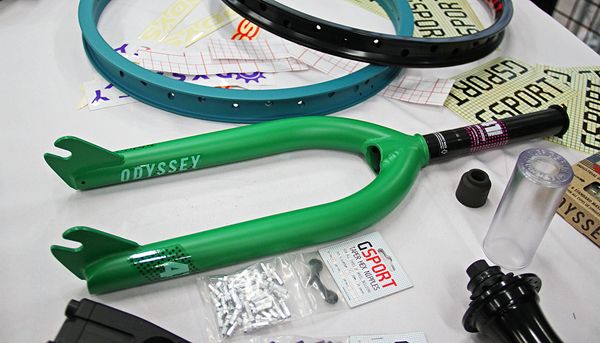 Kelly green Race forks. I think I forgot to mention that the Safety orange kit and this Kelly green kit will be hitting shops and distributors within the next few days. Real into the new colors personally.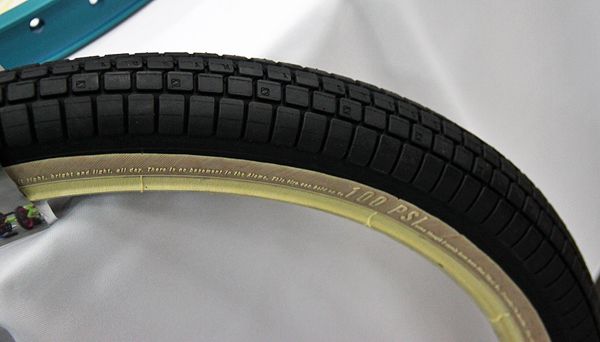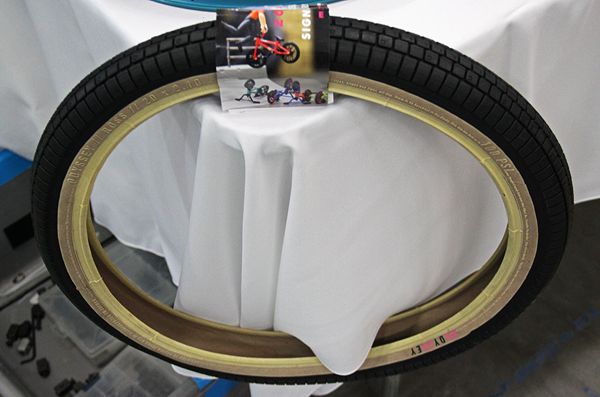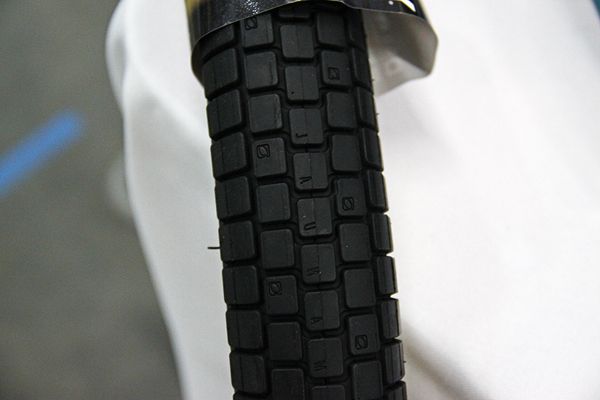 The Aaron Ross tire that came out a little while ago with the same tread pattern as his grip. Available in the tan wall and all black, with folding and wire bead options. 2×2.10 and 2×2.35 options.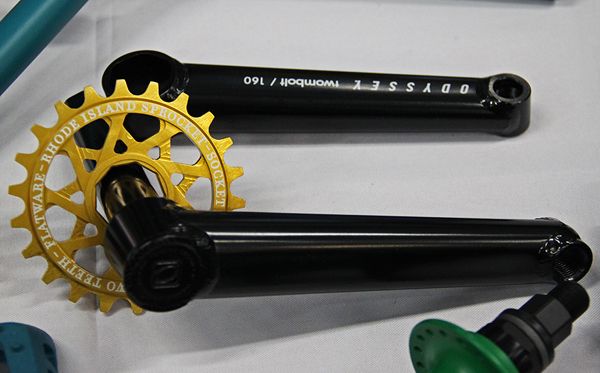 The Wombolt cranks in the flatland 160mm length and Rhode Island Flatware sprocket.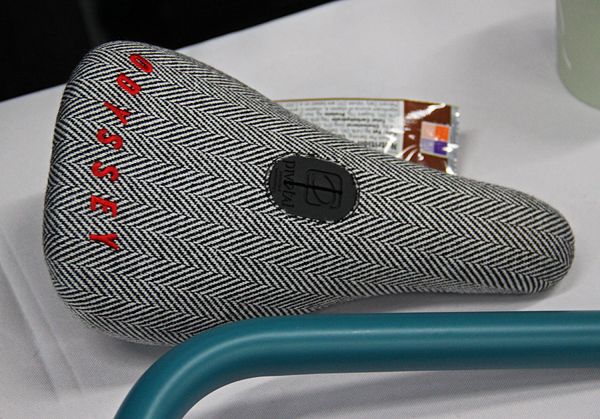 The Senior 2 seat in Herringbone pattern. Odyssey have had a lot of different colorways for this seat…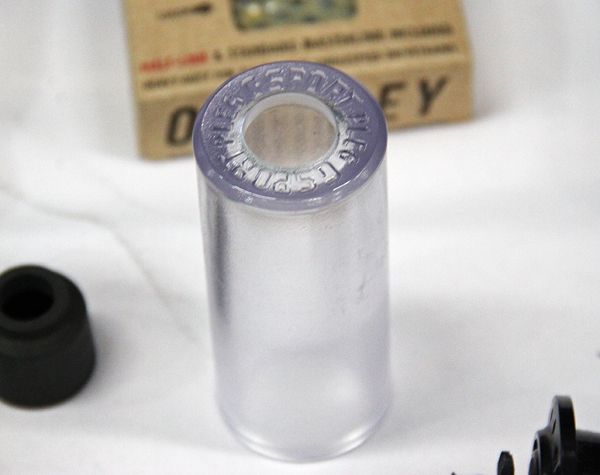 The clear plegs with the steel insert to the side of it. Weird to think how something like a plastic peg works, still…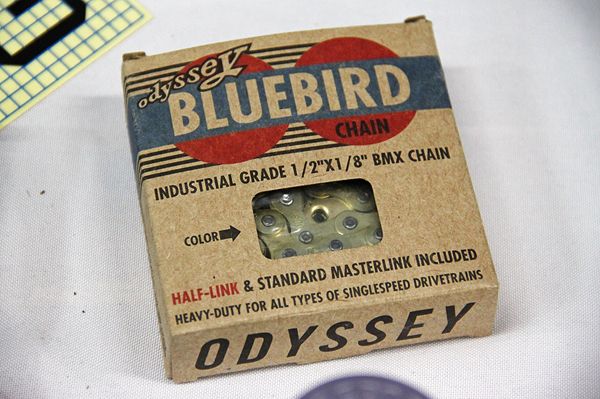 The Bluebird chain has been out for a minute. The chain is a full length chain with one half link built in to accommodate for all of the different gearing and frame options these days.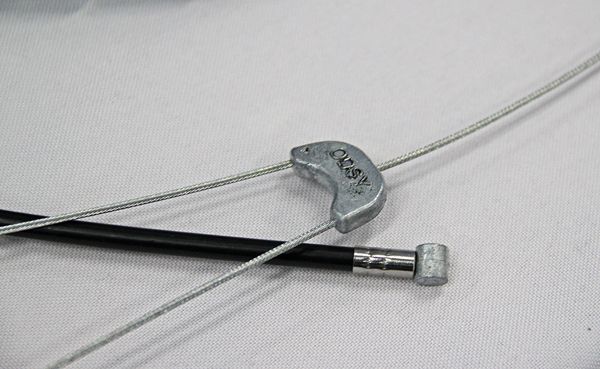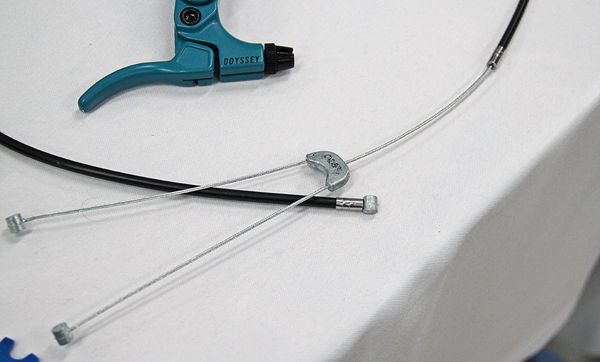 The new Quick Slik cable is pretty interesting. It's one size fits all and prevents having to cut the cable down. The bridge cable is built into the cable itself so it's all one piece. I'd imagine this will be out soon.
That's pretty much everything that was sitting at the Odyssey booth. You can find out more about them by hitting their website, or the QBMX site for what you can get from shops right now.