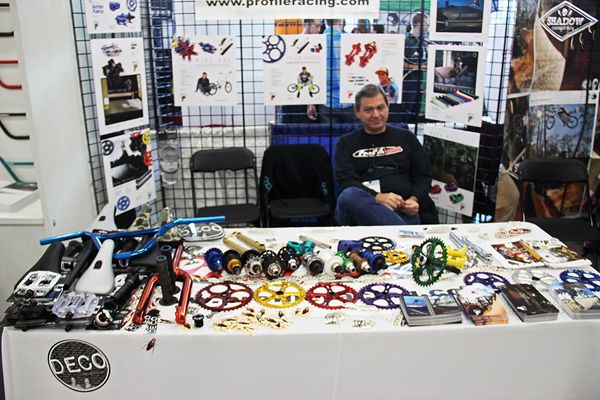 The last of the booths. The Profile booth was in control of Charlie once again this year. It was also being occupied by Chad DeGroot who had some of his Deco goods on the table. There's a few new things on the table that haven't been out for a very long at this one. Let's take a look…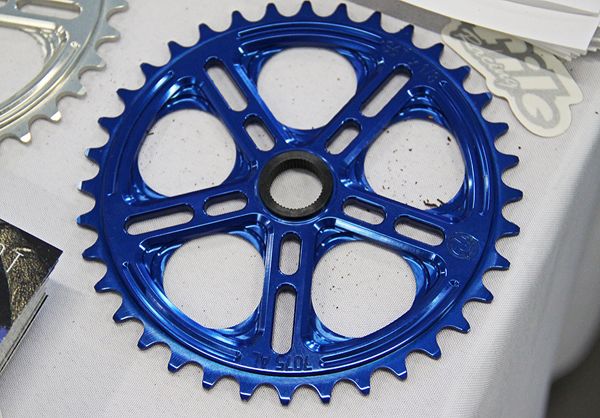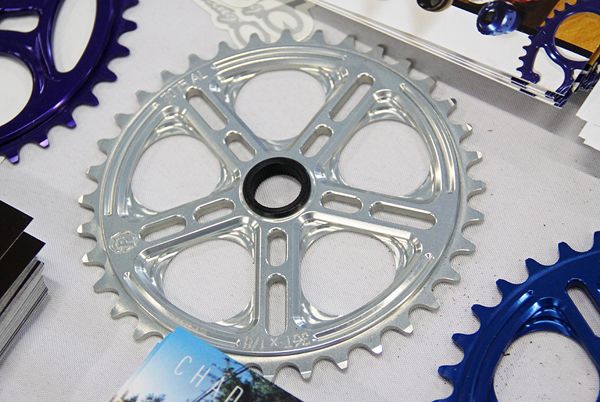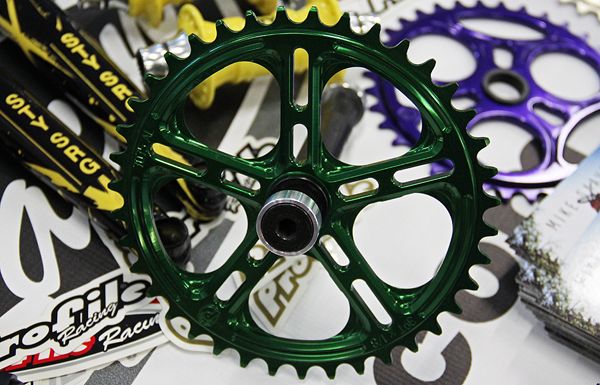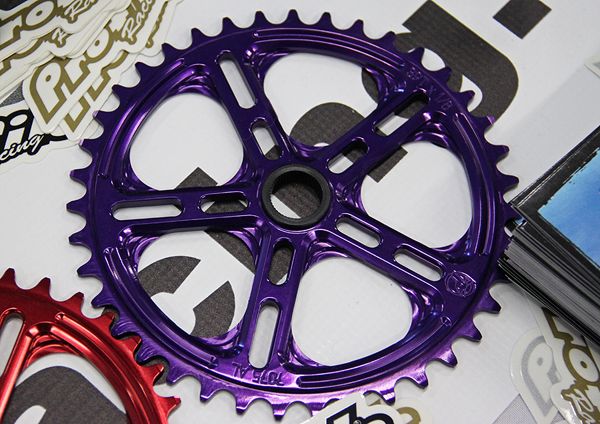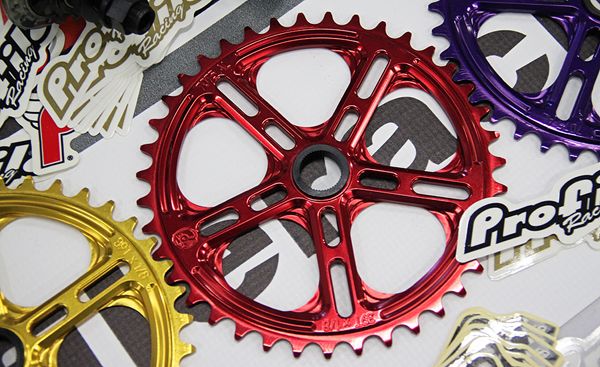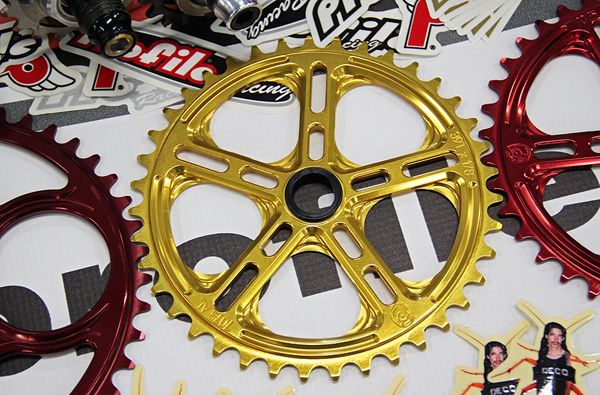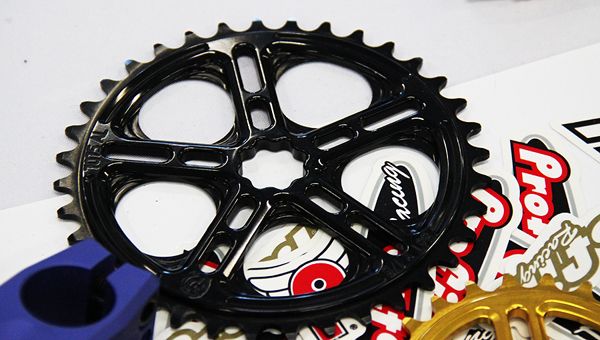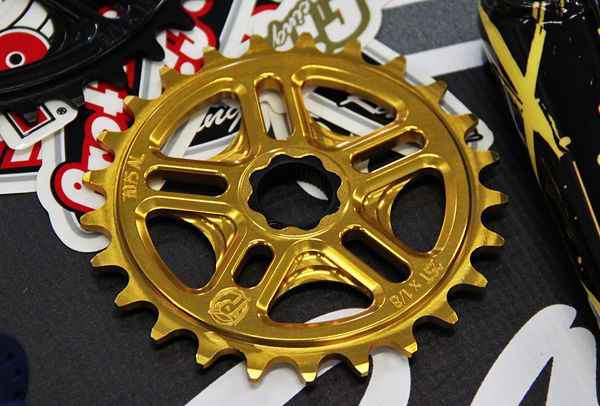 The Spline drive sprocket. These are awesome because it eliminates the need for a bolt to keep the sprocket tight to the crank. They sit flush on the common 19mm 48 spline spindle that Profile is notorious for. They have also been doing a lot of color options to fit pretty much anyones taste. The 7075 aluminum sprocket is heat-treated and has a chromoly insert that fits onto the spindle. Available in 23, 25,28, 30, 36, 39 and 42 tooth versions with red, green, blue, black, orange,, purple, silver colors. Weighing in at 2.9 oz. (25 tooth) and eliminates the crank bolt so add a little more weight savings on top of that.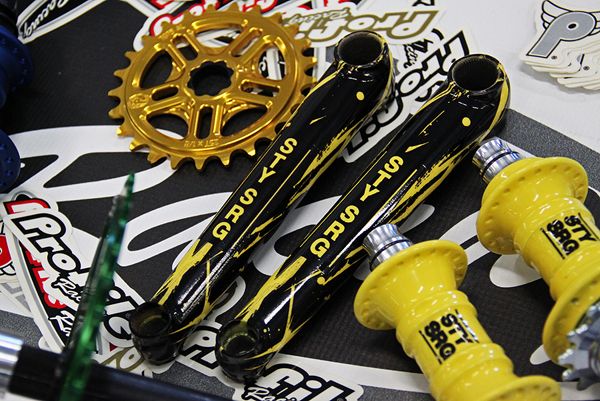 Profile have teamed up with Stay Strong which is Stephen Murray's recovery fund with these Mini hubs and Race cranks.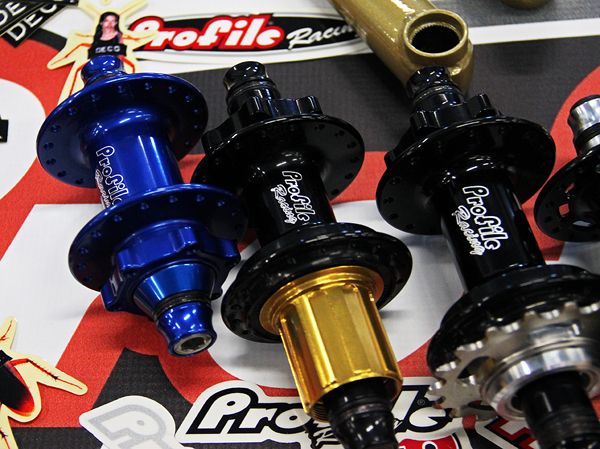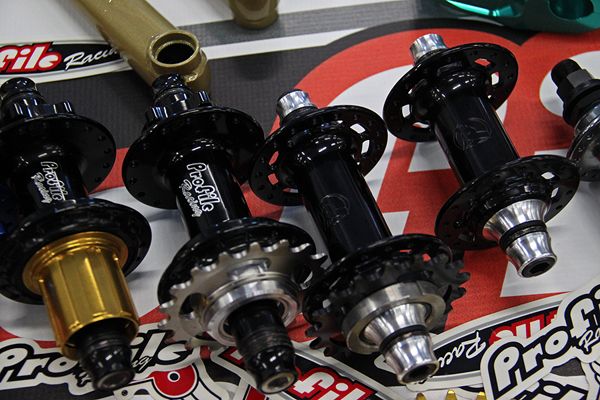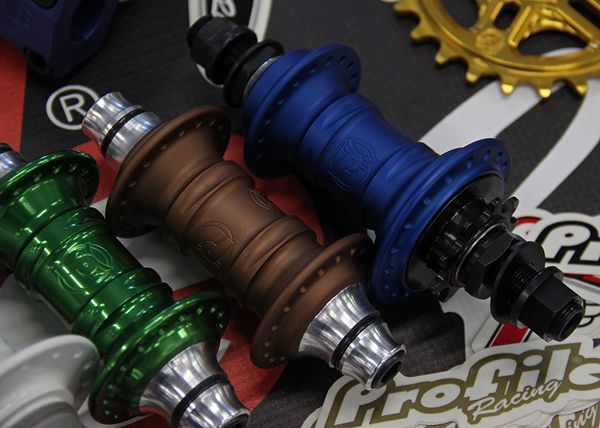 Mini hubs, Mini SS, Micro Mini, Totem and Elite hubs are available in a bunch of anodized colors. They are also available in signature colorways like Jeff K's Dusted purple, Chad DeGroot's Coffee, and Mike Saavedra's Blue Bench. Everything Profile makes is made in America, in house, at the Profile warehouse in Florida.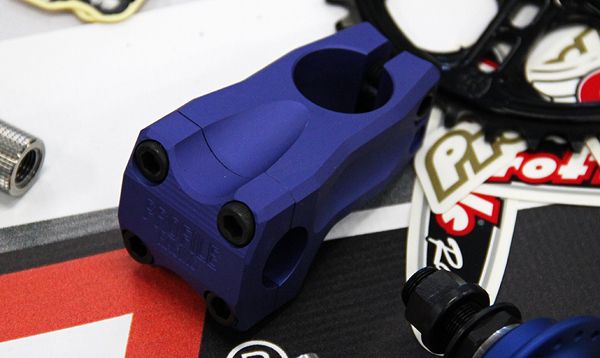 Jeff K's Dusted Purple colorway on the Acoustic stem.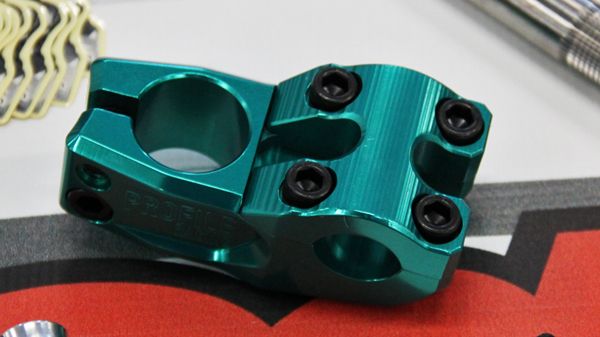 Mark Mulville's signature Push top load stem.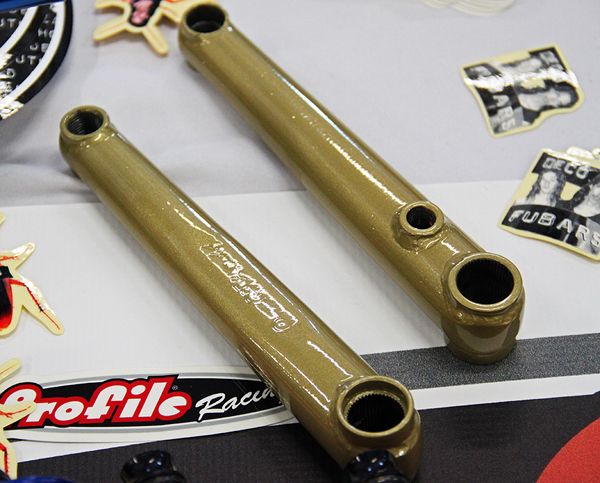 Profile's Race cranks haven't changed much in the last decade, but they have a bunch of new colors including this sparkle gold.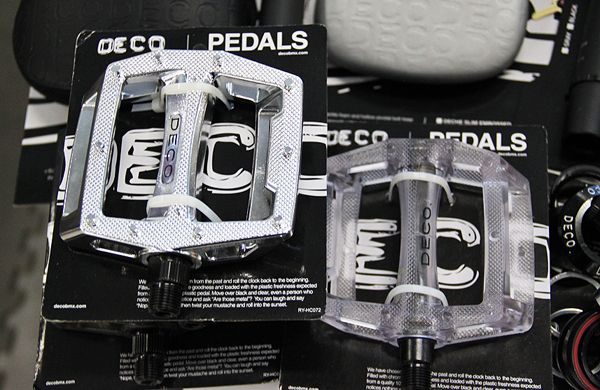 Profile team rider, Chad Degroot was also on hand to show product from his new brand Deco that hit this past year. Above are the plastic pedals. The shiny ones are also plastic, just painted with a metallic paint that makes them look like metal pedals.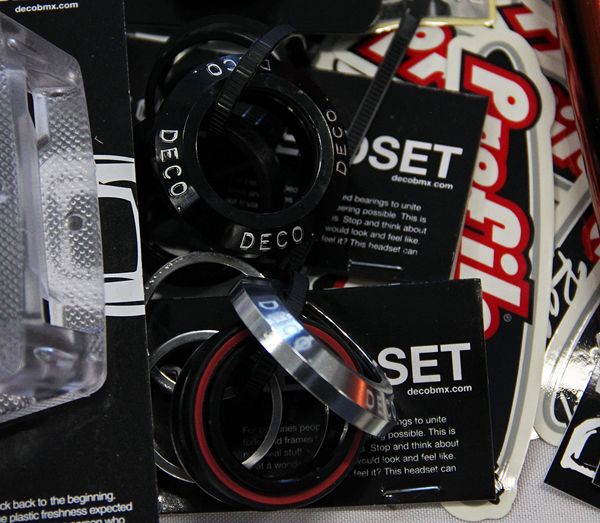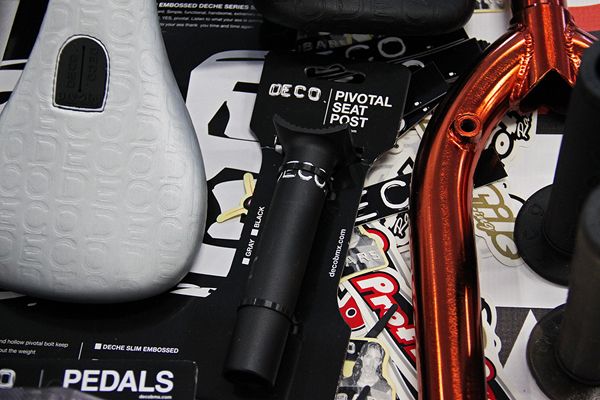 Headsets and seat posts. You can also kind of see the Fuforks which are available in that metallic copper and front brake mounts. Also available without mounts and raw, grey, black, and metallic blue color options.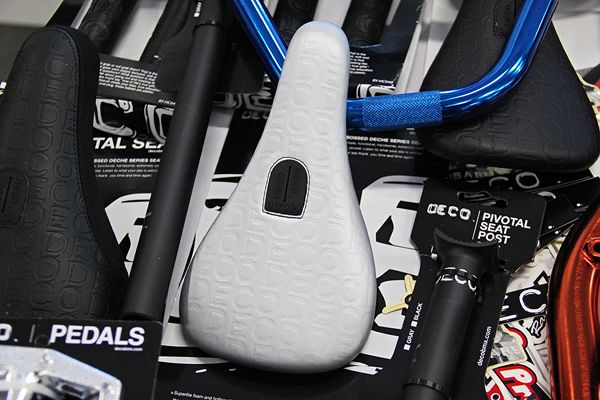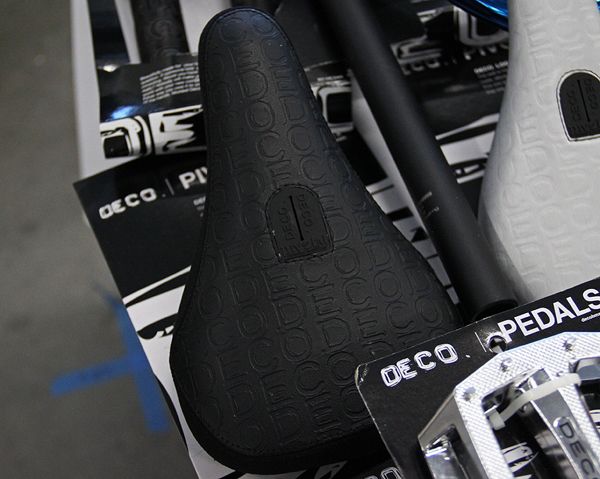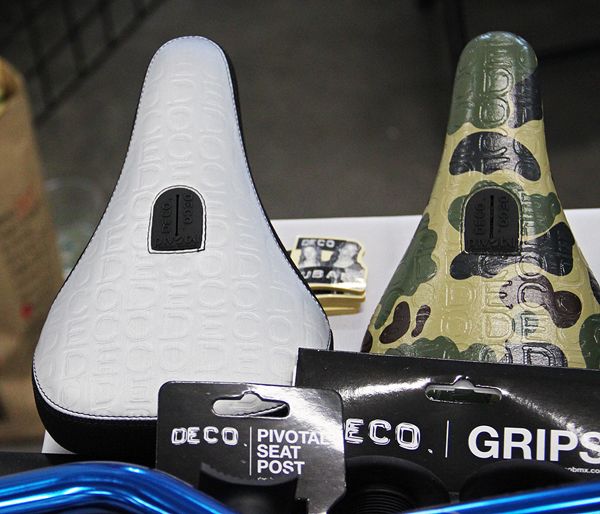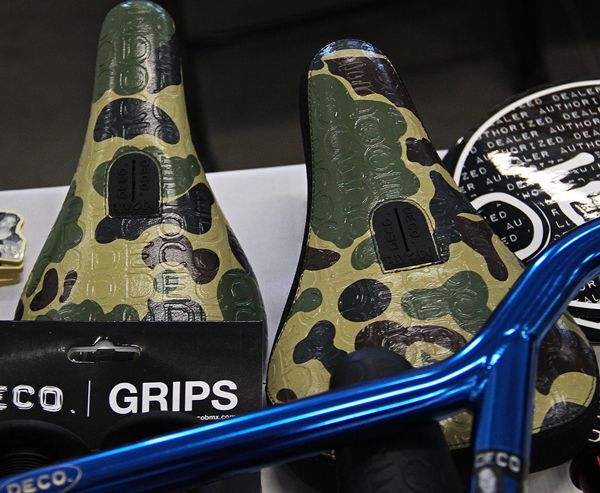 Different slim and fat padded pivotal seat options. White, black, camo.
The FuBars are a 4 piece bar made from butted chromoly, with 5 degrees of upsweep and 8 degrees of back sweep, or the other option of 2 degrees of upsweep and 12 degrees of backsweep with 8″ or 9″ rise options. Weighing in at 24.8 oz.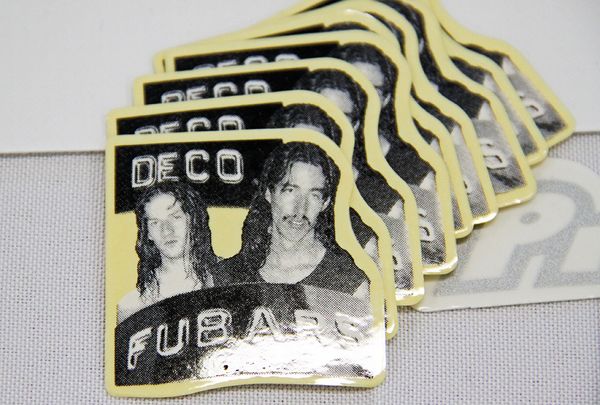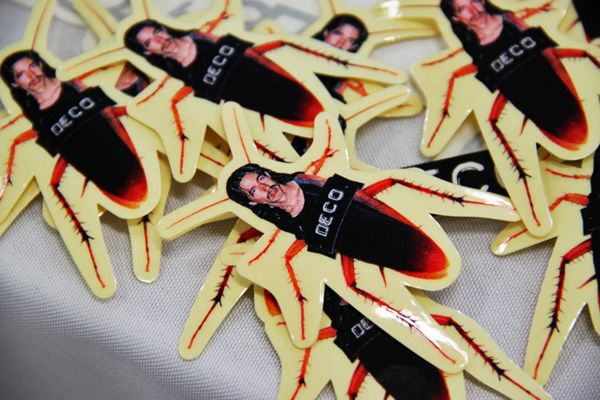 Anyone who has met Chad knows that he has a very strange, but funny perspective on things. These stickers might give you an idea of these strange, but funny ideas.
As a side note, you may be wondering where Madera is. Madera is Profile's sub-brand that is available at a lower cost, but similar products. I noticed the other day some where that people think Madera is made in Taiwan, and Profile is made in the U.S.A. This is false, Madera is also made in the Profile warehouse, but to keep the cost down, they distribute through Profile and not another distributor, which eliminates the mark up for a distributor cost. This is how the price for Madera is kept below Profile's cost, but still has the American made quality that Profile has.
That pretty much wraps up the Profile and Deco booth. You can check out their site for more of their products and information, or hit the QBMX website to find out what your shop can get you today.
That also wraps up everything I got at Frostbike for 2011, so hit the home page and check out the other booths if you haven't yet!