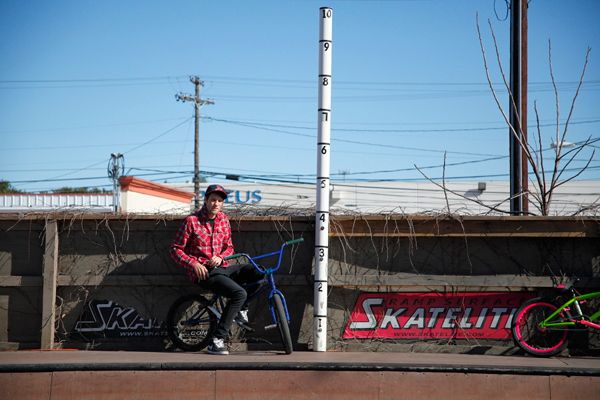 Day three of the Coalition team bio interviews! Today we bring you Canadian shredder Greg D'Amico. Check out what he has to say, some photos, videos, and then leave him some love in the comments!
Name: Greg D'Amico

Nicknames: Damics
Age: 22
Location: Port Colborne, Ontario, Canada
Sponsors: Coalition, Ryder distribution, BMXfu, Chris Orbells Garage
Years riding: Eight years… I think?
Favorite Coalition product?
Top load stem
Favorite Coalition team member?
I'd have to say Tammy. The kid's crazy good and he's always having good time. But the whole team is awsome!
Word association….
BMXfu – Just a party
Chris Orbels Garage – Good times with homie at the Garage
Ryder Distribution – An awsome Distribution that helps me out a lot.
Over Grinds – They just work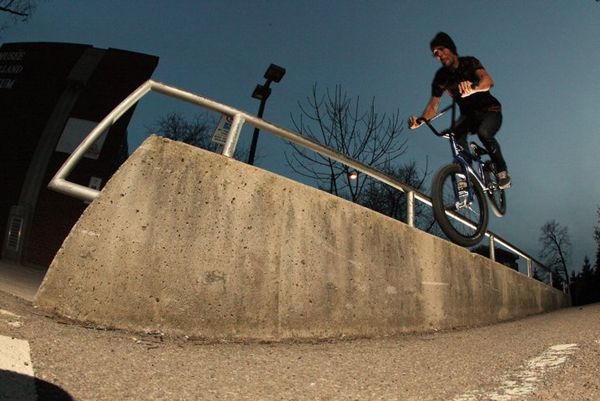 Living in Ontario must be nice with some big cities like Toronto around. What's your favourite part about the area? What do you hate?
Living in Ontario is pretty nice, we have a lot of spots to ride and the scene in Niagara is amazing. Another good thing is that Toronto is an hour and a half away. That just makes it even better haha. But, the thing really sucks about here is snow. I just try and skip that shit every year lol!
Where are some of your favourite places you have been? Anywhere you would like to go at some point? Any revenge spots?
Favorite places I've been… I'd have to say San Diego. It's amazing and the weather and people are just so chill, it's awsome haha. I really want to try and get over to Europe. It just looks like it's a really good time and seeing new places is always a good thing! We all know what spot I want revenge on haha stupid rail.
If you could load up a van with 6 people and a big budget, where would you go and who would you bring?
Ahh this is a hard one. Well, I definitely would drive across the States cuz I haven't done that yet. As for the crew; Tammy, Charlie Crumlish, Chris Orbell, Craig Passero, David Grant and Shitty.
Have you been filming for much anything? Any video parts or anything like that in the works?
I've been filming as much as I can, but no I'm not filming for anything really. I'm just trying to stack clips for when the time comes haha
Some of your favourite riders you look up to for inspiration?
BMXfu, Sean Sexton, Van Homan, Shawn Swain, Jamie Bestwick
What was the scariest moment in BMX for you?
I can't really think of any, maybe when I broke my hand and thought I'd have to get surgery.
Why do they call you the quiet guy?
My favourite colour is Green.
Do you work at all?
Yeah, I work this shit ass job on Cliffton Hill in Niagara Falls.
What makes for a good night out for you?
Good drinks, good people and good times.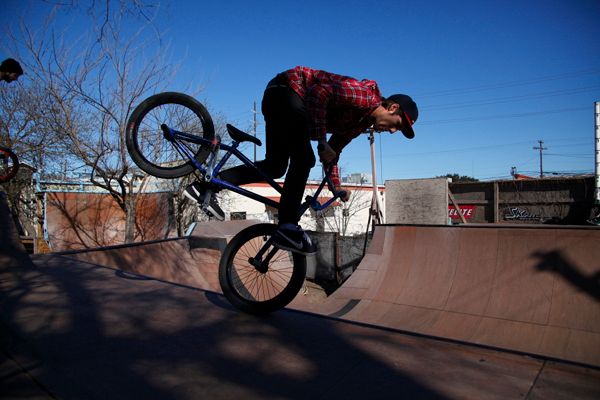 Approximately how many women does it take to satisfy one Greg D'Amico?
hahha it was only one for a long time, but I'm thinking two or three lol.
Last movie you watched, song you heard, and website you visited?
40 Year Old Virgin, Gucci Mane – Koosh is my Calone, BMXFU.com
Where do you see yourself in a few years? What about later tonight?
I hope riding still. I don't really see why I wouldn't be, but you never know haha. Tonight a couple of us are going to Ryder in Kitchener to get a new bike.
Anything else you want to say?
Thanks to everyone whos helping me out with riding and all my Fu homies. And who ever stole my bike the other day from work… Wait till I find you.