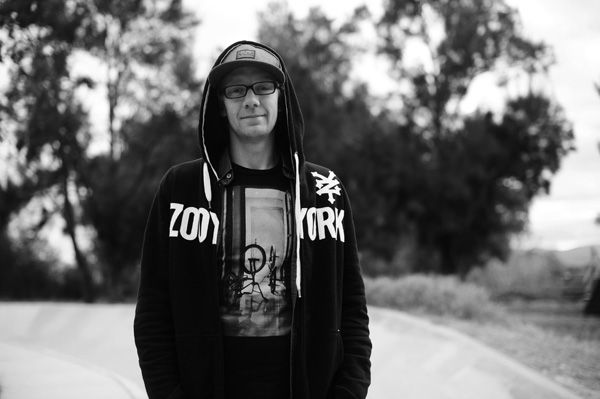 One of Australia's hardest working guys in BMX, Cooper Brownlee, was on my need to interview list about his career path in the industry. Cooper is known for being Clint Millar's right hand man when it comes to Colony and his personal project, Focalpoint. Cooper's photo and design work has been seen all over, and that's just part of what he finds himself getting into on the daily. I shot him a bunch of questions to find out a little bit more about his career. Take a look at what he had to say, some real good riding photos and past videos, then leave him some love in the comments!
Name: Cooper Brownlee

Location: Melbourne, Australia.
Sponsors: Colony BMX and Zoo York here in Aus.
Years Riding: A long long long time, I would say about 13 years.
Years at Colony:
Good question! Full time I have been working with Clint for about 18 months, I worked freelance for about 10 months before hand helping him out with a bunch of stuff during that time.
You are pretty much Clint Millar's right hand man when it comes to Colony. How did you get involved with working for the brand?
I have known Clint for a few years now just through dealing with him with the mag, then I helped out shooting photos for Colony ads and it kind of just progressed from there, doing more trips with him and hanging out we seem to just get on well when working together.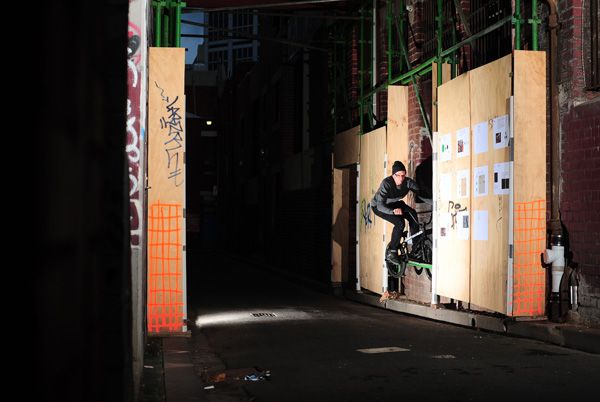 Photo: Rhys Yeomans
What is your "title" for the job? You handle more of the graphics and team side of things, right?
Yeah, I'm not sure what my title would be, I guess art direction and team manager but I get to do a lot of different stuff from shooting photos to unloading containers if I am in Brisbane when they come in. It's cool like that because it keeps things fresh and interesting.
Did you go to school for that sort of thing at all, or was it self-taught?
Nah, no schooling for any of this, back then I just wanted to ride BMX and didn't really think much about working, I got into cabinet making out of school because I knew people that did that and they said the hours were good for riding and I enjoyed wood work, so I went with that, then everything just evolved from there, doing the mag and shooting photos I just got psyched on it all so I just learnt what I could from friends in that field and the internet and went for it.
I wish I did do some sort of schooling just to pick up certain techniques. If I tried to get a job as a graphic designer somewhere out of BMX I think a lot of people would laugh at me because I did it all DIY and wouldn't know a bunch of fancy words that they use.
Do you think going to college is a pretty important thing, or do you think if the motivation is there, anyone can do anything?
I think it's a bit of both, but to me motivation is the key, if you really want to do something in particular with your life then sometimes you will just have to make sacrifices to achieve it. I don't go out and party, besides the fact that I am not into it I wouldn't have the time anyway, doing what I do. That might make me sound like a geek but fuck it, I love every minute of this so it's worth it!
Just because you didn't learn something at school doesn't mean you can't be good at it. It can give you a fresh perspective on approaching things. That being said though the more you can learn at school it will only help your cause so I think it all depends on how you personally find motivation to learn.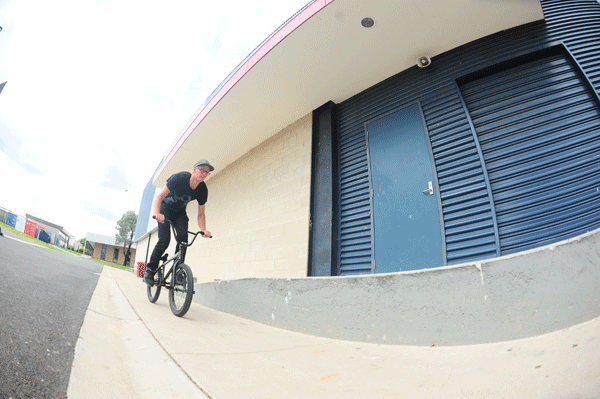 Photo: Luke Vandenberg
You also do the Focalpoint magazine and website. When did you start that project? Care to fill people in on what it is that might not know?
We started the mag (zine) about six years ago, the old black and white photo copy zine styles to help get some exposure for riders around Melbourne. After about three years and seven issues I had saved up enough money from my actual job at the time to bite the bullet and go full colour.
At the time a friend of a friend worked at a printers not to far from me so I scored a meeting and they were cool about it all. The first colour issue back then was definitely an eye opener learning about printing colours and all these different black swatches spun me out at first.
I am working on issue 24 right now and it's all going strong. The mag is still free and gets in around the 80-90 page mark each issue. It's not like I make money from it but it covers its own costs from the advertising and selling tee's, dvd's etc.. so that's good enough for me.
You handle pretty much everything for that, right? Do you have anyone else helping you out on it?
I do all the organizing and layout for the mag, shoot a bunch of photos and do the website content etc…
I have some real good friends who are always helping out with contributing articles and photos, people like Pete Jaques, Dave Rubinich, Michael Harris, Chris Cooper, Scott Greentree, Stephen Joseph, James Wade and everyone else help out so much and do it for pretty much nothing.
Everyone contributes because they want to not because they want to make money, that's what I love about them, they have never asked to get paid for anything and when I talk about that stuff they are always stoked to be apart of it and for that I am so appreciative and proud of them.
Paul Jaques built the new site, that dude is dialed and real good to work with, if anyone ever needs web design done hit him up. PaulJaques.net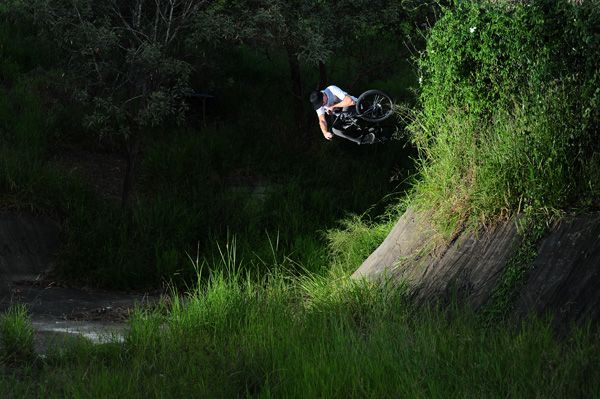 Photo: Clint Millar
Care to take us through a "typical" day for you? I'd imagine your job varies quite a bit, but I'm sure you have some things you can commonly be found doing, right?
Do you do the 9-5 business hours, or can you be found working on things at 2 a.m chugging coffee and energy drinks to keep going?
All my work pretty much rolls into one, I will get on the comnputer about 7.30 – 8am each morning check emails, do a news post for whatever sites I have something for. Do a little browsing then get stuck into it.
I live by To-Do lists! It's how it all gets done, I am weird and get psyched to cross something off the day to day list, like answering these questions, that has been on the to-do list a couple of days in a row now haha.
But anyway…. I just go off that list and do what I have to do, somedays I will work on Colony stuff for 12-15 hours then the next I might do a little mag work, a little Colony, go for a ride in the evening with whoever is keen, come home and do a bit more.
Clint is super flexible like that and the way I see it you have to be motivated to be working on this sort of stuff, if I am in the mood to write questions for an article that's what I will do, work on mag and website articles until I get the feeling of being over it. Then I might look at a few sites and something to break it up and then just look at the to-do list and see what I am in the mood for.
I am a great believer of coming back to things and going at it again and again, fresh minds seem to help and it also helps cover bases on any mistakes you have made.
I'd imagine you pitch in stacking shipment and what not as well? Is it a "do what needs to be done" kind of job?
Like I said earlier if I am around when a container comes in I will help unload that, but I live in Victoria and the warehouse is in Queensland (about 23 hours drive) So Glenny and Clint take care of that side of things. You are right though it's definitely a "do whats gotta be done type job".
What kinds of tools do you use to get your job done?
I am a sucker for technology and for camera gear…
Photography:
Nikon d700
15mm fish, 50mm and a 70-200 lens.
Vivitar flashes because they can get taken out multiple times and still work fine! Plus there cheap!
Pocket Wizards are also in there.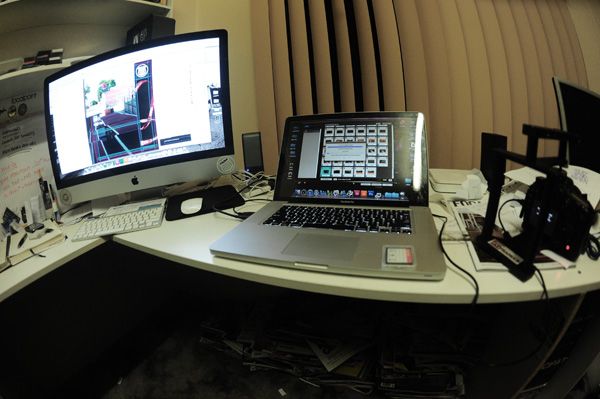 Filming:
Canon 7D
8mm fish and a 50mm lens
Easy handle
Rode Mic.
I have only been in this HD world for the past 6 months so I am still working out the best way to go but so far its good!
For all the design stuff I have a iMac which is the main one but also a Macbook Pro laptop because I tend to travel a lot so I need to be working on the road.
Since I changed over to Mac about 10 months ago I run everything off external hard drives, one for FP/Colony, then another for photos and one for HD footage, it seems to work real well not having stuff clogging up the actual computer and means I can plug into either computer and be ready to roll.
Just make sure you have another hard drive backing everything up, that's the thing I get scared about is getting all my shit stolen whilst on the road so I back it all up every week.
I use Adobe everything! I love it man, everything just links so well together. I guess the main programs I use are Indesign, Illustrator, Photoshop and Premiere.
Have you learned how to do anything that you didn't know how to do because of working for Colony?
Oh man, so much! I think the best one would be having to be so organized with everything, down to the folders that files are kept in, things grow so quickly it can get real messy if you aren't organized.
Also working ahead of yourself is so funny! At first it spun me out how ahead of time we worked on things but now I love it, sure you don't see something you worked hard on for ages but there is always something else that is coming towards completion so you will see that and get stoked on doing more stuff.
It can also work both ways you know, like I learnt a lot about design because of the mag and that's how I scored this job so I think it's awesome that you can learn things from other projects that you can adapt to all sorts of aspects of life.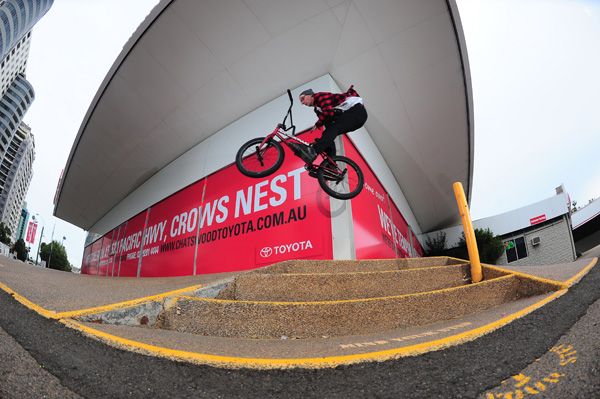 Photo: Mick Bayzand
What kind of perks are there working for Colony and doing Focalpoint? I know you keep your bike pretty dialed and you get to travel all the time?
Besides the obvious things like Bike stuff, it is definitely the travelling. Lately I have been away more then home which is awesome to hang out with new riders and shoot photos.
Any trip I am on whether it is a Colony trip or something to do with the mag I can do stuff for both, it's all about multi tasking.
Millar looks after everyone that works within Colony so well I couldn't imagine working for anyone else.
Oh and working from home is also amazing!
Are there any downsides to working in the industry?
Having to carry around a heavy arse bag everytime I ride, I could count on one hand the amount of times I have ridden the city or anywhere without a bag, that sucks! But it's worth it in the end.
Do you ever find it hard trying to balance out Colony and Focalpoint?
Nah, not really like I said before I just do what is needed at the time and what I am motivated to get done at the time, it all gets done it's just done in an interesting way, works prefect for me though.
You have also been doing some real good edits lately, and even tossing up the "Focalpoint 365 clips" project that has been going strong. Did you get into filming and editing because of BMX, or was it something you found along with photography and applied it to BMX?
Thanks man! Umm it's all things I got into because of BMX, I love it how back when you were in school other kids and the teachers would just kinda laugh at you riding BMX but there is so many riders out there who have acquired talents because they ride, be it photography, filming, web design or graphic design. I bet there are a heap of BMX photographers and filmers out there who could kill it in the industry outside of BMX because they have a different view on things. So its funny to look back at those teachers or whoever doubted you and laugh that now we are doing what we dream of for a job and supporting a scene that is amazing.
For anyone out there reading this and your still in school take it all in and then adapt it to whatever you want to do in life even if that isn't BMX don't let other peoples views on something stop you, let it motivate you.

Photo: Marnold
I'd imagine you still find quite a bit of time to ride? Does talking about bikes and working with them all the time ever burn you out a bit?
I try to ride every day at some stage, it's funny how on trips I tend to film or shoot more then ride so when I am home I try and make the most of it.
I wouldn't say I get burnt out on it, I love it to much and possibly it's because I get to do a variety of things it keeps it all fresh, that kind of relates back to how I was saying I kind of work on whatever I am motivated to do at the time.
I also make a point of stopping and watching a movie or an episode of a TV series each night just to take a break from it all.
What kind of advice do you have for people out there looking to work in the industry, get into photography, filming and editing, or anything else relating to your job?
Work hard at learning as much as you can, be it at school or out in the real world. Practice as much as possible when shooting photos and filming, for design stuff its all about brainstorming, the more you do it the better ideas you will get.
Could you see yourself ever doing anything else?
Hopefully not man, I really do love it and appreciate everyday I get to do it. When I get old maybe I wont be in a position to do it but hopefully in someway I still can. I always have cabinet making trade to fall back on.
Is there anything else that you would like to say?
The usual big thanks to everyone… Clint Millar, my family, all the crew I ride with, my girlfriend Sarah, everyone who contributes to the magazine, reads the mag or advertisers in it. It's all very much appreciated. Thanks to Joey for the Zoo York hook up aswell.
Thanks Kurt for doing the interview and the legit questions, hope everyone who reads this got something from it.
Much love xxx