Photo: Lloyd Wright
There's a lot of people out there that think being a team manager is this rad and ideal job in the industry and in all reality, if you were to ask Kink's TM Jay Roe, he would admit that it is. However, there's also a lot of responsibility that comes with the role and Jay is one of the few people who has handled the job like a champ these past few years. I figured it was time to shoot Jay a few questions to find out what his job is all about. Let's take a look what he had to say…
Name: Jay Roe

Location: From Rochester, NY currently living in Long Beach, CA
Years riding: 11ish
Hookups: Kink, Etnies, Bad Timing
Years at Kink: 5
How did your job at Kink come about? Were you originally designated at the "team manager" or did you have to start by packing orders and sweeping floors?
After enough years of badgering everyone involved with Kink, they gave me a job in the warehouse. I have since at one point or another done just about everything. Started sweeping floors and picking orders for Blackout. Eventually started handling the team issues along with getting involved with the direction of the brand. Finally got pulled out of the warehouse, got an office and did sales, TM, warranties and other random stuff. These days the TM gig has turned into a full time job.
Prior to Kink did you ever work in the industry or ride for any brands? What did you do or who did you ride for?
Growing up in Rochester I was tight with Greg and Dave Walsh, and Aaron Burto ( the Hell on Earth and Coalition dudes). I rode for Hell On Earth with a bunch of my friends forever and would help out packaging Coalition stuff at the local machine shop when they were just getting off their feet. When Tony Hamlin rode for FBM, I would get to tag along on FBM trips from time to time and hang out with those dudes. It was awesome getting to hang out and ride with Crandall back then.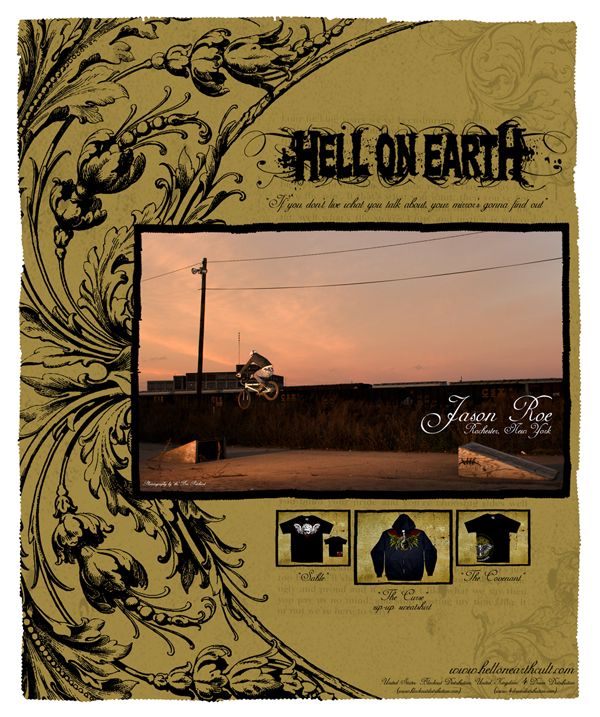 So your official title at Kink is "Team Manager". Does that mean you only deal with the team, or do you have other roles like helping with sales calls, packing orders or helping with product design?
Yea I am currently the TM. Since I started traveling almost non-stop I couldn't really handle the rest of my office responsibilities besides dealing with the team, travel and riding. I still have 100% involvement with everything that goes on with Kink behind the scenes with the guys back in the office. I don't spend nearly as much time in the office as I used to, but we stay in touch daily.
I know you spend the majority of your year on the road with the team, but when you are in Rochester in the office, what is a "typical" day like for you?
I don't really have much pressure to go into the office when I'm in Rochester. I normally do, to catch up with the dudes there. Go over new designs, graphics, products, samples and stuff like that. I'll freshen up the bike a bit and talk shit and then head out.
Did you go to college at all? Do you feel like college is important to work in the industry? What are some of the things you have learned how to do because of your job?
I went to college for 4 weeks and it was one of the lowest points in my entire life. I'm not cut out for that scene. You definitely don't need college to work in the industry. Your training for the industry should start when you're a little kid and completely passionate about everything BMX. Even the things outside of just riding and doing tricks. You do however…apparently…need to go to college to do anything else…but whatever, fuck that! Ha.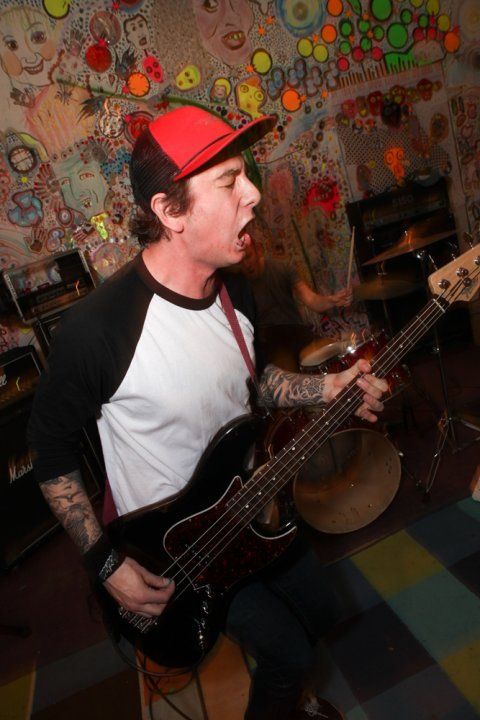 "
The band photo is for the kid who called me an "emo faggot" on TCU the other day. I awkwardly took it as a compliment…
"
I think it was an interview with the owner, Zack Phillips, which he mentioned you do an amazing job with working with your budget. I'd imagine that's one of your least favorite parts of the job, right? What are some of the less glorious parts of the job like working with the budget, doing reports, and what not?
I don't have to do too much boring paper work these days. Everything is online and done for you already almost. It is exciting getting to work with a budget because it is money there for us to use to travel and ride! Can't complain about that. Just a little bit of planning, thought and huckin' it goes into it.
What are some of the tools you use to do your job?
I do consider myself a professional van driver at this point. I currently go by the name "big truck" and would prefer to be called that whenever I am seen driving or even near the van.
The other part of your job requires to you keep the team in line and on the move for trips. In that time, you have driven in multiple countries. What's that like for you? Do you ever get super stressed out trying to work out the logistics and just keeping some sort of timeline on trips?
Yea, I have my international drivers license, which is pretty easy to get from AAA. It can be crazy getting these trips together, but once they are moving they mostly work themselves out. When we were in Eastern Europe for a few weeks last year, we drove to a bunch of different countries and I loosely wrote the directions from map quest on some post-it notes, that's about as logistical as I get on these things. I like to keep it feeling like a road trip. It is important to me to still keep alive the feeling of just being on the road, no worries, just riding and having a good time with your friends. It can be hard to do sometimes when trying to make so many different people, customers, fans, riders and everyone happy. But I think the team for the most part would agree that we have an awesome time on the road.
I'd imagine you spend quite a bit of time booking flights and rental cars, right? What are some of the tricks you have figured out for getting 10 dudes to a different country and have a van ready to go?
Spend a long time sitting on the internet…

Jay's bike stays fresh with all the newest Kink goodies that he can grab from the warehouse.
I'm sure you have run into some interesting situations with hotels. Do you have any tips with those or horror stories of times you had way too many people in a room for two? I'd imagine this could apply to the short-lived Kink House in Long Beach?
The Kink House was awesome and that's why it had to come to an end. Just read the RIDE US article for the details on that one. Hotels and Hostels are always a toss up. When being put up by other people or distros we never know what to expect. Sometimes we come up big and are stoked, and sometimes we wonder what the hell we are doing here. Depending on the team riders involved with the trip it is normally pretty smooth sailing. On Kink shop tours we straight up get 3 hotel rooms everywhere we go…no ones complaining about that.
What are the perks and best parts of the job?
The traveling, riding, and freedom. I essentially live like a pro bike rider without being all that good at riding. I just have a little bit more responsibilities than the average rider.
What are the downsides to the job?
That would be a question for my girlfriend who only gets to see me in weekly stints.
Do you ever get burned out on BMX from constantly working with it, talking about it and trying to ride?
Not yet, no way. If anything I am growing to appreciate it more. What it has done for me, where it has taken me, and what else there is to do. I learn everyday from the riders and the industry and I don't see myself getting tired of it anytime soon. Sometimes I can get pretty over the attitudes, opinions and views of a few people in the scene. Whether they are riders or industry heads I get stressed out thinking that they have control over certain things that I don't. But then I just have to realize that they are part of what makes BMX. For better or worse. I just try to not let people and brands that I don't agree with effect me, try my best not to get wrapped up in twitter or TCU comment battles and just let our actions through Kink and the people I roll with speak for themselves.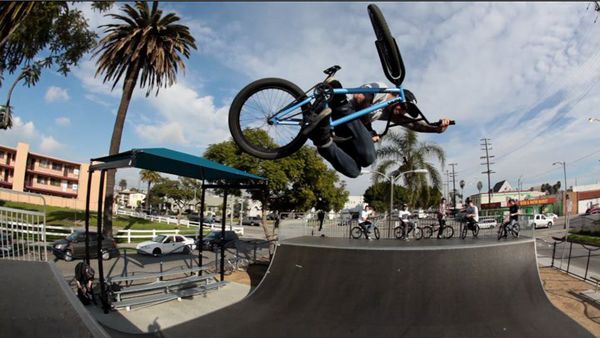 Photo: Fat Tony
Do you see yourself doing this job until Zach gets sick of you? Do you plan on taking on another type of job at Kink, Blackout or Mission ever?
I don't work for this brand for the money or the benefits or anything like that. It is all about the love of the brand and history behind it. When the day comes that it feels like just another job or paycheck I will definitely find a more lucrative job and let someone else step in that feels the passion and love for riding and Kink like I do. Until then I'd die for this brand.
Do you have any sort of influences or people you look up to in the industry to help you do your job better? Is there a Pro TM that you would buy a signature job model off of?
Brian Tunney, Povah, Zack and Reez at Blackout, Tom and Tina at Empire. These are all people that have been keeping it real and doing things right since day one. I think I would buy Povahs signature job model. I fully support and respect Etnies and what they have done and continue to do in BMX. I think Povah is an awesome guy first, and a really good brand/team manager second, and that combo is important in having not only an effective pro team but overall presence in the industry and scene.
Anything else you want to say?
Definitely a huge thanks to everyone at Kink and Blackout Distribution. Povah at Etnies, Kurt for always being so down with what Kink is up to. My girlfriend for putting up with me and being forced to share me with BMX. My parents for being supportive while never really knowing what the hell I'm doing. Huge thanks to everyone out there that has something good or bad to say about Kink. The good keep us doing what we're doing and the negative make us work harder and learn from our mistakes. Thanks everybody!
Outside of Kink, Jay can be found working on Bad Timing. There will be more on this brand popping up here soon.