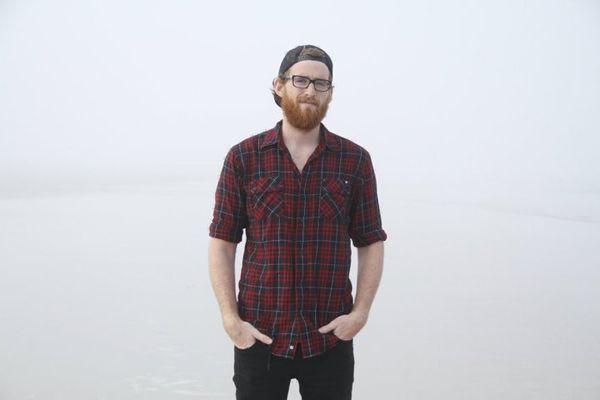 Photos: Spenser "Loofa" Lee
The past few Industry interviews I have done have been with guys who have been established in the business either as pro riders that took on jobs, or people who have been in a position for a while and know the ins and outs. I figured we could mix it up and get a look at the role of somebody fresh to the industry. Ryan Chadwick took over the role of Team Manager for The Shadow Conspiracy a few months ago and that's about enough time to get settled in. I shot Ryan some questions about how he got into the job and what it has been like so far. Let's take a look!
Name: Ryan Christopher Chadwick, but most everyone just calls me Chadwick



Location: Winter Park, Florida originally from Phoenix, Arizona


Hook Ups: Shadow, Subrosa, and the occasional pair of shoes from Kyle at Osiris.
Years riding: About 11


What was it that first got you into BMX? Any early memories come to mind?
Back in 8th grade, KC Badger had a set of trails that was on the way to my school and kids would always talk about going out there to ride. At that point, I was a chubby kid more concerned about video games than anything else, but it started to peak my interest. A rider by the name of Nick Deneka was the first person to really introduce me to what BMX really is. He showed me Nowhere Fast and Road Fools 5, and I was hooked! I bought a bright orange Hoffman George Jr., ordered Albert Street and Seek and Destroy from Dan's, and never turned back.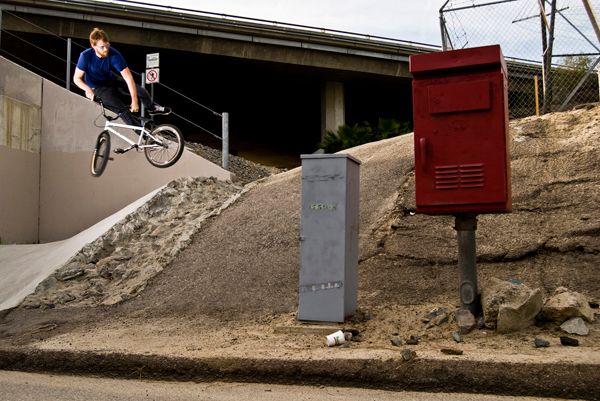 Not too long ago you took over the role as Team Manager for The Shadow Conspiracy. How did the job come about? Was it something you had applied for, or was it something that was offered to you?
To make a long story short, I kind of just fell into the position. I've been a friend of Ryan Sher for a couple years and when I was finishing up my second full-length video last year, he helped convince Sparky's to distribute it world wide. Making and selling the video was enough to send me on a six week riding trip to Europe with 7 of my best friends. To say thanks I went to Interbike to help do some video work for their booth. Through that process I met Ronnie B., John Paul Rogers, and the rest of the Sparky's crew. Right after Interbike, Shadow took a trip from Vegas to Phoenix and then on to California. While in AZ, the dudes stayed at a friends house and I showed them around town. One night, after a couple of shots of Jameson, John Paul and I got to talking about how he was moving on from being the Team Manager and how they were looking for a replacement. My "qualifications" coupled with my experience as "Team Manager" on my recent Europe trip, JP said, "I don't see why you couldn't do it." From there it kind of just snowballed to where I am now, living on the opposite side of the country, doing the job I had always dreamed about.
Prior to this job, did you work in the industry at all for other brands or anything like that?
I guess this would be considered my first REAL industry job. I've done a lot of freelance work for Vital BMX and other brands but this is my first non-contract position.

Photo: Thomas Butterfield
Was there really much debate about packing up and moving to Florida for the job?
There were a lot of things leading up to getting the job that just screamed "GO TO FLORIDA!" I had been out of college for a year, just got out of a five year relationship, and was working at a crappy film transfer studio. Things were quite stale. So I quit my job and got out of my lease with the intention of moving to Santa Cruz, California to live with my parents and "figure out my life." Before I left, I was inspired to finish I Got Work, which then led to Europe, and then to Interbike, straight into the Shadow trip, and then right to Florida. It almost felt like destiny.
Being a team manager isn't about just keeping up with the team. What are your roles that you have as the TM for Shadow? I know you have been doing a lot of filming and editing, right?
Obviously the dudes come first but there are a lot of other areas I'm involved with. My main focus, other than being TM, is that I was also hired as Shadow's full-time videographer and editor. Most everything you see from Shadow from here on out, is filmed and edited by me, unless stated. Besides that, I handle all of Shadow's web presence, news updates, press releases, etc. I give my input on hard and soft good designs. I've made the new product print ads that have been floating around the past couple of months. I pretty much try to be a jack of all trades and help in anyway I can, everywhere I can.
I'd imagine you dabble in all sorts of other things throughout the Sparky's Distribution building. What are some of the things you can be found doing outside of things for Shadow?
Sitting right next to Ryan all day, everyday, we tend to bounce ideas off of each other constantly. I'll chime in on some of his projects while he chimes in on mine. A lot of the time I'll ask him if a certain edit has a good feel to it or if anything needs to be changed in an ad I'm working on. It's good to have a second perspective that I can trust. Ryan also tends to have fits of rage over his computer not working properly, so depending on the day, you can either find me helping him or laughing at his expense. Also, being the office "tall guy," you can find me changing the clocks for Jill or grabbing things that people can't reach.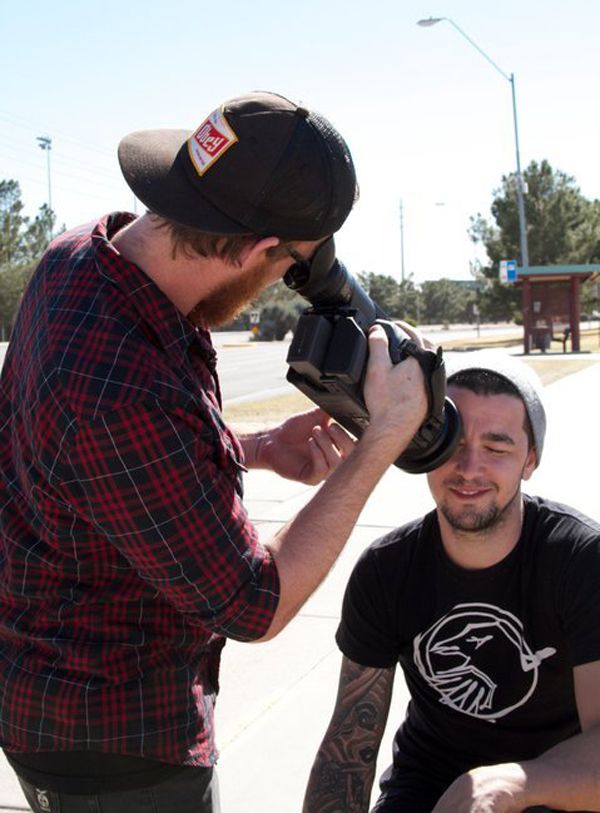 What kinds of things have you learned since you took on the job? Have you done anything you didn't expect to be doing?
I definitely have learned a bit more about the tools in the Adobe suite. Having no formal training in any type of design program, my methods were quite slow. Our Art Director, Chip Riggs, is a super genius and has shown me quite the arsenal of tools to turn what would once take me three days to complete, into a hour long session full of shortcuts and keystrokes.
What is a typical "work" day like for you?
Typically, I get to work around 9 to 9:15am. The first thing I do is look at my emails. Ronnie B. is on a whole other level than most people and can be at work starting anywhere from 4 to 6am, so it's pretty typical to have a bunch to read over before I even get there. After that it is off to the races, answering Facebook comments, updating the website, watching sponsor-me videos. After that is all done, I usually have a project or two to work on that fills up the rest of my time in the office, editing videos, sending out product to riders, planning trips, etc.
Is it a typical 9-5 schedule, or are you really on your own time schedule as long as you get things done?
It's a typical 9 to 5 unless there is something outside of the office that I need to focus on. Take for instance Trey's pro team edit. I would leave work early or miss a day just to go out and film. As long as things are getting done, Ronnie is cool about it, but most of my time in Florida is spent at my desk.
Ryan Sher mentioned as part of his role of brand manager of Subrosa, he is required to give you shit. Have you guys pulled any good office pranks, or is Ronnie the only one allowed to pull that kind of business?
Ryan likes to act all tough but we go shot for shot. Most of the day involves the two of us ripping on each other or the other dudes in the Art Department like Jason, Ronnie's little nephew Austin, or the Grand Wizard Chip Riggs. Best prank we've pulled so far was when Chip went on vacation, we took his entire desk area, and put it up on our conference table, plastic mat and all. That was a good one.
The Shadow team is pretty stacked these days. How do you keep up with all of the guys? Any hints at what you have cooking for the guys this summer?
Stacked is right, 34 dudes all over the world at last count. No matter where they are at in the world I try my hardest to stay in touch with everyone on the team. How do I do it? Lots and lots of emails. Facebook chat has also been a pretty good tool with the international guys that speak english. We got a lot of stuff going on this summer. I'm making it a goal to not be in Florida during the heat, so I have quite a few local and international trips that I'm hoping to make happen. It's going to be a good summer for the Shadow crew.
Rumor (that I started) has it you are bringing back Eli Platt to the pro team? Confirm or deny?
This needs to happen. If Eli wanted to come back to Shadow, he'd have his parts at his doorstep the next day. Eli was, and still is, one of my favorite riders of all time. I know Ryan sent him some Subrosa and Shadow parts right when I got into town, and we both talked about how rad It'd be if he started up again. Maybe I'll try and convince him to do a super secret web edit that nobody knows about until it drops…
What kind of room do you have for sponsorship these days? Are you guys planning on expanding the team at all?
As before, the team is pretty damn stacked at the moment. We got our originals in Ryan, Ali, and Seth. The sleepers like Rickey and Johnny. And then we got our young guns with Ben, Drew, Ty, Lahsaan, and Trey. That doesn't even include the incredible list of International Pros, the Am and Flow dudes, or the distro riders. I have plans in my head to add to some areas of Shadow, but that might be a little farther down the road.
What are some of the things you are looking for in riders to hook up?
In my eyes, the dudes to hook up are the ones who are really down. If they want to give it their all to shred for the company they are representing in a unique and original way, then thats what we want. Professionalism is also huge quality in a person. If you look at Ben or Drew, they hustle and they hustle hard but never lose site of the fact that they're riding a bike and having fun. They are 110% down for what we do and represent Shadow to the fullest. That is the stuff that sticks out to me. We don't want anyone who's just in it for the paycheck.
What kinds of tools do you use to accomplish your job? Word, Excel, Photoshop, Premier, cameras, computers, etc. etc.
All of them? Haha. On my computer I use Photoshop, Illustrator, After Effects, NeoOffice, Outlook, Firefox, iTunes, etc. In terms of camera gear, I have a Panasonic HMC-150, a lens, and some batteries. I try to have a real simple style with my filming so I don't have use for things like cranes and steady cams.
I'd imagine you spend a bit of time doing reports and budgeting. What are some of the downsides to your job at team manager?
I've never had any kind of experience with that kind of stuff so it has all been an interesting learning process. Budgeting and reports aren't too bad as long as you are in the black and able to do what you want with the money you have. There are day to day headaches like websites not working or out of stock products, but nothing has been any kind of real bummer.
What are some of the perks for being a team manager and working in the industry in general?
What aren't the perks? I seriously have the greatest job you could ask for. Free bike parts, travel the world at someone else's expense, and I get to film for a living. It is everything that I've wanted and more. The way I see it, I have the same perks as a pro rider while being mediocre on a bike. Score!
Did you go to college at all? How do you feel about college? Do you feel that it's something that would prepare you for working in the industry?
I did. I graduated from Arizona State University in 2009 with a Bachelors in Film and Media Studies. College isn't for everybody. For me, it was just the expected next step after high school, so I just went with it. I'd probably go about it a little different looking back, but I got out of there with a degree. That's all that matters right? College can either make you or break you. At the very least, it gave me a decent work ethic and a better vocabulary. Unlike what it seems from its name, my degree focused on criticism and analysis, meaning I wrote a shit ton of papers. So for me, the daily blog post and a couple emails is a piece of cake.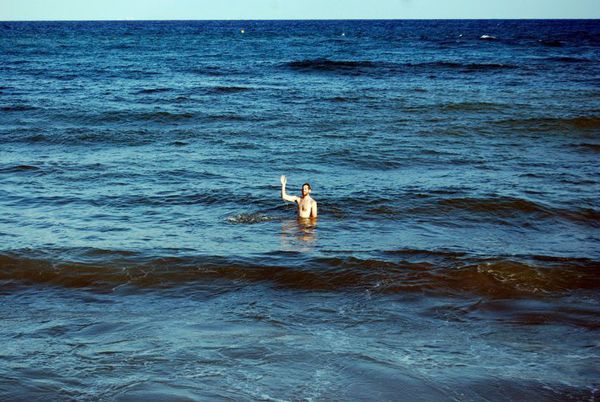 Do you feel your background with the videos you produced and such helped you land this dream job?
I'd say it was the number one factor in me getting the position. The videos I made were what introduced me to Ronnie and were basically a visual resume for what they could expect out me. It obviously didn't hurt that I knew a few people in the industry that could vouch for me, but I'd like to think my work spoke for itself.
Do you ever get burned out on BMX after talking about it all day at work?
I don't think I'll ever get burnt out on BMX entirely, but being in the industry definitely changes things. When you are constantly surrounded by the people, news, and drama, at the end of the day it's nice to just relax and not think about it. But it all resets when I remember that I'm one of the lucky few who get to do what they love for a living, especially in an industry as small as BMX.
What kind of advice do you have for the people out there looking to work in the industry some day?
The best advice I could give for someone trying to break through is to be consistent in your work and meet people. If you find yourself in a place with a lot of riders or industry folk, say hi to them and introduce yourself. Make yourself a commodity that they want. Don't get discouraged and give up because you haven't gotten there yet. If its going to happen, it'll happen.
Arizona and Florida are both hot beds for kooks. If you had to pick, which state has the craziest people?

I'd say Florida is a more centralized area for nut jobs. It is, after all, a part of "The South". Arizona has its fare share of kooks, but they are more wide spread.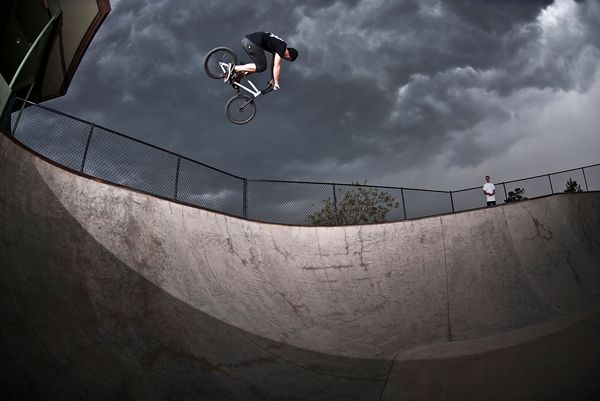 Where do you see yourself in a few years? Do you have any particular goals or things you would like to accomplish?
Wherever the wind takes me. I'm still coming down off the high that is getting this job. It still blows my mind everyday I am where I am. Maybe at some point I'll be at the level of awesomeness like Jay Roe and able to do this job closer to my family and friends. My heart will always be in Phoenix and know I'll eventually be back there, but I know I'm needed here now. For long term goals, I want to take Shadow to the next level. Always traveling, constantly on the web, making as many moves as possible. Maybe a full length at some point? It's going to be an awesome couple of years.
Do you have any shout outs or thanks? Anything I missed you want to add?
Way too many to name so if I leave you out, I'm sorry. First and foremost Ronnie B. for this opportunity, it means the absolute world to me. Ryan Sher for the good reference. My family for constantly supporting me no matter how many times I knocked my teeth out. My friends for always being down to film and motivating me when things looked bleak. Everyone at Sparky's Distribution for putting up with my ridiculousness. Sam Buros for being my absolute best friend and riding by my side since day 1. KC Badger for helping me get my foot in the industry door. Jay Roe @ Kink for the early hook-ups and advice, you are my TM inspiration. Kyle Carlson @ Vital for the constant criticisms. Darryl Tocco for giving me something to strive for. Tanya for taking a leap of faith. The Daggers. Ditchset. Anyone and everyone that has helped me get to where I am. Thank you so much. #pegsonshit