Photos: Kurt Hohberger
When I think about people who have done a ton for BMX that work in the industry, one of the first names to come to mind is Fuzzy Hall. Tim is one of those very few people who can have anything thrown at them and turn it into something awesome. I don't even want to know how long of a resume he has with roles from being a pro rider to team manager, shop owner, course designer, event coordinator and more. I've wanted to do this interview for a while, but needed to wait till the timing was right. Well, that time came and here it is. Anyone wanting to work in the industry should find this inspiring…
Name: Tim "Fuzzy" Hall

Location: Salt Lake City/Dallas
Sponsors / Hook Ups: SkullCandy/Vans/SPY/5050/Answer
Years Riding: 30
Years working in the industry: 14
All right, so let's start back a few years. When did you officially become Pro? Who are the brands you have rode for over the course of the years?
I officially turned pro in 1987 and my first bike sponsor was with Robinson bikes for 1 year and then Mongoose for most of my career. Then moved on to my first TM spot with Redline Bicycles for 3 years!
You eventually made the move to working in the industry. Was it a conscious decision you made, or was it an opportunity that just popped up and you took it? What was your first "job" in the industry?
It really did just pop up. It was great because if I didn't ride good at a contest I could still bring home a decent paycheck for the family without being hurt and I got to learn so much about running equipment, venues, dirt quantities, sport organizing and tarping (haha).
Over the course of the years you have had many roles. Care to take us through a timeline of the different jobs you have had leading up to your recent Red Bull career change?
I started off racing BMX like a lot of pros have but always loved hitting the jumps on the track instead of caring about racing. I just always thought how cool it would be to just jump instead of race, but there wasn't anything like that then, so I pursued going to a race in Texas when I was 16 and got noticed by the editor of BMX Action mag (equivalent of RIDE today) and he saw me doing no-footed cans in practice and asked me to stay another day for a photo shoot. I have been riding pro ever since; he gave me the cover of the mag from that shoot back in 87.(Stoked I stayed that extra day! Since then and have had Vans shoes as a sponsor to this day which I am very proud of. Along the way I have rode for only 3 different bike sponsors: Robinson, Mongoose & Redline and numerous clothing companies have had action figures, A video game, built dirt courses for Van's Triple crowns, Gravity Games, Dew Tour & Red Bull.
You recently sold your shop, 50/50, right? What was your biggest goal with the shop and what was the deciding factor to sell it?
I sold 50/50 to a great friend Eddie Buckley a few years back because there was just not enough time in the day to do everything I wanted to do. I never started 50/50 to "retire" on; that would have been crazy. I started it to keep a good foundation for the local riders where we could have a network to get riders recognized in the Utah scene and 50/50s Door's have been open now for 8 years!
How do you handle running shops, managing teams, organizing events and everything you do?
Right now I only have one job and that is being an Athelete Marketing Manager for Red Bull and there is definitely a lot of weight on my shoulders but it's so rewarding to be around some of the best Athletes on this planet and to have budgets to make some amazing things happen for them!
You have been in charge of course build for multiple Red Bull and Dew Tour events over the years. How did you get into that? I'd imagine you kind of created that job for yourself since last time I checked you couldn't go to college for dirt engineering & BMX physics?
I just thought there was no one really doing this at the time and the door needed to be opened for riders to come thru!
Now that you are at Red Bull, I'd imagine you have some say in the events that go down. Care to give us some hints at what you have in the works for the BMX department? Stomping Ground Round 2? Elevation 2011?
I am in business planning now with Red Bull and can't say much. But I can say that I am really looking forward to 2012!
You were team manager for Redline for many years before taking on this new role for Red Bull. What's your official title for Red Bull? What does that job consist of?
I am 1 of the A.M.M's (Athlete Marketing Manager) and My Job consists of writing all athlete contracts, making athlete projects happen for the RB athlete's, communicating with Media for that RB athlete, and many other roles. Some days I feel like an Accountant, Lawyer, Babysitter, Travel agent, Psychologist…
It sounds like you will get a full dose of everything action sports for Red Bull. Have you been getting into the Moto-X, Snow-X, skateboarding, and snowboarding stuff since you started the job?
Yes, I have and it's such a new experience for me and I love it. I really thought it would be different to hang out with a pro snowboarder or Wake boarder but when it comes down to it I think every action sport athlete all tick the same. They all want to be groundbreaking with their talent and do what they love for a living.. Pretty simple!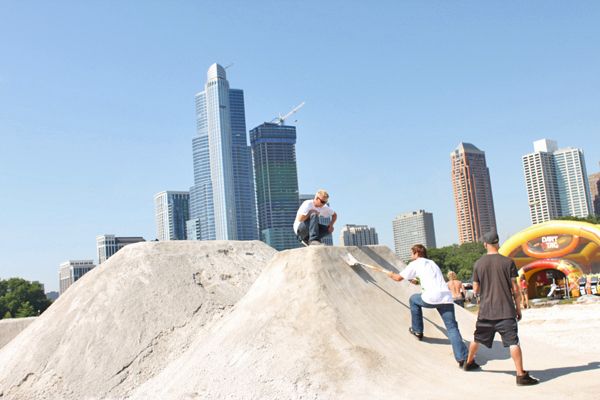 You also have some association with Skullcandy. What's your role for them? How did you get involved with that brand? Did I miss any brands that you work for or have involvement with?
Skullcandy is great and one of the last few Sponsors that would actually sponsor a 40 year old BMX'er and have put me on their Legend team which is so cool to see that companies don't just break off a rider's career and don't think of them as just washed up and move on to the next! Jason Kimball is the Marketing guru over there and I really look up to that guy. He has a finger on the pulse and also wrote me a letter of recommendation to Red Bull. Cool to see that a company can do so much for you even at the end of a rider's career! Thanks Kimball!
Care to take us through a typical day in the life of Fuzzy Hall? Do you get much of a "typical day"?
I am currently working from home for Red Bull with intentions on Moving to Dallas when our home sells. But I am definitely behind the laptop more than I have ever been and traveling more than I ever did in my bike career!
You get a fair share of traveling time in, right? Where are some of the places you have been recently? Where are you off to next?
I finally got to go back down to Austin a few weeks ago and had an amazing time there with Aaron Ross and all the locals. Truly is one of my favorite cities. I am currently getting ready for X-Games and going down to watch Drew Bezanson set that place on fire!
You made the move to Texas already, right? Was that a hard decision to make or is it just part of the Red Bull job?
Haven't moved yet! But it was part of the job and one of the toughest decisions that I have had to make because it's not just my life I'm changing its my whole family and friends. My wife and I look at it like an adventure that we couldn't pass up and would be amazing to see how it would be to live somewhere other than Utah. We have all intentions on moving back to Utah when that time comes!
I know you went pro at a pretty young age, so I don't think you went to college, right? How important do you feel college is for working in an industry like BMX? Do you have any advice for kids out there about to graduate from high school?
Well that's a tough one because my wife is a High School English Teacher and would say go to college. But as corny as it sounds..If you feel like BMX is something that won't let go of you then you go for it!
Do you feel like it takes certain characteristics of a person to work in the industry?
I don't! I think that's what makes the Industry so interesting is all the different characters out there and everyone brings something to the industry.
What kind of advice do you have for a person looking to get into being a team manager, brand manager, shop manager or shop owner?
I would say get really involved with the local scenes and network yourself. And from there start traveling as much as you can and surround yourself with the best people you can to learn from.
How the hell do you still have time to ride? Do you ever get burned out on BMX after being so involved with it everyday? What is it that helps you keep things fresh?
I definitely don't get to ride as much as I used to so when I am on my bike I respect it more than I ever have! It's still fun to do curb endos and bunny hop onto a picnic table! haha
I know you have been getting some use out of your sled, snowboards and some dirt bikes lately. What have you been getting into with that? Anything serious or just feeding your addiction for fun?
I am actually going to enter my first Pro MX race this weekend at a national here in SLC. I love building big cliff jumps for my sled on top of a mountain and have a lot of respect for sledding; it's one dangerous sport. I guess that's what has always intrigued me about BMX..If you couldn't get hurt it would be like golf!
Where do you see yourself in 5 years?
Hopefully have my kids College fund figured out and still partying on this planet with Red Bull!
How can people keep up with what you are doing? You got Twitter, right?
#Haha! @fuzzyHall
Is there anything I missed you would like to add? Any shout outs or thanks?
Thanks to my wife and kids for letting me still be a kid!

Go to PropsBMX.tv for more videos.

Go to PropsBMX.tv for more videos.