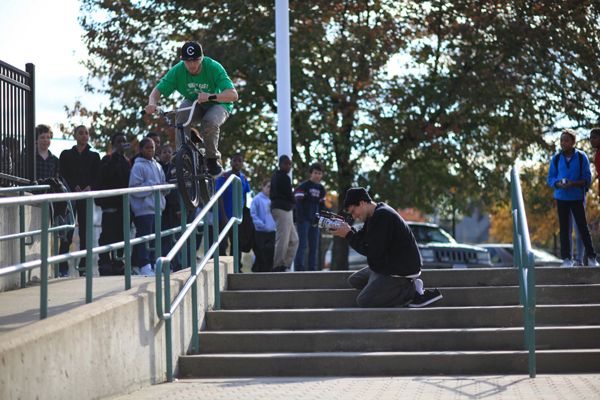 With the release of the new 90East video "Sound of the City" last week, we figured it would be a good time to catch up with Lino Gonzalez to find out more about the video and what it took to make their second DVD release. So let's take a closer look at what you can find in this new video from the riders to the camera gear to where you can pick yourself up a copy. You aren't going to want to sleep on this video…

All right, so I guess the best place to start is from the beginning. When did you guys start tossing around the idea of doing another DVD? Was it pretty much right after you wrapped up the first one?
The first one was finished in March of 2010, pretty much right when the spring starts so we were all just riding and excited to hit some spots we found over the winter. It just naturally happens, there's no start or end date. If someone's hyped on something we'll film it, then the footage just piles up until everyone feels like its done. there's no deadlines or pressure or anything, a lot of the crew works too so we just take it as it comes.
Did you have any ideas for some sort of theme for Sound of the City or was it really just film as things came up you guys were into?
As far as the riding goes, there's no theme or anything like that. It's just the neighborhoods that we live in and spots that we enjoy riding. As for the B roll shots I wanted to show some familiar sights from around the city of Boston so people can kind of get a feel for what it's like here.
Who all has sections in the video? Are there any mix sections?
In order… Jake frost, Lee Hopkins, Mike Penney, myself, friends/Dave McDermott, Abdul Fofanah, Webster Jake, James Meliota and Carlos Rohena. Yeah the friends section is basically a mix of people that came through Boston the past 2 years, plus some clips of Dave to finish it off.
I know it sucks playing favorites, but whose section is your favorite in the video?
I don't have a favorite, these are all my friends so there's things about each part that I like, and that's all stuff that has to do with the good times we had riding and not really about the actual footage.
Was there anyone you wanted to get a section out of but things didn't line up?
Yeah. It would have been awesome to get Jesse Williams out more but he has a lot going on, he works full time and is having a kid. Also, Harold Harwood who had a full part in the first one and josh Lorange and Josh Remian who have clips in the friends section. These are my friends who I grew up with my whole life so it's an amazing time when we all get to ride together and i wish they had more stuff. They all have good full time jobs and some have families so I'm really happy for them and excited anytime we get to chill.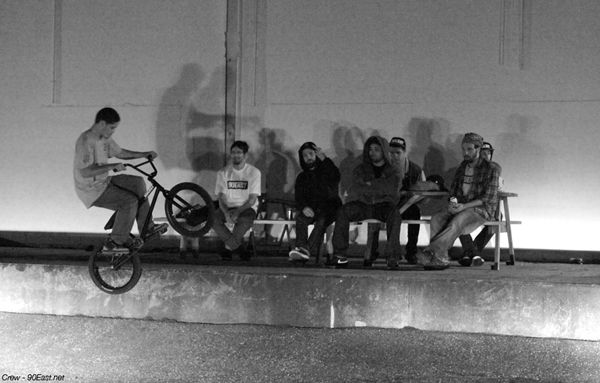 Where all did you spend time filming? Did you guys go on any trips to film?
The majority of the clips were filmed in the Boston area since that's where most of us live. We did go on a couple trips to Portland Maine to chill with James which was awesome. They have a good crew up there and they all kill it.
Who handled the filming and editing for the video?
Filming was mostly handled by Jake Frost and I with some contributing filmers. I handled the editing but everyone gives their input on what should be done. I'm not trying to be one of these filmer/editor dudes though, I have no interest in filming anyone except my friends.
What kind of cameras did you guys use to film for this? How many cameras did you go through? What about tapes or memory cards?
The riding was filmed mostly with a VX2000, but there's some T3i and TRV900 footage in there also. All the B roll is T3i. The T3i is our main camera now, so all of our future projects will be HD. We got away pretty easy with this video, I can only recall the camera being hit a couple times that weren't that bad. We did go through a lot of tapes but that's to be expected when your making a full length video. I'm glad that's over though, memory cards are so much better.
Were there any crazy situations that came up during filming for the video? Crazy homeless attacks or anything awesome like that?
I can't really think of anything that crazy. Maybe the time we got kicked out of a particular city by the police. The cops saw us and asked us what we were doing riding around in the craziest neighborhood in one of Massachusetts' worst cities. They couldn't understand at all the concept of us riding there. They searched us and basically escorted us out of the city.
What are some of your favorite moments while filming for the video?
There's so many good times I can't single any out. Anytime your out riding around the city chillin with your friends its a good time and that pretty much what this whole video consisted of. If I really had to pick I would say the Maine trips, and the Worcester weekend were stand outs, the homies know what I'm talkin about.
Start to finish how long did it take to get the DVD done from talking about doing it to its release?
Almost exactly 2 years. Like I said before there was no deadline or anything so it came together when everyone felt it was done. Once all the music was picked everyone was excited and it was a wrap.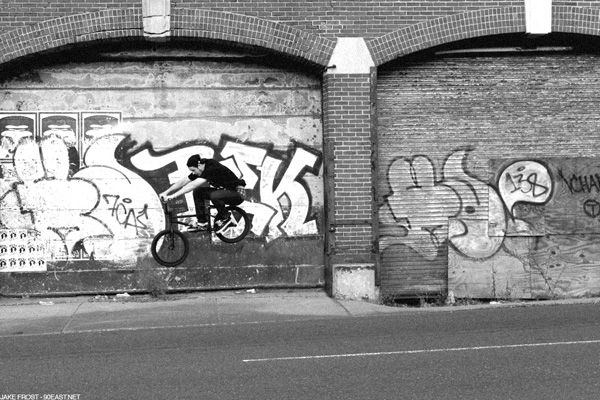 How long does the entire video run for? Are there any bonus sections at all?
The video runs for about 25 minutes. There is extras that are only included on the DVD version of the video. There's a b-roll section that is clips that didn't end up in the video for one reason or another and there is also a crash section which is pretty entertaining.
How much does Sound of the City cost? Where can people pick up a copy?
You can pick up the DVD version which is $10 and available at our retailers and in our online shop. We ask that if there is a retailer near you to go and purchase it from them and show them love because they support us and make this possible. We also have the digital download version available in our own online shop but it doesn't include the extras that the DVD does.
I know you guys already had one premiere. Do you have any others lined up here in the near future?
We don't have any additional premieres lined up. Thanks to everyone that came out to the official premiere, it was cool to see the diverse crowd that showed up.
What else do you have cooking with 90East these days? Anything people should be expecting to see soon?
We have a few things in the works, more soft goods and maybe a few other things, check the site often to stay up to date.
Do you have any plans of doing a 3rd DVD or are you looking to chill for a while?
Like I said earlier there is no focused plan for video stuff, we just pile stuff up until everyone feels like we have something that looks right. I'm open to any ideas of the crew, it's really up to them.
What do you personally have cooking this summer? Any edits, trips with the sponsors or anything you are looking forward to?
I'm going up to Toronto for a few days for a Ten Pack trip. Other than that just the same cruising around the city, if I come across something I want to do the footage usually ends up going toward the next Animal video release.
Is there anything I missed you want to say? Where can people keep up with the 90East crew?
Just thanks to everyone that has ever supported 90east in anyway. Being an independent company every little bit of support people show helps us out and directly goes back into our future projects. As always you can keep up to date with us at 90East.net.