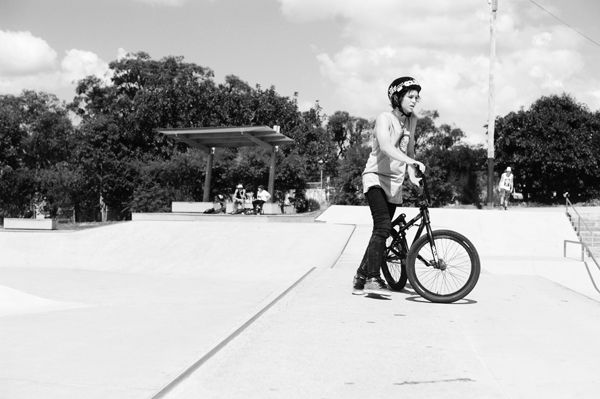 Alex is one of those unbelievably talented young riders that has been blowing up over the course of the last two or so years. Alex is constantly getting better, and after getting over a recent injury, he has been back on it and better than ever. I figured with him filming for his Colony part, having his own signature frame and complete bike, and just an endless amount of energy and good coming from the kid, that it was time to shoot him some questions. Check out what Alex had to say, some real good photos from Cooper Brownlee and some of his recent edits. Don't forget to leave him some love in the comments or by Liking the interview!
Name:
Alex Hiam


Location: 
Brisbane, Austrlalia

Sponsors: 
Colony BMX, Crossley Cycles and Dishonour Brand.

Years riding:
 5

How did you get into BMX? Any early memories come to mind?
Playing Dave Mirra 2 on Playstation got me real keen to ride. I got a bike for my birthday and have been riding ever since!
How are things going with Colony these days? It seems like you have plenty going on with them. Do you have any new signature stuff in the works?
Colonys going good as always at the moment! They treat me really well so it's always something new. I don't have any new signature stuff on the works at the moment.
How are things with Dishonour going? Do you have anything in the works with James at all? Trips, signature stuff?
Yeah, James at dishonour hooks me up real well! I really appreciate having fresh clothes all the time, ha! Maybe a lil' cheeky road trip coming up. Keep checking DishonourBrand.com
You are definitely one of the youngest pros I can think of that has a signature frame and complete bike. Is it weird for you to be so young and accomplished so much? I feel like you see a ton of people riding your frame since I've seen it sold out pretty much everywhere.
Ha thanks! I'm pretty psyched with the feedback from my frame. Thanks, Colony! No, it really doesn't feel weird to accomplish so much because I have so far to go still, haha.
How has your Colony part been coming along?
Filming for Colony is a pleasure, so it's always fun doing that! I've been flat out every second of spare time I get to film, so to see the end result will be amazing.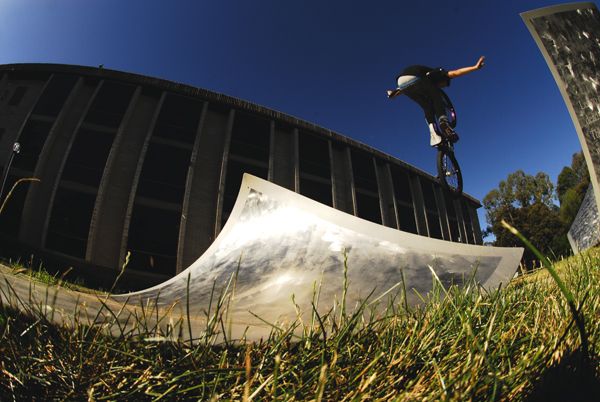 When can we expect a new web edit out of you? I feel like it has been a while since I've seen some fresh footage of you.
As soon as I finish my Colony section I'll film a new web edit asap. Right now, all of my good footage lately is going into colony DVD.
You broke your leg a few months back, right? What happened there and how long were you out for? Are you back to killing it at full speed again?
Yeah, not riding for 7 months definitely made me realize how good BMX is. I broke my leg doing a backflip and looped out and snapped it. I was expecting to lose a lot of tricks, but I'm back and more motivated and better than ever.
I know you have been able to travel quite a bit the past year with a trip to the U.S and everything. Where all have you been so far? Where was your favorite place to visit?
Traveling is the most fun part of BMX for sure. I was spoiled enough to goto Woodward and Greenville and ride Mirra's warehouse and the Unit. It was the best time of my life no doubt.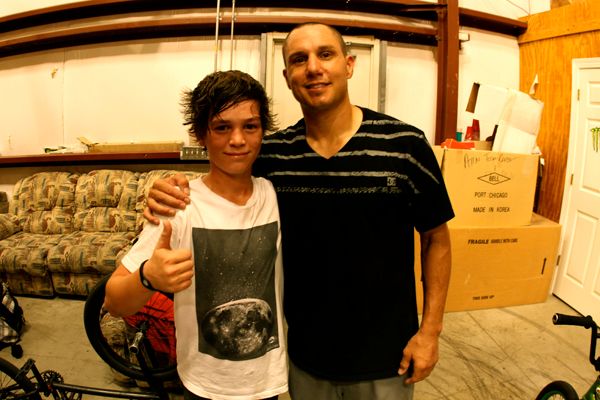 Do you find it hard keeping up with school and riding as a pro? Are you on any sort of special program for school or are you just a regular kid who can shred on a bike?
Yeah, I find it kind of hard keeping up with all the other kids at school that have no hobbies or anything. Teachers will sometimes expect more from me, haha. No special programs. I'm just a normal school kid.
What are your plans for the summer? Do you have any trips planned? I'd imagine you have a few contests you would like to hit in mind?
No plans yet, I would love to go and ride Free Flow tour in the U.S, but I'm not getting my hopes up!
I'd imagine it has been hard to get burned out on riding having to take so much time off. Do you ever feel pressured to ride because you are pro or is it something you don't worry about?
It's something I don't worry about or forget about when I'm just out having heaps of fun with mates riding.
It seems like tricks come reaaaaal easy for you. What's one trick you can't do for the life of you?
MANUALS I couldn't do them if my life depended on it, hhaha! Also, bar to whiplashes. I bloody hate that trick, haha.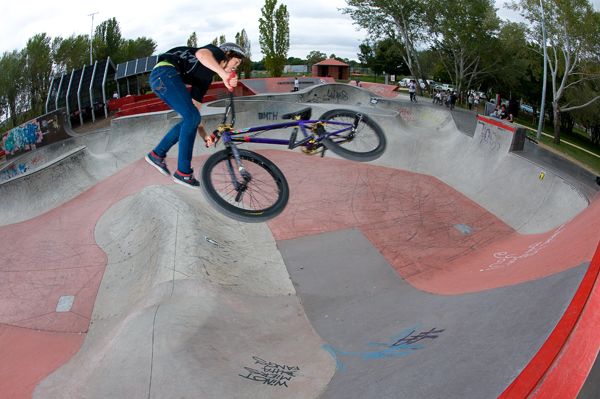 Where are you usually riding these days? Any spots you are real psyched on?
I've been riding Farifeild skatepark, which I'm real keen for at the moment just because it's close to my house and there's a real good vibe there. I'm also loving GC compound at the moment and also riding a fair bit of street at the moment as well.
Who's in your regular riding crew these days? Anyone you think people should keep an eye out for?
Keep your eye out for local ripper, Logan Martin this year for sure! There's a lot of talent coming out of Cleveland, Australia at the moment as well. My riding crew is friends from Cleveland along with Wilton Hedley, Micky, Peta and Chris Courtenay!
Obviously you have just started getting your traveling life going. Where are some places you would really like to make it to at some point?
My dream would be to go ride the Free Flow Tour in th U.S. I'd like to just ride a few comps over there and maybe get to the X-Games one day!
Who are some of your biggest influences on your riding?
My friends, all those banging web edits out there, Alex Colborne, Dennis Enarson and Josh Harrington!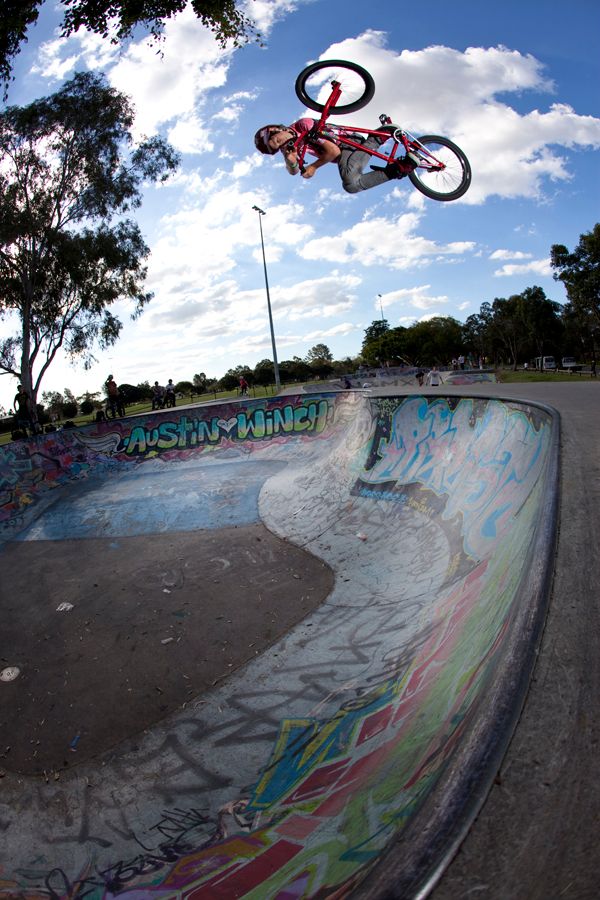 I can imagine this won't be too hard for you to figure out. What do you think you would be up to if you didn't get into BMX?
I'd most likely would of been a scum or play football or something. BMX is boss.
What are you usually up to when you aren't riding?
Chilling with the crew, playing xbox, on internet or out doing fun shit.
I know the girls go mad for Maddog here in the U.S. What do the girls think about you down in Australia? I'd imagine you get yourself plenty of dates these days with that pro card?
Bahaha I'm nothing compared to the p.i.m.p Maddog, haha!
I feel like you are a pretty smart kid. Do you plan on going to college or anything after high school? What are some of the things you could see yourself doing outside of BMX?
I haven't planned that far ahead, really. I definitely want a job that is active and fun.
What's the last song you heard, movie you watched and website you visited?
The last song I heard was "Biggie Smalls – "Unbeleivebale" Last movie was Hall Pass, and the website I visited was FACEBOOOOOOOK <3 What's something about yourself that might surprise people?
Damn, this is a hard one! Maybe that I've never ridden brakeless?
If you could have any super power, what would you choose and why?
Read peoples minds!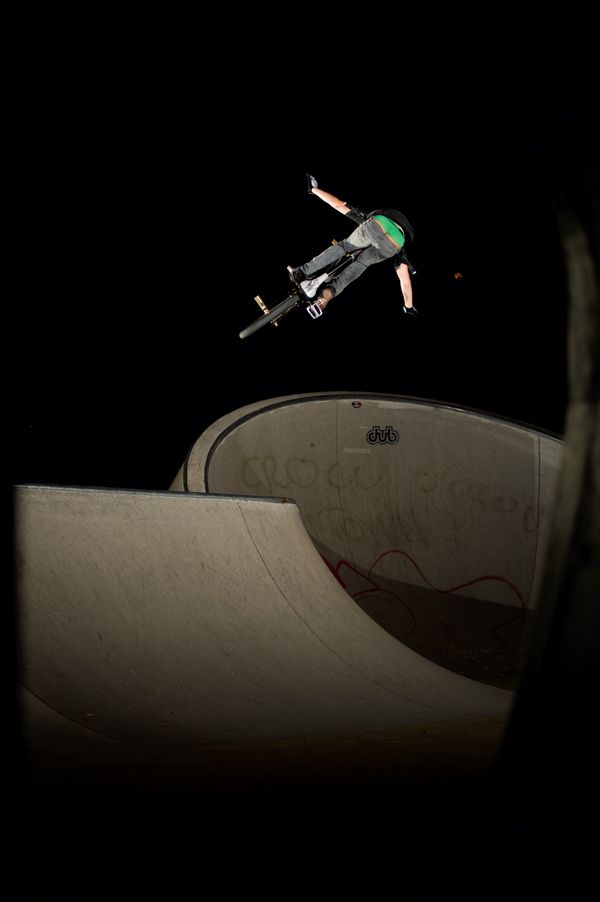 What are some things you would like to accomplish in the next year or two? Won't you be getting your license here soon?
Yeah, I plan to get my learners license soon, pass school, ride as many comps, film all the time and travel a lot.

Do you have any shout outs or thanks?
Thanks to all my homies that get me keen to ride, COLONY BMX, CROSSLEY CYCLES, DISHONOUR, Peta Sheperd for driving me everywhere, Chris Courtenay, Wilton Hedley, all my boys at Cleveland and my family.
Anything else you want to say?
HAVE FUN WITH IT!