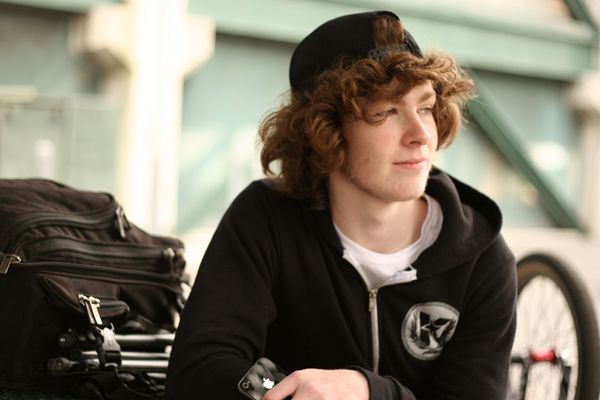 Photo: Jay Roe
Who the hell is Dan Coller? Well, how about Lil' Dan who rides for Kink? That sounds a little more familiar. Dan is one of those up and comers from that infamous Rochester, New York scene who has almost secretly been riding for Kink since he was about 10 years old. Now days, he's busy graduating from school early so he can hit the road with the team and focus on riding. Jay Roe and I figured it would be a good time to get to know this kid who you will be hearing more and more about in the near future. Let's take a look at what he had to say…
Name: Little Dan

Location:Rochester, NY
Sponsors: Kink Bike Co.
Years riding: 8
What was it that first got you into BMX? Any early memories come to mind?
I've been into BMX since I was in like first grade, I don't even remember what got me into it actually, I think watching the X-games on TV and from then on I've been stoked on bmx. I got a Haro Backtrail when I was 7 and for the next two years I just went off of a kicker in my yard to keep myself busy. I didn't have anything to really ride until X Dreams opened when I was like 9.
How are things going with Kink these days? Does Jay have anything in the works with you? Do you have any trips or anything like that coming up with them?
Things with Kink have been so good. I just got home from the east coast shop tour a few days ago and I'm back out in Boston for a trip to film with Darryl. It's actually a Bad Timing trip but Jay brought me along anyway to film Kink stuff.
You made the trip out to Long Beach before the Kink House got shut down. Was that your first time out to California? How was that trip for you?
No, I went on a Kink Am Trip almost exactly a year before I went to the Kink house. Going to the Kink house was so rad, it was like the perfect vacation. I was left alone for almost the first 24 hours I was there because I was too young to go out to the bars they ended up crashing in L.A without me, so I had the place to myself for a little while, haha.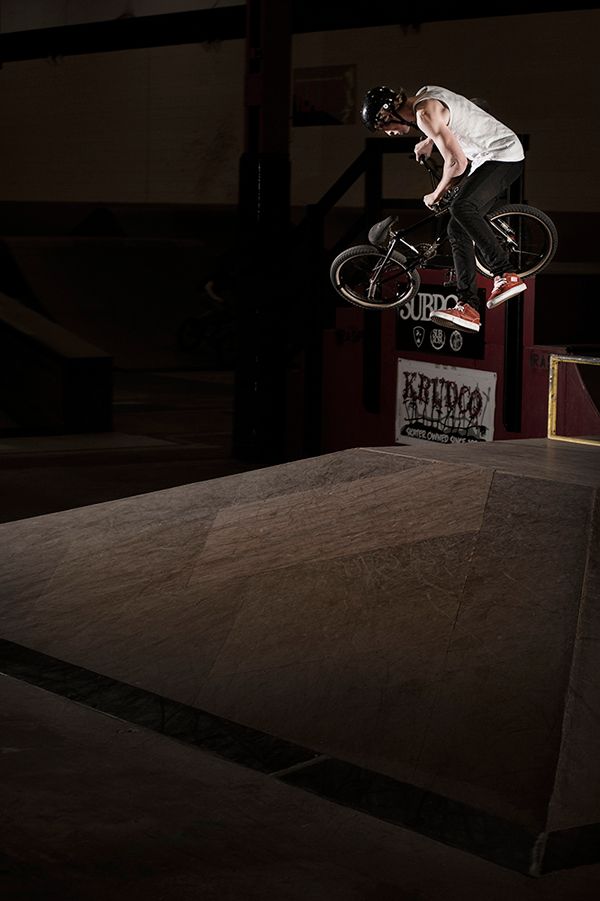 Photo: Red Beard
Do you have any trips in the works for this year? Anywhere you have been dying to go that you haven't been?
Coming off of this Bad Timing trip, I actually have nothing planned so I'll be home in Rochester finishing up school and enjoying the summer weather. I want to go out to Arizona sometime and ride out there this year. There's a lot of good spots and good dudes down there.
You have had a fairly steady flow of edits coming out over the last few months. Have you been filming for anything lately? When can we expect some fresh footage from you?
I've been filming for an official Kink web edit with clips from all over lately, so no more indoor skatepark clips in this one, haha.
It seems like you had a fairly easy winter with RASP and the Kink warehouse to ride. Have you had much time to get out and ride street now that the weather has been a little better? Any hot spots you have been psyched on?
The weather in Rochester always sucks. There is only a few months out of the year it's nice and it just started to get nice so I've been staying away from RASP and the Kink warehouse as much as possible.
You are one of those goofy footed riders. Do you get a lot of shit because of that? Do you feel like some tricks are easier or harder because of your… condition?
Haha, yes, it gets brought up every once in a while, but not much in Rochester cause everyone is used to it, but a lot of times when I meet new people I get asked if I'm goofy footed, or at first they think I just like going opposite. It makes truck drivers a nightmare that's all I know haha.
Is it true that you learned how to lookback before you could drop in?
Haha, no that is a lie! But it is close to true. When I was nine years old and just got the hang of dropping in and airing quarter pipes Tony Hamlin told me to try and do a look back since I was goofy footed and it worked out for me really quickly. It was probably the only trick that worked out quick for me but I guess it was just beginners luck.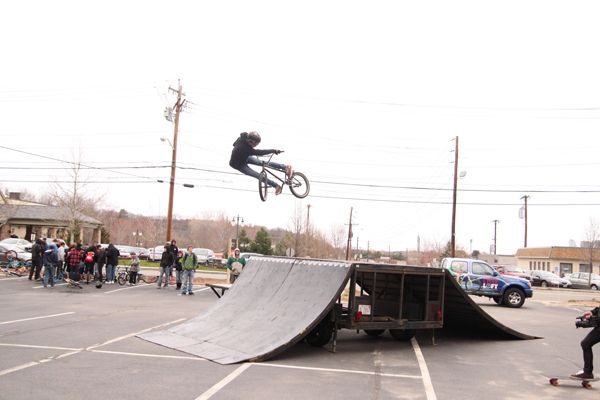 Photo: Jay Roe
You had the chance to grow up around guys like Jay Roe and some of the other Kink crew since you were about 9 years old. How do you feel that has influenced your life and really your attitude towards BMX in general?
I think hanging around Jay and Tony Hamlin and Tom Dillon most of my life has had such a huge impact on my life. They have never cared about anything with BMX other than having a good time and never taking it really seriously. I've never been worried about what tricks I'm doing or anything like that and I owe it to those dudes for keeping me level headed about stuff. I never got anywhere close to drugs or drinking because of these dudes either. It's been like having my closest friends all be like big brothers to me. Growing up at an awesome skatepark, which was Xdreams, made a huge impact. When that place opened it was the first skatepark I ever rode, or even real ramps. My mom used to show me articles in the paper about it when they first started working on it and I used to check the website daily waiting for it to say when they were going to be open.
Who have been some of your biggest influences over the years when it comes to riding?
Definitely my friends that I've ridden with over the years. Tony, Tom and Jay have all played a huge part in my life and still do. There have been so many people throughout the time I've been riding that have really influenced me a lot. Jake petruchik for killing it and being one of the most level headed people I know. I owe a lot to him because he learns things with no effort at all and it makes me try shit cause he makes it look real easy, haha.
Do you think you would still be riding if you didn't have those guys around to keep you going?
I think it would slow down my riding a lot if I didn't have those dudes around but I know for sure that I would never stop riding. BMX has been the most important thing to me all my life and without it I have no clue what I'd be doing.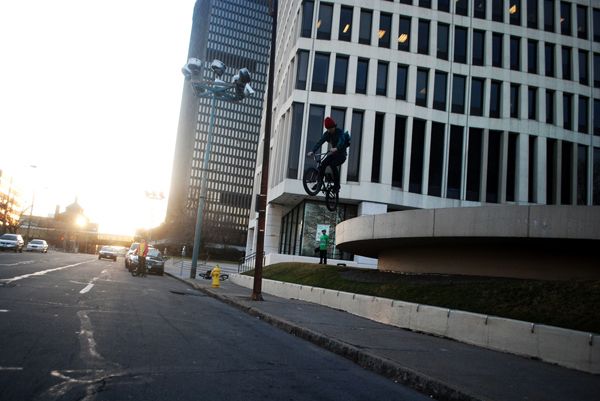 What do you think you would be into if you never got into BMX?
Haha, well honestly probably nothing. I'd probably be way over weight cause I don't stop eating candy and drinking soda and I would probably just sleep a lot. Maybe I would have stuck with baseball cause I played little league, but I still hated every second of having a coach and playing a team sport.
BMX seems to lack in the education program a bit, how are you graduating a year early?
I had to write a letter to the principal explaining that I had something better than high school I wanted to do. haha. I have to double up on history and english classes this year but it is completely worth it to get a whole extra year of my life to do my own thing.
Do you have any plans to go to college or are you taking a bit of time since you are ahead?
I want to go to college someday but definitely not soon. I'm getting out early so I can travel more without it being such a pain to come back to school. I missed about a week and a half for the kink house, I was on the Kink east coast tour for 10 days and I was home for a week and left school for another week for this Bad Timing trip. My teachers get so mad about it but my grades are better than average so it doesn't really matter. I also just hate high school, haha. I think that's partially due to growing up with people that are 6-8 years older than me since I was very young.
How do your parents feel about BMX? Are they psyched on what you are doing?
My parents are just psyched that I'm psyched. They were hesitant at first when they saw I was 10 hanging out with a bunch of 17 year olds but they always let me go on trips and let me do my own thing so I owe them a lot for being so awesome about everything.
Are you working at all or just hanging out riding and doing the school thing?
Just hanging out and riding and doing the school thing. I need a job so I can get my own place with my close friend Jake who shreds but I've just been lazy, haha.
What are you usually up to when you aren't riding?
I am usually just hanging out with my girlfriend. I ride pretty close to everyday but when I'm not riding I'm with her. She lives with me part time so I get to see her a lot which is nice.
How are the ladies treating you?
I have a girlfriend I've been with for awhile but I get girls from my school trying to hit me up a bit. My girlfriend isn't stoked on that, haha.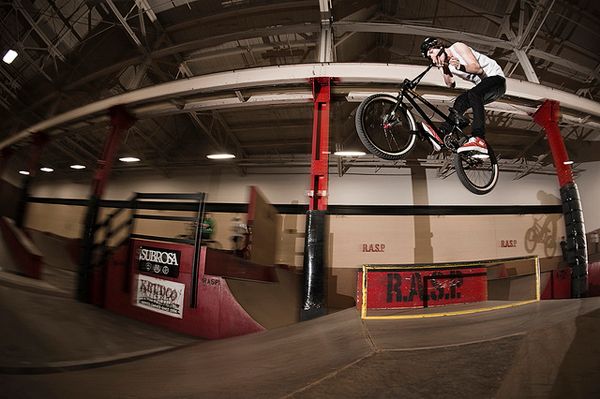 Photo: Red Beard
What are some things you would like to accomplish in the next few years?
I don't really have any major goals I'd just like to keep doing what I'm doing and going on trips. I guess my only goal is to keep riding and having fun doing it everyday.
What's something about yourself that might surprise people?
I've been riding for 8 years and did my first tailwhip like 2 months ago, haha.
I've been riding for like 11 and have only got one foot on… once, haha
Do you have any shout outs or thanks?
I'd like to thank Zack and Jay and Matt for helping me out so much and everyone over at Kink. My parents for being rad about me doing my own thing and never pushing me away from BMX at all. The Redbeard for always giving me rides to the skatepark filming stuff and being one of my favorite people to hang out with. Also definitely Jake Petruchik for helping me out with anything and everything and dealing with me bitch about something everyday we ride.