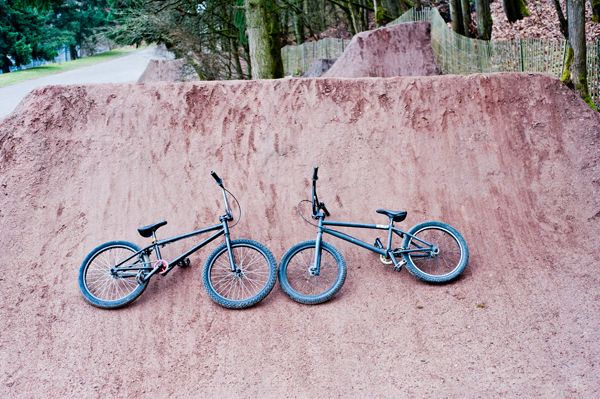 "Dan Closser's custom S&M trail machine next to the 22" proto type."
Over the last few years, there's been a lot of talk about 24″ and 22″ BMX bikes. The bikes are aimed more towards some of the older guys in the crowd or just somebody looking for something a little bigger with more stability. If you are a member on Bikeguide, you may have seen this thread that has been on going for a few years now about 22″ bikes and if they are even possible.
A few weeks back, I had emailed Chris Moeller about some stuff and he breifly mentioned that I should look into the 22″ bikes. I never really thought anything of it beside that he must have been cruising around on one. It didn't click to me that S&M and Revenge had been working on doing a whole setup from the frame, forks rims, spokes and tires for a complete 22″ setup until a few spy photos surfaced a week or two back.
So I figured I better get ahold of Chris and find out what exactly they have in the works. Check out what he had to say!



"Jason Ball holding a custom 24" S&M frame (23″ Top tube, 15.75″ Rear End), for Gary Whitmore of Richmond, VA. The other frame(s) are new Tom Dugan signature FIT frames about to go to paint."
All right, so the 22" isn't exactly a new thing to BMX. There have been a few frames and even a bike that have popped up over the years that have been offered in 22". What was it that first caught your attention with these slightly bigger bikes?
I had a few friends asking me to make them. The idea of a slightly larger, more stable trail bike for older guys coming off an extended break from BMX or larger riders coming off MTB's made a lot of sense to me. Cruisers work at the track but are goofy at the trails.
Did you try any out before you decided to have a sample of your own made?
No we didn't. We started by looking at our 20" frame/fork and making something proportionate for 22" wheels.
Like I said before, there's been a few frames in the past that had a longer 22" top tube, but other than Faction doing whole bikes, that's about as far as things have gone. Why did you choose to go a step further and make some forks, wheels and tires to fit the frame?
We make custom frames here with top tubes lengths of 23" or more but those are still either 20" bikes or 24" bikes. The larger wheels on the 22" are what create the stability but still let the bike be long and look proportionate without having the issues that 24" wheels create i.e. weak wheels, long rear ends, or front tires rubbing your feet, or getting sucked into the frame if you tuck.
Was it difficult to get things rolling with this? I know on Bikeguide there's a pretty heated discussion about how unless you're willing to tool the machines, nobody really makes anything in 22". Is this more propaganda against the 22" or is it reality?
There are some decent tires already available so that was fairly easy. And we make rims under the Revenge brand already so we just had our OEM double wall design made up in some welded 22" samples.
I can't imagine getting the frame was too hard with frame production going on just down the hall from your office. What about the fork, wheels and tires? Did you run into any sort of set backs along the way with those items?
We also make the forks right here so that wasn't difficult either. Rims and tires weren't that hard. Custom cut spokes were the last piece of the puzzle to start building samples.

"Dan Closser getting some runs on the 22" on a 40 degree rainy NW day."
I know a few weeks back you had mentioned you were riding a 22" and you were stoked on it. At the time it really didn't click to me that you were going to be producing the goods to make this happen. Did you plan on producing it at first or was it just something you wanted to give a try for fun?
If my friends hadn't been so persistent about it, it would never have happened. Once I had one built up I thought it was cool and I had fun riding it. Then again I have fun riding beach cruisers and old ladies bikes so I don't know if that means very much.
All right, so from the time you decided to have 22" bike built up to you actually riding the bike, how long did it take?
Probably 3 months.
I know the sample bike you built up is still alive and well. How long did you spend riding it? Who's currently testing it?
We built 2 samples and one is still around here, although someone has disappeared with it! The other is being ridden by Dan Closser and Scott Matual in Washington.
Has there been anything with the sample that you will want to change before you start producing this? Will there be a few more samples made?
We are going to offer a few top tube lengths in production. We will do a few more samples before we run the first batch.
When will things be going into production? Any guesses at when things will start becoming available?
The S&M Holmes 22" frame/fork will be available mid-summer along with a Revenge wheel-set and tire combo sold separately.
What are the specs on the frame, fork, wheels and tires? Was it a geometry headache trying to get things to all be proportional?
The geometry is about the same as a 20" but with a little more kicked back seat angle. The tires are 22" X 2.125" for now. It wasn't too difficult scaling it to the larger wheels and we kicked the seat angle back for raising the seat up high to actually ride the bike. Since there are no preconceived TT lengths people are judging it by we didn't have to worry about that. And if you go to the trails with the seat down it won't make a difference anyway.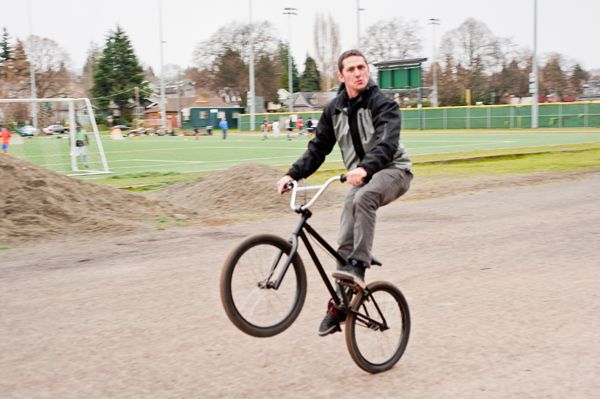 "Original S&M team rider Scott Matual rehabbing a knee surgery on the 22" Holmes."
Have you decided on any names for everything yet?
This first one is the Holmes 22" frame/fork.
Will everything be sold separately, or will you be producing some complete bikes? Any guesses for prices?
There are no S&M complete bikes so this will be a frame/fork combo. The rims and tires from Revenge will be sold separately. It will be around the same price as our current frame/forks.
Have you worked out any sort of warranty?
It will have the same warranty as all S&M frame/forks.
Click Here for warranty info.
Other than Sunday's Model C, which is a 24", and Faction's stuff, there really isn't much competition in the "Plus Sized BMX Market". Could you see more brands taking interest in this in the future?
We already make 24" race frame/forks as well as 24" Dirtbike frames and 24" Pitchforks and custom 22" forks, so I know there is a market out there. And I've already heard of some other brands working on 22's.
I know a lot of those mountain bike guys have been biting off BMX pretty heavy the last few years. Could you see the 22" bikes being more appealing to them as something that bridges the gap between BMX and mountain bikes?
For sure. At the trails a 26" MTB with a suspension fork rides better than a 24" BMX cruiser, but a 20" can feel really loose. A 22" bike would probably be perfect for a MTB rider that wanted a smaller BMX bike with no shock.
Based on your massive launch over a car to flat you did at the S&M Halloween party, I know you still got it. Will the 22" be your usual bike or will 20" always be your go to?
I would ride the Holmes from point A to point B and hit stuff on the way. If I'm actually going to the trails just to ride I would bring my 20" for sure. But ask me again in 5 years and I might have changed my mind.
Outside of these bikes, what do you have cooking inside The Building? Any hints and what you have cooking with S&M and Fit?
Tom Dugan's signature TD350-F frames are going to the painter today. That and his signature Clubman bars have been our main focus for awhile now in the shop. Pretty stoked on the way they came out!
Is there anything I missed you want to add?
I used to make fun of the Mega Ramp and people talking about 22" bikes almost as much as I teased people for trying to get BMX into the Olympics. Now BMX is in the Olympics and in a few years people will probably be in the Olympics jumping the Mega Ramp on 22" bikes. WTF?

Close up of the prototype build…
Hit SandMbikes.com for more!